November 19 2018
Did the sky seem hazy to you today? Perhaps you smelled a hint of smoke or even were around people coughing. The record deadly wildfires in California are 3000 miles from Maryland but the smoke has reached the east coast.  It is more common than you might expect when a large wildfire or volcano has smoke that reaches into the jet stream. Smoke can rise to 40,000 or 50,000 feet and travel very far.
The smoke can add to hate in the air, but also increase the colors at sunset.
The image above is the HRRR Model showing the progression of smoke from California across the US and into the Mid Atlantic. That includes here in Maryland. The fire has burned an incredible amount of trees and structures. That smoke has been building over California and blown out to the Pacific from Santa Ana winds. But the recent rain has helped to lift the smoke higher in the atmosphere and spread it via the jet stream eastward.
Air Quality Index (AQI) in Maryland Today
Forecast for Tuesday shows lower air quality for Tuesday based on the current numbers above projections.
The AQI for Baltimore this evening was 79, over the forecast of 53.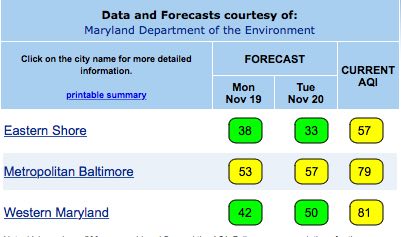 Note: Our forecast for near record cold in Thanksgiving will help. That airmass from Canada will suppress the smoke to our south.
Click here to see my latest forecast
Fires Seen From Space
NASA has been capturing views from space like this one showing the extent of the devastating Camp Fire across Paradise from November 14.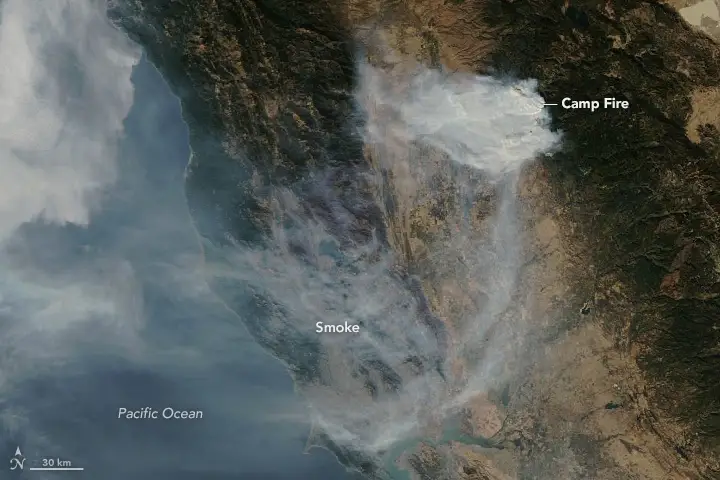 Fire Stats Since November 8, 2018
77 people confirmed killed (many still missing)

150,000 acres burned

10,300 residences, 410 businesses destroyed

14,500 structures still at risk
Low Level Water Vapor Satellite Loop
This 6 hour loop shows clouds moving into California with needed rain, but the dry air and smoke are being pushed east.
Just In:  #FITF Hats
---
Keep In Touch Every Day
Click here to sign up for email alerts…. Just in case you don't get the post on your social media feed
The FITF Store Is Open With Gear And SnowStix
---
Please share your thoughts, best weather pics/video, or just keep in touch via social media
Winter Outlook
My Winter Outlook 2018-19: Multiple Nor'Easters and more snow
Interactive Snow Report
November 15 Snow Reports- Interactive Map Compared To My Forecast
Winter Snow And Top 5 Wet Years 
Snowfall Seasons at Beginning and End of Top 5 Wet Years In Baltimore
Related Winter Outlooks
Solar Cycle: When Sun Spots Are Low We Get More Snow
El Nino Modoki May Enhance Snow Chances
Sweet Spot: Hitting 70ºF on Halloween is followed by more winter snow
Will A Wet Summer Bring A Snowy Winter?
NOAA Winter 2018-2019 Outlook Explained: This Actually Supports Snow
Winter Outlook From Two Different Farmers Almanacs
Maryland Winters: Snowfall Maps and Baltimore Snow History 
Snowstix- We Need You To Measure Snow Too
We are giving 10% of each sale to Just In Power Kids: Providing FREE holistic care for pediatric oncology patients.