Thursday November 8 2018
Getting colder temperatures as we head closer to winter is inevitable. Getting rain on a Friday seems to be a 'thing' lately as well. Now it appears the rain on Friday will be heavy in the afternoon and evening, followed by our first true taste of winter. By taste, I mean the weekend will feel like it could be mid December or January. All of those wet leaves on your lawn have a good chance to freeze Saturday. Plus, we may have the first flakes reaching into our area both Saturday morning and possibly again later on Tuesday. FITF
Considering that we are heading into the weekend, here is a timeline for you to plan you get away day, then the temperatures this weekend.
The Set Up
We have another phasing evening. That is when the north and southern branch of the jet streams join forces for a larger storm.
Look at the snow event developing across the central US. This will reach the Great Lakes and Ohio Valley by morning. Meanwhile yet another area of Low Pressure is forming along the Gulf Coast near where Michael made landfall.  That will move up to our region and enhance the rain we get Friday afternoon.  The cold air will fill in behind the storm, but it will help to make it more impressive.
Friday Morning
Doesn't this look like a winter weather map?  Check out all of that snow into northern Ohio!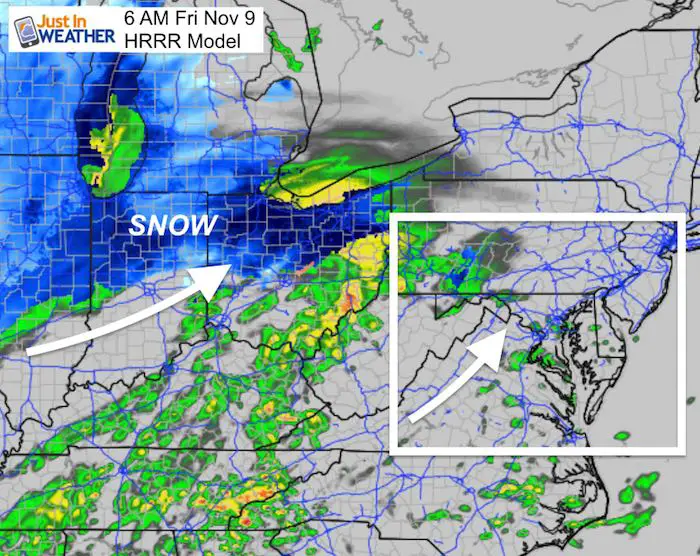 Closer View
Even nearby, but this is not for us now. Just getting closer. There will be some snow on the back edge of this on Saturday morning AND possibly more with next week's storm.
We will get rain showers in the morning on the warmer side of this system.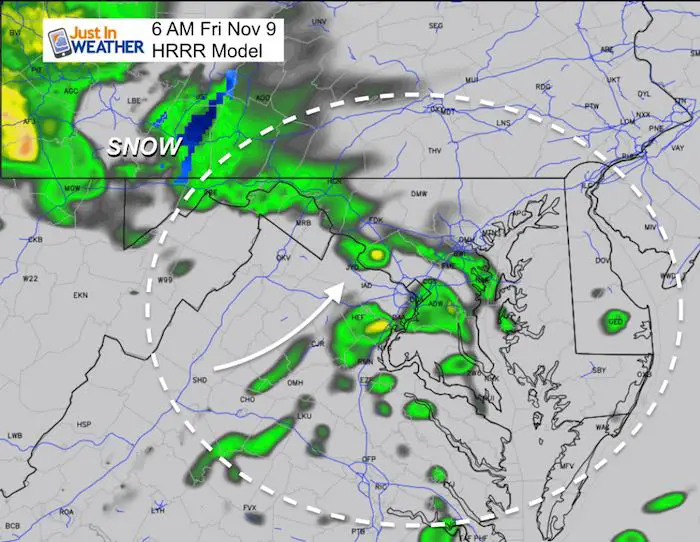 More rain will develop during the afternoon and be heavy into the evening.
Radar Simulation —> slider 
The heaviest rain will be between 3 PM and 8 PM across central Maryland and southern PA. It will last a little longer on Delmarva.
[metaslider id=68045]
Getting Closer To The Rain Record
The expected rain total has increased. One again over 1 inch of rain, which will bring us closer to the all time wettest year in Baltimore.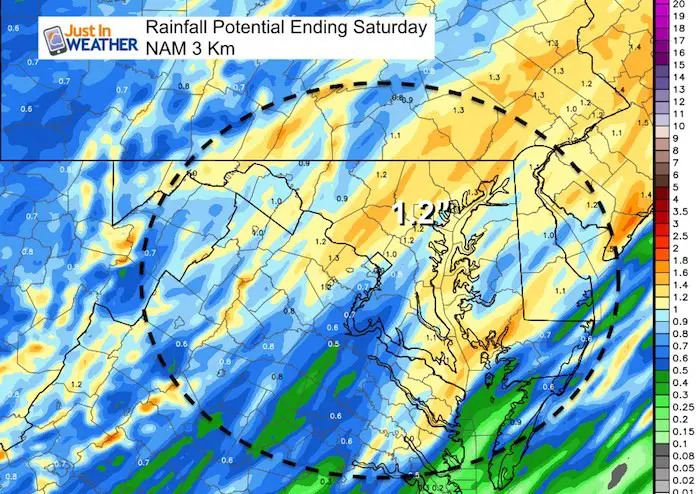 We need 2.29″ of rain to take the 2nd place spot. We need 2.6″ of rain to reach #1. I believe we will get there with room to spare.
Back To This Storm…
Saturday Morning Snow?
The strong cold air will produce some snow showers. I do not think the NAM 3 Km Model is showing all of the potential flurries. I just wanted to show the Lake Effect Snow Squall it is tracking.  Don't lock in on this exact location, just that there will be support for snow to survive the trip over the mountains.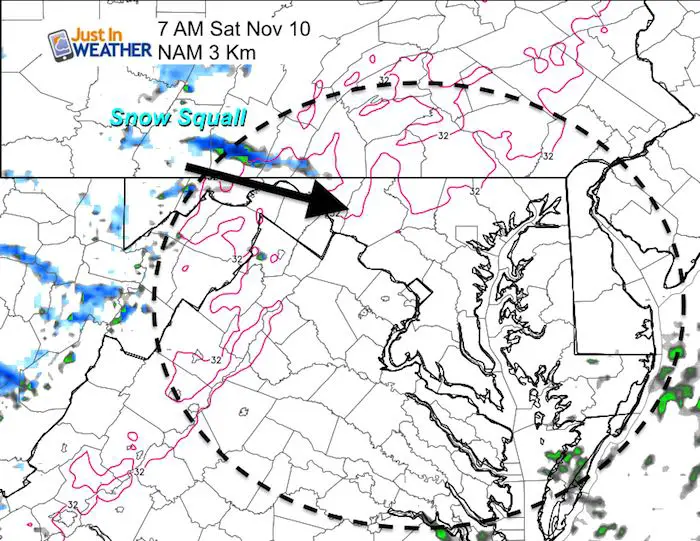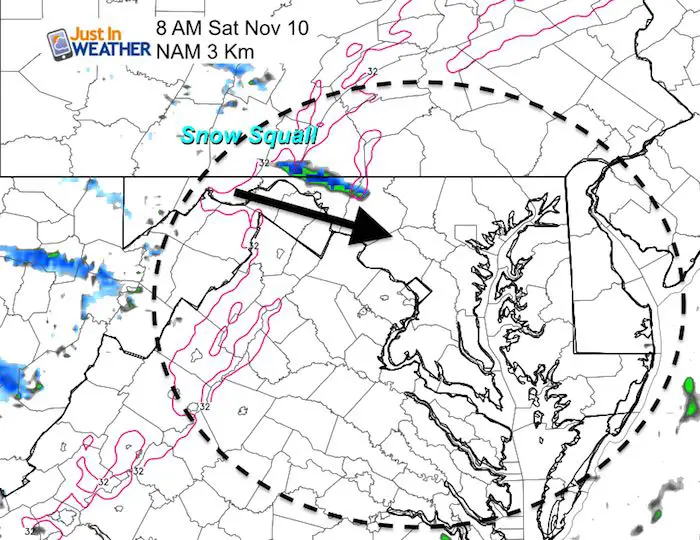 Temperatures
It is going to get cold! But the wind with that cold is going to really make it feel like winter
Saturday Morning Actual Temperatures
Saturday Morning Wind Chill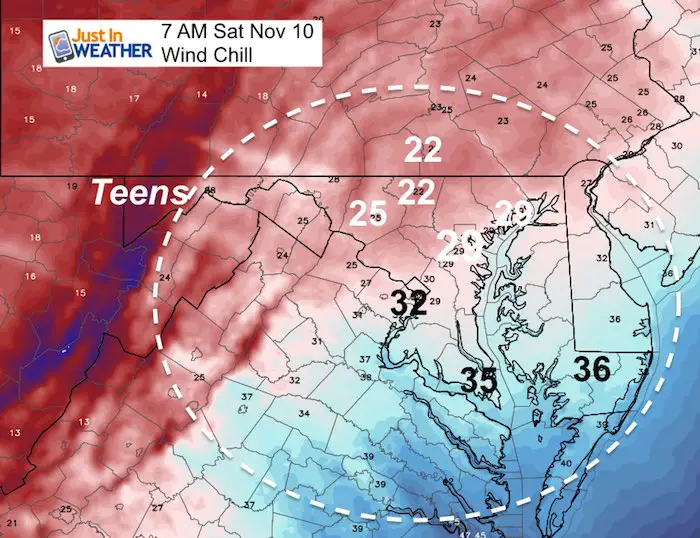 Saturday Afternoon Temperatures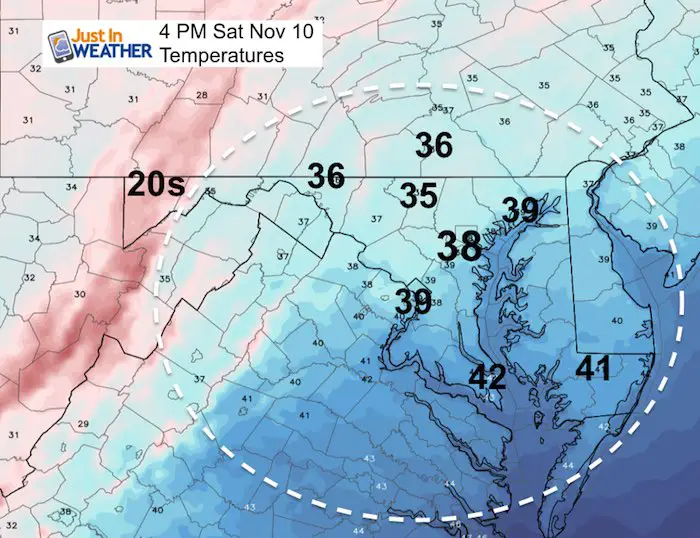 Saturday Afternoon Wind Chill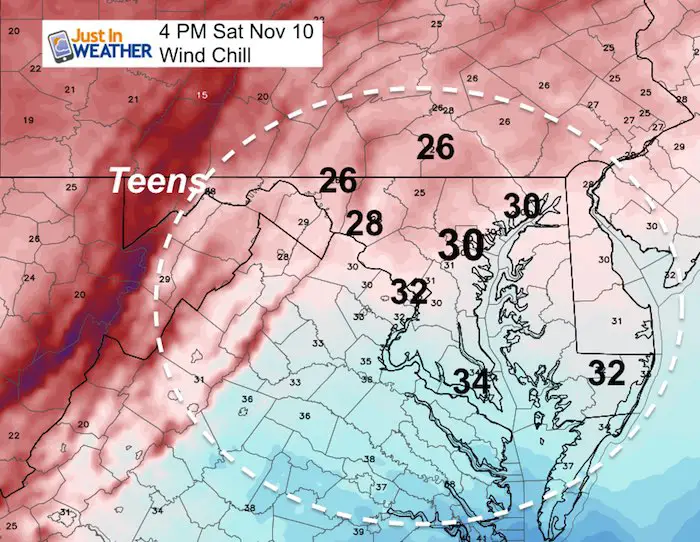 Next Storm…Tuesday
This will be yet another coastal storm/Nor'easter with the Low near VA Beach and Ocean City into New England. Check out the progression of the rain, then the snow in blue to follow.
We have a good chance of wet snow or snow showers to end this storm. I would not worry too much about stickage… yet. The freezing temps on the ground may arrive after the storm and the ground is still warm.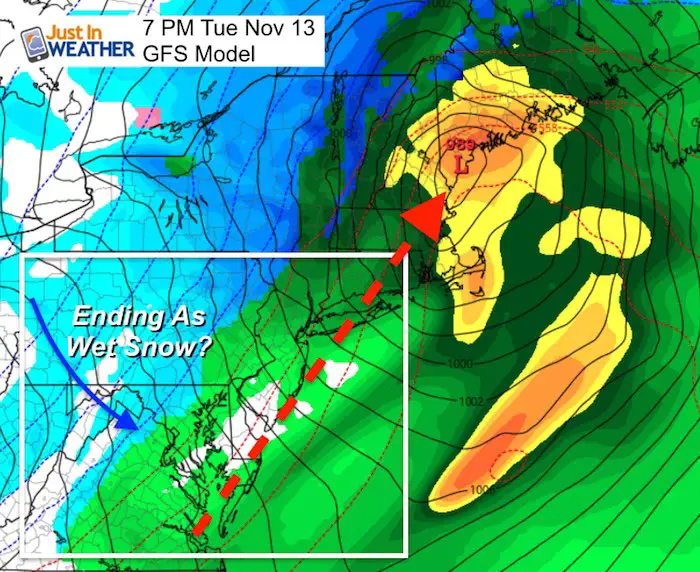 Winter Outlook
My Winter Outlook 2018-19: Multiple Nor'Easters and more snow
Related Winter Outlooks
Solar Cycle: When Sun Spots Are Low We Get More Snow
El Nino Modoki May Enhance Snow Chances
Sweet Spot: Hitting 70ºF on Halloween is followed by more winter snow
Will A Wet Summer Bring A Snowy Winter?
NOAA Winter 2018-2019 Outlook Explained: This Actually Supports Snow
Winter Outlook From Two Different Farmers Almanacs
Cold Stuff
Normal First Frost/Freeze Dates
FITF and SnowStix Stores are now OPEN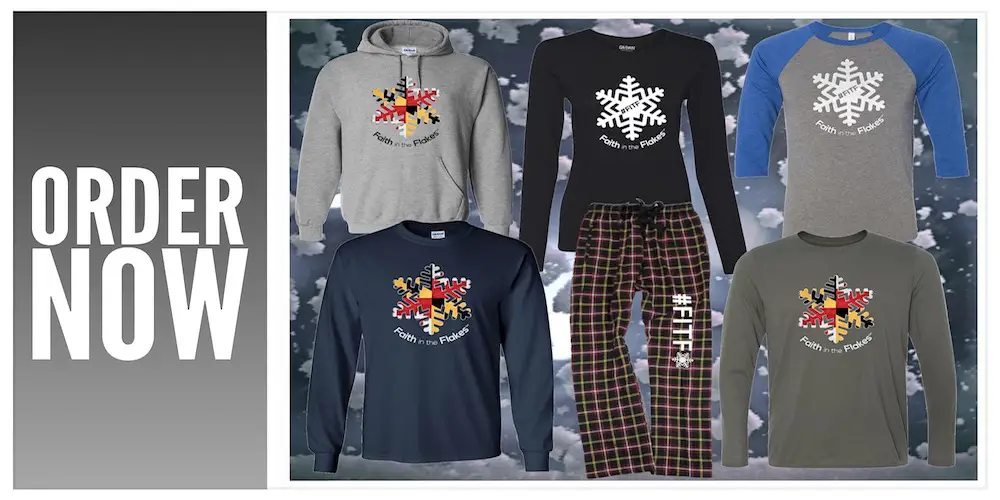 Snowstix- We Need You To Measure Snow Too
We are giving 10% of each sale to Just In Power Kids: Providing FREE holistic care for pediatric oncology patients.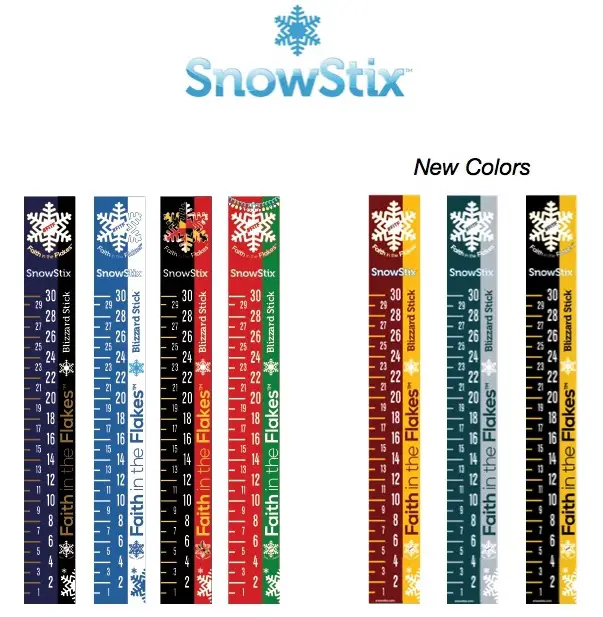 Keep In Touch Every Day
Click here to sign up for email alerts…. Just in case you don't get the post on your social media feed
Please share your thoughts, best weather pics/video, or just keep in touch via social media