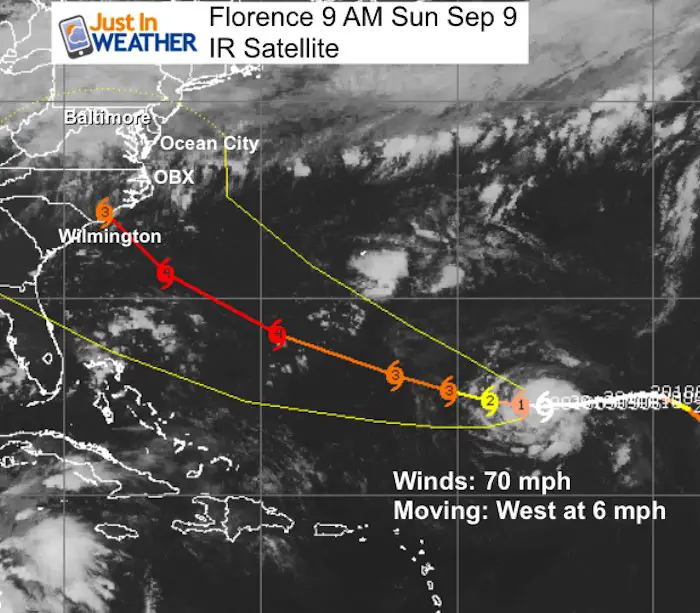 Sunday September 8 2018
As of this morning, Florence was still a tropical storm with 70 mph winds.  It is expected to become a hurricane toady, and then on the road to steady growth and strengthening. The track puts it over warmer water with less wind sheer than may allow a Category 3 or 4 storm before approaching the North Carolina Coastline.   There is still a large cone where this may actually end up. But the important note this morning is there has been more consistency for track and now time to be serious about the most likely places to get hit.
Please read all of this info as it is important before addressing the most popular question I have been getting: While This Impact Us.  I answer that below.
Morning Longwave IR Satellite Loop
SUMMARY OF 500 AM AST...0900 UTC...INFORMATION
----------------------------------------------
LOCATION...24.5N 55.8W
ABOUT 765 MI...1235 KM SE OF BERMUDA
ABOUT 640 MI...1030 KM NE OF THE NORTHERN LEEWARD ISLANDS
MAXIMUM SUSTAINED WINDS...70 MPH...110 KM/H
PRESENT MOVEMENT...W OR 270 DEGREES AT 6 MPH...9 KM/H
MINIMUM CENTRAL PRESSURE...989 MB...29.21 INCHES
Next Update at 11 AM AST
Florence Intensity Forecast
There is a wide spread but most modeling supports a Category 3 or stronger storm by Tuesday.
Comparing Two Models With 24 Hour Difference In Landfall Time
The latest forecast model spread does seem to focus on North Carolina for landfall, but there is still a dilemma. Compare the ECMWF (European) and GFS (American) Models that are a a full day off for potential landfall. That relates to forward speed and can in turn result in a different solution that includes landfall and potential to stall.
Comparing Model Ensemble Tracks
These plots are from the same model that puts out numerous solutions. These 'member' plots are then essentially  averaged in the most likely outcome that most meteorologists will pass along to you the public.
The ECMWF has two main possibilities: Going well inland then curving out to sea crossing over Washington and Annapolis (black line)- OR – Stalling and then drifting south (blue line)
The GFS Model also shows a curve with the core just grazing North Carolina by Cape Hatteras… But also a solution that stalls is. See the animation plot below that track map.
ECWMF Ensemble Tracks
GFS Ensemble Tracks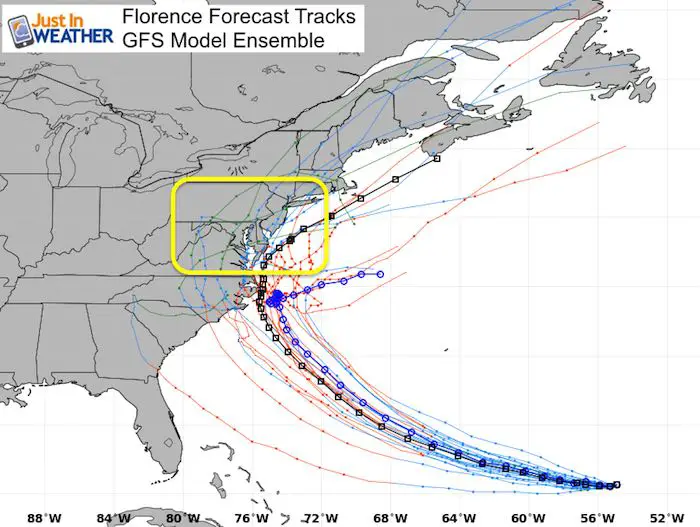 GFS Model Animation
This shows the most likely outcome with the all the ensemble input. Most likely at this time on this model…
Spaghetti Model Plot
This is the latest grouping of multiple models…
National Hurricane Center Forecast Map
Rainfall Potential Through Next Saturday 
This rainfall outlook does include some of the rain from today. I have highlighted the core of Florence potential rain… Depending on if and where it could stall… That could blow the rain totals up big time!  So this is just a guide, but not a promise.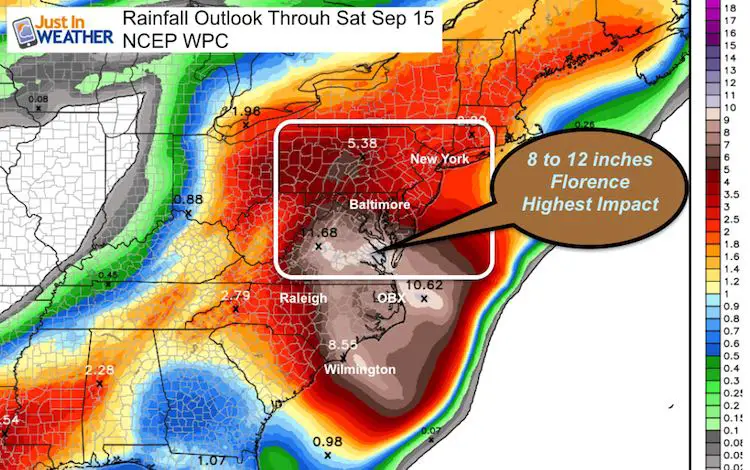 Will it impact Maryland?
That is the biggest question I get and it is still too early to say. The main reason is that the timing of the storm can determine if it will wander up the coast and slam us with flooding rain or stall to our south.  The timing is contingent on other features that can catch up and help steer the storm at that time.
I expect a lot of adjustment as we get closer.  Should we get an impact it will be:
Rip Currents- all week.

Possible Flooding/ Surge Up The Bay (The path would need to be north of OBX to be like Isabel. South of there and the shape of the coast protects us a lot) – Within a day of landfall

Flooding Rain

Time Frame – Thursday Through Saturday- all depending on the speed and if it stalls
Keep In Touch Every Day
Click here to sign up for email alerts…. Just in case you don't get the post on your social media feed
Please share your thoughts, best weather pics/video, or just keep in touch via social media
Power Partner Just In Power Kids and Maryland Trek 5:

Still Time To Support Just In Power Kids
We are still taking donations for our best Maryland Trek yet. Every penny goes to Just In Power Kids programs to provide FREE holistic care for kids in cancer treatment and up to 5 years post treatment.
Partner With Us. My Fiancee Shannon and I started this non profit Just In Power Kids. We are building a network of Integrated Wellness Practitioners plus funds for kids in and post cancer treatment to get free sessions.
Get the award winning Kid Weather App I made with my oldest son and support our love for science, weather, and technology. Our 3 year anniversary of the release and our contribution to STEM education is this November. It has been downloaded in 60 countries, and works in both temperature scales. With your support we can expand on the fun introduction to science and real weather.