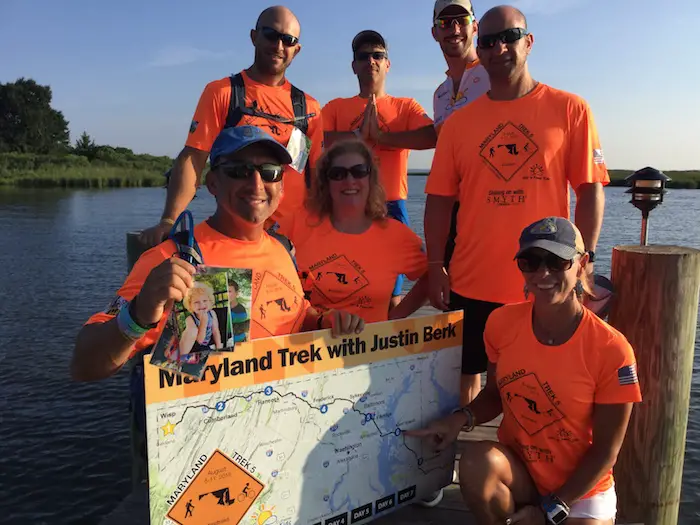 Friday August 10 2018
This 6th day of our Maryland Trek from Kent Narrows through the Eastern Shore. It is flat, but it is long.  Today will have the added bonus of high heat and a risk of severe storms. My weather report is in my prior post. We have 27 miles to hike, taking us past Easton, then off to Preston. But then nearly 20 miles on our bikes as we end in Sharptown. In addition to our normal route and honoring Cade, today is also to pay respect to the memory of Patrick Murphy, a teenager who died suddenly over the summer. His family and close friends (extended family) gave a generous donation to our trek in his honor to shine his light on the kids we want to help.
Please keep checking my Facebook page as Larry will be posting some gorgeous aerial video from crossing the Severn River and Bay yesterday.
Heat will be a factor again!
Our goal: Develop a network of holistic, integrated wellness practitioners. Then pay for kids to be treated in and up to 5 years post cancer treatment. Every $500 will fully fund all treatment for 1 kid.  Every penny goes to our programs!
Cade W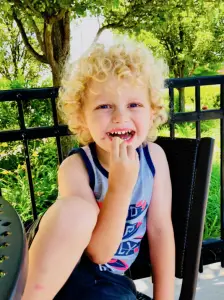 We just saw Cade with his family on Kids Trek Too yesterday and have his superhero car with us. He has delays in speech and other linger effects. Shannon has already spoken with his mom about treating him with her specialty- cranial sacral.
In his mom's words:
In March 2016, our 21-month-old son, Cade, started randomly crossing his eyes. Within a week it escalated from a few times a day to a few times an hour.With some persistence, we were able to get three pediatric ophthalmologist appointments the following week. Thankfully, one of the doctors saw something that the other two did not see – optic nerve paleness. This alerted her to order an MRI.  On April 11, 2016, Cade had his first of many MRIs. A brain tumor the size of a baseball was discovered, and our lives were forever changed from that moment.
On April 14, Cade underwent a nine-hour brain surgery to have his tumor resected.  Thankfully, the entire tumor was removed. On April 19, the initial pathology report confirmed that the tumor was brain cancer – medulloblastoma.
Although the tumor was removed, Cade still needed intense treatment to lessen his chance of relapse. He proved throughout his cancer journey that he is a fighter.  Since his diagnosis in April 2016, he accumulated over 10 scars, endured 42 chemotherapy treatments, was rushed to John Hopkins ED at least 10 times, and spent about 100 nights in Hopkins.  He has also had 15 surgeries, needed seven blood transfusions, and three platelet transfusions. Cade threw up more times than we would ever be able to count, he lost weight, lost his hair, had horrible mouth sores, the worst diaper rash, but he kept his loving spirit and smile.
Cade has had some complications since his cancer treatment ended from a condition called hydrocephalus, which he developed after his tumor was resected.  It is an accumulation of cerebral spinal fluid (CSF) in his brain. He had a shunt placed in May 2016 to treat it, but unfortunately a shunt comes with many complications.  He's had his replaced a several times, most recently in October 2017, when he endured 4 brain surgeries in 12 days.
He is 4 years old now.  He is finished treatment – still getting full brain/spine MRIs every 3 months to be sure he stays NED (no evidence of disease).  In addition, he is significantly delayed with his speech…caused by the brain tumor, removing the brain tumor, and just fighting for his life for 8 months instead of living the life of a 2 year old.  He is also cognitively delayed in other academic areas. He has an IEP and sees two speech pathologists regularly. I would like to explore holistic options to see how they could help Cade. He will be playing soccer this fall on a team (something he is very excited about!), loves playing outside, the pool, rough housing with his brothers…he's all boy.  Cade is a super happy kid and makes everyone smile around him. 🙂
This journey has taught us how valuable life is, to not take a moment for granted, and to look for the positives in negative situations.
Maryland Trek 5 August 5 – 11 2018
329 miles hiking and biking in 7 days
To provide free integrated wellness programs for kids in and post cancer treatment

Power Sponsor of Maryland Trek 5:

This Year's Power Kids
Day 1 – Cade C
Day 2 – Nicholas
Day 3 Ariella Stein
Day 4 Mya-Bee
Day 5 Ella, Claire, and Kids Trek Too
Day 6 Cade W
Related Stories:
How the number 14 connected me with this Power Kid mom in the most unlikely way
Please share your thoughts, best weather pics/video, or just keep in touch via social media
Keep In Touch Every Day
Click here to sign up for email alerts…. Just in case you don't get the post on your social media feed
Shine On
Proceeds from all sales go to Just In Power Kids. Click the image to shop and show your support.
Get the award winning Kid Weather App I made with my oldest son and support our love for science, weather, and technology. Our 3 year anniversary of the release and our contribution to STEM education is this November. It has been downloaded in 60 countries, and works in both temperature scales. With your support we can expand on the fun introduction to science and real weather.