Wednesday August 8 2018
Today we will stay on the bike all day and I will be part of a dozen riders. It's a 58 mile ride from Baker Park in Frederick through Sykesville for our memorial dedication and then through Ellicott City. Before I get to the honorees Shawn Madden and Mya (Bee) Kahler.  We are joined by Ryan, the 15 year old brother of Cade C who we honored on Day 1. The weather should be quiet and typically hoy for August. Storms will move through this area between 5 and 7 PM. That's just fine for us rolling the wheels.  We will be styling in our Hill Hiller cycle shirts and I must thank Mike Barnes for supplying these for my team for the 3rd year in a row.. These are on sale now with all proceeds going to Cool Kids Campaign. See the link below…
We will be greeted by street party and memorial dedication in downtown Sykesville in front of Tri Sport Junction around 12:30 PM, so if you are nearby please join us.
Maps for today… Track us live on my Trek Page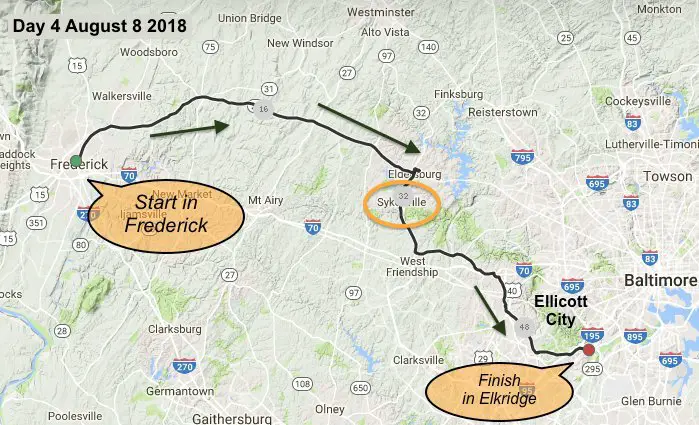 Mya-Bee Kahler
Mya,  otherwise known as Mya Bee because of her sassy personality was just 2 years old when she was diagnosed with AML M6 back in April of 2017. She has spent most of her time since then at Johns Hopkins Hospital fighting this war. Her treatments of chemotherapy, brain and spinal radiation as well as a bone marrow transplant to help save her life damaged her brain and spine which cost her mobility and she is now a quadriplegic on a ventilator. But what has remained the same, is her spunky attitude. She was never afraid to take charge and tell everyone what was on her mind.
Mya loved to go camping, to go on a boat, to dance and sing. As well as spending time with her brother Logan and her dog Hazel.
She is currently in the PICU at Johns Hopkins Hospital waiting for transfer to Kennedy Krieger for inpatient extensive physical therapy. Once she has finished she will be able to go home and be monitored 24/7.
We are so excited to see what she is capable of doing. And hopefully one day we can get her back into doing the things that she loves.
We are in the middle of my trek and it is bitter sweet. Here are contrasting stories of memory and survival. Three years ago when I began this, I was supposed to have my friend Shawn Madden as my crew chief. He was fitness, winner many shows and owner two Gold's Gym franchises. I became friends with him and his wife Heather. He and I had known each other from our TV days… he was a weekend sports anchor for WJZ.  But that was a small part of him. He has a love of people and life. But on August 1st in 2014 he died suddenly of a heart attack. It was a disease he knew, but didn't know how bad.  Needless to say it was a lot to regroup for my trek and his wonderful wife Heather to carry on with two small children and their two gyms. She embodies survival and the overwhelming positive spirit Shawn had.  That is why I want to focus today to be about survival. It would be what Shawn would have wanted… I do an all day bike today for this part for Heather and their children.  Every year I ride by his Gold's Gym in Eldersburg to tip my helmet along the route and make sure my team knows who he was. A few of our team members knew Shawn personally as well, so this will be bitter sweet.
Memorial Dedication In Sykesville
This will be an emotional part of our day and week. Our big stop will pass through Sykesville. This is where I met Cade (Day 1) for the first time. It's where I met Shannon (co-founder) for the first time. It is where we had our first date and where we got engaged. It is where or heart belongs and happened to be the middle point of our entire week.
Our team members from Tri Sport Junction and Becks' will host a little town festival for our cycling Groups. At 12:30 PM we will have a ceremony in the park next to the post office to honor those loved ones we have lost. That includes those connected directly with the trek and friends along with us.  If you are nearby, please join us.
Our goal: Develop a network of holistic, integrated wellness practitioners. Then pay for kids to be treated in and up to 5 years post cancer treatment. Every $500 will fully fund all treatment for 1 kid.  Every penny goes to our programs!
Maryland Trek 5 August 5 – 11 2018
329 miles hiking and biking in 7 days
To provide free integrated wellness programs for kids in and post cancer treatment

Power Sponsor of Maryland Trek 5:

This Year's Power Kids
Day 1 – Cade C
Day 2 – Nicholas
Day 3 Ariella Stein
Day 4 Mya-Bee
Related Stories:
How the number 14 connected me with this Power Kid mom in the most unlikely way
Please share your thoughts, best weather pics/video, or just keep in touch via social media
Keep In Touch Every Day
Click here to sign up for email alerts…. Just in case you don't get the post on your social media feed
Shine On
Proceeds from all sales go to Just In Power Kids. Click the image to shop and show your support.
Get the award winning Kid Weather App I made with my oldest son and support our love for science, weather, and technology. Our 3 year anniversary of the release and our contribution to STEM education is this November. It has been downloaded in 60 countries, and works in both temperature scales. With your support we can expand on the fun introduction to science and real weather.