Tuesday August 7 2018
Our third day of Maryland Trek 5 at the Western Maryland Rail Trail in Hancock for Ariella S. She just started her third round of chemo this week, and we hope to inspire her. She is a special young lady who was honored last year and now back again. There is a lot more than just her relapse, she has been an ambitious fundraiser herself. More on that below.  We start the day with a fundraising   We can't thank you enough but we have more work to do and more kids to honor as we aim for our goal.  Our live tracking where you can see our progress on our Trek page. See more on our route below.
Temperature members: Matt Titus, Greg Sober, Peter Watts, Jacki Dalsimer, will join me. Shannon is riding the first 10 miles on the western Maryland Rail Trail then rejoining our support vehicle, We will need it today.
Weather: Tmps into the lower 90s. Heat Index = 100ºF. Thunderstorms between 3 and 6 pm
Arielle Stein
Ariella is 10 years old and currently fighting Ewing's Sarcoma for the 2nd time in 2 years.  You might remember that she was honored last year on Maryland Trek 4.  We are honoring her again now with good reason.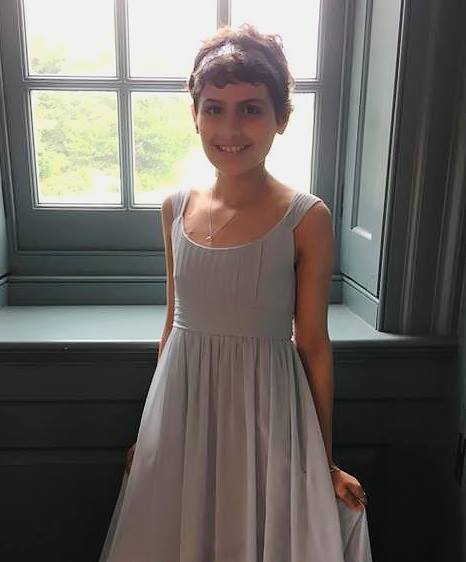 Ariella was initially diagnosed in February 2017 with a tumor in her tibia, which initially we thought was a dance injury.  Unfortunately it was cancer and she went through a grueling 17 rounds of chemotherapy (inpatient every other week) and limb salvage surgery on her leg requiring an external fixator for almost a year. She was declared no evidence of disease in December 2017 but unfortunately routine scans in June showed lesions in her lung and sacrum.  As of mid-July she has completed 2 rounds of chemo for her relapse. We are not sure overall how many rounds of chemo she will have but will also have radiation and bone marrow transplant with one of her parents being the donor. Having cancer has made Ariella want to help other want to help other sick children and she has started Ari's Bears, a foundation to give bears to kids in hospitals. To date she has raised several thousand dollars and delivered bears to 3 local hospitals.  Ariella is a dancer, dancing all styles with her favorite being tap, and she cannot wait to get back into the studio now that her leg is healed. She will be entering 6th grade in the fall and though she will miss many days of school due to treatment, she is looking forward to starting middle school.
Ari's Bears
During treatment, Ariella received many gifts, packages and goodies from various organizations. They always helped cheer her up and she wanted to do the same for other sick children by giving them bears (and other stuffed animals). So far she has delivered to 3 area hospitals with hopes to expand further out. Shannon and I are wearing her bracelet today. #ariellastrong
[metaslider id=64710]
See what she is doing and support her cause: Ari's Bears
Our goal at Just In Power Kids:
Develop a network of holistic, integrated wellness practitioners. Then pay for kids to be treated in and up to 5 years post cancer treatment. Every $500 will fully fund all treatment for 1 kid.  Every penny goes to our programs!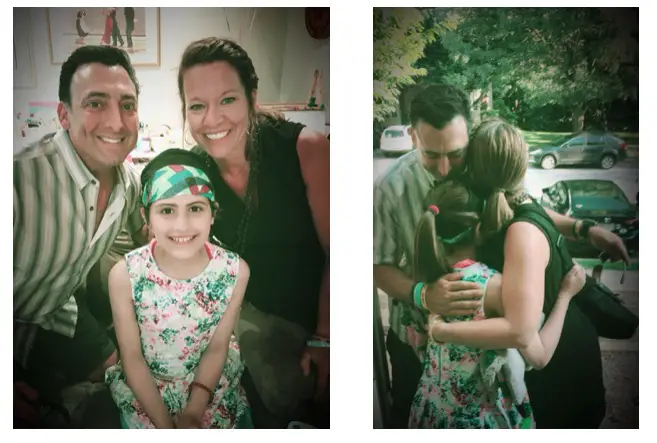 Day 3 Hancock to Frederick
Today's Team:
Matt Titus, Greg Sober, Ross Sober, Peter Watts, Logan Cooper, Kenzi Smith, Jacki Dalsimer,  joining me.
This will be a longer day totaling 53 miles. Since this is the 'skinny part' of Maryland, the only direct road to the east is the Interstate we can't use. So, the first 10 miles will be on the Western Maryland Rail Trail by bike.  Then we will link up with our crew at Big Pool and get back on our feet for 27 miles of hiking. Today's marathon will get us to mile 100 of the journey. I am looking forward to Devil's Backbone Waterfall. Then we will be back on the back in Boonsboro and work our way over South Mountain to Frederick.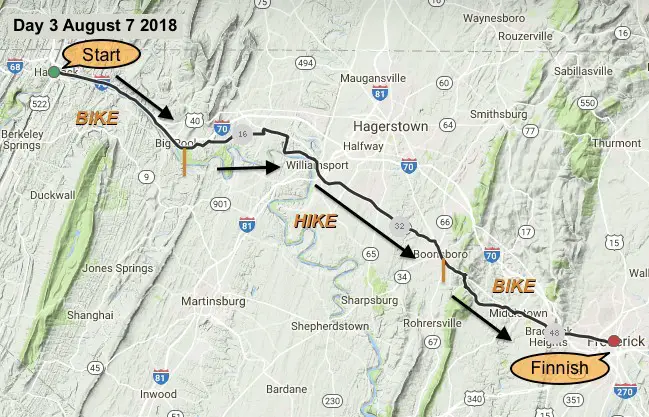 Maryland Trek 5 August 5 – 11 2018
329 miles hiking and biking in 7 days
To provide free integrated wellness programs for kids in and post cancer treatment

Power Sponsor of Maryland Trek 5:

This Year's Power Kids
Day 1 – Cade C
Day 2 – Nicholas
Day 3 Ariella
Related Stories:
How the number 14 connected me with this Power Kid mom in the most unlikely way
Please share your thoughts, best weather pics/video, or just keep in touch via social media
Keep In Touch Every Day
Click here to sign up for email alerts…. Just in case you don't get the post on your social media feed
Shine On
Proceeds from all sales go to Just In Power Kids. Click the image to shop and show your support.
Get the award winning Kid Weather App I made with my oldest son and support our love for science, weather, and technology. Our 3 year anniversary of the release and our contribution to STEM education is this November. It has been downloaded in 60 countries, and works in both temperature scales. With your support we can expand on the fun introduction to science and real weather.