Sunday August 5 2018
We start the 5th annual Maryland Trek for Just In Power Kids and we are shining on with Smyth. There is a special connection that we wil share throughout the week. But now we embark on our week long journey from 3000 Ft above sea level on the summit of Wisp Ski Resort. This is one of two major playgrounds for our state and that is how we want to treat the 329 miles ahead over the next 7 days… We decided that we want to do this. There will be challenges physically, mentally,  and emotionally. but this is our choice. The kids we honor each day did not have a choice to get sick.  None of our pain will be met with complaints. We want to inspire our "Power Kids" as we tell their story and take them with us.  We want to inspire you as well to reach beyond what you think your limit may be and empower yourself.
Also see: Today's Weather Report and fascinating satellite loop
Each day we will tell a story and show you a beautiful part of Maryland that we travel by foot and bike.  We already have raised more than any other trek before we take our first step. For every $500, we can provide free holistic treatment for one kid. Today you will see how this helped Cade years after his remission from Leukemia.
More on our daily route below, but first… our friend
Cade C
Caden, was 5 years old when he was diagnosed with Acute Lymphocytic Leukemia. During his three and a half year treatment he and his family fought with all their might. He endured weekly chemotherapy injected into his spine and suffered tremendous treatment side effects such as headaches, behavioral changes, diffuse pain and nausea.
As of this summer he completed his 5 year check up after completion of his treatment. He was the first kid treated as a Power Kid because his mom is a physical therapist and committed to holistic care. She asked Shannon (co-founder) for help to get relief from a 5 week headache that did not resolve with other treatment. Cade is a quiet kid that takes in life from a point of being an observer and is active in Boy Scouts. He still has no headache.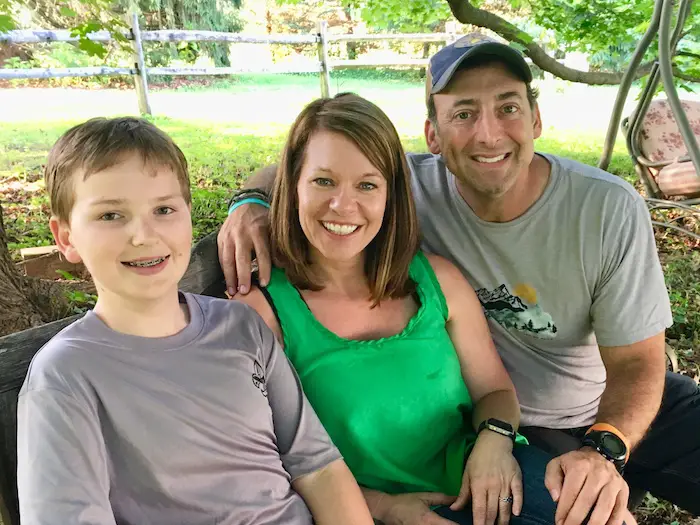 I was there and saw the transformation. Cade had a pain rating of 5 out of 10, but after Shannon treated him it was a ZERO! This photo was right after the treatment. I would not have believed it without seeing with my own eyes.  He went off to a scouts camp and had a great time.  He has had a few follow up treatments, but all in all, just being a kid!
We can't promise the for everyone, but we are sure going to try!
Our goal: Develop a network of holistic, integrated wellness practitioners. Then pay for kids to be treated in and up to 5 years post cancer treatment. Every $500 will fully fund all treatment for 1 kid.  Every penny goes to our programs!
Day 1: Garrett County to Frostburg and Cumberland
Our team will hike 27 miles through Garrett County and then switch to our bikes at the Route 40 School. Then we will ride on to Cumberland.
Today's Team:
Matt Titus, Greg Sober, Colleen Morehead, Peter Watts, Logan Cooper, Kenzi Smith, Jacki Dalsimer, Donna and Dave Larkin joining me.
To see the interactive map and live tracking of our team, click here:
You can track us live on our trek page.
Pics and video will be shared on Twitter and Instagram (@justinweather) all day.  Also see Mid Atlantic Aerial for drone video from my crew chief Larry Rogers.
Maryland Trek 5 August 5 – 11 2018
329 miles hiking and biking in 7 days
To provide free integrated wellness programs for kids in and post cancer treatment

Power Sponsor of Maryland Trek 5:

Related Stories:
How the number 14 connected me with this Power Kid mom in the most unlikely way
Please share your thoughts, best weather pics/video, or just keep in touch via social media
Keep In Touch Every Day
Click here to sign up for email alerts…. Just in case you don't get the post on your social media feed
Shine On
Proceeds from all sales go to Just In Power Kids. Click the image to shop and show your support.
Partner With Us. My Fiancee Shannon and I started this non profit Just In Power Kids. We are building a network of Integrated Wellness Practitioners plus funds for kids in and post cancer treatment to get free sessions.
Get the award winning Kid Weather App I made with my oldest son and support our love for science, weather, and technology. Our 3 year anniversary of the release and our contribution to STEM education is this November. It has been downloaded in 60 countries, and works in both temperature scales. With your support we can expand on the fun introduction to science and real weather.