What I am about to share with you comes from the depth of my soul and changed my life. My story I shared publicly already, but just recently it become even more powerful as I met with a mom of one of our Just In Power Kids.  As strange as it may seem on the surface, the messages we both got were from the number 14. The thing is we both looked at it differently, until now.  I will share my version below, but first… Here is Brittany. The mother of 5 year old Brooke who has T-Cell Leukemia. She also has a 6 week old baby and a teenage son.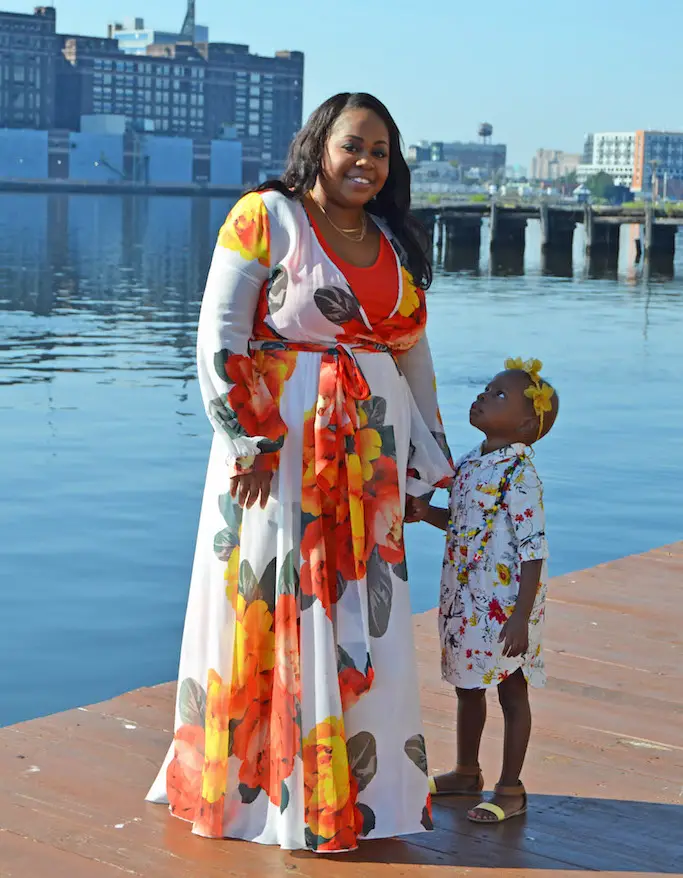 The number 14, in Brittany's words:
Why does the number 14 haunt me?
Teenage mom at 14
My first child rebelling at the age of 14
The room we were transferred to on the worst day of my life… PICU 3114
Diagnosis date 3/14 (for Brooke)
I HATED THE NUMBER 14.
It has haunted me since the age of 14. Everything involving that number was bad news for me. 14 reminded me of such hard times, bad days, things I never wanted to revisit again.
Last Sunday Shannon (my fiancée and co-founder of Just In Power Kids), her daughter Jaiden, and I met with Brittany. We wanted to see her and Brooke in person before we begin Maryland Trek 5 with our team. It is important to us to get to know the kids we will honor each day of our 329 mile journey across the state.  We hung out for nearly 2 hours and we all made a bond that transcended race and gender. But as real as we got with each other about life itself, it was the talk of '14' that was more profound, because the number 14 changed my life and was the reason that brought me to this place.
The number 14 for me:
14 – My age when sick. Originally diagnosed with Osteosarcoma in my left tibia. Doctors wanted to amputate. It turned out to be a staph infection in my bone, but due to complications I almost lost my leg anyway and had a long hospital stay and IV recovery at home. *But I recovered fully and went back to compete as a sprinter in track.
41 – My age (in 2014 for the first Maryland Trek), a reflection of those digits and a great reason to 'reflect' on what happened and since. That includes my recovery and all the people who had made me who I am now.
This is why I picked a total of 41 miles (or more) per day to trek.
14– The number of years I was on TV in Baltimore. This has been the longest period of time in any city during my 20 year TV career.
14th Place: The 2014 winter was hard in Baltimore and it ranked number 14 in snowfall dating back to the 1880s.
14= 2×7: It has been 27 years since my illness and hospital stay. That's one reason I picked 27 miles to hike each day of the trek before switching to cycling 14 or more miles.
14 = 6+8: My height was 68 inches when I got sick, and the drug treatment (Keflex) crushed my thyroid halting my growth then. I continue to take thyroid replacement medication every day.
14– The mile marker I made it to before stopping in my only marathon. It was my friend Kelly LaBare who trained me for that race. I had injured my ITB and tried to let it rest for only 14 days before the race. I stubbornly decided to run, and made it to mile 14.
14:41 This last one gave me chills.
My friend Kelly LaBare is the reason I got into long distance running as an adult. I was a sprinter and never thought of myself as an endurance athlete. Kelley changed that for me. Her untimely death at the age of 25, after I didn't finish my race made me want to go back and do it for her.
I already had these numbers, the reflection, in mind and printed on this bracelet I still wear today. The ':" colon was places with an extra space just as the only separation I could think of. It looks like a time, but not intended to be that way.
A month prior to the first trek, I was informed that there was a memorial race in Kelly's home town of Binghamton, NY. When I looked up the race on the event website, I found that the course record was set the prior summer…by Christian Thompson.
The time  14:41
I can't make this stuff up! Click on the image for a larger view. See her memorial race web site with that record time still intact.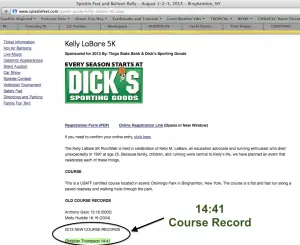 I realize that some people see meaning in numbers like I do may have chills like I still do from this. If you don't, then this is just coincidental. But it's hard to ignore that there is something here. It just proves to me that this was my mission. My purpose. I was supposed to do this and do it now. AND I DID! Everything played out the was it was supposed to be and I am so grateful to have realized and have the strength and health to carry it out.
14 lbs – The size of this rockfish caught while I was cycling on the back of of boat during my first Maryland Trek to cross the Chesapeake Bay. Those guys became my close friends… Josh and Larry, who is now my Maryland Trek Crew Chief.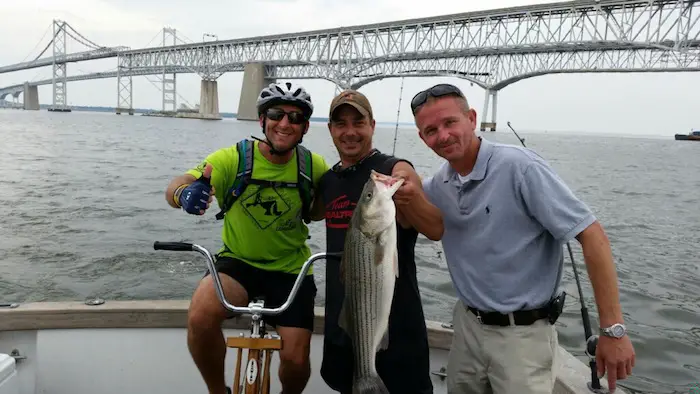 14
As if I wasn't nutty enough, on our way home after the first Maryland Trek. we stopped at Noodles and Co. for dinner. It was the first time my youngest son agreed to go there without a fuss.  This was our order number to put on our table:
Let's come back to the present…
The contrast of how we saw the numbers was more than just these lists.  I wasn't looking but found that number 14 and believe it was a sign that I was on the right path.  I was doing what I was supposed to do.  That trek changed how I saw life and deal with challenges. Because after dealing with multiple obstacles on top of the physical and mental strain, accomplishing any goal seemed within reach.
The people in this trek have become my extended family.  I met Shannon twice on the trek and now we are running it and a non profit together… Soon to be married as well.
I told Brittany the she was looking at this all wrong. I felt I needed to share  this with her because just like that glass of water we all talk about, it was time to view it as half full. It is possible to revisit each moment that 14 popped up and view the opportunity not the tragedy.
So when I asked Brittany to write down her thoughts, this was how she finished.
Today I vow to give 14 light and love. I met two strangers, now friends who gave me this perspective on the number 14. And from today forward 14 is my number of hope and new beginnings.
Experienced the gift of life at 14
My first child finding his voice at 14
PICU 3114 – the place I prayed the most for healing. Talked to G-d more than I ever had. On 3/14 in room 3114.
3/14/17 – I was delivered as a new woman, unselfish, kind, servant to the cancer that took over her body on 3/14 at the very place I worked. Thank you for changing us
No longer will 14 hurt me. 14 is now pivotal in my story.
But wait, there is more!
My soon to be step daughter Jaiden is now 14 years old. She played with Brooke all that time like old friends.
Next year on July 26, 2019 – Brooke will officially end her treatment and expected to be cancer free. That is Jaiden's birthday… the end of her 14th year perhaps passing on that lucky torch to a little girl with big dreams.
So at this moment I needed to share one more thing.  I asked Brittany about the numbers 3 and 14. The date and room Brooke was in. The math geek in me was drawn to it, so I had to ask if she knew what it was.  She did. It's Pi. The irrational number 3.14.
Brittany already has tattoos and I suggested that she get one of Pi. To use that as a symbol of seeing the numbers a different way and reclaiming it as a source of strength.  Then I told her I am Jewish. In our faith, the word Chai (sounds like you are clearing your through, not the tea) looks like Pi.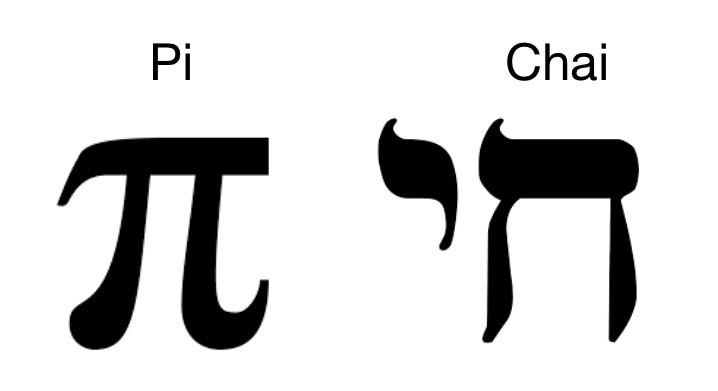 That symbol is the Hebrew word meaning alive or living.  Perhaps you have heard of the celebratory toast L'Chaim. Or the song from Fiddler On The Roof, "To life, to life, L'Chaim".  It's a blessing. It is empowering! It is beautiful!
Brittany wrote me later, "Chai- Brooke and I were both given LIFE on this day". She wants to get Chai necklaces for her and her daughter. Shannon wants one too.
So, there we were… A white man and a black woman. Somehow the stars aligned to bring us together and after all of the pleasantries we found this incredible feeling and emotion over a number.  It may sound silly and superficial, but it was profound for us. That's all that we needed. Something and some way to find the connection. We all have something that connects us.
Somehow Shannon asked to smell the baby's head (it's a woman thing I hear) and ended up holder her for nearly 2 hours. Our kids played and we talked… maybe shed some tears. Somehow all racial, gender, and any other possible divide was gone. We were just people. Parents. Children of the same G-d connecting in the most unlikely of ways.
On August 5, we begin Maryland Trek 5 with an incredible team. Each day we will tell the story of one kid in or post cancer treatment. On Day 7,  as we finish in Ocean City, we will be honoring Brooke and sharing her story.  We want to encourage all of the kids to take back life through their trek and empower themselves.
We are raising money to develop a network of holistic integrated wellness practitioners, pair them with kids in and up to 5 years post treatment, and then pay for that therapy.  We have already surpassed what we raised all of last year and aim to be able to treat over 100 kids. See how you can help below.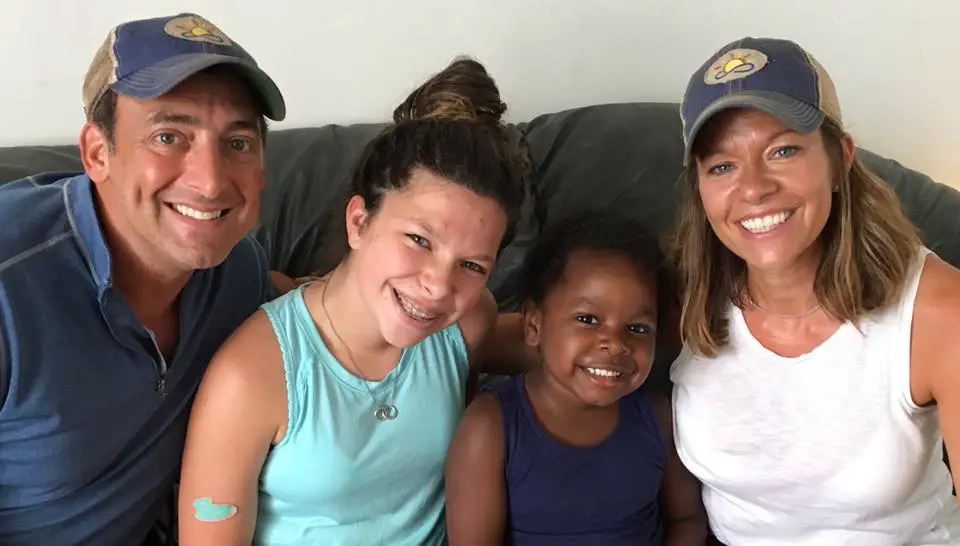 Maryland Trek 5 Starts Sunday August 5 2018
329 miles hiking and biking in 7 days
To provide free integrated wellness programs for kids in and post cancer treatment
Power Sponsor of Maryland Trek 5:

Track our team live on the map and follow all of the stories at marylandtrek.com
Shine On
Proceeds from all sales go to Just In Power Kids. Click the image to shop and show your support.
Partner With Us. My Fiancee Shannon and I started this non profit Just In Power Kids. We are building a network of Integrated Wellness Practitioners plus funds for kids in and post cancer treatment to get free sessions.
Please share your thoughts, best weather pics/video, or just keep in touch via social media
Keep In Touch Every Day
Click here to sign up for email alerts…. Just in case you don't get the post on your social media feed