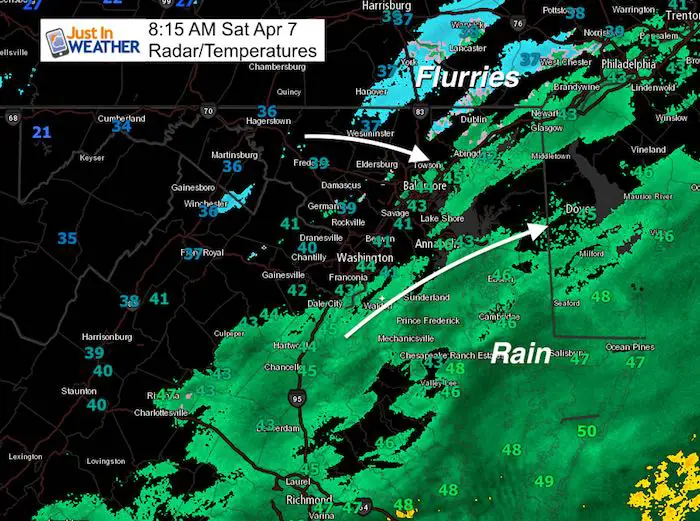 April 7 2018 posted at 8:20 AM
If you have an app that promised a large amount of snow for today you may be wondering why? I am glad I stayed skeptical of the snow for this storm and remained on the lower end of expectations in my reports… but I didn't expect the thing to fall apart. But now you may understand better why I hold off on the hype of snow totals many days in advance. Here I am two days after my last post show a whole lot of nothing, which may be a good thing for many. Two weeks in a row of one of my kids or another home sick from school finally got to me and took a step back. Maybe I should step back more often?  Well,  when I said all of us in my family were ready to move on with spring, maybe my couch surfing son willed this thing away? I'll let him think that.
Yes, multiple trips to the doctor and one to the ER revealed a common thread from the medical community: There is a resurface of the Flu or some other virus and they want blame the weather. I will say they also have medical predictions on par with how this last storm has played out, so let's call this a draw.
The main idea here is that the storm pushed a little father south and took the snow with it. There may be some flakes or drops on the north end, but a whole lot of excitement over nothing. It was hard to ignore when every computer model was showing snow for days on end.  Yet, it is April, and it is rare to get something organized with an impact. That is what I was sticking with all the way.
The National Parks Service declared April 5th the peak at the Tidal Basin in Washington and maybe the cold just above freezing will keep the flowers on longer. The down side is that it will be cold for runners in the Cherry Blossom 10 Miler and the colder than normal pattern appears to dominate much of the next two weeks (with one title warm up in the middle).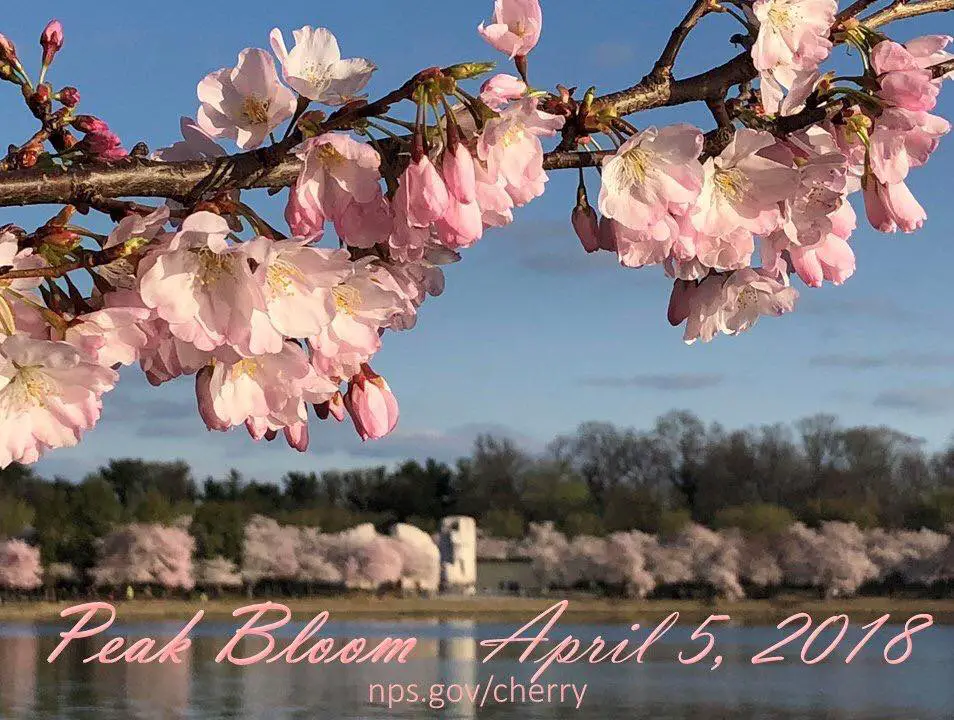 Stats For April 7
Average High:  62ºF
Record High: 93ºF in 1929
Average  Low: 40ºF
Record Low: 22ºF in 1982
Snow Record: 0.2″ in 20007
Seasonal Snow To Date (at BWI): 15.2
Sunrise: 6:41 AM
Sunset 7:36 PM
*Daylight = 2:32 longer than yesterday 
*Bay Water Temperature = 45ºF at Thomas Pt. Light House
Keep In Touch Every Day
Click here to sign up for email alerts…. Just in case you don't get the post on your social media feed
Rain/Snow Radar Simulation Today —> slider
[metaslider id=61051]
Storm Staying South Tonight
This is the ICON Model that continues to lead the charge with storm tracks as it was among the first to show this system staying south. I will continue to show this as one of the top choices with future events. Here is shows the storm track overnight and into Sunday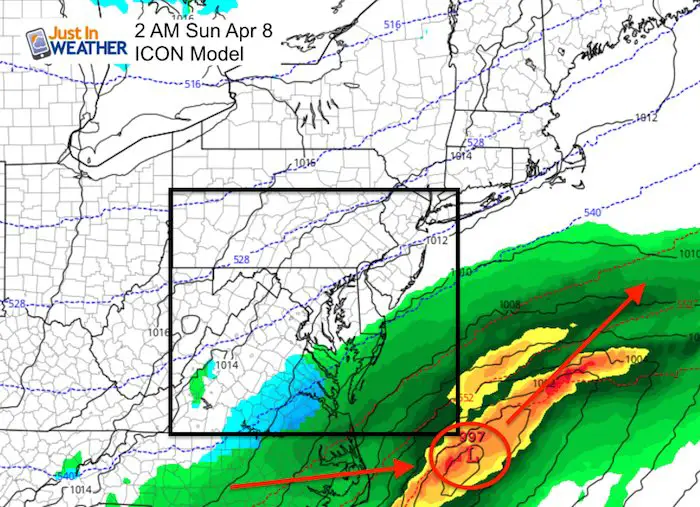 High Temperatures Today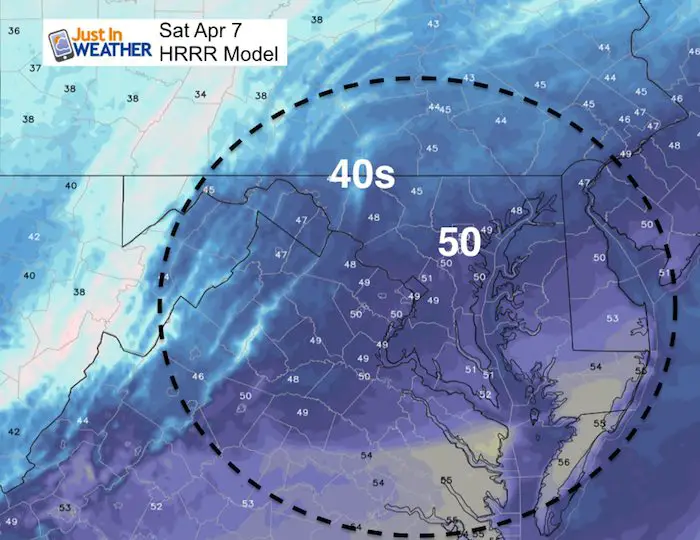 Low Temperatures Sunday
It looks like the lack of snow and weaker storm will NOT pull down the really cold air. However freezing should reach Baltimore and maybe just north of Washington.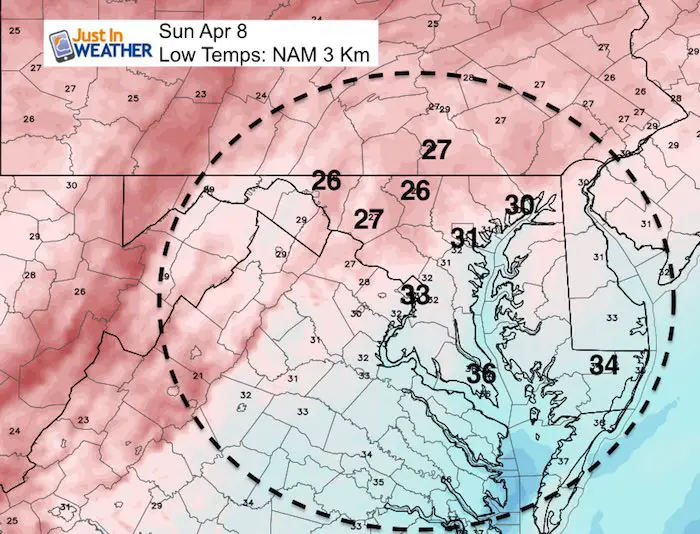 Cold Pattern With One Warm Up Over The Next Two Weeks
The jet stream will be dominated by the colder flow as sen here in blue. There will be one warm up in the middle of the month with a chance to approach 70ºF by April 15, only to drop below average again. Remember as shown above that we should be in the 60s this tome of year with high temps warming one degree every three days.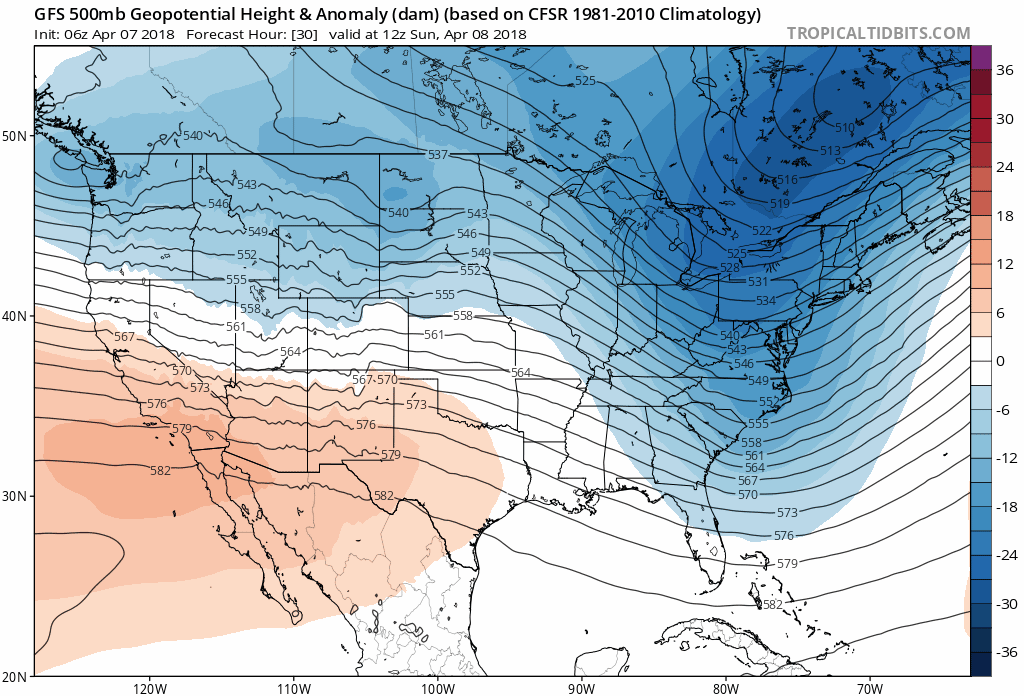 Temperature Outlook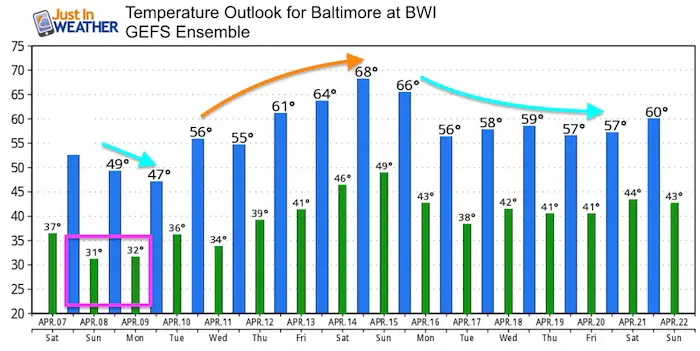 Shine On
Proceeds from all sales go to Just In Power Kids. Click the image to shop and show your support.
Partner With Us. My Fiancee Shannon and I started this non profit Just In Power Kids. We are building a network of Integrated Wellness Practitioners plus funds for kids in and post cancer treatment to get free sessions.
Get the award winning Kid Weather App I made with my oldest son and support our love for science, weather, and technology. Our 3 year anniversary of the release and our contribution to STEM education is this November. It has been downloaded in 60 countries, and works in both temperature scales. With your support we can expand on the fun introduction to science and real weather.
Also See:
My Winter Outlook 2017-2018 for more snow
La Nina Formed: What it could mean to our winter
NOAA Winter Outlook: Not The Best But Not The Worst For Snow
Two Farmers Almanacs Winter 2018 Outlooks
Winter Weather Folkore: Suggestions from Animals and Crops
First Frost and Freeze Dates For Maryland (southern PA and northern VA)
My Preliminary Winter Outlook Notes
Low Snow Winters In Baltimore: To Repeat Or Not Repeat
NOAA Ranks Blizzard 2016 4th Worst Snowstorm On Record
Blizzard 2016 Record Top Snowstorm: Area Totals
Extreme Weather of 2015 balanced out on both ends