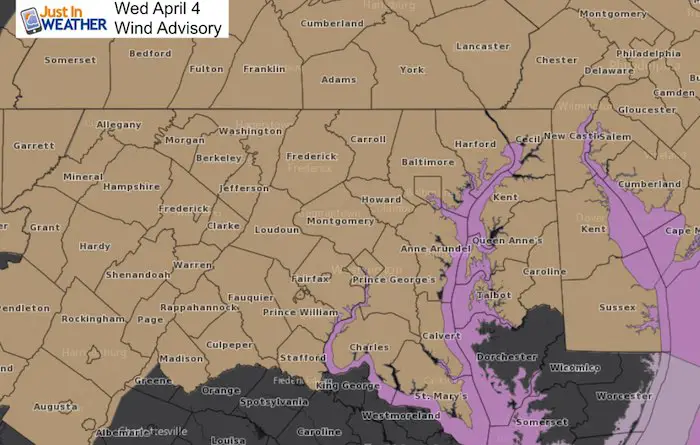 Tuesday April 3 2018
A Wind Advisory in effect for most of our region for most of the day on Wednesday. The lower Eastern Shore will miss the worst of it.  A strong cold front will swing through mid day with a brief line of heavy rain and maybe some thunder. Winds will be gusty in the morning, with the front, and peak in the afternoon as winds cold top gusts between 40 and 50 mph. This is not as bad as the wind storm we had in early March, but it can take down some trees or power lines.  The thing is, this is only half of the story.
There is a large pool of cold air in central and eastern Canada that the jet stream keeps tapping into. Our delayed spring will continue as we have both a chance for snow this weekend and a deep freeze with possible record low temperatures Sunday morning. Here is the quick version with the maps to prove it.
Wednesday Cold Front
The timing for Baltimore is 'around' noon. But plan for 10 AM Hagerstown to Frederick and 2 PM on the Eastern Shore. There will be a brief line of heavy rain and maybe some rumbles of thunder.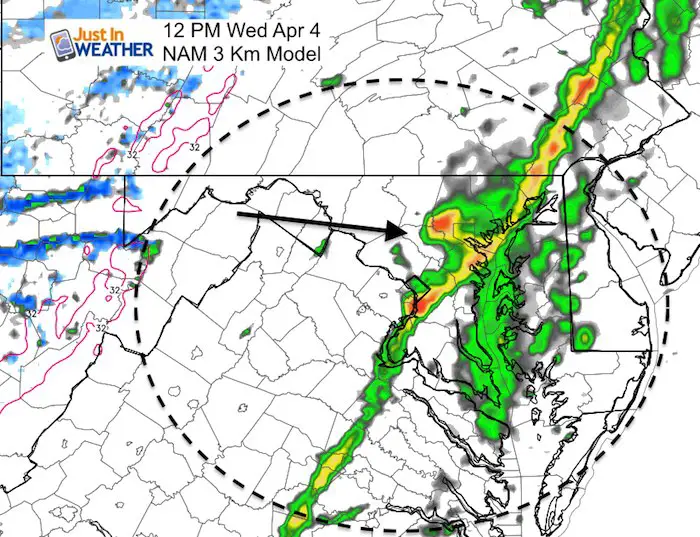 Wednesday Winds
Here are the winds just behind the cold front. These are the steady winds expected.
Wind Gusts All Day
There will be a surge of winds in the morning ahead of the front and in the afternoon well behind the front.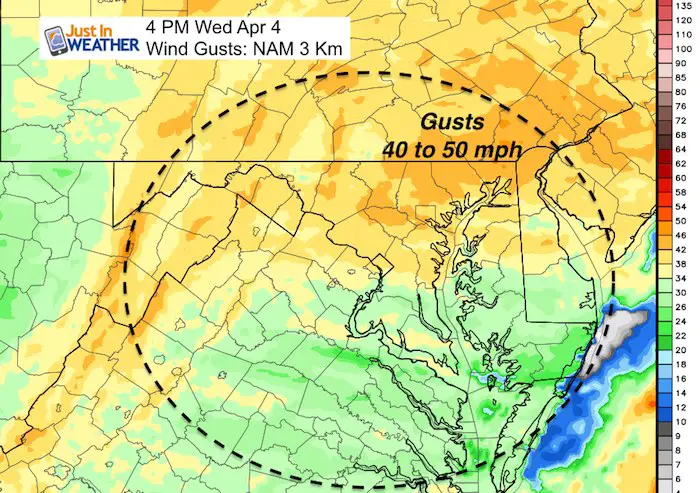 About That Saturday Snow
Here is a contrast of three models. Both the GFS and Canadian Models show all day Saturday. This would be a DAY EVENT in APRIL! That means little to no road stickage if this verifies. The other model is growing on me. Below is the German ICON Model and it shows the system farther south but warmer. Less in PA and more mixing around the Bay. That snow does spread east in the evening. If there is any intensity leftover, it could bring some slush after dark. A big IF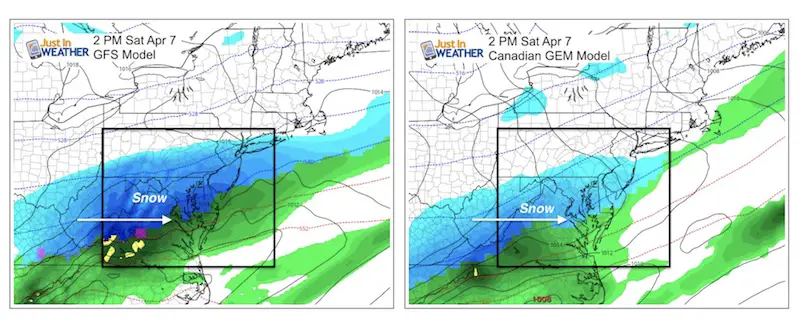 Animation of the GFS Model (most aggressive with this event)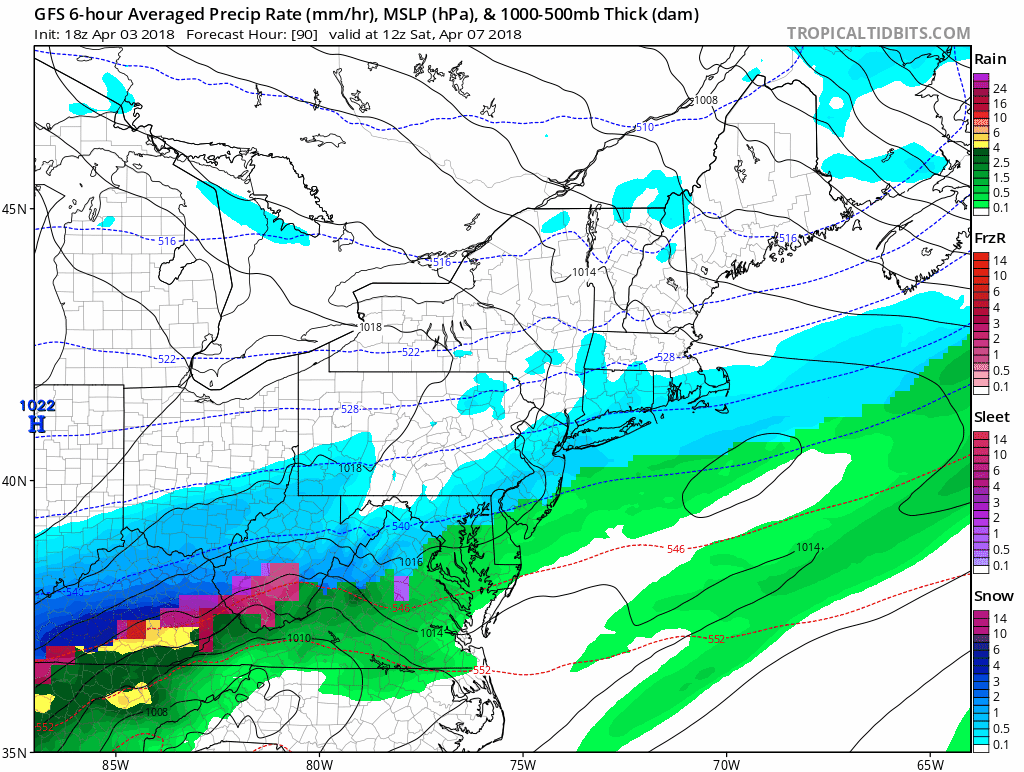 The ICON Model is just a little later with the snow reaching central Maryland… By evening 
Record Cold Sunday?
The record Low on April 8 in Baltimore is 26ºF set in 1982.  That is the forecast shown here on the GFS Model
Why Is This Happening?
The Jet Stream has tapped into the large pool of cold air in Canada and keeps brining it south. There will be another attempt o warm up in 10 days, only to be followed by another push of cold air. The month appears to be dominated by the colder pattern.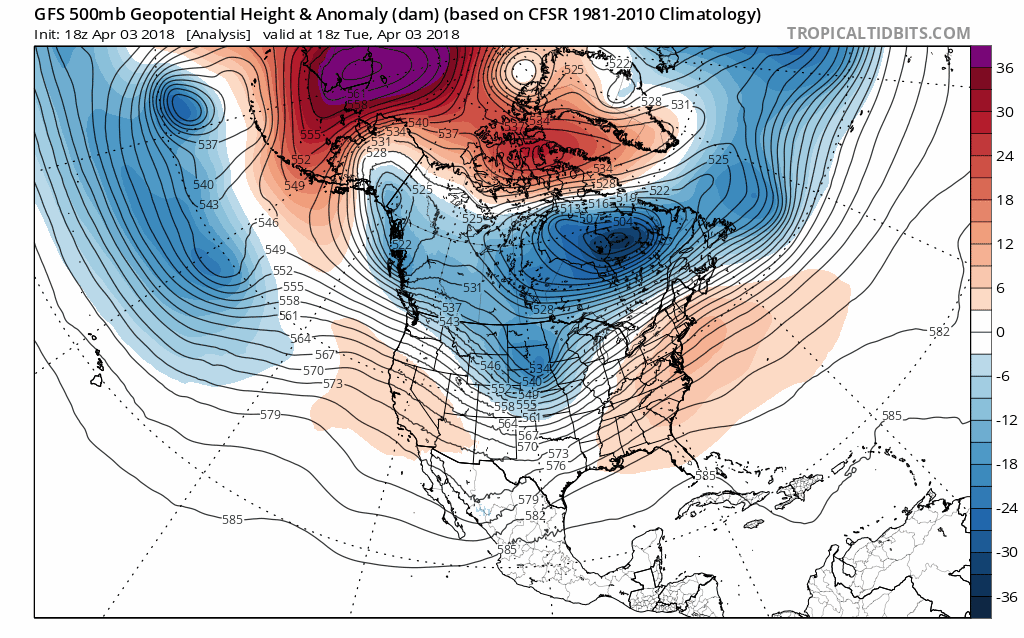 Shine On
Proceeds from all sales go to Just In Power Kids. Click the image to shop and show your support.
Partner With Us. My Fiancee Shannon and I started this non profit Just In Power Kids. We are building a network of Integrated Wellness Practitioners plus funds for kids in and post cancer treatment to get free sessions.
Get the award winning Kid Weather App I made with my oldest son and support our love for science, weather, and technology. Our 3 year anniversary of the release and our contribution to STEM education is this November. It has been downloaded in 60 countries, and works in both temperature scales. With your support we can expand on the fun introduction to science and real weather.
Also See:
My Winter Outlook 2017-2018 for more snow
La Nina Formed: What it could mean to our winter
NOAA Winter Outlook: Not The Best But Not The Worst For Snow
Two Farmers Almanacs Winter 2018 Outlooks
Winter Weather Folkore: Suggestions from Animals and Crops
First Frost and Freeze Dates For Maryland (southern PA and northern VA)
My Preliminary Winter Outlook Notes
Low Snow Winters In Baltimore: To Repeat Or Not Repeat
NOAA Ranks Blizzard 2016 4th Worst Snowstorm On Record
Blizzard 2016 Record Top Snowstorm: Area Totals
Extreme Weather of 2015 balanced out on both ends