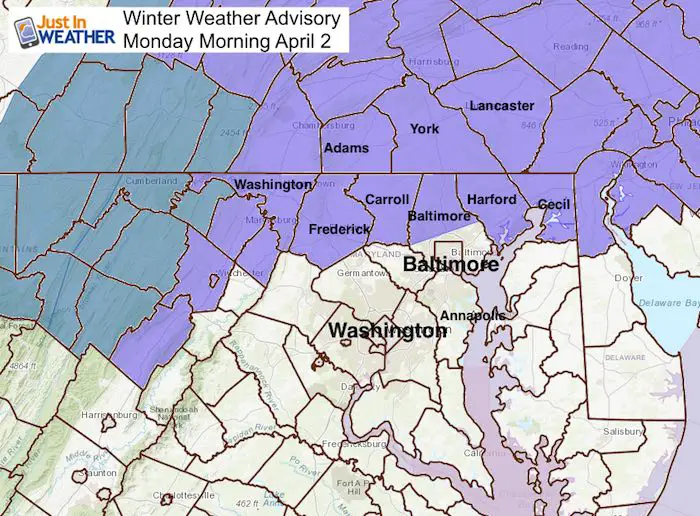 April 1 2018
If someone read the meteorological notes and the calendar date as a movie script, it would be returned as unbelievable. Today is Easter Sunday and April Fools Day. We are expect to get close to 60ºF AND have a Winter Weather Advisory in effect for tomorrow. Now add in that Chinese Space Station Tiangong -1 is falling to Earth. Wait, there is more! WE could get closer to 70ºF mid week AND THEN get close to a record low temperature on Friday morning back into the 20s. This is all true and I do NOT play jokes on this page.   So, let's get to business.
I have downplayed the snow event, but given the impact in other parts of the nation AND the timing perfectly at sunrise and the morning commute, I need to add my words of caution with travel Monday morning. Temperatures will actually remain above freezing, but we did this almost two weeks ago. There will be light rain, changing to snow near and north of Baltimore with rates close to 1 or 2 inches an hour briefly. That is enough to overtake the warmer ground and establish. The typically closer areas inland from the Bay and I-95 are most likely to get some stickage and impact: Washington, Frederick, Carroll, northern Baltimore, Harford, and Cecil Counties in Maryland. There could be parts of western Howard and Montgomery that get in on the action. Southern PA is likely to peak out with up to 4 inches of morning snow.
See the radar simulation and my call for snowfall below.
Stats For April 1
Average High:  59ºF
Record High: 88ºF in 1978
Average  Low: 38ºF
Record Low: 15ºF in 1923
Snow Record: 9.4″ in 1924
Seasonal Snow To Date (at BWI): 15.2
Sunrise: 6:50 AM
Sunset 7:30 PM
*Daylight = 2:33 longer than yesterday 
*Bay Water Temperature = 45ºF at Thomas Pt. Light House
Keep In Touch Every Day
Click here to sign up for email alerts…. Just in case you don't get the post on your social media feed
Also See:
Snow Reports From March 20-21 2018
EASTER AFTERNOON
The sun should return later and warm us up in a hurry
Snow Timeline —> slider
Rain will arrive after midnight and change to snow between 3 and 5 AM in the colder zone.  Metro Baltimore could get snow around the beltway between 6 AM and 8 AM. This will end before 10 AM
[metaslider id=60854]
Temperatures Monday Morning 
It is important to note that we will not get below freezing! This will play a role in the melting of snow from the ground even when there is a coating, and from above.
My Call For Snowfall
Morning commuting and school bus travel may need to be delayed for a few hours on the north end as the heaviest snow will be falling between 6 and 8 AM.
While the main snow event will be in the normally colder inland zones, some slushy snow will still mainly on the grass around Baltimore. BWI has a record of a Trace fro April 2 in 1992. That could be tied or beaten. 
NAM Model Snowfall
This is on the high side… as it does not account for melting or compacting flakes.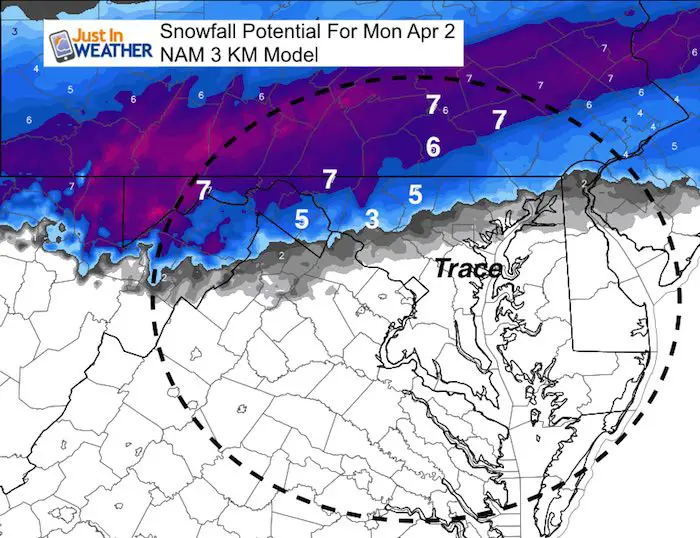 Snow Potential: National Weather Service Offices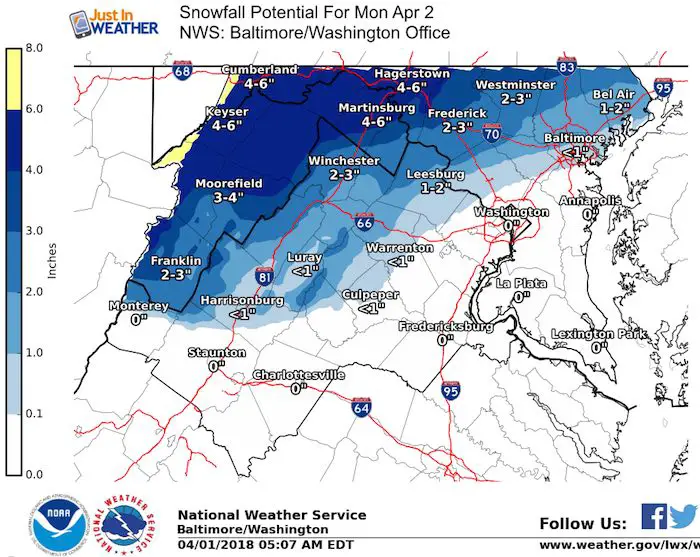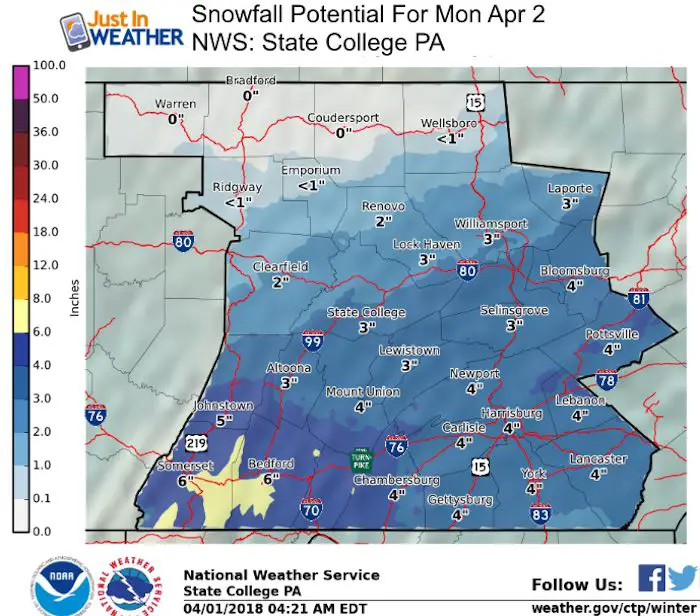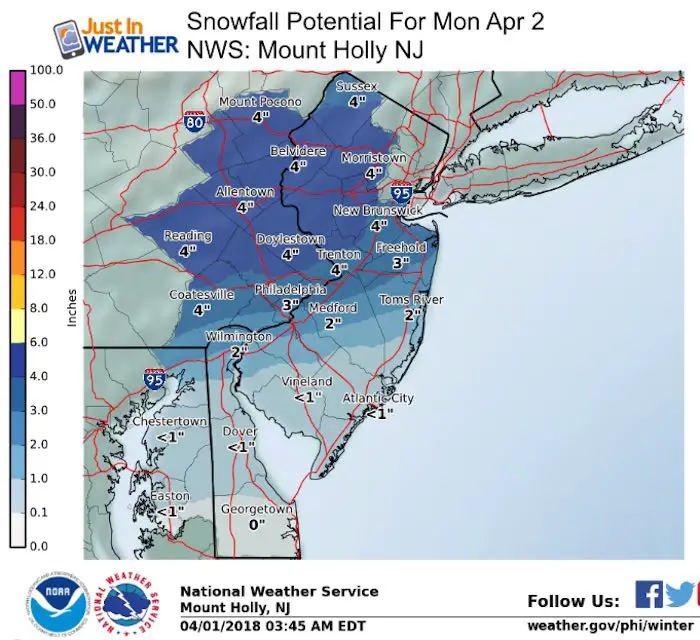 Temperature Outlook 
This outlook shows the push back up fro temperatures on Wednesday between 65ºF and 70ºF. Then a crash by the end of the week. Lows on Friday wil be in the 20s. The record low on April 6 in Baltimore is 24 set just two years ago in 2016.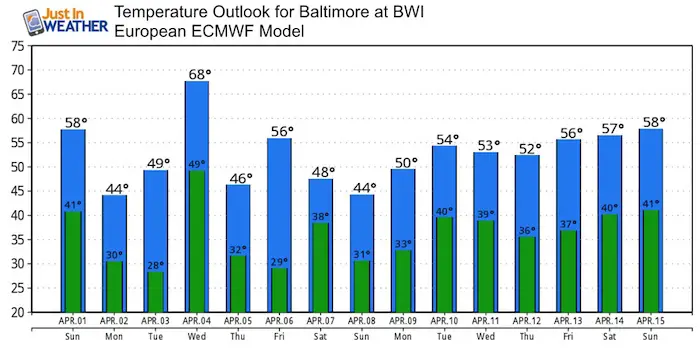 Shine On
Proceeds from all sales go to Just In Power Kids. Click the image to shop and show your support.
Partner With Us. My Fiancee Shannon and I started this non profit Just In Power Kids. We are building a network of Integrated Wellness Practitioners plus funds for kids in and post cancer treatment to get free sessions.
Get the award winning Kid Weather App I made with my oldest son and support our love for science, weather, and technology. Our 3 year anniversary of the release and our contribution to STEM education is this November. It has been downloaded in 60 countries, and works in both temperature scales. With your support we can expand on the fun introduction to science and real weather.
Also See:
My Winter Outlook 2017-2018 for more snow
La Nina Formed: What it could mean to our winter
NOAA Winter Outlook: Not The Best But Not The Worst For Snow
Two Farmers Almanacs Winter 2018 Outlooks
Winter Weather Folkore: Suggestions from Animals and Crops
First Frost and Freeze Dates For Maryland (southern PA and northern VA)
My Preliminary Winter Outlook Notes
Low Snow Winters In Baltimore: To Repeat Or Not Repeat
NOAA Ranks Blizzard 2016 4th Worst Snowstorm On Record
Blizzard 2016 Record Top Snowstorm: Area Totals
Extreme Weather of 2015 balanced out on both ends