8 PM April 1 2018
Easter Sunday brought a high temperature of 64ºF to Baltimore's BWI. So why would we think about snow in the morning? Well, we did this same thing just as Spring began and surprisingly had more stickage than expected. The timing is perfect for an April snow event to do its thing since it will be right before sunrise. That is after maximum cooling overnight. This will be brief but intense… where the snow falls.  So despite temps in the mid 30s, the heavy snow can overtake the ground in spots. This will begin as rain and change to snow between 3 AM and 6 AM. The entire event will be done for our area by 9 AM.
The update is that models have trended a little north with the snow line. See more on that below and then read on for a brief look at how models are really trying to bring on another snow event next weekend.
The good news is that most schools are still on spring break, but ironic that some are in session for snow make up days. So I wanted to start with this simple form of how I see the impact in the morning. Elevation and proximity to the Bay will play a role. Snow is more likely inland and farther north.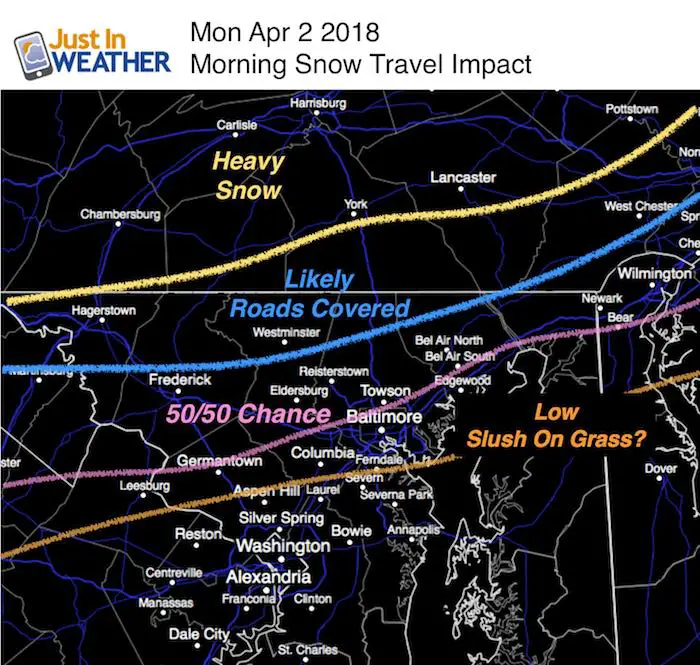 Winter Weather Advisory (and Winter Storm Warning in the mountains)
The timing has been extended to 11 AM in southeast Harford County, but I see the bulk of the event ending by 9 or 10 AM. Plus, April sunlight will help melt snow should it be on the ground by you.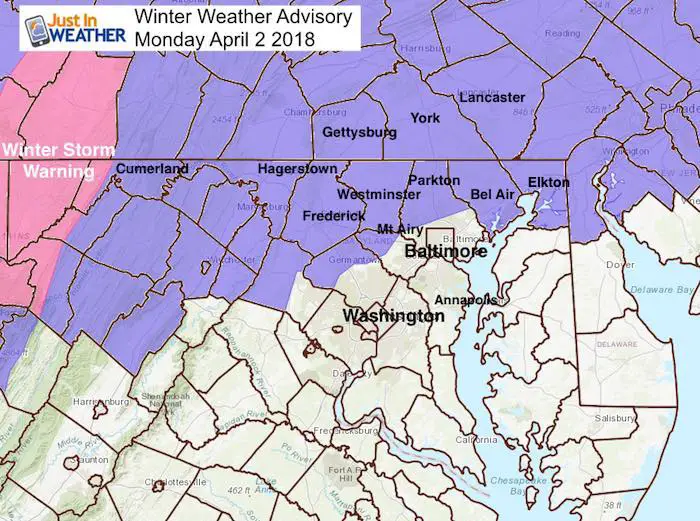 Monday Morning Snow
The latest model runs have shifted a little farther north with the solid snow line. This is the 5 AM time stamp of the NAM 3 Km Model, but the mix was missing and I extrapolated. Please compare this to the previous radar simulation below.
Snow Timeline —> slider
Rain will arrive after midnight and change to snow between 3 and 5 AM in the colder zone.  Metro Baltimore could get snow around the beltway between 6 AM and 8 AM. This will end before 10 AM
THIS IS MONDAY- JUST AN ERROR IN THE TITLE 
[metaslider id=60854]
Temperatures Monday Morning 
It is important to note that we will not get below freezing! This will play a role in the melting of snow from the ground even when there is a coating, and from above.
My Original Call For Snowfall
Morning commuting and school bus travel (for those out of break) may need to be delayed for a few hours on the north end as the heaviest snow will be falling between 6 AM and 8 AM in line with the impact map noted above. Many other areas will have snow stickage mainly on the grass.
While the main snow event will be in the normally colder inland zones, some slushy snow will still mainly on the grass around Baltimore. BWI has a record of a Trace for April 2 in 1992. That could be tied or beaten. 
Snow Potential: National Weather Service Regional Offices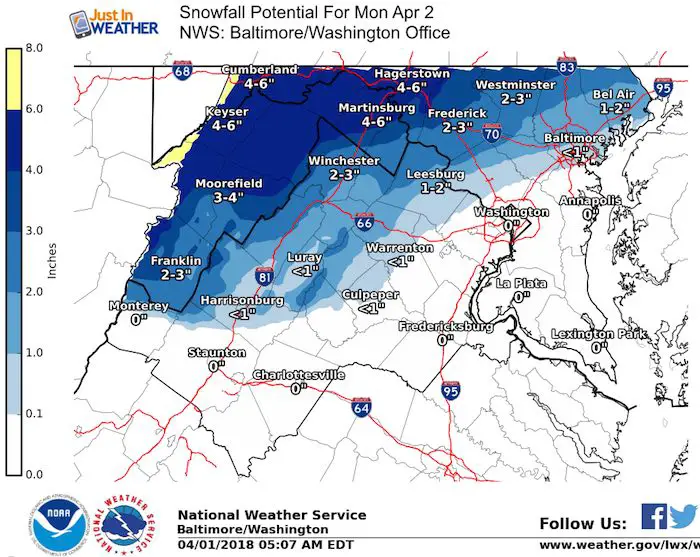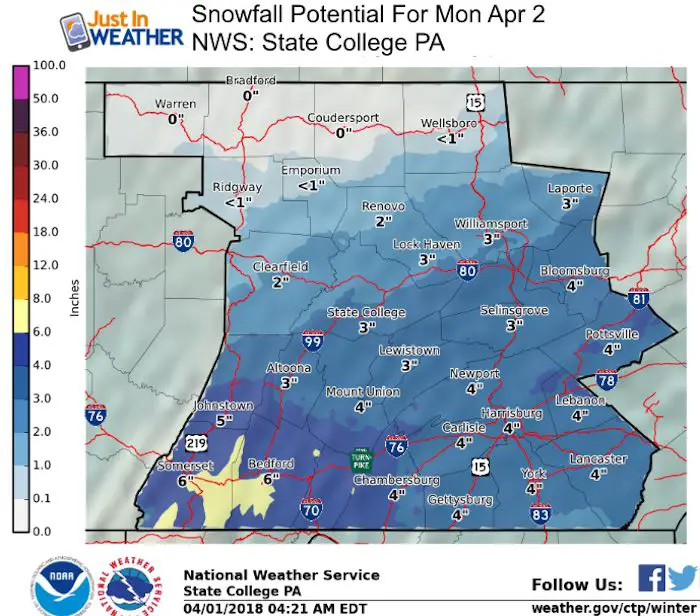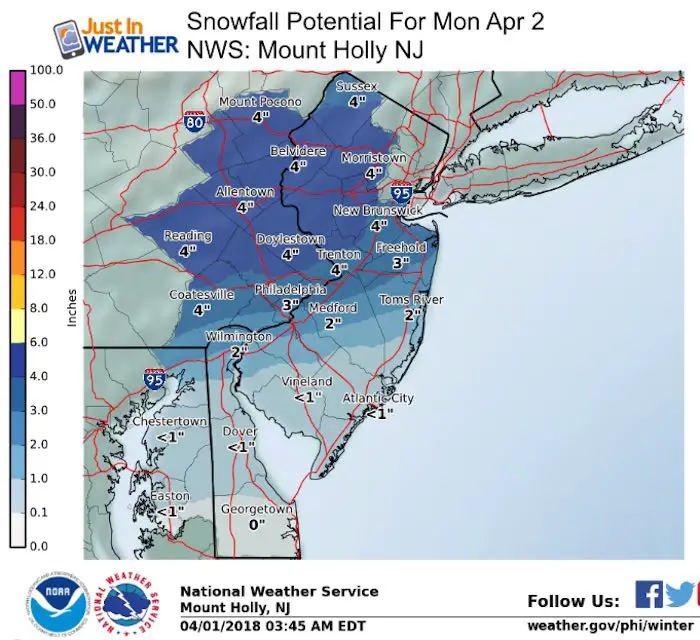 More Snow Next Weekend?
If you have been following my reports all winter, then you know I have not trusted the long range modeling and didn't post outlooks for snow a week away. But, since we are in an delayed winter pattern, I figured it was OK to at least show that there is more in the pipeline. Check out the latest GFS model for next Sunday morning. See the animation below.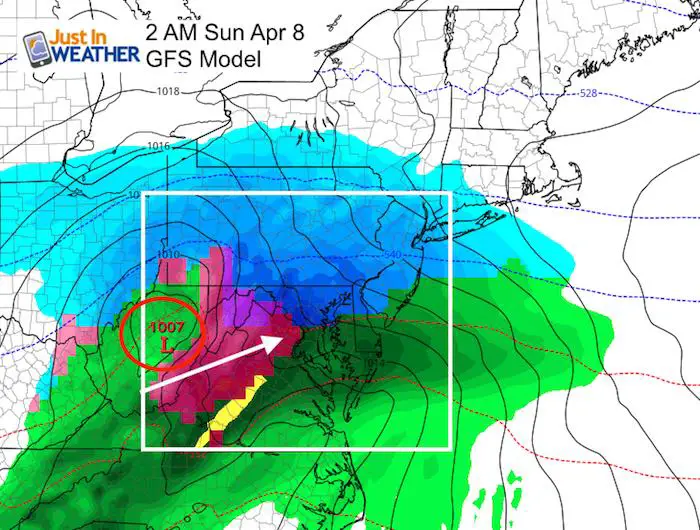 GFS Model Animation
Shine On
Proceeds from all sales go to Just In Power Kids. Click the image to shop and show your support.
Partner With Us. My Fiancee Shannon and I started this non profit Just In Power Kids. We are building a network of Integrated Wellness Practitioners plus funds for kids in and post cancer treatment to get free sessions.
Get the award winning Kid Weather App I made with my oldest son and support our love for science, weather, and technology. Our 3 year anniversary of the release and our contribution to STEM education is this November. It has been downloaded in 60 countries, and works in both temperature scales. With your support we can expand on the fun introduction to science and real weather.
Also See:
My Winter Outlook 2017-2018 for more snow
La Nina Formed: What it could mean to our winter
NOAA Winter Outlook: Not The Best But Not The Worst For Snow
Two Farmers Almanacs Winter 2018 Outlooks
Winter Weather Folkore: Suggestions from Animals and Crops
First Frost and Freeze Dates For Maryland (southern PA and northern VA)
My Preliminary Winter Outlook Notes
Low Snow Winters In Baltimore: To Repeat Or Not Repeat
NOAA Ranks Blizzard 2016 4th Worst Snowstorm On Record
Blizzard 2016 Record Top Snowstorm: Area Totals
Extreme Weather of 2015 balanced out on both ends