March 21 2018
With a Winter Storm Warning across our entire region we can expect significant snow most of the day. Tuesdays snow totals range from only 0.2″ at BWI to a range of 6 to 10 inches across northern Maryland and southern Pennsylvania. Areas that got snow Tuesday should at least double what is on the ground. Areas that did not or are just stuck in the sleet and ice will also get accumulation. The second phase of this 4th Nor'easter is just developing this morning and it will be an all day thing. Snowfall rates will be 1 to 2 inches per hour at a time. That is why we expect this to overtake any warming from the Spring late March sun. This is our biggest storm in over two years, since our record storm of January of 2016, and now it is (snow) show time.
Below is a look at the simulated radar through tonight. Snow will expand across the Bay to the lower Eastern Shore tonight and wil be followed by freezing temperatures and icing Thursday morning.
This Morning Set Up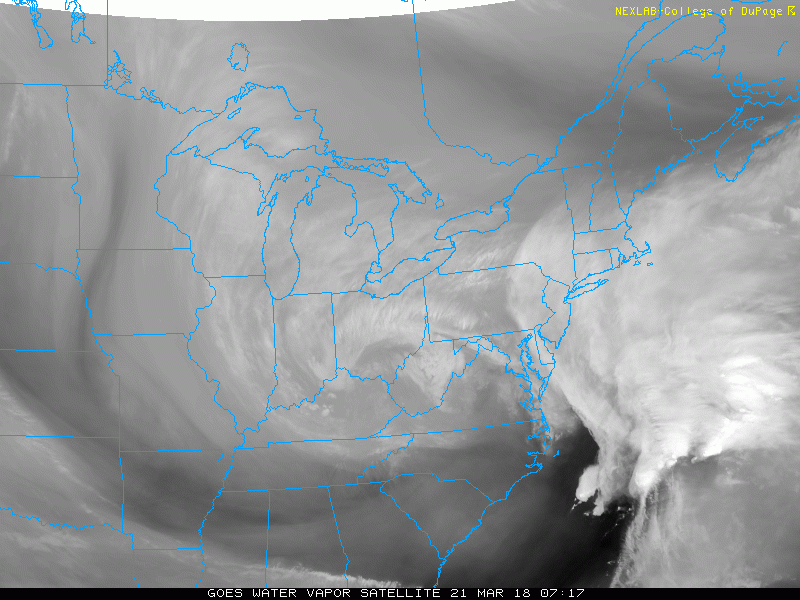 The Upper Level Low is circulating over Southern Ohio. As the first storm moves away from the coast, a new storm will be forming on the coast and get more energy from the upper level system. Basically we are in the bulls eye of the atmosphere and it will be an all day thing. Add in winds that could gust over 40 mph and near blizzard conditions will be felt at times.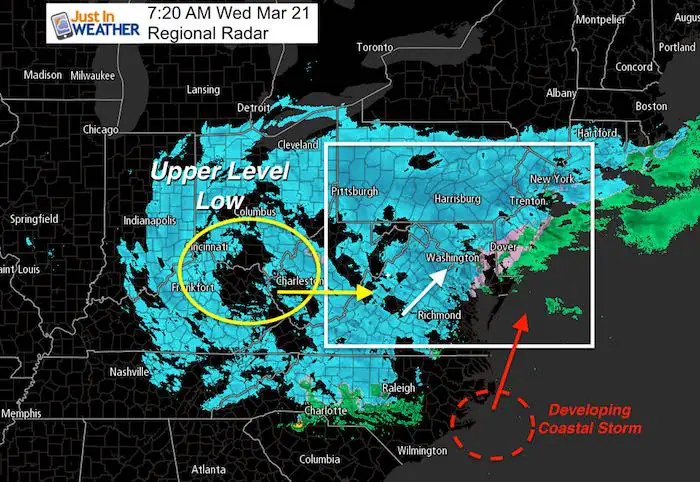 Winter Storm Warning Reminder
Keep In Touch Every Day
Click here to sign up for email alerts…. Just in case you don't get the post on your social media feed
FITF Spring Sale: Due to the storm, all apparel is 20% off. Use Promo Code: springsnow. Shop Here
Stats For March 21
Average High:  55ºF
Record High: 89ºF in 1948
Average  Low: 35ºF
Record Low: 8ºF in 1965
Snow Record: 9.7″ in 1964
Seasonal Snow To Date (at BWI): 10.7″
Sunrise: 7:09 AM
Sunset 7:20 PM
*Daylight = 2:35 longer than yesterday 
*Bay Water Temperature = 41ºF at Thomas Pt. Light House
Morning Temperatures
The freezing line is near I-95. Temps will remain nearly steady most of the day. Colder air will spread aloft and bring snow to Southern Maryland and Delmarva
Radar Simulation —> slider
[metaslider id=60559]
My Call For Snowfall
The map is the same, but totals increased just a little from my initial forecast. There are two numbers. The Additional Snowfall from Tuesday evening through Wednesday AND the FINAL TOTAL.
A: 12 to 20  inches total
B: 6 to 12 inches Additional Snow.  TOTAL SNOW: 12 to 20 inches 
Yes, many parts of this region already had 4 to 8 inches as of Tuesday evening. That was the overachiever. The rest is what close to what I originally expect to start adding up from this point forward.
C: 6 to 12 inches Additional Snow. TOTAL SNOW 8 to 14 inches
D: 4 to 8 inches TOTAL *If I bust here, it will be because I am too low. I am banking on snow compacting and melting here.
E: Slushy 3 to 6 inches. Snow will be expanding during the day and into Wednesday night on the Eastern Shore. The daytime snow will battle temps in the mid 30s and sun angle. If there are heavier rates of snow, that could compensate the melting and go higher.
Model Forecasts For ADDITIONAL SNOW
This is computer guidance and I am still staying a little conservative. At this point, all bets are off!
NAM 3 Km 'Additional Snow'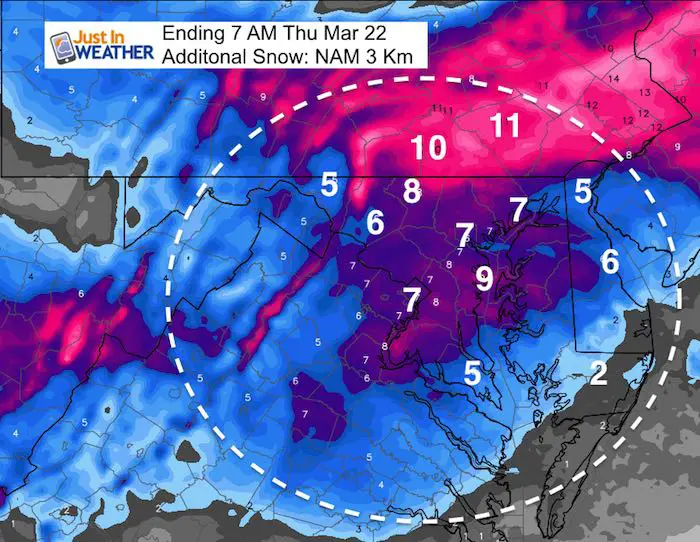 Thursday Morning Icing
Temperatures should drop into the 20s Thursday morning so expect this impact to continue after the storm departs.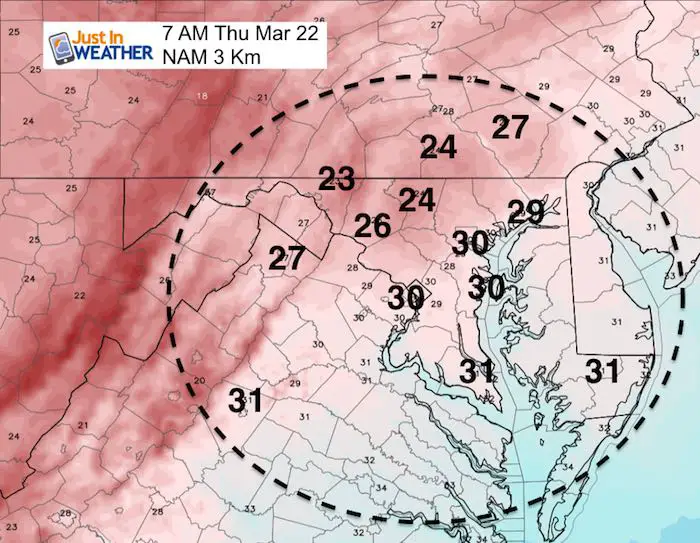 Also See:
Winter Precipitation Types. What is sleet?
Spring Sun Angle and Late March Daily Snow Records
Keep In Touch Every Day
Click here to sign up for email alerts…. Just in case you don't get the post on your social media feed
Please share your thoughts, best weather pics/video, or just keep in touch via social media
FITF Items Now On Sale (again)
To celebrate this rare late March Storm everything is 20% off. Use promo code: springsnow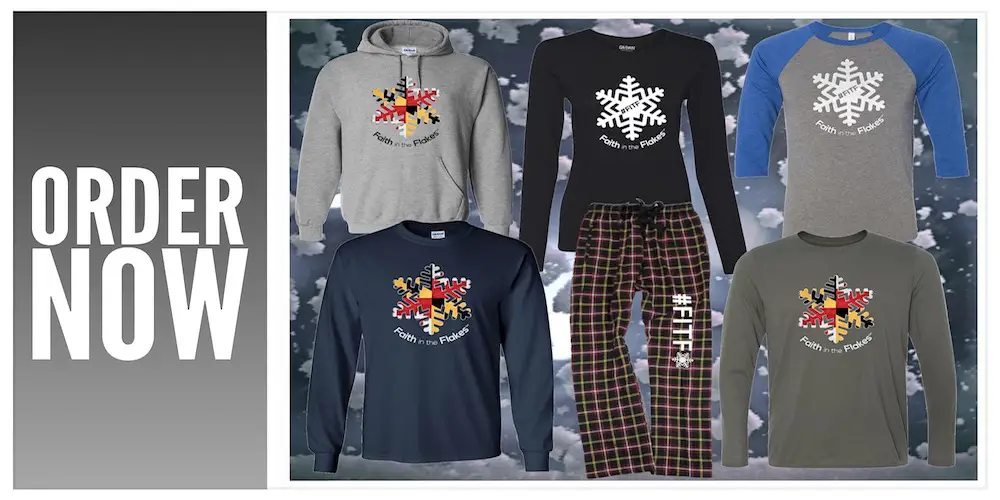 Snowstix- We Need You To Measure Snow Too
We are giving 10% of each sale to programs that benefit pediatric oncology patients.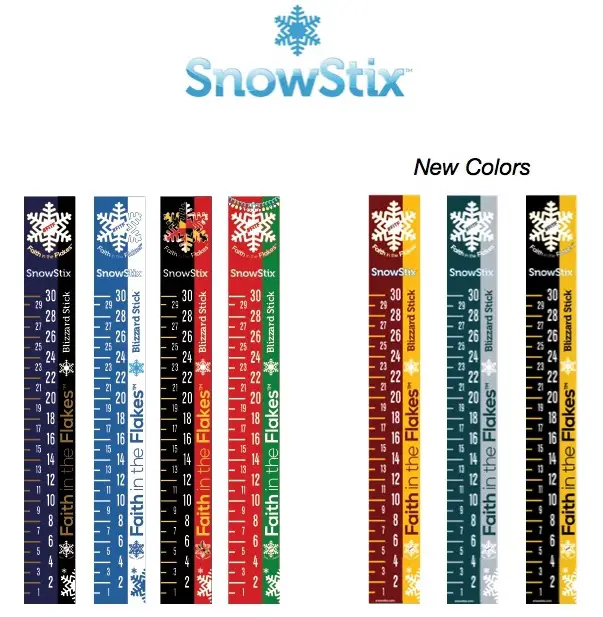 Get the award winning Kid Weather App I made with my oldest son and support our love for science, weather, and technology. Our 3 year anniversary of the release and our contribution to STEM education is this November. It has been downloaded in 60 countries, and works in both temperature scales. With your support we can expand on the fun introduction to science and real weather.
Keep In Touch Via Email
Click here to sign up for email alerts…. Just in case you don't get the post on your social media feed
Also See:
My Winter Outlook 2017-2018 for more snow
La Nina Formed: What it could mean to our winter
NOAA Winter Outlook: Not The Best But Not The Worst For Snow
Two Farmers Almanacs Winter 2018 Outlooks
Winter Weather Folkore: Suggestions from Animals and Crops
First Frost and Freeze Dates For Maryland (southern PA and northern VA)
My Preliminary Winter Outlook Notes
Low Snow Winters In Baltimore: To Repeat Or Not Repeat
NOAA Ranks Blizzard 2016 4th Worst Snowstorm On Record
Blizzard 2016 Record Top Snowstorm: Area Totals
Extreme Weather of 2015 balanced out on both ends