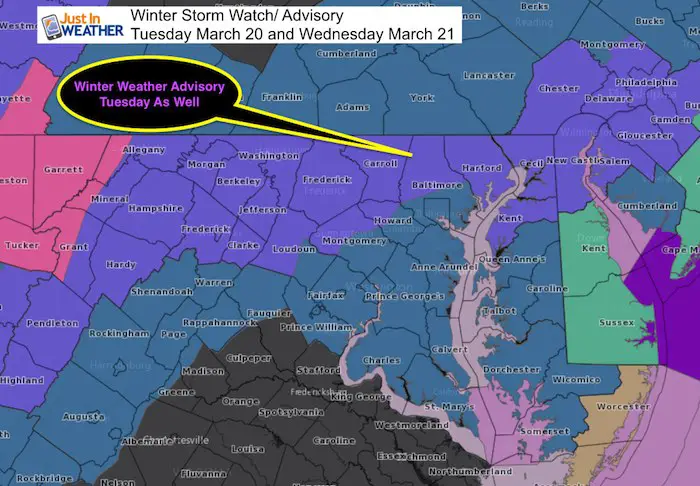 March 19 2018
The largest winter storm of the year will be on the first day of Spring. A Winter Weather Advisory for Tuesday in effect for the normally colder areas of metro Baltimore and central Maryland to northern Delmarva. This region can see 1 to 3 inches of snow during the day, but many roads will be wet between 9 AM and 6 PM. A Winter Storm Watch is in effect for most of our area Tuesday night into Wednesday. This is when we will have the largest impact from this late season storm. A Winter Storm Warning is in effect for far western Maryland. A Wind Advisory is in effect near the beaches for gusts over 50 mph.
There is no easy way to put this snow forecast but I am going to do my best to simplify how I see the set up. For starters, the sunshine and temperatures in the mid 50s today is being soaked up by the pavement. It has a good memory and will hold on to this event with snow and 30s tomorrow. It is going to take time to chill the ground and for the timing of darkness to help. So you it is snow you hear, you don't have to be anxious with fear.
In this post I have my call for snowfall map along with a description. It is very important to know that there will be more snow falling than can stick. We will have two days of snow but the best chance for any impact (and I know students and teachers are anxious to see if their schedules will be adjusted) will be Tuesday evening and Wednesday morning. So I want to break down the start of the storm separately from the main event.
There is a radar simulation timeline slider below from my model of choice, the NAM. Below that is the NAM snowfall product. There are large numbers of what can fall from the sky. If this was January, we would have a moderate to major storm. But given that this will be at the start of spring we will waste a lot of flakes to melting.
Tuesday 
Three Time Frames For Radar and Temperatures Below: 6 AM, 11 AM, and 10 PM
Morning
The arrival between 2 AM and 6 AM is still on, but it will start as snow, mix, or rain. Temperatures will actually be above freeing in most of central Maryland. This will be warmer at this time and drop during the day with the storm gaining intensity.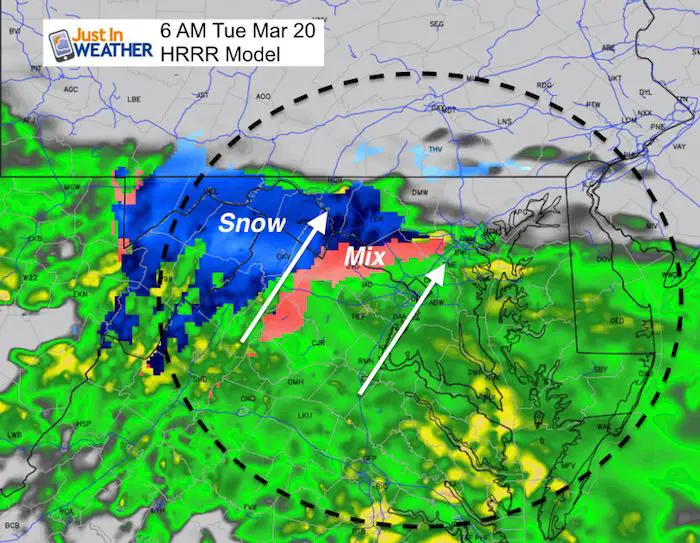 Lunchtime (11 AM)
I've plotted the freezing line here. The pink shade is the wet snow, sleet, slushy mix. This is going to be a set up that might have rain mixed in when the precipitation is light, but more snow when it gets heavier as it drags down colder air with it.
The freezing temps will only allow stickage on grass, plus shady sides of buildings, hills, etc. The high March sun angle will keep most pavement wet.
Even in the areas below freezing, most roads will likely be wet.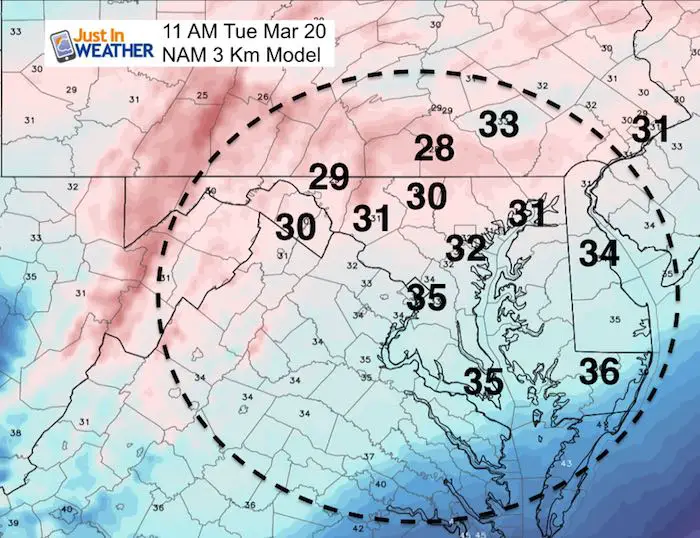 Night
Most of the area will still be in that wintry mix. Notice the Freezing Line pushing across I-95. There will still need to be time for the ground to sufficiently chill. This should happen and allow stickage before daybreak.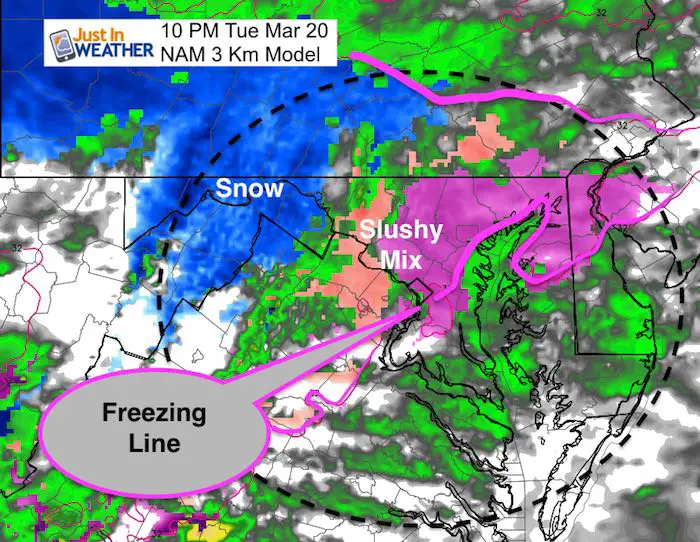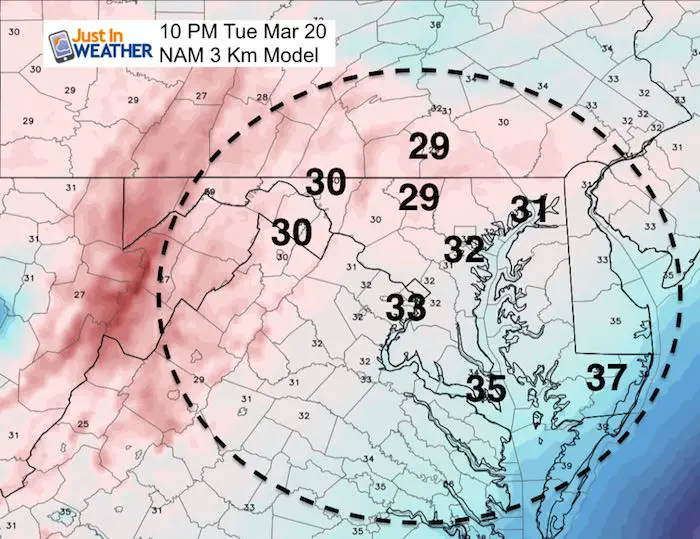 Radar Simulation —> slider: Wednesday
[metaslider id=60360]
My Call For Snowfall
I labeled this with letters to give each zone a description below. The + is the upside potential. That depends on how much can stick on Wednesday during the day. I went lower out of caution.
A:  8 to 14+ inches. Mostly Snow! Elevation will help stickage
B: 4 to 8+ inches. (Tuesday part will be 1 to 3 inches) Mostly snow or mix, but melting during the day. Road issues after 6 PM Tuesday into Wednesday. Snow during the day will add up a little. + Upside potential depends on how much can stick during the day. Icing up overnight into Thursday morning. 
C: 3 to 6+ inches. The ground will be warmer so it will take longer to get stickage. Most accumulation of this amount of snow will be before 10 AM Wednesday. Snow during the day will be tough to accumulate. If it sticks during the day, amounts will be high +.  Icing up overnight into Thursday morning. 
D: 2 to 5+ inches. There will be snow here Wednesday. It will snow most of the day, but battle the sun and warm influence from the Bay. More snow will fall than can stick. There will be icing up by Thursday morning. 
E: Slushy coating to 3 inches. This area will get snow most of Wednesday but most will stick on the grass. Might get Wednesday evening snow and possible freezing of ground into Thursday morning. 
NAM Snowfall Product
This is not showing what will melt during the daytime hours or from mixing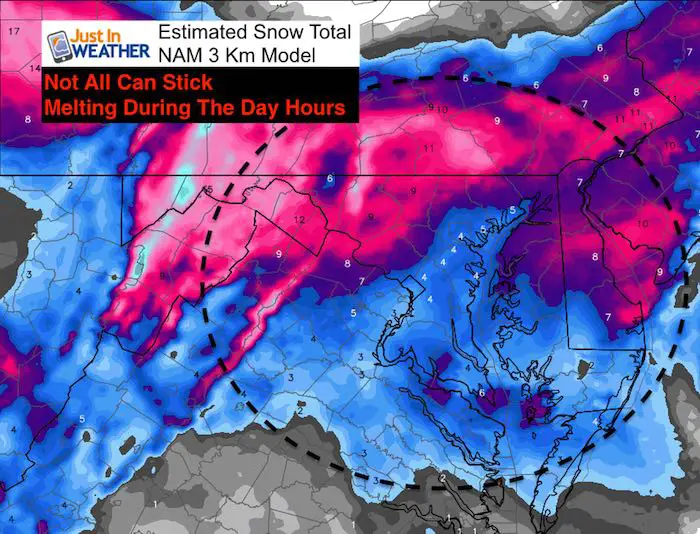 Please share your thoughts, best weather pics/video, or just keep in touch via social media
Keep In Touch Every Day
Click here to sign up for email alerts…. Just in case you don't get the post on your social media feed
FITF Items Will Close At The End Of This Week For The Season
It's almost time for spring and a new line of items.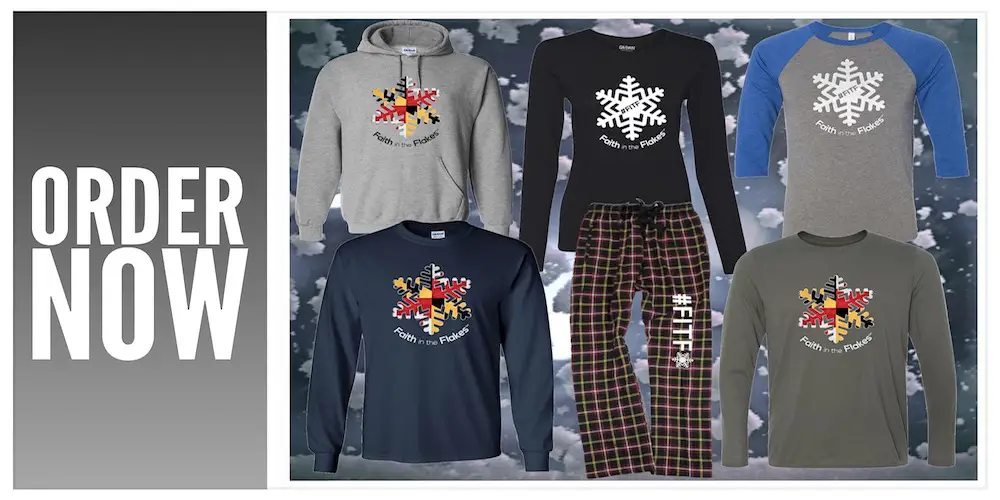 Snowstix- We Need You To Measure Snow Too
We are giving 10% of each sale to programs that benefit pediatric oncology patients.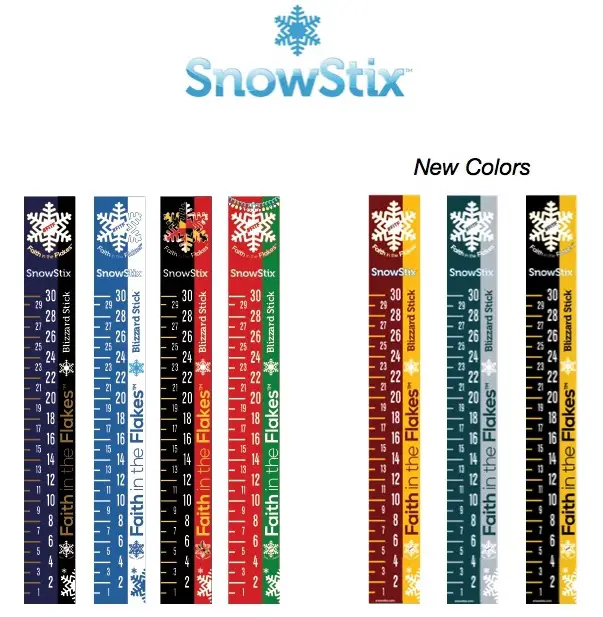 Get the award winning Kid Weather App I made with my oldest son and support our love for science, weather, and technology. Our 3 year anniversary of the release and our contribution to STEM education is this November. It has been downloaded in 60 countries, and works in both temperature scales. With your support we can expand on the fun introduction to science and real weather.
Keep In Touch Via Email
Click here to sign up for email alerts…. Just in case you don't get the post on your social media feed
Also See:
My Winter Outlook 2017-2018 for more snow
La Nina Formed: What it could mean to our winter
NOAA Winter Outlook: Not The Best But Not The Worst For Snow
Two Farmers Almanacs Winter 2018 Outlooks
Winter Weather Folkore: Suggestions from Animals and Crops
First Frost and Freeze Dates For Maryland (southern PA and northern VA)
My Preliminary Winter Outlook Notes
Low Snow Winters In Baltimore: To Repeat Or Not Repeat
NOAA Ranks Blizzard 2016 4th Worst Snowstorm On Record
Blizzard 2016 Record Top Snowstorm: Area Totals
Extreme Weather of 2015 balanced out on both ends