March 19 2018
The snow storm on the way for the start of Spring this year may be our largest winter event of the year. If this was January, we would easily be talking about a foot of snow or more. But is is late March. The problem is how much can stick. While we have had a sub par season so far, it is not too rare to get snow in late March.One point I have been making with this storm is the time of day. The best chance to get snow to stick and accumulate this time of the year will be overnight when it is dark.  During the day, the higher sun angle can penetrate through the clouds and get absorbed by the pavement. That melts flakes and can ruin snow forecasts worse than your NCAA brackets.
More info: My snow forecast and Winter Storm Watch March 20 to 21
Peak Sun Angle
Snow can fall and stick to the ground most of the day in mid winter. Sometimes the very peak sun angle in the middle of the day can help melting, but only briefly. To illustrate this, I wanted to share these graphics with you about the peak sun angle in Baltimore. I arbitrarily picked January 20th, since it is one month after the winter solstice and represents an average for winter. Let's compare to March 20th when part one of our two day storm will hit.
On January 20th in Baltimore
The peak sun angle is 30.7º above the southern horizon… shortly after noon.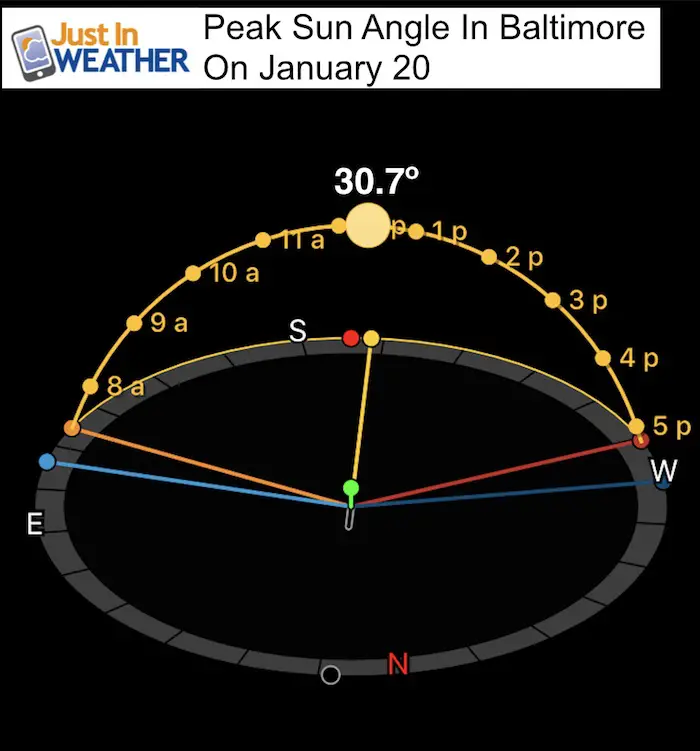 One March 20th, the first day of Spring…
The sun angle will be much higher. We will peak at 50.7º above the southern horizon. That is 20 degrees higher than two months earlier.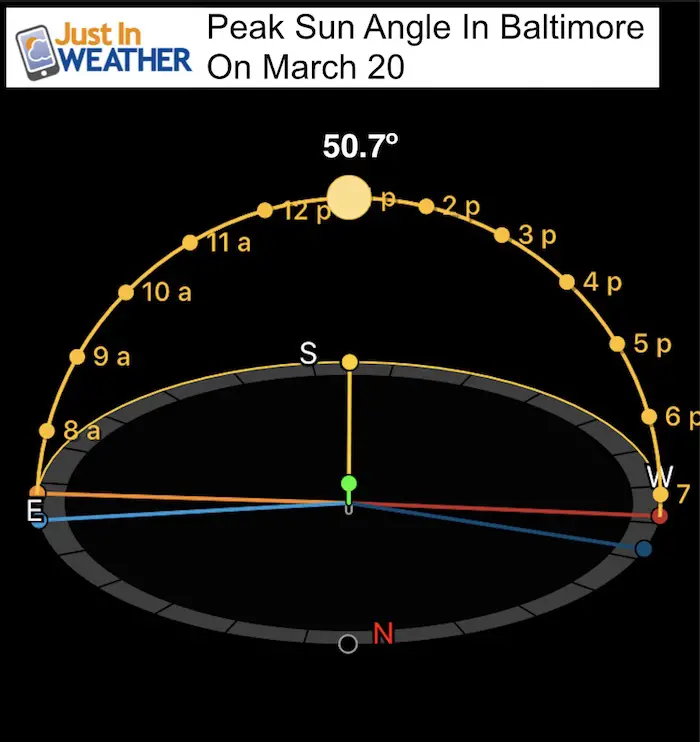 The higher sun is one of the reasons we average a high temperature of 55ºF on March 20th, which January 20th the average high temperature is 41ºF.  Yes, longer daylight helps too.
Now check this out:
On March 20th, the sun angle in Baltimore will reach the equivalent to the January 20th peak sun angle at  9:58 AM.  The sun will then drop below that same angle at 4:30 PM.  That gives us 6 hours and 30 minutes of sunlight at a higher location in the sky. This translates to more then 25% of the total time of the day with a solar energy that will fight against snowfall.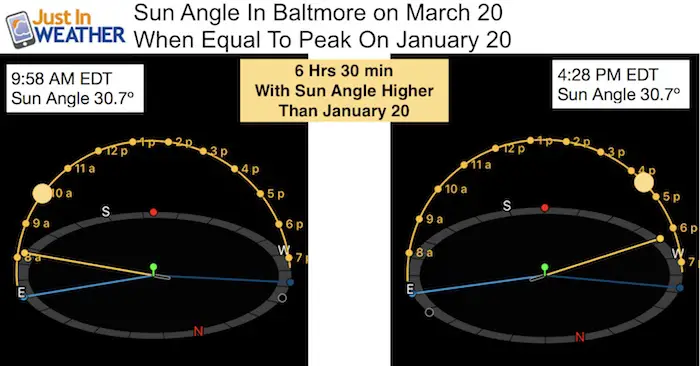 This is why I give a general cushion of when I expect roads will be wet between 9 AM and 6 PM. This is a safety fallback, and there are exceptions to the rule.
It can and does snow in March.  In fact, Baltimore averages 1.6 inches in the month of March, but usually in the first two weeks. We are already above that at 1.8 inches this year.
Record Snow In Late March
There are some weather events that can drop moderate to heavy snow this late in the season. Here is a graph of the record snowfall for each day in Baltimore between March 20th and 31st. Many of these fell in the dark or low sun angle hours. But there have been storms that can snow heave enough to overtake the warming. The biggest storm on record for the month was one of our top 10 of all time. The Palm Sunday Storm. On March 29, 1942, Baltimore did measure 21.9 inches of snow. It ranks #7 on our snow storm list and completely bucks the trend. You will see most of these average in the 3 inch range.
Keep In Touch Every Day
Click here to sign up for email alerts…. Just in case you don't get the post on your social media feed
Please share your thoughts, best weather pics/video, or just keep in touch via social media
FITF Items Now On Sale (again)
To celebrate this rare late March Storm everything is 20% off. Use promo code: springsnow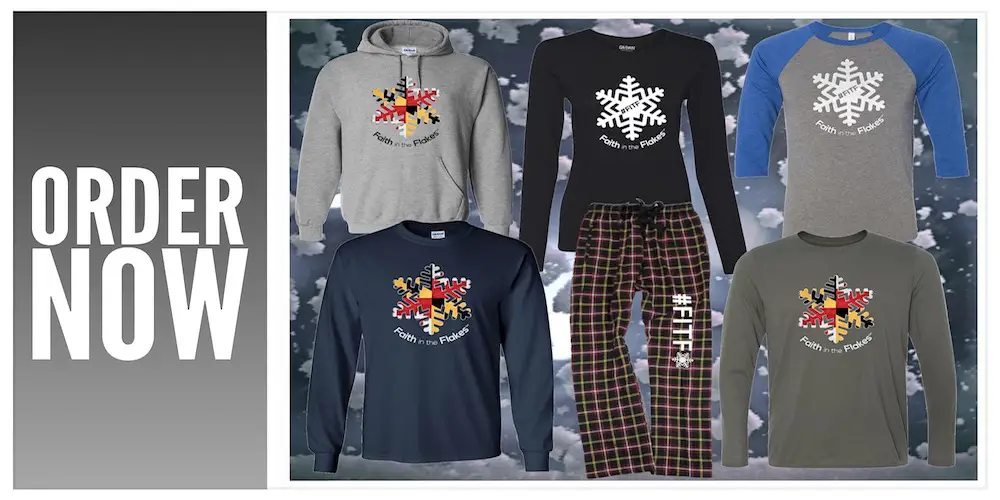 Snowstix- We Need You To Measure Snow Too
We are giving 10% of each sale to programs that benefit pediatric oncology patients.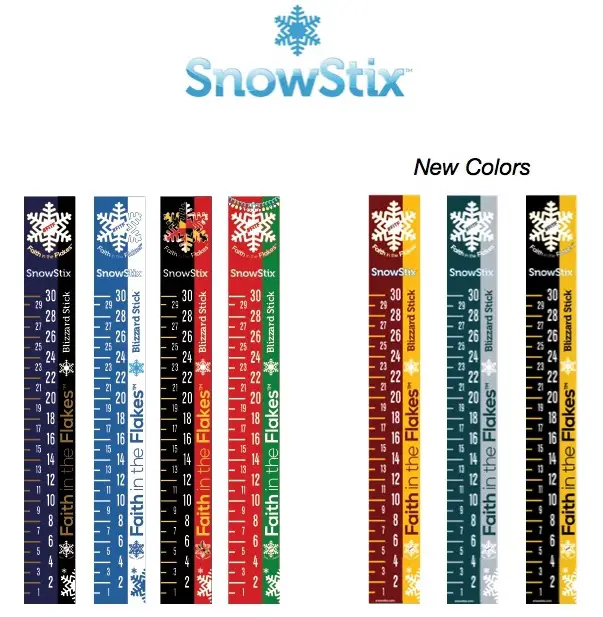 Get the award winning Kid Weather App I made with my oldest son and support our love for science, weather, and technology. Our 3 year anniversary of the release and our contribution to STEM education is this November. It has been downloaded in 60 countries, and works in both temperature scales. With your support we can expand on the fun introduction to science and real weather.
Keep In Touch Via Email
Click here to sign up for email alerts…. Just in case you don't get the post on your social media feed
Also See:
My Winter Outlook 2017-2018 for more snow
La Nina Formed: What it could mean to our winter
NOAA Winter Outlook: Not The Best But Not The Worst For Snow
Two Farmers Almanacs Winter 2018 Outlooks
Winter Weather Folkore: Suggestions from Animals and Crops
First Frost and Freeze Dates For Maryland (southern PA and northern VA)
My Preliminary Winter Outlook Notes
Low Snow Winters In Baltimore: To Repeat Or Not Repeat
NOAA Ranks Blizzard 2016 4th Worst Snowstorm On Record
Blizzard 2016 Record Top Snowstorm: Area Totals
Extreme Weather of 2015 balanced out on both ends