Tuesday March 19 2018
Spring begins Tuesday but the weather will be heading backwards. All the talk for the last week and we are almost here with the event. It is now taking shape with a better understand but still complicated to explain. The first thing we need to consider is that today will bring temperatures into the mid 50s. That heat will beheld by the pavement for a while. There will be some rain in southern Maryland this afternoon. Our two part storm moves in Tuesday morning and will last through Wednesday. I see a general 2 to 4 inches of snow, but less by the water and much more in the mountains. Some colder suburbs may reach up to 6 inches while areas well west could get a foot of snow. But timing is key and we need to focus on nights and mornings for any travel problems this time of the year.
I will do my best to simplify this as there will be wasted flakes and more will fall than will stick. Much more will stick on the grass than the roads. Yes, there will be some travel impact, but that should be for the second half of the event… Wednesday.
Stats For March 19
Average High:  55ºF
Record High: 78ºF in 1918
Average  Low: 34ºF
Record Low: 12ºF in 1876
Snow Record: 4.7″ in 1958
Seasonal Snow To Date (at BWI): 10.5″
Sunrise: 7:11 AM
Sunset 7:17 PM
*Daylight = 2:35 longer than yesterday 
*Bay Water Temperature = 42ºF at Thomas Pt. Light House
Keep In Touch Every Day
Click here to sign up for email alerts…. Just in case you don't get the post on your social media feed
My Storm Notes:
Today will reach the 50s, so roads will start warm

Tuesday morning: Snow, mix, and rain moves in. Road issues confined to western mountains.

Tuesday: Snow west, mix and rain east all day. It will ease up and become spotty. Roads stay wet between 9 AM and 6 PM

Tuesday Evening/Night: Snow intensities and expands all night. Stickage! Roads will become slick

Wednesday Morning: The biggest road problems will be between 4 AM and 10 AM

Wednesday: Snow spreads through most of the area but roads likely wet. Snow can stick on roads where there is already snow OR with heavy intensity.

Snow accumulating on Wednesday will be more on the grass.

Refreezing By Thursday Morning. Temps will drop into the 20s after the storm, so what is wet could ice up
Wasted Flakes:
Snow will melt on roads more than grass.

Snow will melt during the day.

Snow will compact making measuring lower than what total would have been if it was colder
Today
High Temperatures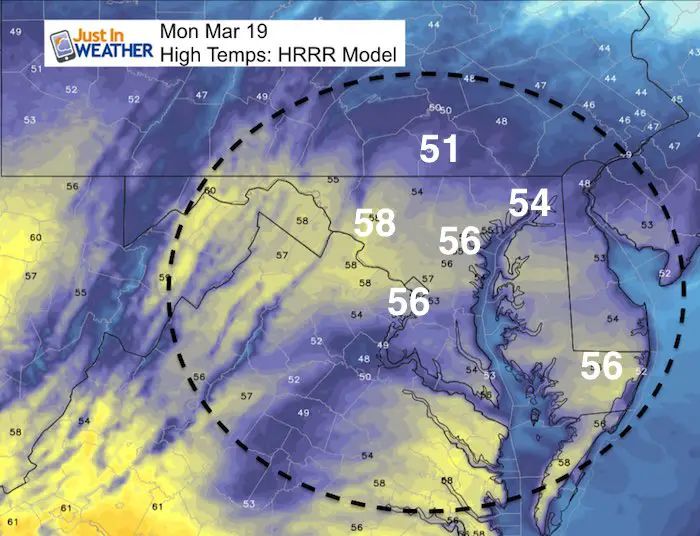 Rain Today —> slider
[metaslider id=60329]
Tuesday- Spring Begins With Storm Day 1
At this time it appears that the snow and mix will arrive during the morning, but likely not early enough to impact travel. The freezing line on the NAM model supports the normally colder areas of Baltimore County, northern Harford, western Howard, Carroll, and Frederick counties. Then the mountains help hold the cold farther west.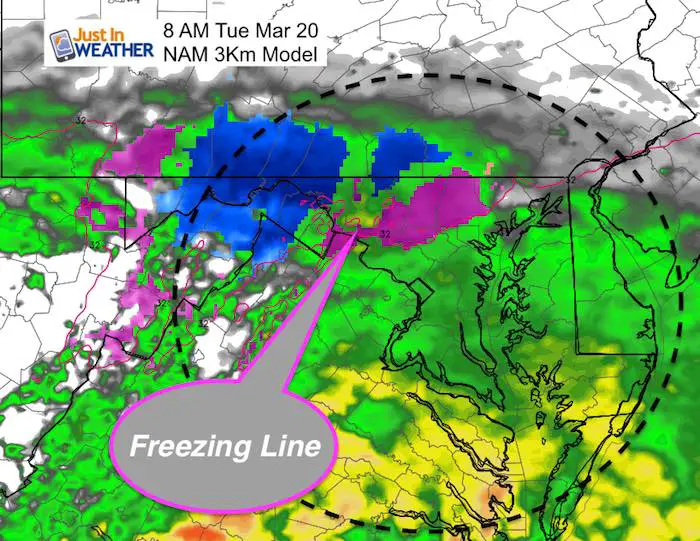 Tuesday Afternoon 
The freezing line may wobble a little but the sun angle will not allow the snow to stick on the roads.  This is phase one of the storm and it will be more ambience than impact during the day.
Wednesday Morning = Biggest Impact Time
This is the time frame when the second coastal Low will be cranking up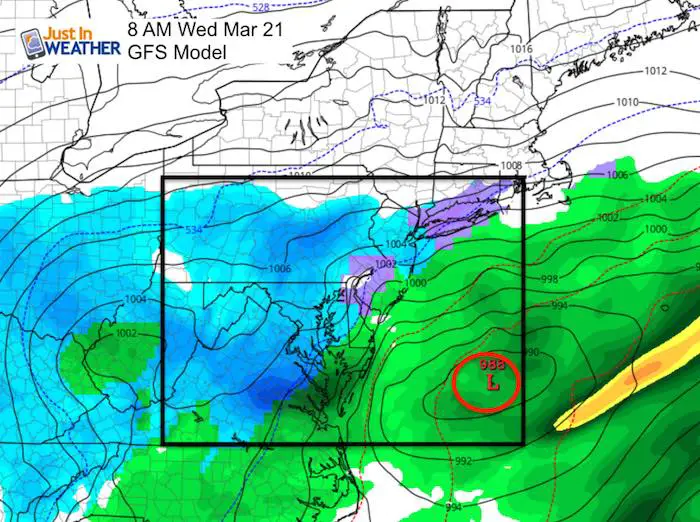 Local Snow Impact
NAM 3 Km Animation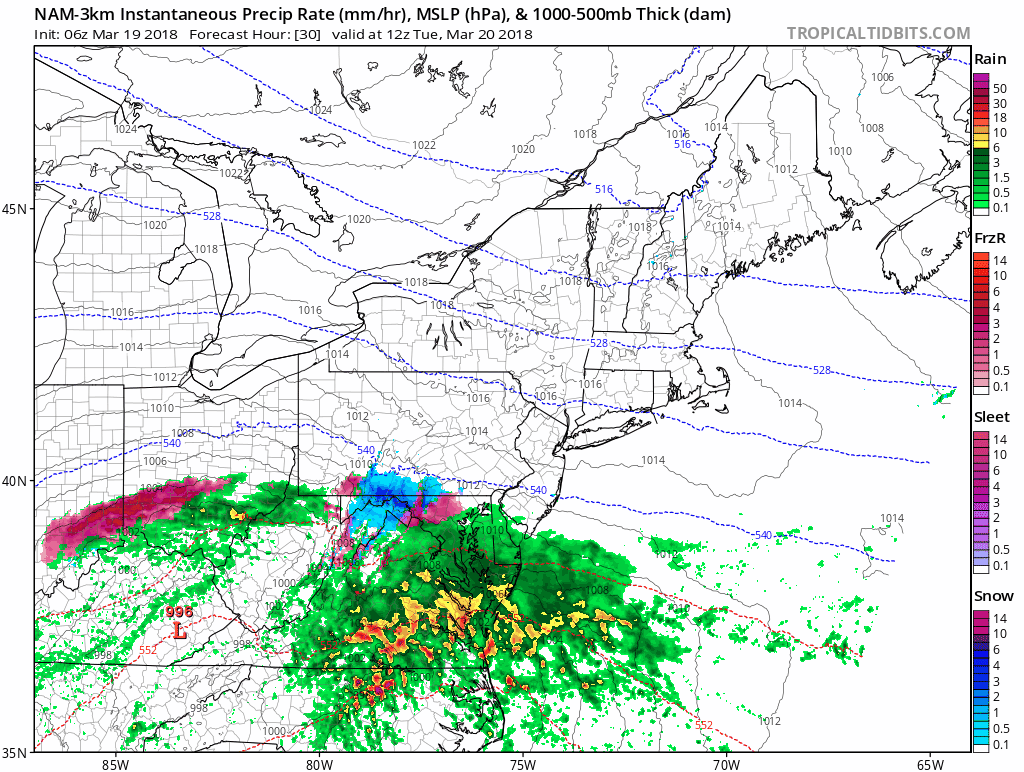 Snow Story
The heaviest snow appears to be in a band near the PA line though the mountains of Maryland and northern Virginia.  The metro area snow totals are less likely to verify than the mountains due to elevation and influence from the warmer water.
Wednesday Morning
This is the time frame with the most impact. There will be snow most of the day, but after 8 or 9 AM it will be difficult to get it to stick.
Additional Snow Having Trouble Sticking
Notice Baltimore and Frederick getting an additional 6 inches of snow after 8 AM. I do not think all of this can stick.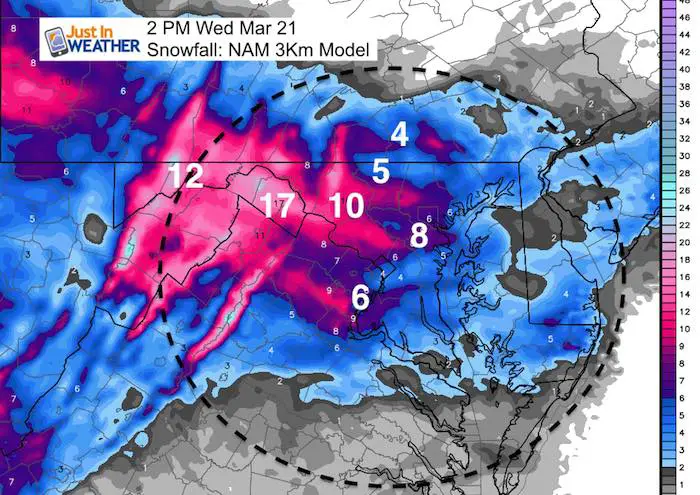 National Weather Service Snow Totals
I am really hesitant of snow totals as more will fall than will stick. There will also be more on the grass than on roads to shovel. The third factor impacting this will be snow compacting on itself squashing what lays and stays.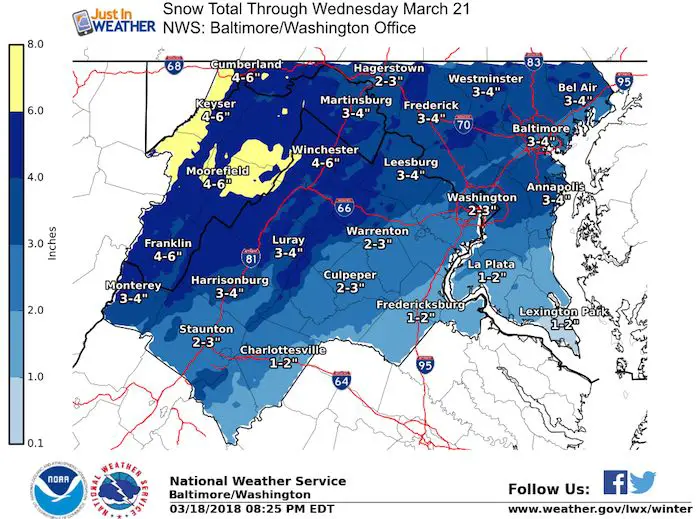 Pennsylvania
I see higher totals for York and Lancaster Counties. I would suggest 2 to 4 inches more common in these areas with some higher amounts.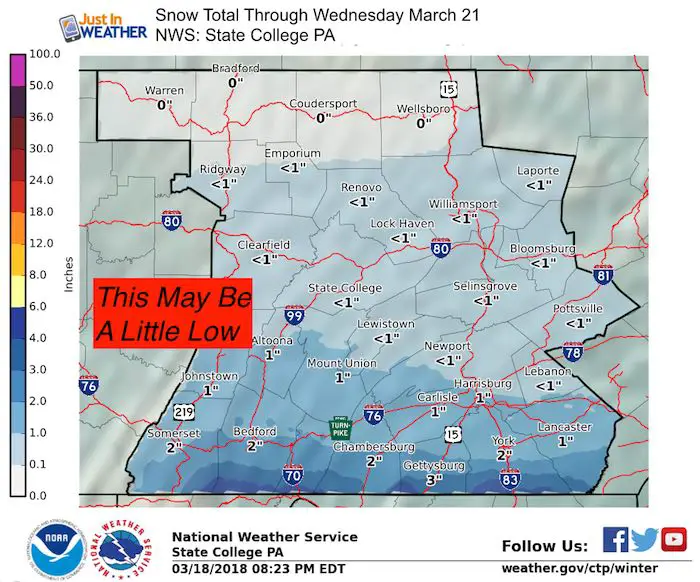 Delmarva and Metro Philadelphia
Much of this activity will be during the day on Wednesday after 8 AM. This will be hard to stick on the roads and the grassy areas will have compacting snow.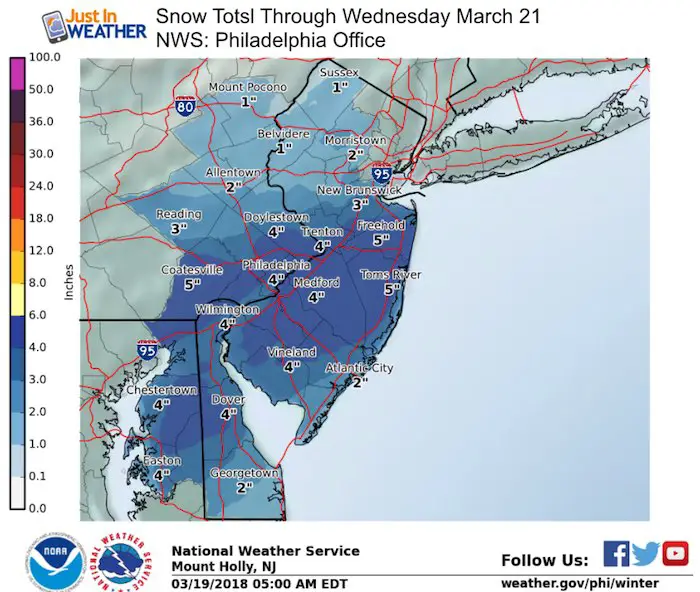 Temperature Outlook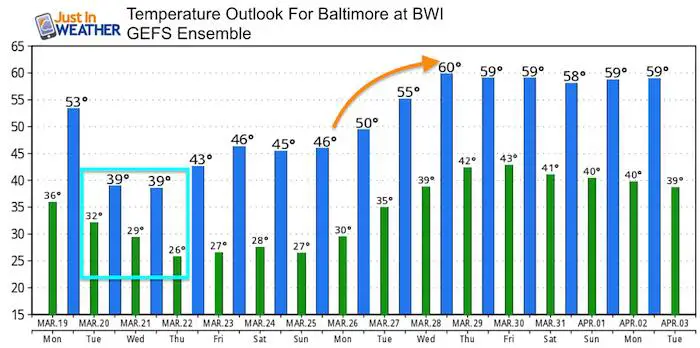 Please share your thoughts, best weather pics/video, or just keep in touch via social media
Keep In Touch Every Day
Click here to sign up for email alerts…. Just in case you don't get the post on your social media feed
FITF Items Will Close At The End Of This Week For The Season
It's almost time for spring and a new line of items.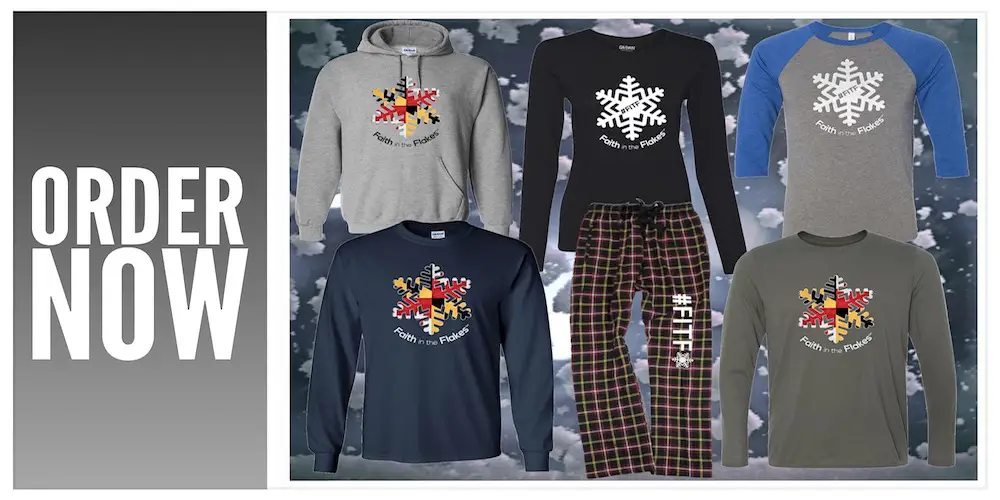 Snowstix- We Need You To Measure Snow Too
We are giving 10% of each sale to programs that benefit pediatric oncology patients.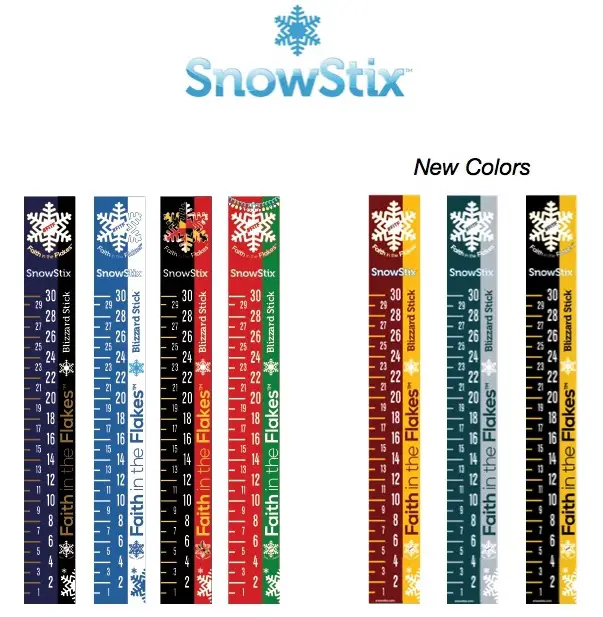 Get the award winning Kid Weather App I made with my oldest son and support our love for science, weather, and technology. Our 3 year anniversary of the release and our contribution to STEM education is this November. It has been downloaded in 60 countries, and works in both temperature scales. With your support we can expand on the fun introduction to science and real weather.
Keep In Touch Via Email
Click here to sign up for email alerts…. Just in case you don't get the post on your social media feed
Also See:
My Winter Outlook 2017-2018 for more snow
La Nina Formed: What it could mean to our winter
NOAA Winter Outlook: Not The Best But Not The Worst For Snow
Two Farmers Almanacs Winter 2018 Outlooks
Winter Weather Folkore: Suggestions from Animals and Crops
First Frost and Freeze Dates For Maryland (southern PA and northern VA)
My Preliminary Winter Outlook Notes
Low Snow Winters In Baltimore: To Repeat Or Not Repeat
NOAA Ranks Blizzard 2016 4th Worst Snowstorm On Record
Blizzard 2016 Record Top Snowstorm: Area Totals
Extreme Weather of 2015 balanced out on both ends