Sunday March 18 2018
The storm this will bring us two days of snow in the Mid Atlantic. But plotting snow totals may be harder than picking the NCAA bracket. I am well aware that social media is flooded with snowfall maps from various computer models and it is easy to want to show high numbers and attract attention. I want to keep it real and focus on the timing of snow for impact and two different Low Pressure systems. Off the top, I see we can have a 2 to 4 inch snowfall across much of our area, with less by the water. There will be some higher amounts pushing 6″  in the normally colder spots and the mountains will win out big!
Before we look at the latest info, please check this comparison out. Here is the NAM 3 Km Model, which I trust as the most accurate all season. I started with the Ferrier adjusted snowfall first. Levi Cowan at Tropical Tidbits has added this product to lower the totals for sleet and other measures to limit what can accumulate. The lower image shows the snowfall potential is all the snow that fell was able to stick and accumulate. This shows a 10:1 ratio which is not going to be the case. This is going to be a wet snow and fight other elements I've marked below.
Snow Total? Wasted Flakes Vs Total Flakes
This only goes through 2 AM Wednesday with more snow to follow.
This is my hesitation with snowfall products from any computer model. What can fall is not necessarily what can stick and pile up. I won't post maps with large snow numbers for the hype. I will wait until tomorrow to show the model comparison. Bu what I want to show you is how I think this will play out:
Storm Notes:
2 AM to 6 AM Monday: Light rain or mix arrives from the south. This will gradually turn over to snow as the storm gains strength and colder air pulls in. Chance to have impact on the roads will be low, but for places that have snow falling by 6 AM
8 AM Monday: Snow should be falling from around BWI and expanding to southern York County PA. That is what the GFS and NAM show. If there is not snow by 6 to 8 AM, than any snow during the day will likely only make roads wet until 6 PM
The Canadian is much slower and thus would not have a Tuesday morning issue. This is important because that is the model that shows higher snowfall… but a later impact.
See The Wednesday part below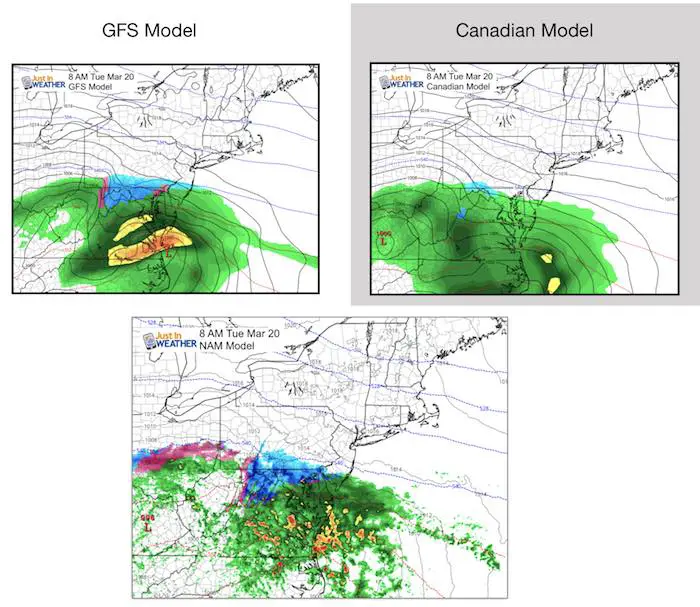 NAM 3 Km Animation
Since this is my model of choice this winter, here is a look at the animation. Note the pink and purple shades are wintry mix with no stickage. This lasts into Tuesday night in metro Baltimore. The all snow zone appears to be near Frederick. This is only half of the story.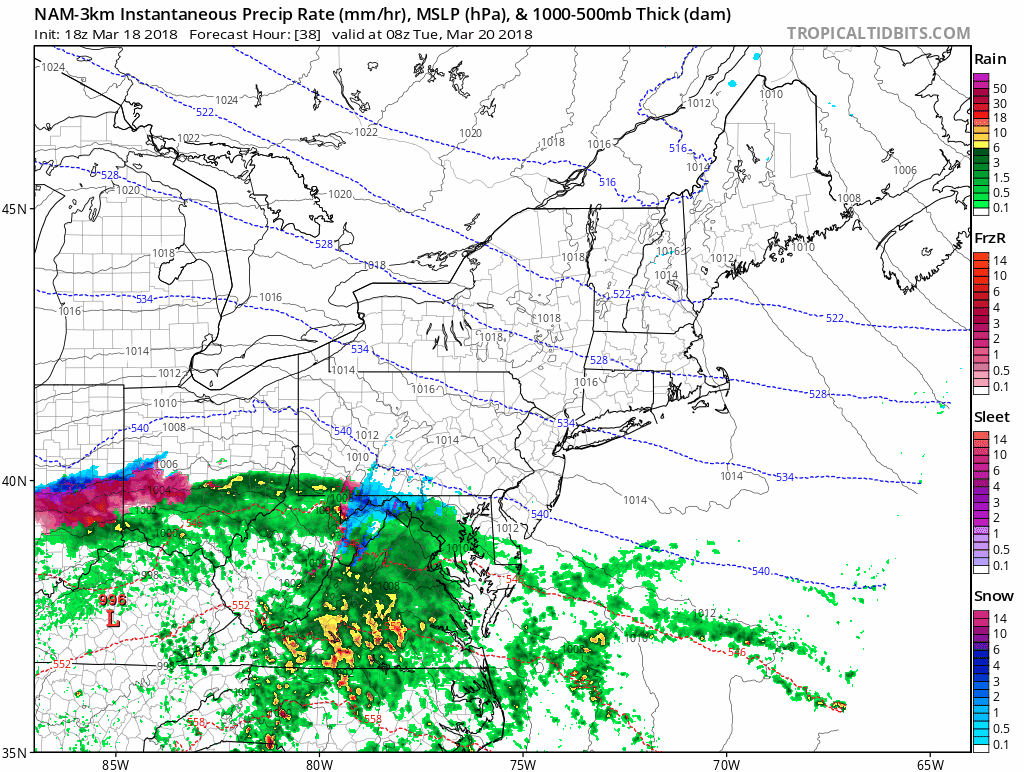 Storm Notes:
Tuesday: Snow should fall in central Maryland most of the day but not stick or accumulate much. That is the time frame with the wasted flakes.
Tuesday Night: Snow with more stickage and accumulation into Wednesday.
Wednesday Morning: The second coastal Low is what is could bring a bigger impact. By this point the ground should be chilled and plenty of dark hours for the snow to pile up. This is the time I would lean towards for 'results' from the storm on the ground.
Both the GFS and Canadian now show the snow lingering and pushing out of Rt 50.. Note that the Canadian was slower to develop the first day, but has the coastal Low closer with more heavy snow on Wednesday morning.
Now let's look at the animation of both of these models… I've slowed these down to make it easier to track. Note that snow during the day is a waste to totals. That is what makes this so difficult to plot.
GFS Model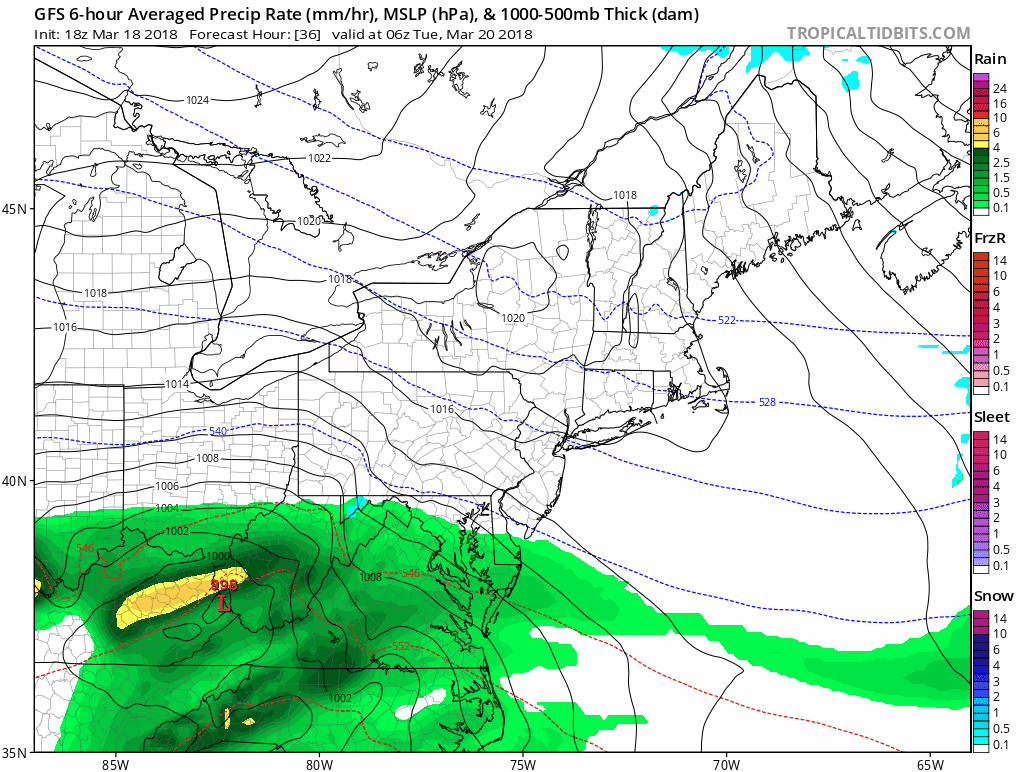 Canadian Model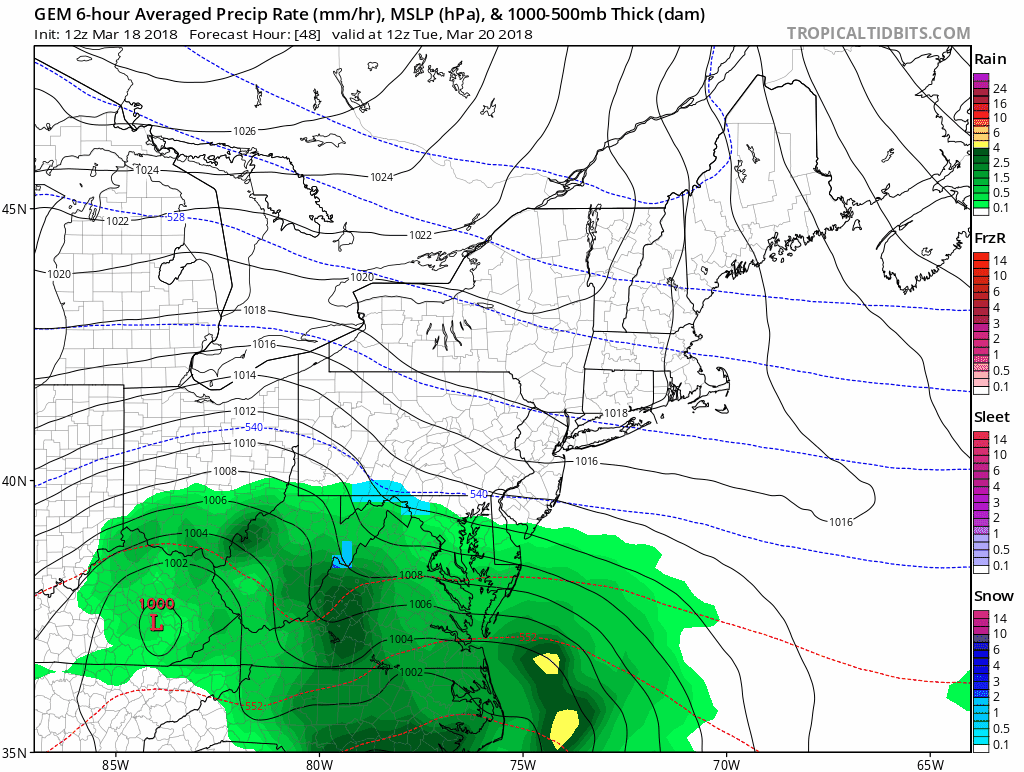 Snow Maps
Due to my limited time I do not have a snow map this evening, but I am leaning towards the NWS version as I think they are playing the conservative line here properly. More snow will fall than can stick. What you care about is what you can measure outside your door. Here is an idea. I will post my closer look in the morning.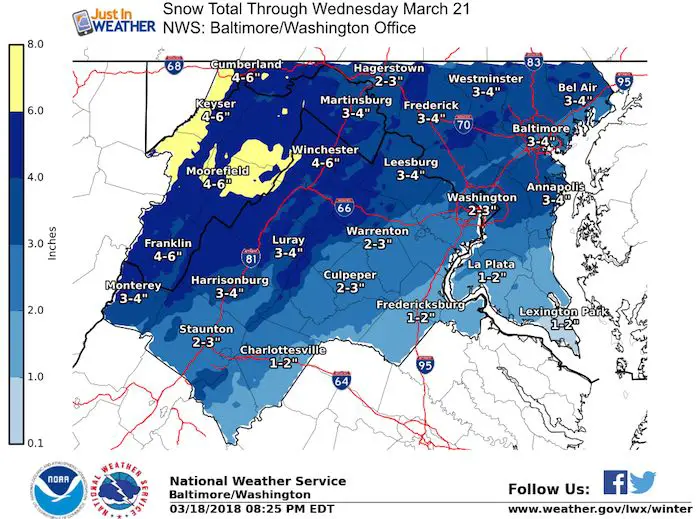 Pennsylvania: I Think This Is Too Low
Local Adams, York, and Lancaster areas can look for a totals at least in the 2 to 4 inch range with 6 inches well within reach.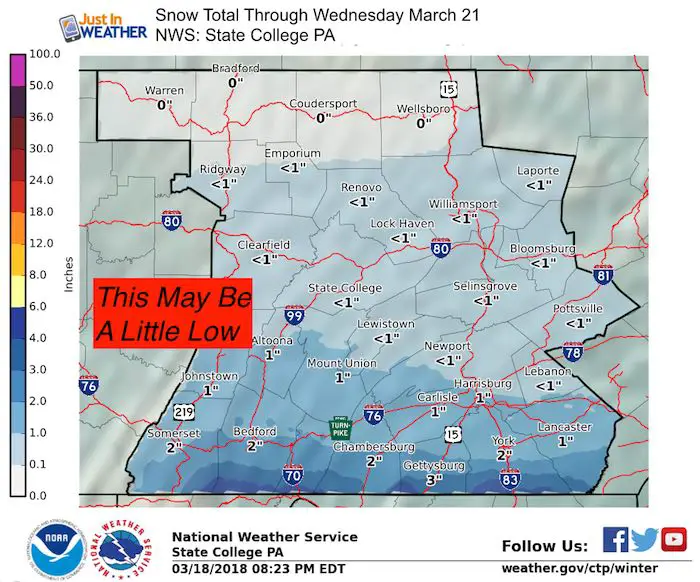 Please share your thoughts, best weather pics/video, or just keep in touch via social media
Keep In Touch Every Day
Click here to sign up for email alerts…. Just in case you don't get the post on your social media feed
FITF Items Will Close At The End Of This Week For The Season
It's almost time for spring and a new line of items.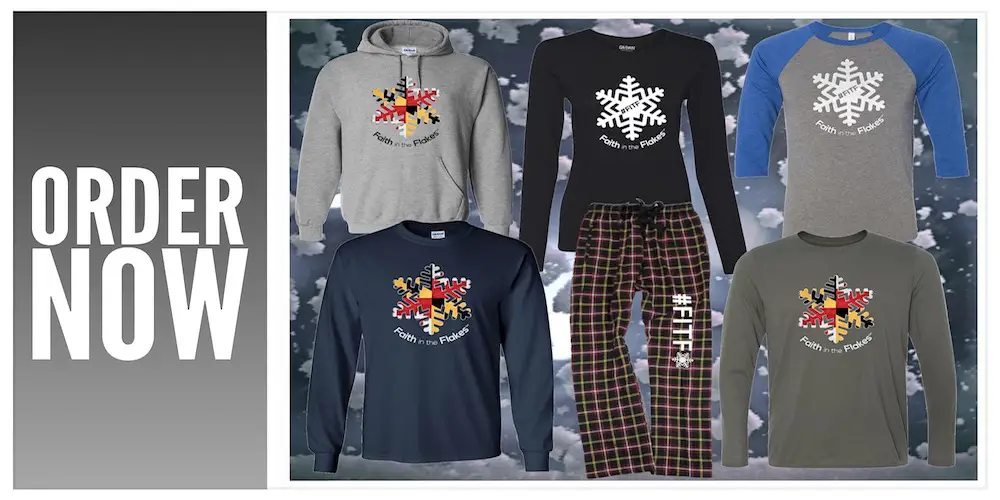 Snowstix- We Need You To Measure Snow Too
We are giving 10% of each sale to programs that benefit pediatric oncology patients.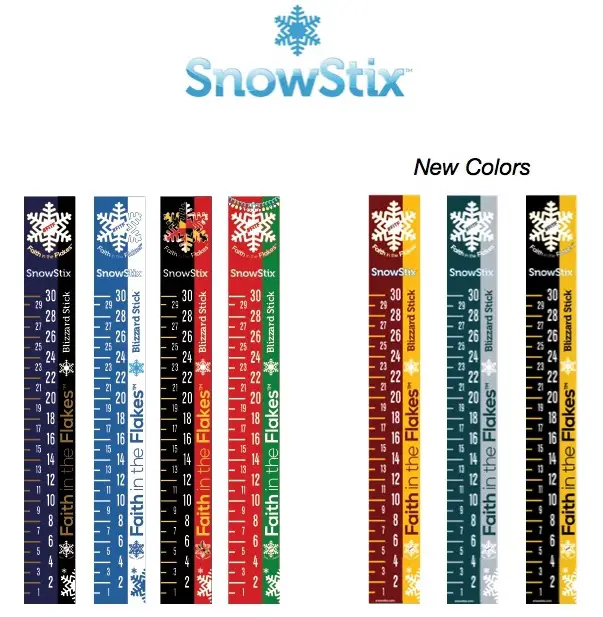 Get the award winning Kid Weather App I made with my oldest son and support our love for science, weather, and technology. Our 3 year anniversary of the release and our contribution to STEM education is this November. It has been downloaded in 60 countries, and works in both temperature scales. With your support we can expand on the fun introduction to science and real weather.
Keep In Touch Via Email
Click here to sign up for email alerts…. Just in case you don't get the post on your social media feed
Also See:
My Winter Outlook 2017-2018 for more snow
La Nina Formed: What it could mean to our winter
NOAA Winter Outlook: Not The Best But Not The Worst For Snow
Two Farmers Almanacs Winter 2018 Outlooks
Winter Weather Folkore: Suggestions from Animals and Crops
First Frost and Freeze Dates For Maryland (southern PA and northern VA)
My Preliminary Winter Outlook Notes
Low Snow Winters In Baltimore: To Repeat Or Not Repeat
NOAA Ranks Blizzard 2016 4th Worst Snowstorm On Record
Blizzard 2016 Record Top Snowstorm: Area Totals
Extreme Weather of 2015 balanced out on both ends