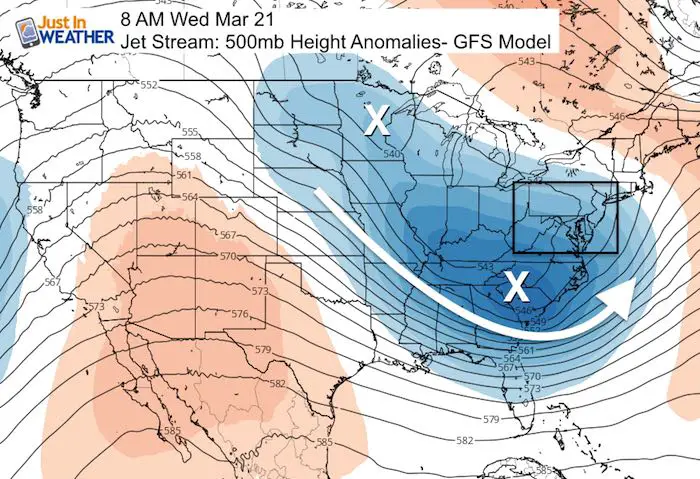 Thursday March 15 2018
Beware the ides of March they say. Well, I realize that this storm is not going away and will require some more attention. This article's title is intended to be a clear signal to you that my update will be brief but to the point to highlight any updates with the next strong storm to hit the eastern US. I have said since the beginning: There will be a 4th Nor'easter… but locking down the snow/rain line is not such a sure thing. Today, there is more support for some snow.  The jet stream supports a strong storm with a deep trough and energy upstream (feeding in from the northern plains). But the timing is pushed back (again) to later Tuesday and Wednesday. Please understand my caution and this point I need to state again:
I will NOT post snow forecast maps more than 72 hours away from a storm. Those products are not reliable and I think it can lead to false impressions. Why get excited about an event that more than likely will end up less potent? I would rather stay in the middle and build up with more confidence as we get closer. Patience… If this timing doesn't get pushed back any later, I will feel comfortable showing those outlook maps this weekend.
We started following this storm last weekend when it looked like a week away. At that point it was expected to begin Sunday into Monday. That has progressed to Monday, and then Tuesday morning. In fact, the comparison still frame I have shown was for Tuesday morning for the peak impact. That is now pushed back again to Tuesday evening. This is what we see with the GFS and Canadian Models. The animations of each of these models are shown below.
Comping Computer Models
Notice the GFS has a classic 'snow inland northwest of the cities', while the Canadian is colder with show own to US Rt 50.  This is just a snapshot and both show some mixing and a trend colder to end as snow. The GFS model lingers the snow longer with the Low stalling for a few days in the Gulf of Maine.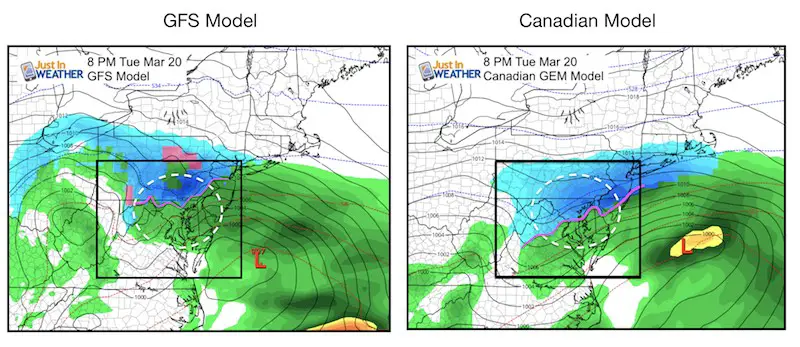 European Model Madness
The famed and credited European Model (not shown here) has done a full flip. It went from all rain (yesterday) to a major snow event for the Mid Atlantic. I refuse to show the snow potential map let along mention the high numbers because I know it is overblown. They are very high. But the rumors will fly and I want to remind you that this same model had snow two days ago and then went to all rain before going back to snow. There is going to be a lot more wiggling over the next few days to lock down the track and timing.
Again: I will NOT show snow totals from any computer model more than 72 hours away. They are just NOT reliable and often can overdo the results. But this storm has the potential to drop over a foot of snow in the sweet spot. We just don't know where that sweet spot will be now. Patience… If this timing doesn't get pushed back any later, I will feel comfortable showing those outlooks this weekend.
Storm Animations
GFS- Tuesday morning to Thursday Evening
This model has snow near and north of the Pennsylvania line on Tuesday with rain in the cities. This shows the snow day Wednesday and lingering snow showers into Thursday with a stalled Low in the Gulf of Maine
Canadian GEM Tuesday Morning To Thursday Afternoon
This model brings snow in sooner with s more southern track, then moves the storm away in a hurry.
That is all that is worth discussion right now. Just plan for some mess next Tuesday and Wednesday. A better chance for a snow component in the normally colder inland locations. Metro Baltimore/Washington and central Maryland appears to have at least 50% chance of some impact Tuesday night and Wednesday. That is all I feel confident with now. Threading the needle to assume where the snow line reaches and how much will fall with a 50 mile spread… would be purely guesswork 5 days away.
I hope this helps a little though…
Please share your thoughts, best weather pics/video, or just keep in touch via social media
Keep In Touch Every Day
Click here to sign up for email alerts…. Just in case you don't get the post on your social media feed
FITF Items Will Close At The End Of This Week For The Season
It's almost time for spring and a new line of items.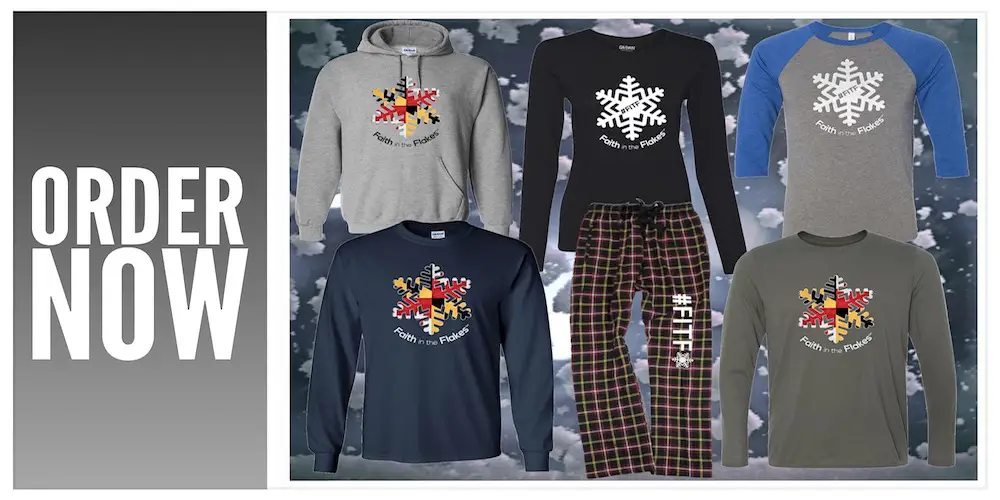 Snowstix- We Need You To Measure Snow Too
We are giving 10% of each sale to programs that benefit pediatric oncology patients.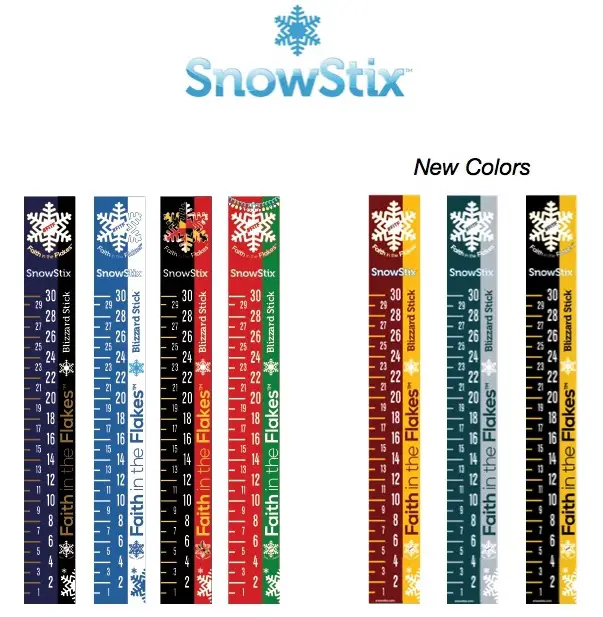 Get the award winning Kid Weather App I made with my oldest son and support our love for science, weather, and technology. Our 3 year anniversary of the release and our contribution to STEM education is this November. It has been downloaded in 60 countries, and works in both temperature scales. With your support we can expand on the fun introduction to science and real weather.
Keep In Touch Via Email
Click here to sign up for email alerts…. Just in case you don't get the post on your social media feed
Also See:
My Winter Outlook 2017-2018 for more snow
La Nina Formed: What it could mean to our winter
NOAA Winter Outlook: Not The Best But Not The Worst For Snow
Two Farmers Almanacs Winter 2018 Outlooks
Winter Weather Folkore: Suggestions from Animals and Crops
First Frost and Freeze Dates For Maryland (southern PA and northern VA)
My Preliminary Winter Outlook Notes
Low Snow Winters In Baltimore: To Repeat Or Not Repeat
NOAA Ranks Blizzard 2016 4th Worst Snowstorm On Record
Blizzard 2016 Record Top Snowstorm: Area Totals