Sunday March 11 2018 6:30 PM
The time change wasn't enough for us, now we need to continue to watch this 3rd Nor'easter in the series. I have said last week that this storm would happen and be a generous snow event for eastern New England. However any chance for it to hang back and impact us in the Mid Atlantic would be minimal. If I showed every computer model update every 6 hours, there would have been be an on again, off again, on again cycle that would make this thing look like a new version of crying wolf. Now there is some consistent support for some snow but I believe any impact will be very limited due to warmer temps and timing.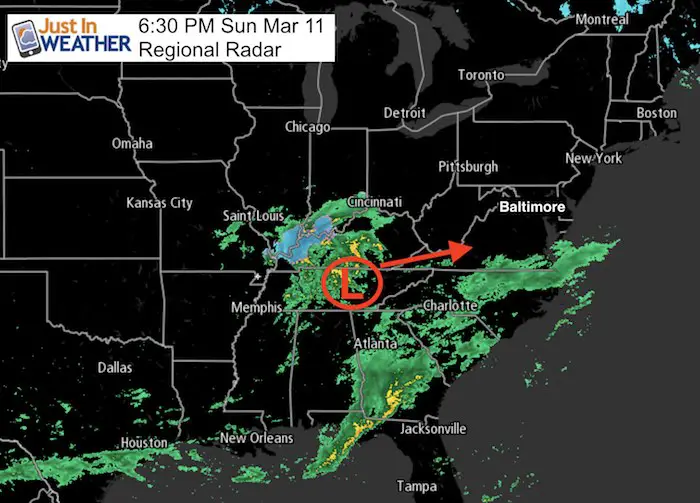 I underplayed this storm and there are two reasons: First, the majority of global and local modeling keep leaning towards a miss with the storm track staying south and passing too far off of the coast to miss us. Only the GFS Model had it hitting us. The other reason, that should be primary in March, is that higher sun angle plus temperatures above freezing are likely to limit stickage of snow during the day.
If you have followed my forecasts all winter, I showed two main things:
The NAM 3 Km was the best performing computer model. It did miss the 50 mile east shift last week that left western and northern areas snowless. It is not perfect.
Most events have trended a little father north that initially thought. That is important there.
The north kink to this next storm allows it to pass closer to central Maryland. But we need to ask these questions that play a role in getting snow, but also if it can actually stick on the roads to cause any concern.
How close?
What time?
How cold will it get?
So… Are We Getting Snow Or What?
Crews have painted many area roads with brine only to elevated the concern and confusion.  Are we getting the storm? Sort of, but not really.
I think there will be rain and snow showers developing on Monday. Especially in the afternoon. But, with temperatures above freezing, March daylight, and later sunset,  there should not be an issue traveling through 7 PM. Basically, wet roads possibly washing away the brine and any benefit.
After 8 or 9 PM, there may be some slushy spots well north and west developing. This is when a bust of snow will try to press across the area. There will be some colder air with a few hours snow only to impact part of the area Monday night.  There wil be a burst of snow between 9 PM Monday and 12 AM Tuesday, but only the normally colder inland locations will be near or below freezing.  This event will be long gone by Tuesday morning, just as colder air spreads in at daybreak. So the place that get snow or such could have some ice. But only briefly. Please see the slider below for the radar simulation timeline.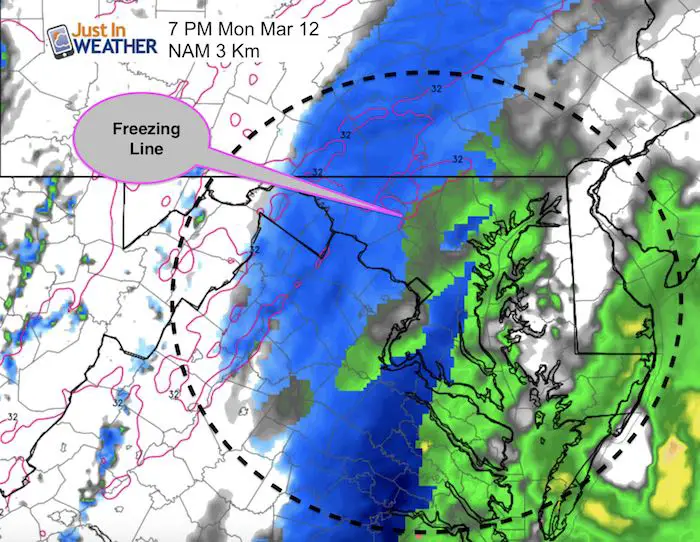 If you saw snow on the roads near you during last week's storm, it was because there was already snow overnight and during the morning to chill the ground. This event looks like a much different timing and result.
Radar SImulaiton —> slider
NAM Model Simulation 10 AM Monday to 3 AM Tuesday
This shows rain and snow showers during the day and only steady snow in the evening.
Notice the Freezing Line: Even in northern Carroll County and into Southern PA, the stickage will not occur immediately. There may be a few hours of some accumulation, but roads will be last to cover up.
[metaslider id=60064]
Temperatures:
Monday Highs
These temps above freezing plus the March sun angle should hinder stickage on the roads.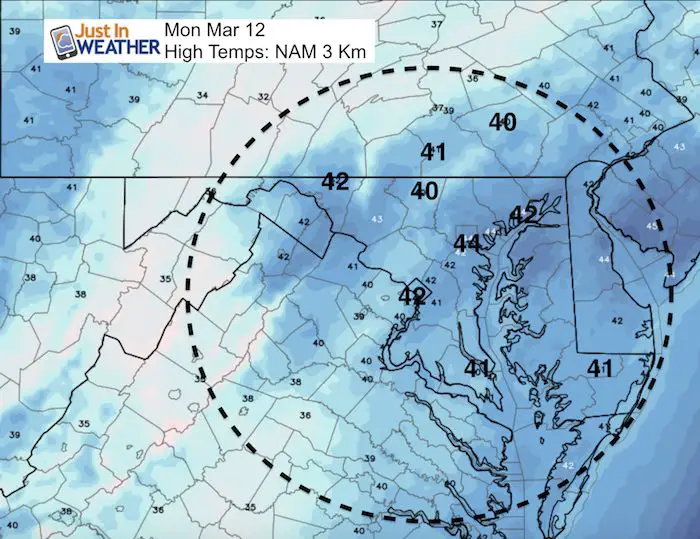 Monday Evening
After a few hours with snow falling, temperatures try to drop below freezing in the normally colder spots inland (Westminster, Frederick, York PA). The pavement will still have some heat, so it would take heavy snow to compensate and cover. That is more likely later in the evening, but not lasting long.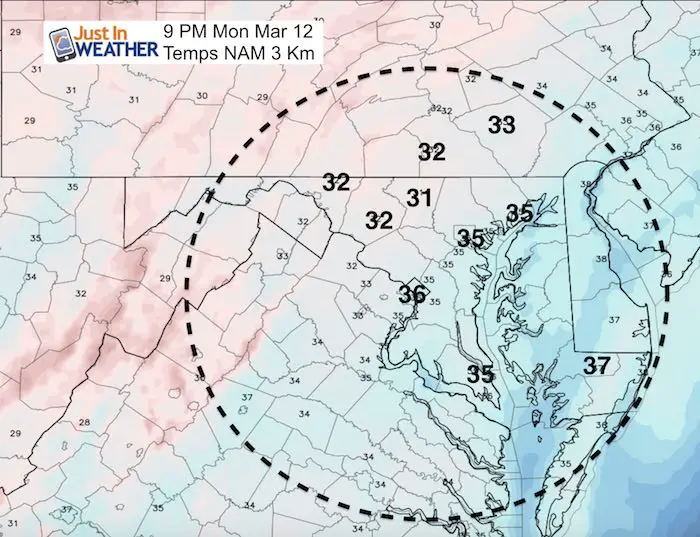 Tuesday Morning
Icy spots are possible in areas that get the snow in the evening. Wet roads could freeze up as temps drop into the 20s Tuesday morning. This should be limited to those same northern Maryland and southern PA counties.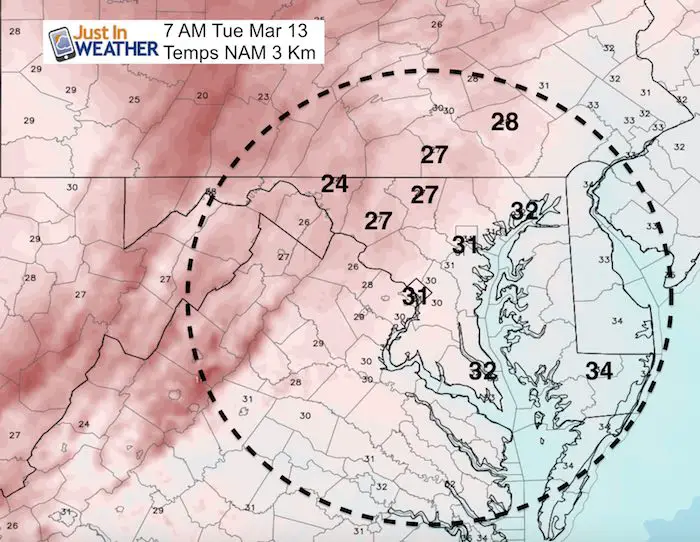 Snowfall?
This will be a big storm, but NOT FOR US. Here is the NAM 3 Km Snowfall product and much of this will be lost to melting.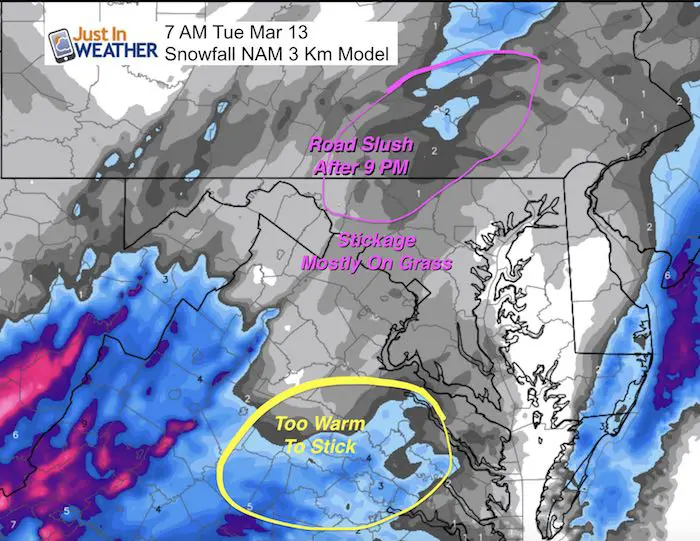 Here is a look at the latest model comparisons
Model Animations
GFS Model (updated Sunday afternoon)
This is the hold out still trying to bring us the snow. But I need to caution that this light blue shading indicates light snow, not the heavy stuff.
Canadian Model (Updated Sunday morning)
This shows a glancing blow with rain near the Bay but a major storm for eastern New England.
Please share your thoughts, best weather pics/video, or just keep in touch via social media
Keep In Touch Every Day
Click here to sign up for email alerts…. Just in case you don't get the post on your social media feed
FITF Items Will Close  For The Season On March 18
It's almost time for spring and a new line of items.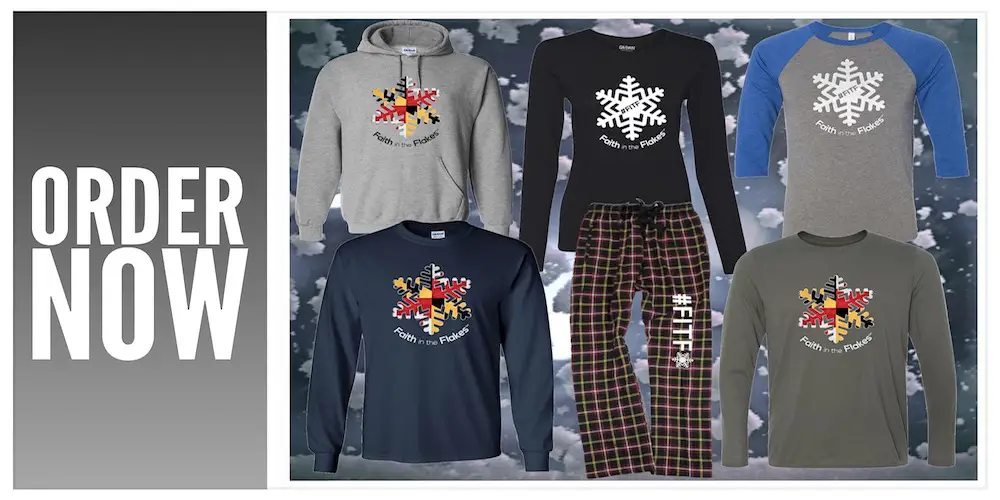 Snowstix- We Need You To Measure Snow Too
We are giving 10% of each sale to programs that benefit pediatric oncology patients.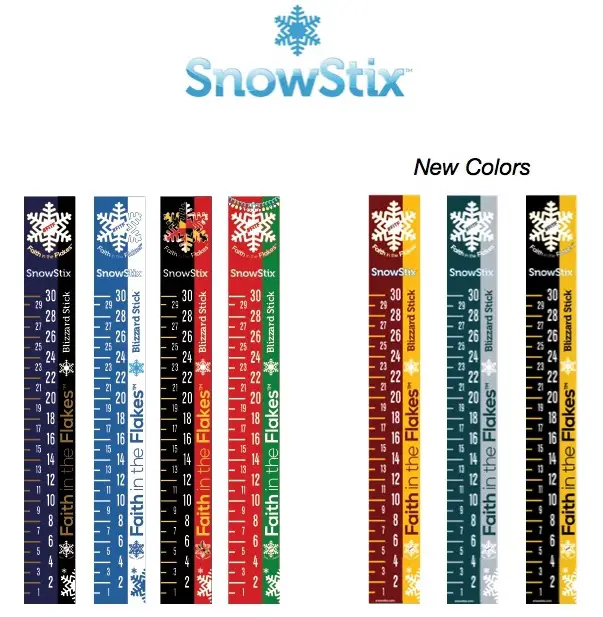 Get the award winning Kid Weather App I made with my oldest son and support our love for science, weather, and technology. Our 3 year anniversary of the release and our contribution to STEM education is this November. It has been downloaded in 60 countries, and works in both temperature scales. With your support we can expand on the fun introduction to science and real weather.
Keep In Touch Via Email
Click here to sign up for email alerts…. Just in case you don't get the post on your social media feed
Also See:
My Winter Outlook 2017-2018 for more snow
La Nina Formed: What it could mean to our winter
NOAA Winter Outlook: Not The Best But Not The Worst For Snow
Two Farmers Almanacs Winter 2018 Outlooks
Winter Weather Folkore: Suggestions from Animals and Crops
First Frost and Freeze Dates For Maryland (southern PA and northern VA)
My Preliminary Winter Outlook Notes
Low Snow Winters In Baltimore: To Repeat Or Not Repeat
NOAA Ranks Blizzard 2016 4th Worst Snowstorm On Record
Blizzard 2016 Record Top Snowstorm: Area Totals