Tuesday March 6 2018
The morning run of the NAM 3 Km Model has put the sweet spot of the heavy snow a little west. This includes more of our area in southern Pennsylvania and northeastern Maryland. Since there is so much information with this storm, I wanted to break this post down just to highlight this model since it is what I have accepted as the most accurate. It did the best job with all of our winter events so far, so I need to continue to rely on it. I am aware this is the most aggressive model and most of this event temperatures will be near or above freezing. So there will be some melting and compaction of the heavy wet snow. But the essence of the storm development is the important factor here.
Below this animation, see the new radar simulation timeline as I broke it down into two different parts as the phasing will take place over our region. First will be the initial storm and push of rain then mix to snow tonight. I still believe the places that get snow to lay and stay will have between 1 to 3 inches on the ground by daybreak. The second surge of this storm looks to occur a little earlier, so we could be in the moderate to heavy snow at sunrise. That is when the prime accumulation will occur and hopefully times out for best for schools that need to make decisions.  After 9 or 10 AM, snowfall will be battling the strong March sun angle.
Below the snow maps, see the areas that reach freezing with possible icy roads Thursday morning.
Note: Winter Storm Watches will be upgraded to Winter Storm Warnings and Winter Weather Advisories for some areas not in the Watch now. This is a government thing, so we need to wait for the National Weather Service to post those. Most likely we start to see the upgrade mid day or early afternoon.
Storm Animation
Watch central Maryland as the storm appears to end and then fill in Wednesday morning. The close up hourly timeline sliders are below.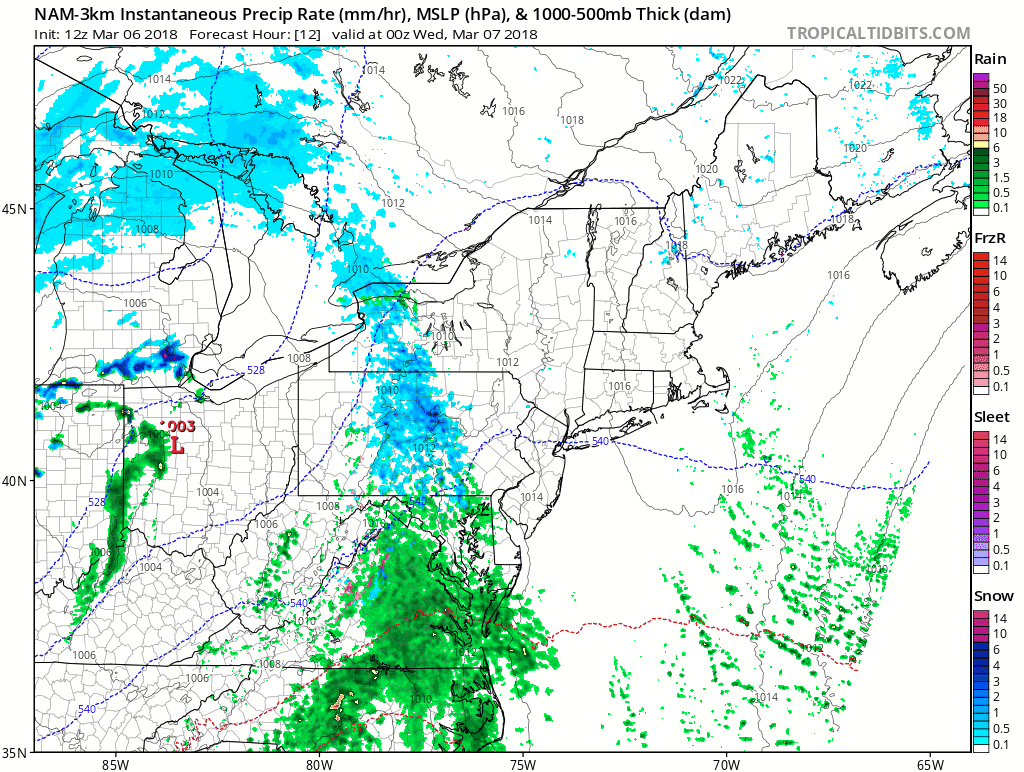 —> sliders
Part 1: Up top 3 AM
[metaslider id=59836]
Part 2: Phasing And Heavy Snow 4 AM to 4 PM
[metaslider id=59857]
NAM 3 Km Model Snowfall
By Wednesday Morning
This is the issue for school and work potential impact. I highlighted where I think the most likely locations for road issues may be.
Storm Total
I believe some of this will be lost to melting from warmer than freezing air, warm ground, and March solar angle.  I will post 'my snowfall map' in the next report. 50 miles will separate those that get 1 foot to barley 1 inch.
My Initial Snow Impact Map
My map is still a little to the east. I want to see support from the new GFS model to before I shift anything. I am sticking with the sweet spot just on the east side of York and northern border of Harford and Cecil Counties in Maryland. Note, I have low confidence in the Canadian and European Modeling at this time, which is why I am not showing their projections now.
Also see: Snow Impact Breakdown Q and A
A: This is the Sweet Spot. This most snow will fall in eastern PA and may clip northern Cecil Co Maryland and northern Delaware. This is the most likely area to get 8 to 12 inches of total snow.
B: Snow will fall overnight Tuesday and should have a cover on the ground Wednesday morning. A general 1 to 3+ inches is likely by morning, with upside potential based on how much can stick before daybreak to allow more to stick during the day. Totals will vary based on how much is on the ground at daybreak to help chill the ground. 
C: Snow will mix in and change over Wednesday morning. It will snow during the day especially near Washington and east, but most likely not stick on the roads. If it does, it wil be before 10 AM in heavy snow bands. Most main roads should be wet. I-95 in may be close to the stickage and melting line. It will be a tight gradient. 
D: Snow will mix in here but little to no stickage is expected. 
National Weather Service Forecast Maps
National Weather Service Regions
While this shows 2 to 3 inches in Westminster and Baltimore, look closely at the gradient and jump to Bel Air and northeast with more.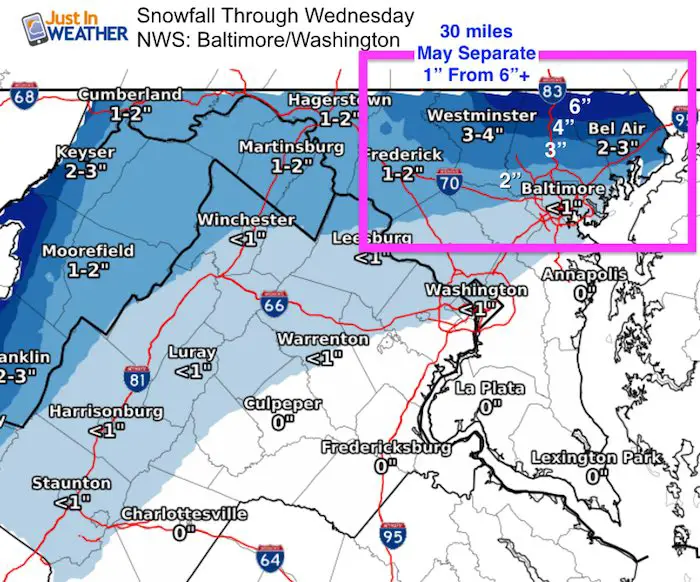 The jump from 3 inches Gettysburg to 5 inches in York and 7 inches in Lancaster could actually be more on the east end.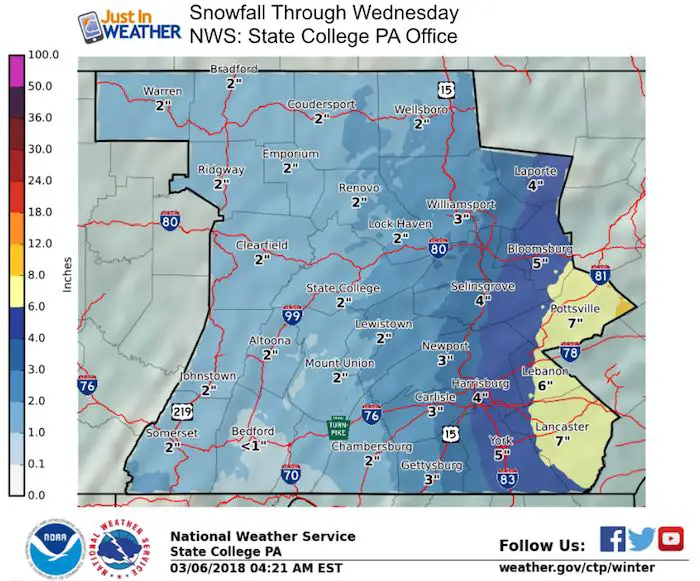 NWS shows Cecil County with a range from 1 inch in the south to 7 inches in the north. Just a sample of the spread in one county and it could be more pronounced depending on the banding snow.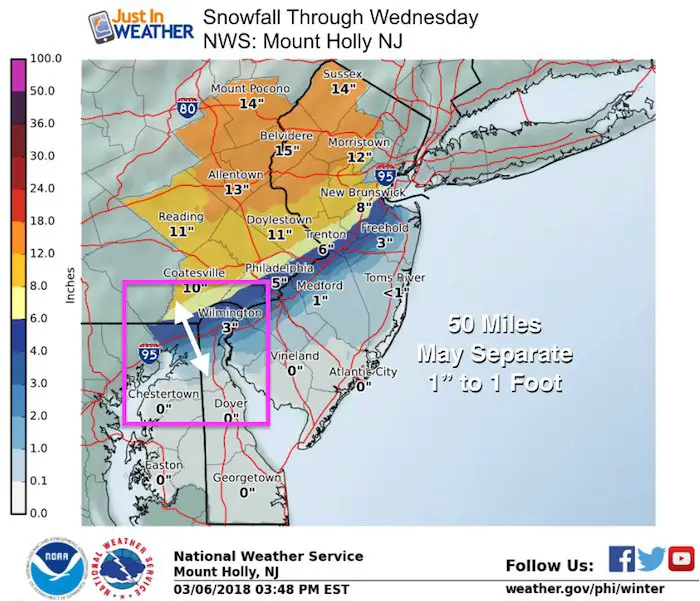 Reminder: Winter Storm Watch means it may happen. I see some areas not highlighted here that could get in on an advisory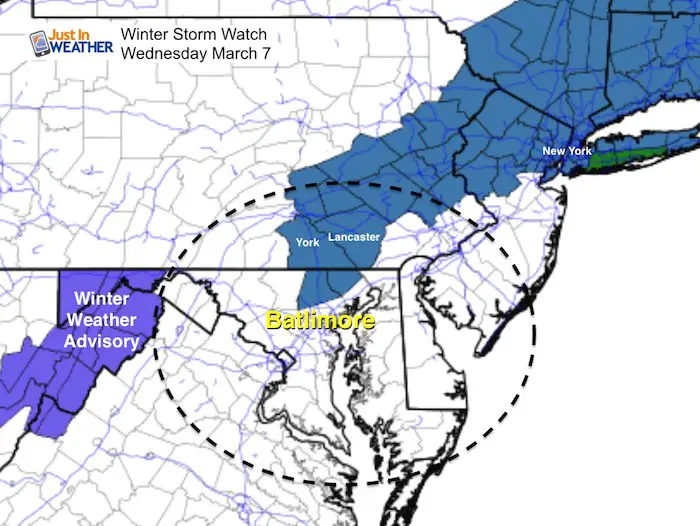 Please share your thoughts, best weather pics/video, or just keep in touch via social media
Keep In Touch Every Day
Click here to sign up for email alerts…. Just in case you don't get the post on your social media feed
FITF Sale
To celebrate the late season snow storm, all FITF webstore apparel is now 20%. Use promo code: marchsnow now! Shop FITF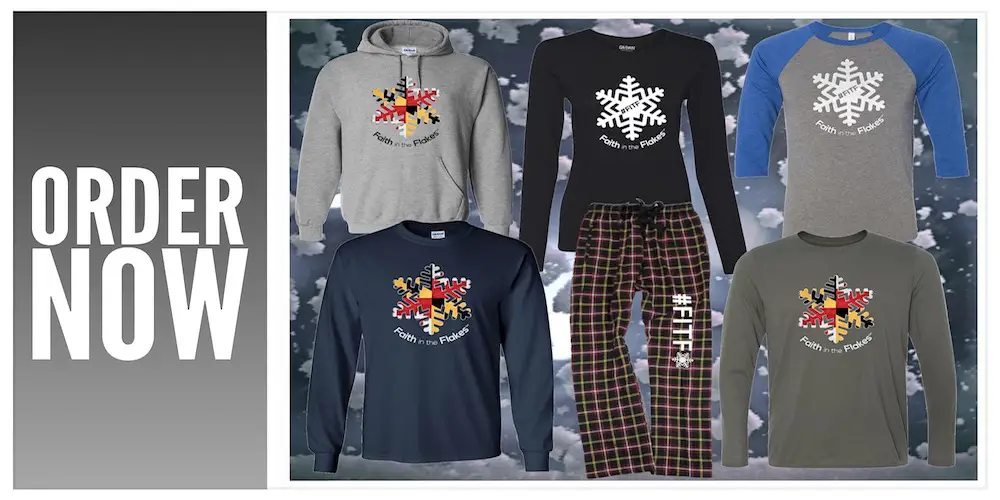 Snowstix- We Need You To Measure Snow Too
We are giving 10% of each sale to programs that benefit pediatric oncology patients.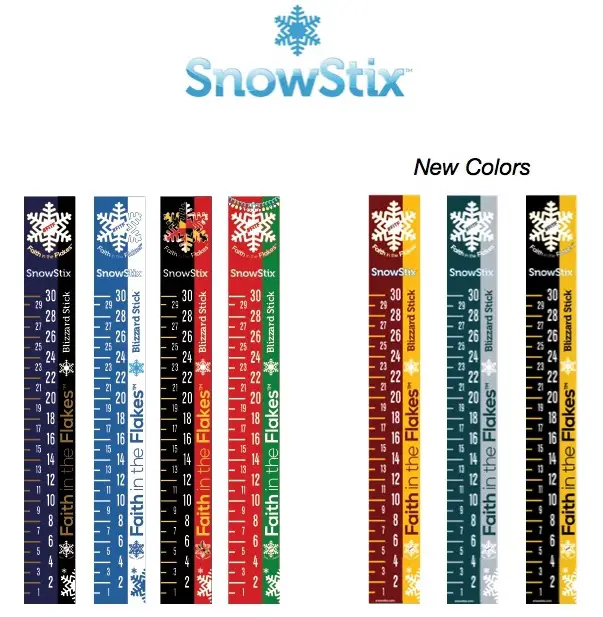 Get the award winning Kid Weather App I made with my oldest son and support our love for science, weather, and technology. Our 3 year anniversary of the release and our contribution to STEM education is this November. It has been downloaded in 60 countries, and works in both temperature scales. With your support we can expand on the fun introduction to science and real weather.
Keep In Touch All Winter
Click here to sign up for email alerts…. Just in case you don't get the post on your social media feed
Also See:
My Winter Outlook 2017-2018 for more snow
La Nina Formed: What it could mean to our winter
NOAA Winter Outlook: Not The Best But Not The Worst For Snow
Two Farmers Almanacs Winter 2018 Outlooks
Winter Weather Folkore: Suggestions from Animals and Crops
First Frost and Freeze Dates For Maryland (southern PA and northern VA)
My Preliminary Winter Outlook Notes
Low Snow Winters In Baltimore: To Repeat Or Not Repeat
NOAA Ranks Blizzard 2016 4th Worst Snowstorm On Record
Blizzard 2016 Record Top Snowstorm: Area Totals