Tuesday March 6 2018
A few showers have spread across the area already mid afternoon. You may have seen flurries, sleet, or graupel mixed in. Temperatures have reached the middle 40s, so there is no danger of stickage any tine soon. While we have a strong storm that will develop over our region tonight and Wednesday, there will be moderate to heavy snow that will fall while temperatures remain above freezing. This is a function of much colder air aloft allowing colder snowflakes that can survive the trip to the ground.
Winter Storm Warning was already issued for southern Pennsylvania. I expect upgrades to warnings and advisories in Maryland to be issued at any time. I will update when it posts.
All models have shifted back west to come in line with the NAM 3Km model I showed in my last report. My snowfall forecast is below, along with three computer models to compare. This storm will be so intense that there will be areas that span 50 miles and range from just 1 inch to nearly 1 foot of snow tomorrow. What side will you be on?
This is the tough part of the forecast because it is possible for snow to stick when the ground is warm, if the intensity is hard enough to overtake the melting. Once a layer of snow is covering the ground, it can compensate and allow for more accumulation in the daylight. In short, if you have snow on the ground at daybreak on Wednesday, then your area may have a tough commute, get more snow during the morning until noon, and will be more likely to have ice problems Thursday morning.
We had an event like this last March 14 that led to over a foot of snow in southern Pennsylvania and an extensive ice event with power outages across northern Maryland. See a recap of that event here.
Storm Animation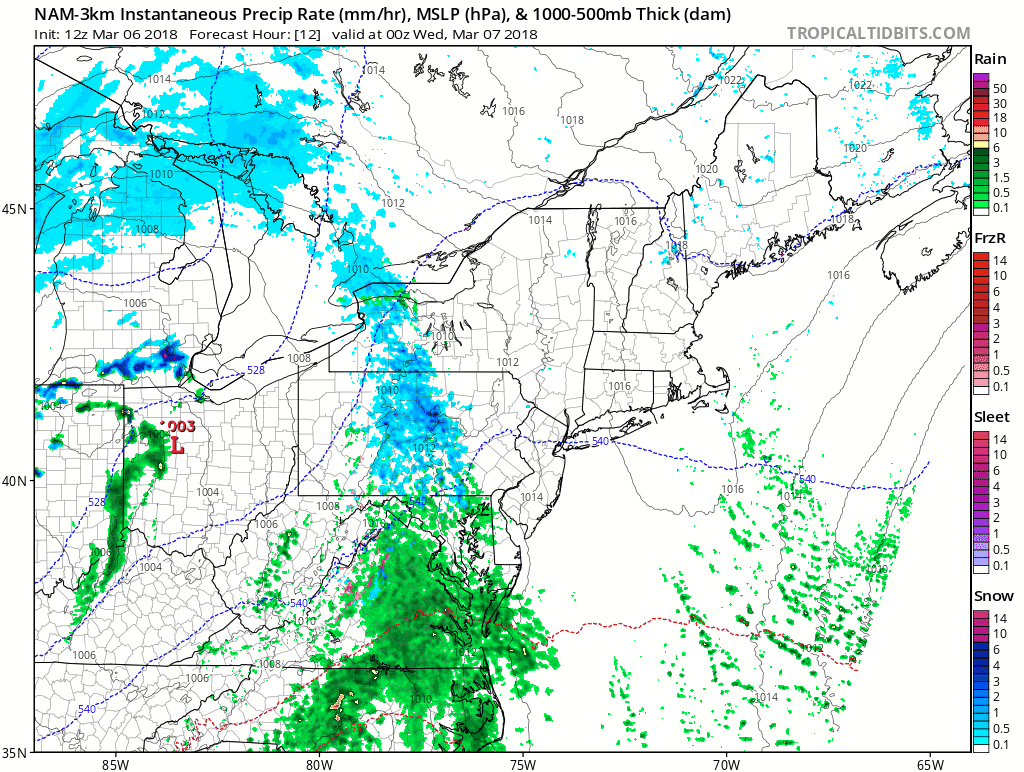 Storm Notes
There will be two surges of snow. The first will be tonight. You should know if your area will have problems by midnight, if the snow is sticking by you. If it is not by then, your local morning commute should be wet.
Places that get stickage, may have 1 to 3 inches on the ground by morning. These areas are most likely to have some travel delays and double that total during the day.
Baltimore (metro) may get snow overnight and turn to rain in the morning, then back to snow after 7 AM
The second surge of snow will develop during the morning.
The heaviest snow will be between 7 AM and noon.

Snowfall rates can reach 1 to 2 inches per hour in the sweet spot of the storm. Some bands can reach parts of Maryland, but battle with melting.

It wil be tough to get the snow to stick on exposed roads after 9 or 10 AM. The March sun angle and temps above freezing will help melt, while snow accumulates on the grass.
Since the storm track is a little west, that expands the snow inland a little. It also brings in warmer air up the Bay. So I-95 areas may be wet in the morning but heavy snow will fill back in during the morning.
Freezing Thursday Morning: The places that have snow on the ground Wednesday morning, are likely to get more snow and into the freezing temps sooner. The leftover slush can lead to icy spots.  Places where the snow doesn't stick, are more likely to dry out before the freezing air arrives.
My Call For Snowfall
There will be upside potential in the snow zone shown with (+). Some heavy snow bands will make or break this map. The heaviest snow will be to the east, and the snow bands will dip into northern Maryland. I chose the standard edge of that to be near Westminster, Hereford, and Street.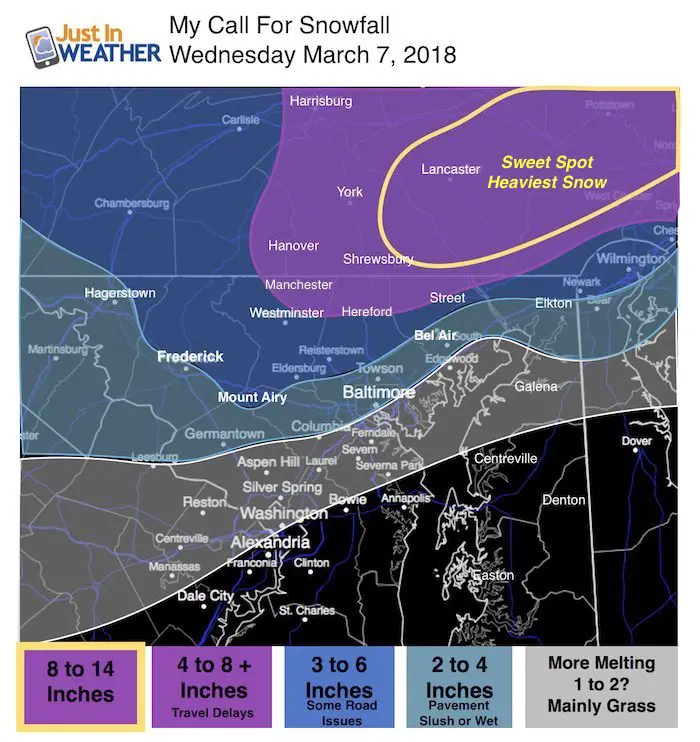 Compare To Latest Models
NAM 3 Km Model Snow Total
This is the model I have seen perform best all winter. It is most aggressive with this storm. Click here to see the radar simulation hourly breakdown of this model in my prior report.
Canadian GEM Model Snow Total
This has not had a good track record this winter, but has beeb consistent with joining the NAM in the final hours. There is a lot of agreement seen here now. This model had 1 inch for Baltimore and is now showing 4 inches. I think that not all stick. But, the heavy snow does reach into Maryland about 10 miles south of the Pennsylvania line.
GFS Model Snow Total
This is the lower snowfall option for metro Baltimore but still shows moderate snow for Westminster to York and dramatically increase towards Lancaster. The Maryland/PA line is on the edge of the heavy snow.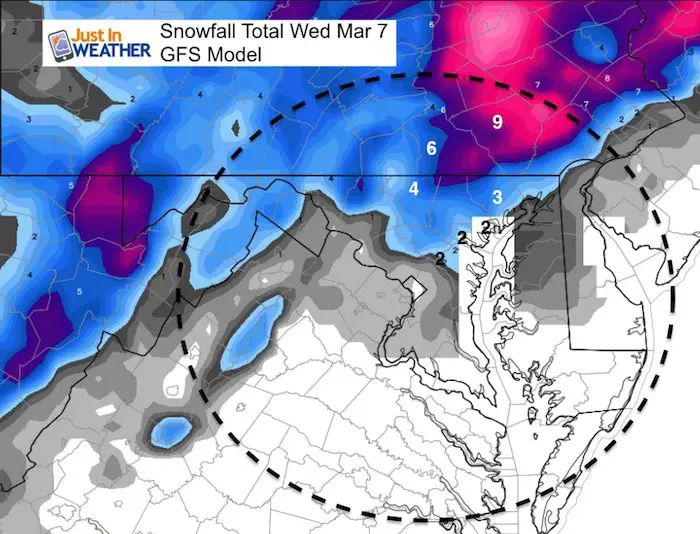 Please share your thoughts, best weather pics/video, or just keep in touch via social media
Keep In Touch Every Day
Click here to sign up for email alerts…. Just in case you don't get the post on your social media feed
FITF Sale
To celebrate the late season snow storm, all FITF webstore apparel is now 20%. Use promo code: marchsnow now! Shop FITF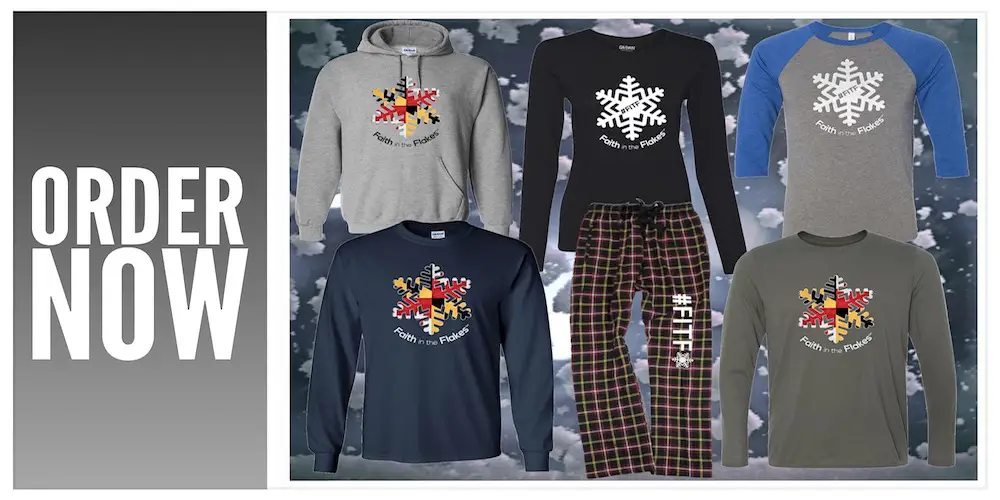 Snowstix- We Need You To Measure Snow Too
We are giving 10% of each sale to programs that benefit pediatric oncology patients.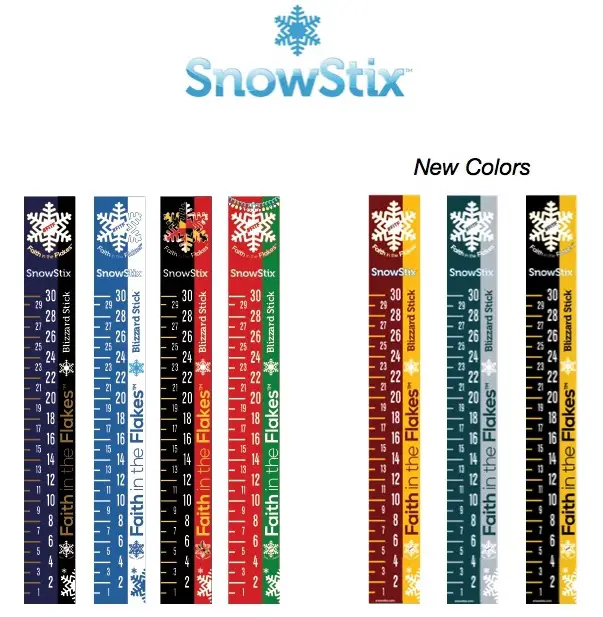 Get the award winning Kid Weather App I made with my oldest son and support our love for science, weather, and technology. Our 3 year anniversary of the release and our contribution to STEM education is this November. It has been downloaded in 60 countries, and works in both temperature scales. With your support we can expand on the fun introduction to science and real weather.
Keep In Touch All Winter
Click here to sign up for email alerts…. Just in case you don't get the post on your social media feed
Also See:
My Winter Outlook 2017-2018 for more snow
La Nina Formed: What it could mean to our winter
NOAA Winter Outlook: Not The Best But Not The Worst For Snow
Two Farmers Almanacs Winter 2018 Outlooks
Winter Weather Folkore: Suggestions from Animals and Crops
First Frost and Freeze Dates For Maryland (southern PA and northern VA)
My Preliminary Winter Outlook Notes
Low Snow Winters In Baltimore: To Repeat Or Not Repeat
NOAA Ranks Blizzard 2016 4th Worst Snowstorm On Record
Blizzard 2016 Record Top Snowstorm: Area Totals