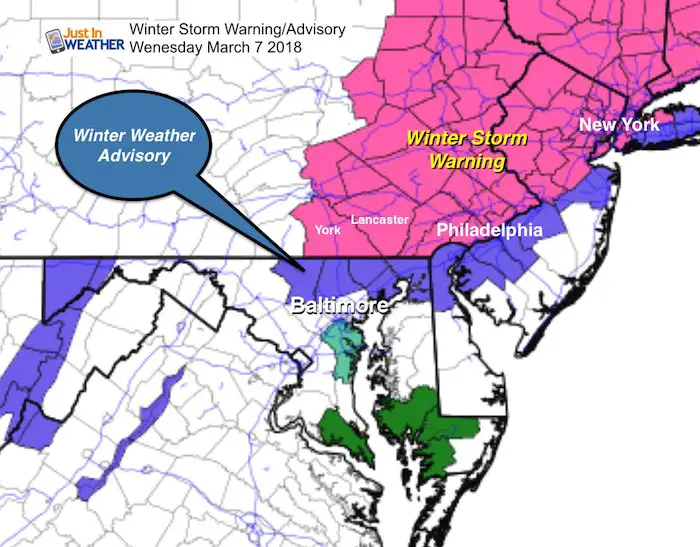 Tuesday March 6 2018
I read a lot of comments on my last report and how there was such a discrepancy from my forecast to what may have been seen on TV or an app. I wanted to elaborate here. Also, the Winter Weather Advisory posted this afternoon just after my last update was expanded as expected… sort of. The Maryland Counties included now range from Carroll on the west end to northern Baltimore, all of Harford, and Cecil Counties. There will be 30 miles across our area that will spread the range of 1 inch to 6 inches or more of snowfall. So I would not let your guard down in Frederick and Howard Counties. Even Baltimore City is on the edge and has support for more snow with some models. We will all get snow to fall with temperatures staying above freezing. It is a matter of how much will stick besides the set up of the heavy stuff! Yes, being near the water will lower your snow totals due to melting and there may be some rain mixing in during the morning, before turning back to snow.
The Winter Storm Warning in Southern Pennsylvania includes York and Lancaster with the back edge of the heavy snow.  This will all begin tonight and then intensity during the morning. This area is most likely to have travel really hindered Wednesday.
I know there is a lot of information and my prior snowfall map might have been a little confusing. So I wanted to explain it in a quicker format. There are links to prior posts below.
My Snowfall Map (Updated Colors)
My friend Tony Pann sent me a text this afternoon. A few people at his station showed him my snow forecast and locked in on the high number. Thanks to Tony for reading my actual post and pointing out the yell circled area.  I left the purple color for all areas that I expect to have the most travel impact.
But here is the 'sweet spot' top snow zone fully shaded in yellow to make sure it is not confused with northern Maryland.
I have the 4 to 8 inch range in northern Maryland (Hereford Zone, northern Carroll and Harford Counties)
The best place to see close to a foot or more will be east of I-83 in Lancaster and eastern PA.
Frederick City I went on the edge of 2 inches or higher. More snow will be north towards Turmont.
Baltimore City will get loess near the water and more near Towson.
There will be upside potential in the snow zone shown with (+). Some heavy snow bands will make or break this map. The heaviest snow will be to the east, and the snow bands will dip into northern Maryland. I chose the standard edge of that to be near Westminster, Hereford, and Street.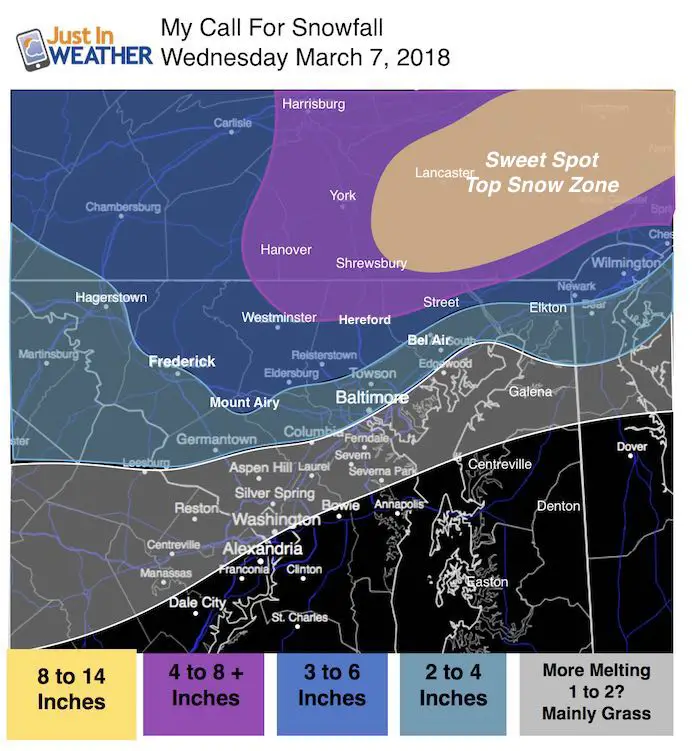 Keep In Touch Every Day
Click here to sign up for email alerts…. Just in case you don't get the post on your social media feed
Compare To National Weather Service Zones Maps
Metro Baltimore/Frederick
There could spread 30 miles form 1 to 6 inches just in Baltimore County
Frederick is now in the 1 to 2 inch range from NWS. I read many saw just rain on their apps. I don't follow weather app forecasts. Check them again and see if they updated
Pennsylvania:
York is on the west end of the heavy snow. More will fall east towards Lancaster.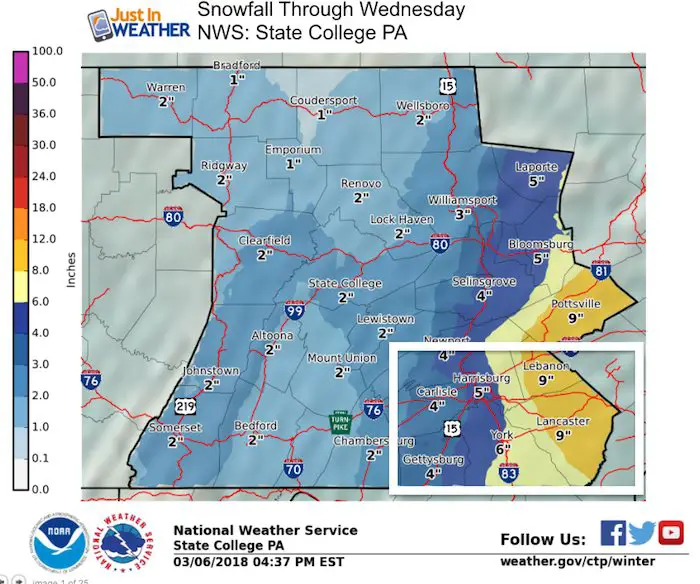 Northeastern Maryland, Philadelphia, and New Jersey
Thew snow gradient here could be 50 miles from 1 inch to 1 foot of snow. The Poconos will win the high end of snow.
Please click here to see my prior post to compare the NAM 3 Km, Canadian, and GFS Model snow updates
Please share your thoughts, best weather pics/video, or just keep in touch via social media
Keep In Touch Every Day
Click here to sign up for email alerts…. Just in case you don't get the post on your social media feed
FITF Sale
To celebrate the late season snow storm, all FITF webstore apparel is now 20%. Use promo code: marchsnow now! Shop FITF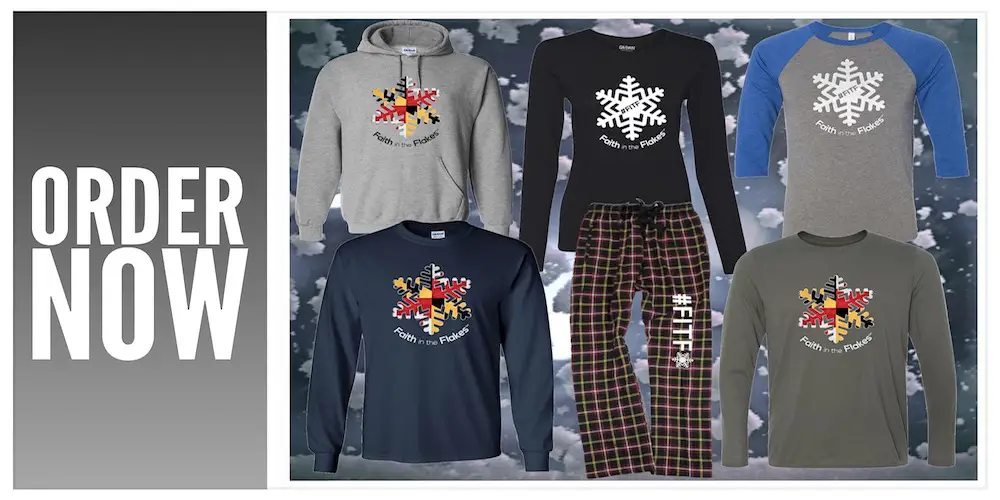 Snowstix- We Need You To Measure Snow Too
We are giving 10% of each sale to programs that benefit pediatric oncology patients.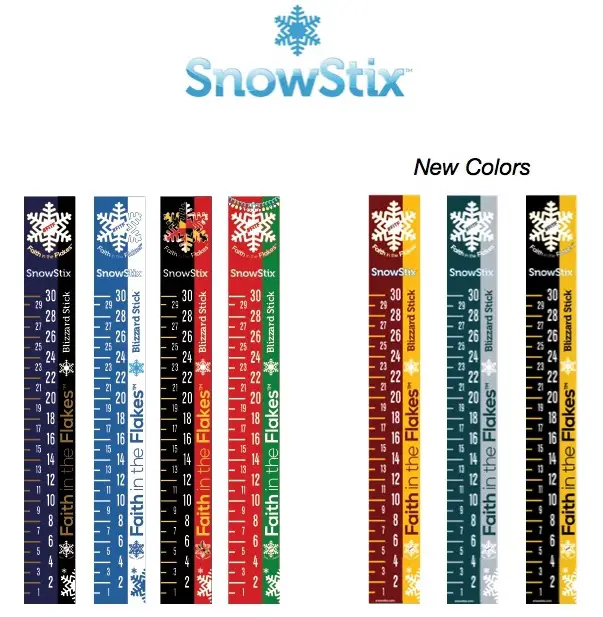 Get the award winning Kid Weather App I made with my oldest son and support our love for science, weather, and technology. Our 3 year anniversary of the release and our contribution to STEM education is this November. It has been downloaded in 60 countries, and works in both temperature scales. With your support we can expand on the fun introduction to science and real weather.
Keep In Touch All Winter
Click here to sign up for email alerts…. Just in case you don't get the post on your social media feed
Also See:
My Winter Outlook 2017-2018 for more snow
La Nina Formed: What it could mean to our winter
NOAA Winter Outlook: Not The Best But Not The Worst For Snow
Two Farmers Almanacs Winter 2018 Outlooks
Winter Weather Folkore: Suggestions from Animals and Crops
First Frost and Freeze Dates For Maryland (southern PA and northern VA)
My Preliminary Winter Outlook Notes
Low Snow Winters In Baltimore: To Repeat Or Not Repeat
NOAA Ranks Blizzard 2016 4th Worst Snowstorm On Record
Blizzard 2016 Record Top Snowstorm: Area Totals