Monday March 5 2018
Another strong Nor'easter will be developing right over our region on Tuesday night and Wednesday. The storm will form off of the coast but a piece of upper level energy will feed into the Low and keep the back edge of snow right over southern Pennsylvania and central Maryland. No doubt you have a lot of questions about this and the multiple forecasts can be confusing. The purpose of this post is the try and answer those questions along with a look at the latest snow maps. Here is an animation of the NAM 3 Km Model depiction of the storm. Please see my notes below  and more snowfall outlook maps. I will post an hourly timeline slider in the morning.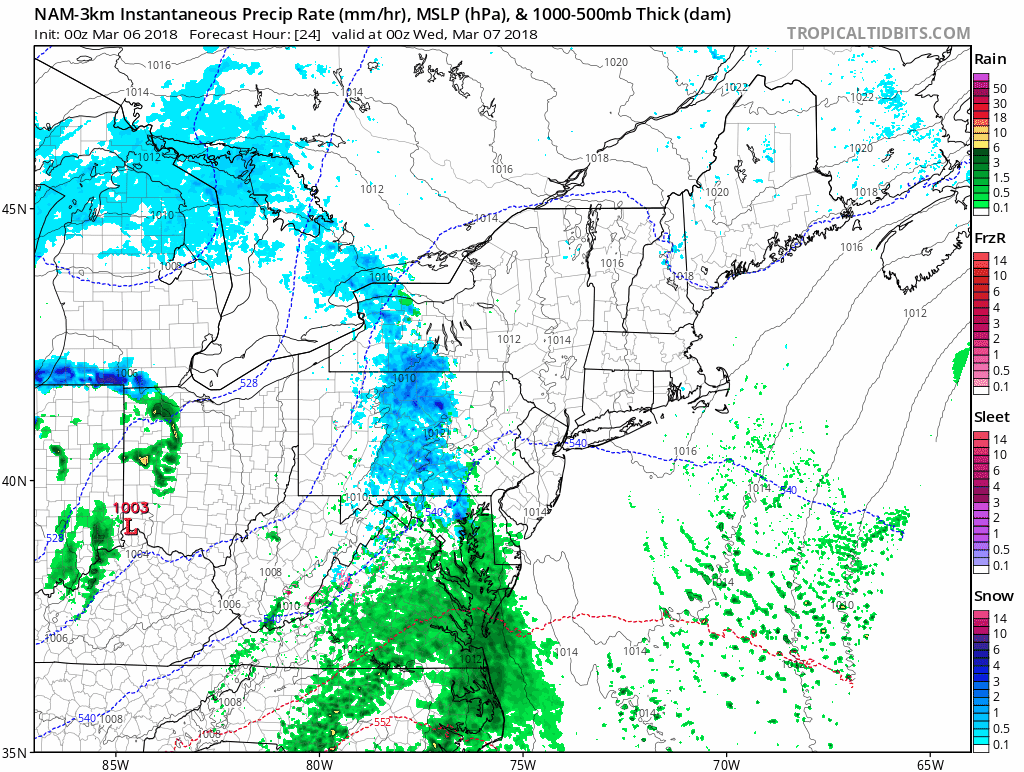 Q & A
Why are there so many different forecast amounts for my region?
There are many computer models that come up with different solutions with how the storm may behave. This can vary the timing and track, along with temperature and snowfall. Different meteorologists, TV stations, apps, and hobby weather pages have their favorites. It is easy to hear a high number and get stick on that.
There will be a tight gradient of snow amounts with this storm. The biggest range will be in northeastern Maryland where near the Bay the warmer temps may limit stickage but just north and closer to the center of the Low storm track will be the sweet spot. One woman said she hear between 3 and 13 inches crossing Cecil County to Philadelphia and that isn't far from reality.
What is the Watch Vs. Warning
A Winter Storm Watch means it 'might happen' this map at the bottom of the post shows where the best chance for over 4 inches of snow may fall.
A Warning will be issued when it is definitely going to happen
A Winter Weather Advisory is for lower amounts of snow. There may be some counties not highlighted now that could get an 'advisory' issued for the event.
Who gets the most snow?
Please see my Snow Impact Map below
What is the time frame?
By Tuesday evening snow and rain will develop.
Tuesday night: Snow will fall in the areas under the Winter Storm Watch and try to stick on the ground. Rain or a mix will fall near metro Baltimore and south.
Wednesday morning: Snow will be expanding south through central Maryland. Places with snow cover on the ground will get more during the morning. If the ground is not covered in a location by 9 AM it is unlikely to get more than some slush on the grass during the day.
Wednesday: Heaviest snow will be around lunchtime
Wednesday evening: Snow will. Temperatures are likely to drop below freezing in areas that have snow. So icing may be a problem.
Can snow stick in March?
Yes! One thing I point out in every FITF assembly with the kids is that later in winter, the higher sun angle warms the pavement. So to get snow to stick, we need it to fall overnight when it is dark. This will happen in the colder inland areas overnight Tuesday.  Once snow covers the ground, it is easier for snow to pile up.
Getting that coating overnight is a key element to have it stick during the day. Otherwise the sun will fight stickage.
Can snow stick when temperatures are above freezing?
Heavy snow rates are needed to compensate for the melting underneath. Once it snows faster than it can melt, that layer is established and accumulation can begin.
The amount of snow that will fall will NOT be the same as what is measured. So the computer models need to be accounted for that. Flakes will be wasted to melting initially and still some melting underneath during the event. Also, snow will compact on itself.
There will be a large area that gets snow falling during Wednesday. But it won't stick everywhere. The best place for stickage will be those that have it on the ground already at sunrise on Wednesday.
What kind of snow will this be?
Heavy and wet! There is a high water content making it slushy. Plus the melting underneath will add to the weight. It wil not be easy to shovel, but get for snowballs and making snowmen.
How much will it snow at my house?
I can't account for every single location. That is why I put out a snow map. Please see multiple maps below and I hope you know where you live 🙂
More snow will fall than will stick due to melting.
More snow will stick on the grass than pavement to shovel
Will roads ice up/refreeze Thursday morning?
Yes! In places that have snow accumulation. While the snow event is likely to have temps above 32ºF, the colder air will fill in making for some slick spots Thursday morning.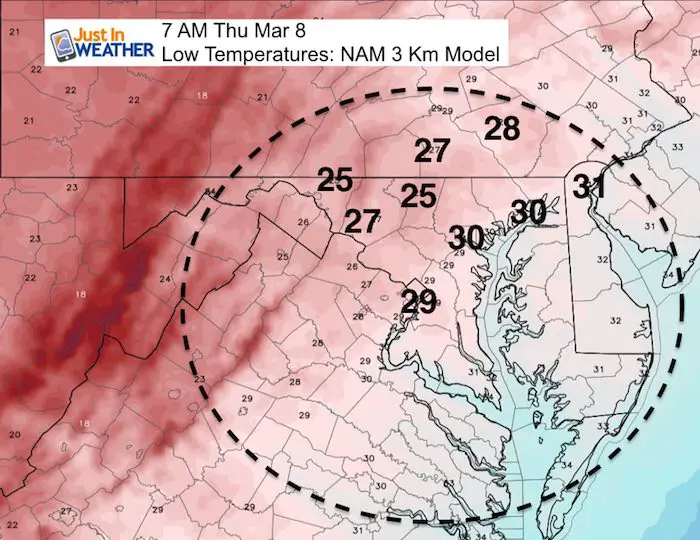 My Snow Outlook Map
A: This is the Sweet Spot. This most snow will fall in eastern PA and may clip northern Cecil Co Maryland and northern Delaware. 
B: Snow will fall overnight Tuesday and should have a cover on the ground Wednesday morning. A general 1 to 3+ inches is likely by morning, with upside potential based on how much can stick before daybreak to allow more to stick during the day. 
C: Snow will mix in and change over Wednesday morning. It will snow during the day especially near Washington and east, but not stick on the roads. Roads should be wet. I-95 in Harford and Cecil county may be close to the stickage and melting line. It will be a tight gradient. 
D: Snow will mix in here but little to no stickage is expected. 
Snowfall Forecast Maps
Computer Models
NAM 3 Km
This model has the best performance for us all winter, so I need to stick with it now. I know it is the most aggressive and I know its weakness. So, please consider this with a grain of salt. I will make my own snow outlook map on Tuesday.
This looks a bit more realistic than the prior run I showed in my last report. There is still a big question about the stickage amount, but the zone for peak snow is my focus since this model did the best with our last snow event and much of this winter.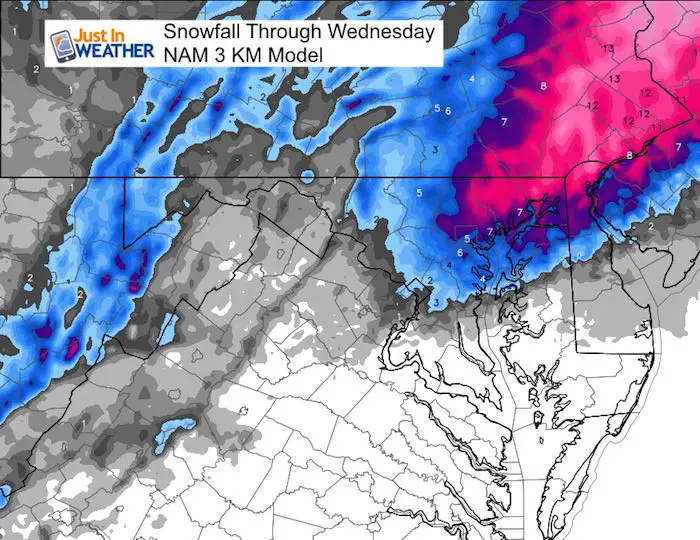 GFS
Canadian
This model is the lowest with snow. It follows along with the European Model and did not do the best with the last storm.
National Weather Service Regions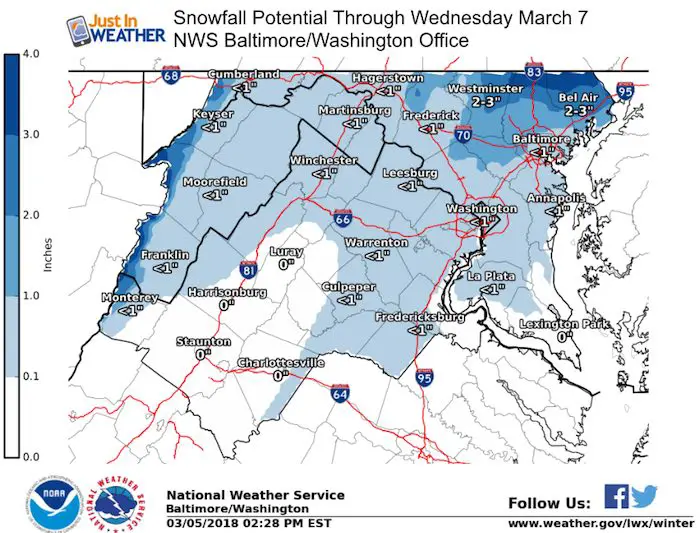 The Bulls Eye is definitely over metro Philadelphia and towards metro New York (not shown here)
Reminder: Winter Storm Watch means it may happen. I see some areas not highlighted here that could get in on an advisory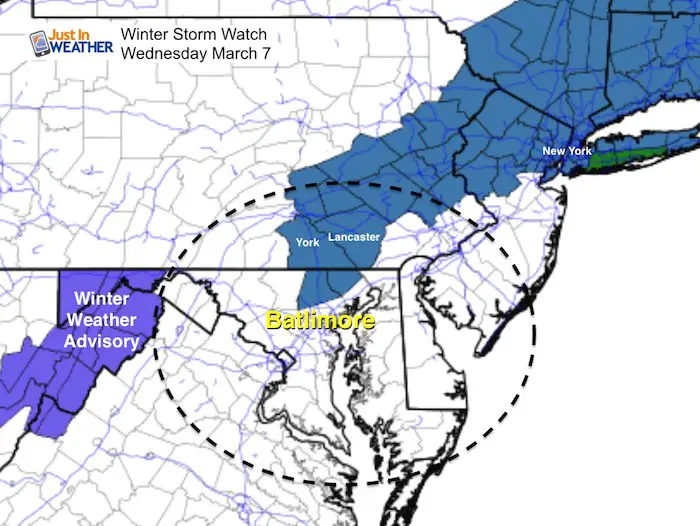 Please share your thoughts, best weather pics/video, or just keep in touch via social media
Keep In Touch Every Day
Click here to sign up for email alerts…. Just in case you don't get the post on your social media feed
FITF Sale
To celebrate the late season snow storm, all FITF webstore apparel is now 20%. Use promo code: marchsnow now! Shop FITF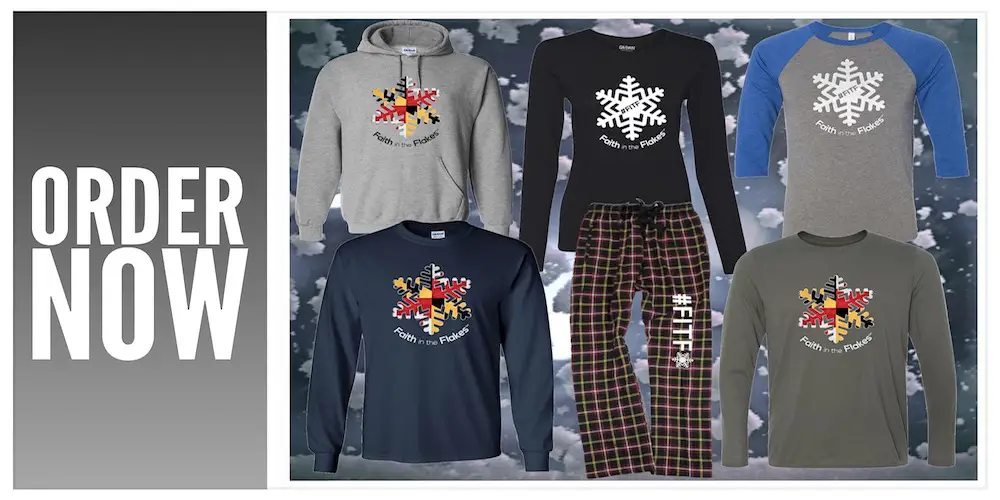 Snowstix- We Need You To Measure Snow Too
We are giving 10% of each sale to programs that benefit pediatric oncology patients.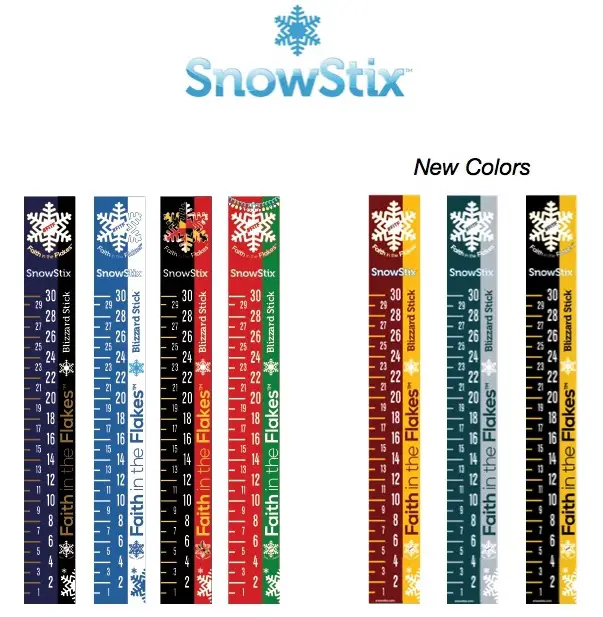 Get the award winning Kid Weather App I made with my oldest son and support our love for science, weather, and technology. Our 3 year anniversary of the release and our contribution to STEM education is this November. It has been downloaded in 60 countries, and works in both temperature scales. With your support we can expand on the fun introduction to science and real weather.
Keep In Touch All Winter
Click here to sign up for email alerts…. Just in case you don't get the post on your social media feed
Also See:
My Winter Outlook 2017-2018 for more snow
La Nina Formed: What it could mean to our winter
NOAA Winter Outlook: Not The Best But Not The Worst For Snow
Two Farmers Almanacs Winter 2018 Outlooks
Winter Weather Folkore: Suggestions from Animals and Crops
First Frost and Freeze Dates For Maryland (southern PA and northern VA)
My Preliminary Winter Outlook Notes
Low Snow Winters In Baltimore: To Repeat Or Not Repeat
NOAA Ranks Blizzard 2016 4th Worst Snowstorm On Record
Blizzard 2016 Record Top Snowstorm: Area Totals