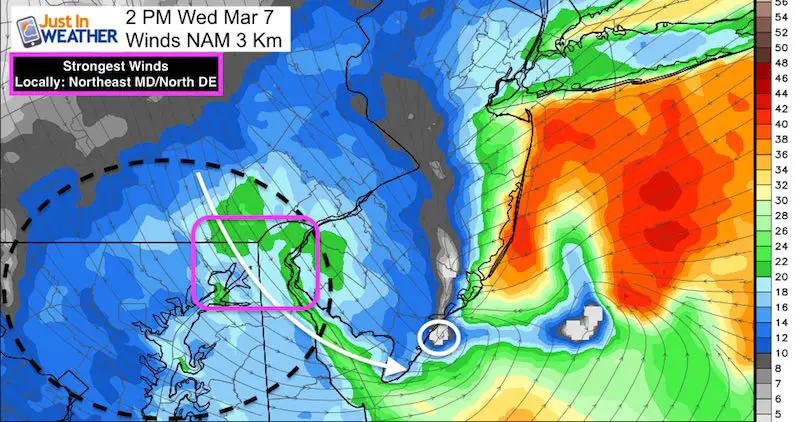 Monday March 5 2018
We have another storm on the way and it will be another rapidly developing system in a active jetstream. Do you remember the 2 blizzards in 5 days we had in February 2010? This is similar except we are not in the bulls eye, just on the edge. The models below show how close a call this could be to slam us or just slip by. Please understand that while I show model maps for snow, that is NOT my forecast. But what the NAM 3 Km just came out with would be a game changer. It is standing alone as of now. Will it lead the way or be laughed at? I will have that soon if warranted. Please read the notes below before seeing maps because some of them might be alarming and could possibly be a little misleading.
Note: If Baltimore gets 2 inches or more of snow accumulation from this event, all FITF apparel will be 20% for the rest of the week.
Confident In These Weather Elements:
Timing: Tuesday evening through Wednesday
Wind: Not as bad as the last event, but it will be strongest Wednesday
Hardest Areas:
Wind Gusts: Over 40 mph in Harford, Cecil, Kent Counties in Northeastern Maryland will be closest to the worst winds
Snowfall: Baltimore, Caroll, Harford, Cecil in Maryland; York, Lancaster and east to Philadelphia in PA will get the most snow.
This will be a rapidly developing system and a quick mover. See the hourly timeline sliders  below. This will bring major destructive flooding to New Jersey! This is the GFS Model. Just wait until you see the NAM 3 KM below.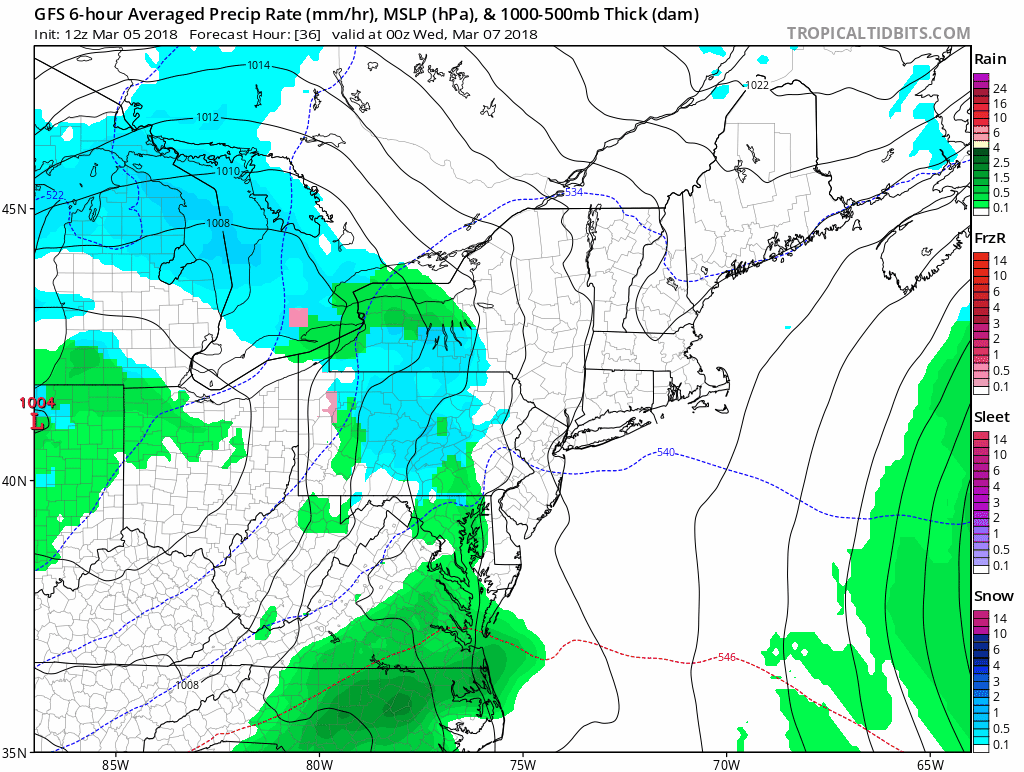 Low Confidence Weather Element
Snow Stickage– Air temperatures will remain above freezing for most of our area.
The intensity of the snow will determine if it can lay and stay. Then how much can accumulate.
Snowfall on Tuesday night and before daybreak on Wednesday will determine if a coating can overtake the warm ground and air to allow for more accumulation. If your areas does not have snow on the ground by 7 AM Wednesday, then the daytime snowfall might just lead to wet roads. 
Let's focus on the winds first, then the snow below.
Wind Speed —> slider
Check out the core circulation developing over Delmarva and then the New Jersey coast. The most flooding and destruction is likely along the New Jersey Coast, then Long Island and eastern New England. 
[metaslider id=59542]
Yellow: 34 knots= 39 mph 

*Tropical Storm Force

Orange: 42 knots = 48 mph 

Red: 50 knots = 58 mph
Wind Gusts —> slider
The strongest gusts over Tropical Storm Intensity will be in Harford, Cecil, and Kent Counties through northern Delmarva.
[metaslider id=59559]
Snowfall Animation
I have noticed the NAM 3 Km Model has the best success locally this winter. Here, it shows the snow developing Tuesday evening and spreading across metro Baltimore and the northern Delmarva Wednesday as the Low Pressure intensifies. See the key time frames below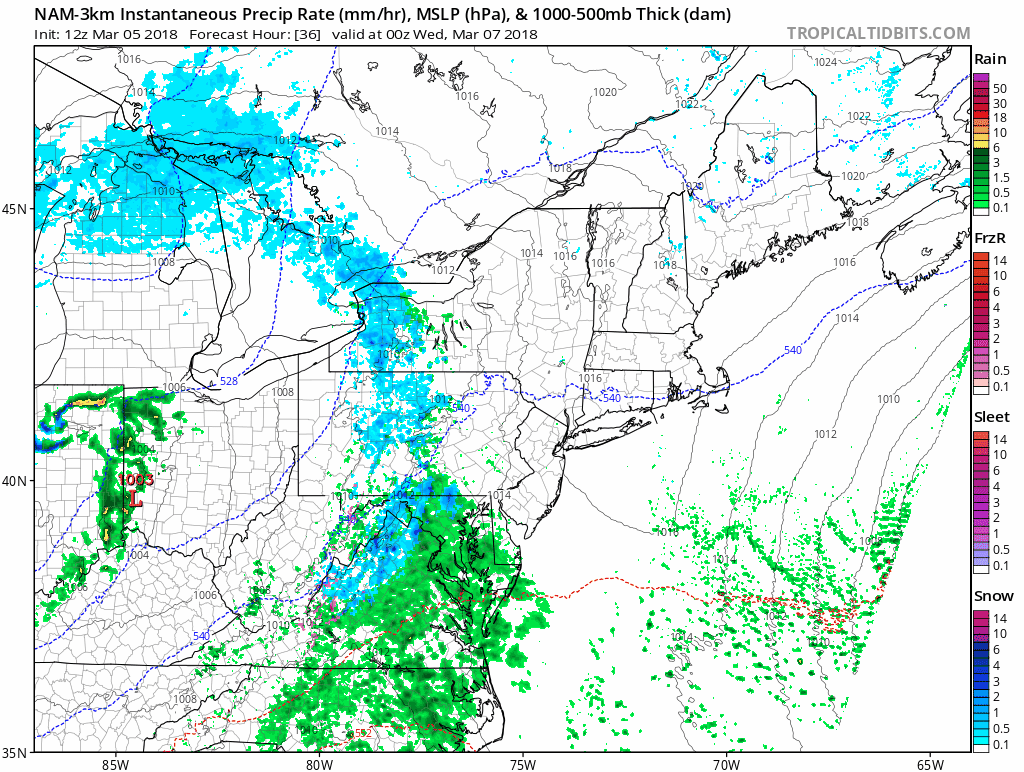 Key Time Frames
While the snow expands, please consider the freezing line. It is possible to get stickage on the roads when above freezing-When overnight and with heavy snowfall rates. This is possible.
[metaslider id=59580]
Snow Totals
NAM 3Km Model
This model exploding with snowfall across our region. Normally I would scoff at this and cal it insane! But it was on point with the snow locations in our last event. I still have trouble seeing 9 inches laying and staying in. Baltimore. However, I think much of this will be lost to melting and compaction. Compare to two more models below and stand by for more:
GFS Model
The main American Model here shows the bullseye from eastern York through Lancaster Counties in PA. The northern Maryland zones are in the 3″+ but Baltimore struggles to get 1 inch.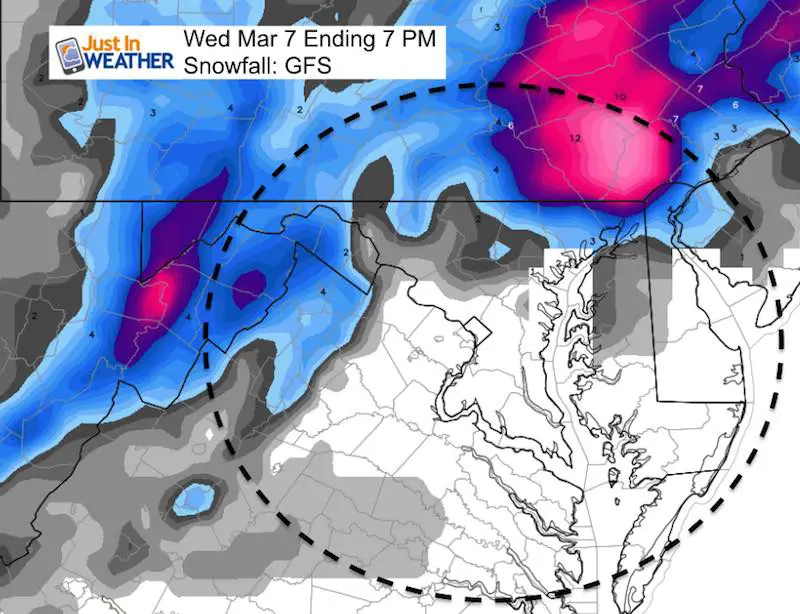 Canadian GEM Model
Please check back this evening for more storm updates and snow outlook maps.
Please share your thoughts, best weather pics/video, or just keep in touch via social media
Keep In Touch Every Day
Click here to sign up for email alerts…. Just in case you don't get the post on your social media feed
FITF Gear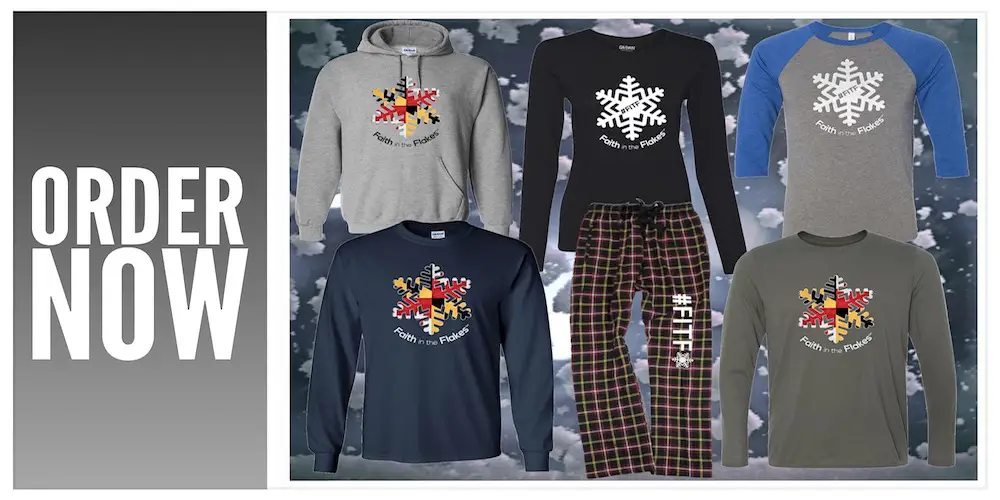 Snowstix- We Need You To Measure Snow Too
We are giving 10% of each sale to programs that benefit pediatric oncology patients.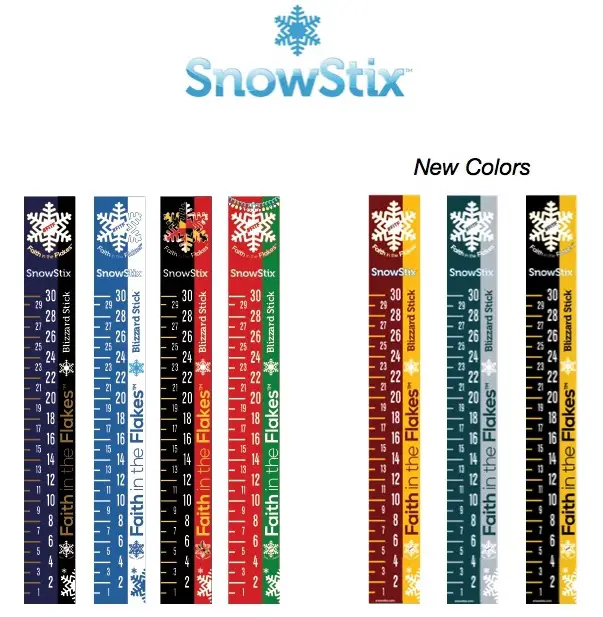 Get the award winning Kid Weather App I made with my oldest son and support our love for science, weather, and technology. Our 3 year anniversary of the release and our contribution to STEM education is this November. It has been downloaded in 60 countries, and works in both temperature scales. With your support we can expand on the fun introduction to science and real weather.
Keep In Touch All Winter
Click here to sign up for email alerts…. Just in case you don't get the post on your social media feed
Also See:
My Winter Outlook 2017-2018 for more snow
La Nina Formed: What it could mean to our winter
NOAA Winter Outlook: Not The Best But Not The Worst For Snow
Two Farmers Almanacs Winter 2018 Outlooks
Winter Weather Folkore: Suggestions from Animals and Crops
First Frost and Freeze Dates For Maryland (southern PA and northern VA)
My Preliminary Winter Outlook Notes
Low Snow Winters In Baltimore: To Repeat Or Not Repeat
NOAA Ranks Blizzard 2016 4th Worst Snowstorm On Record
Blizzard 2016 Record Top Snowstorm: Area Totals