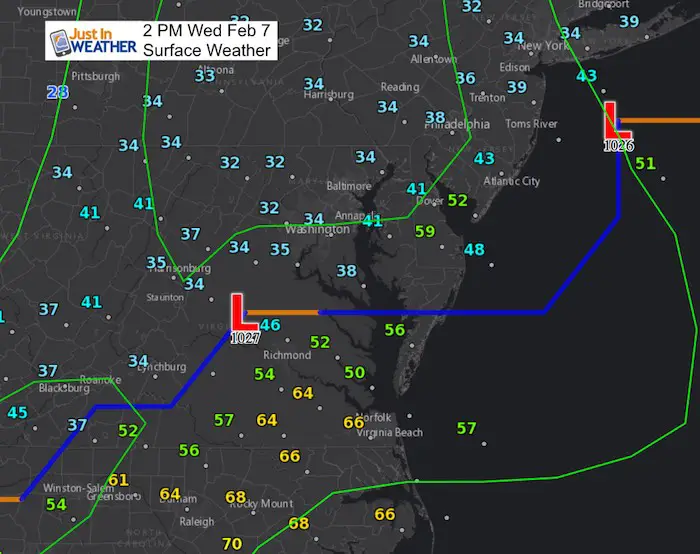 Wednesday February 7 2018 2:45 PM
Most of our region is in the thaw this afternoon. Now we set the stage for areas of fog, then watch for the refreeze. It's a theme with recent storms could to repeat tonight. The rain has been moderately heavy and beneficial to the recent declaration of drought. One thing that proved true again is that cold air tends to hang on longer and that led to more icing this morning. This storm has a lot of energy and a wide range of temperature. Not far to the south, Norfolk Virginia has reached the middle 60s. Meanwhile to our north heavy snow continues to fall with places in northern PA and New England expecting up to a foot of snow.
There are a few important things to keep in mind today and this evening with the back half of this storm:
Fog: Warmer moist air flowing over soggy and ice covered ground quickly super saturates the water vapor and we end up with areas of patchy thick fog. That helps keep the ground wet.
When will the rain end? The latest radar simulation below shows one last push of upper level energy to keep showers around until 8 or 9 PM in metro areas.
When will the freezing line return? The later rain, some fog,  and soggy ground is likely to keep the ground wet as the deep freeze returns. Some area will have that 32ºF line arrive within 2 hours of the rain ending this evening. 
Expect Icing Overnight And Possible School Delays Thursday Morning – I do not like to make promises about school decisions, but this seems like a good bet on unsafe conditions. See the temperate timeline below.
2 PM Temperatures
We split the difference with the snow to our north and 60s to the south, but just barely into the warmer or non freezing air. Here is a closer look.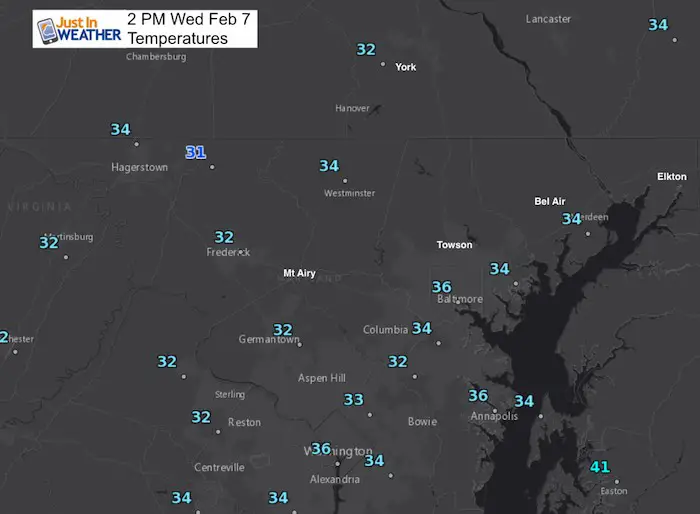 Also see: What is Winter Precipitation: Snow, Sleet, and Freezing Rain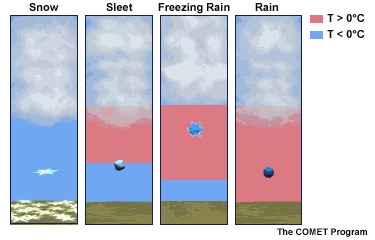 Rain Timeline: Radar Simulation
—> slider
[metaslider id=57811]
Temperatures
The freezing line will return within 2 hours of the rain ending in the same areas that had ice until noon today. Typical northwestern cold zones.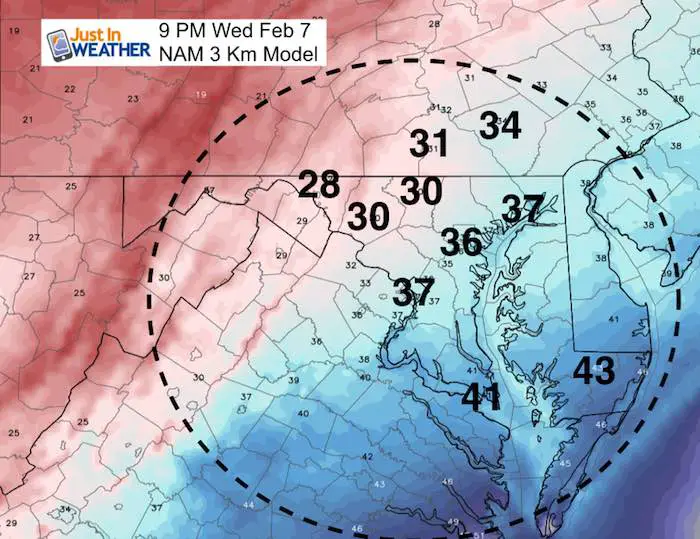 Midnight- Freezing In The Cities
This includes east of I-95 and near the Bay in Anne Arundel County and up through Aberdeen and Northeast in Cecil Co.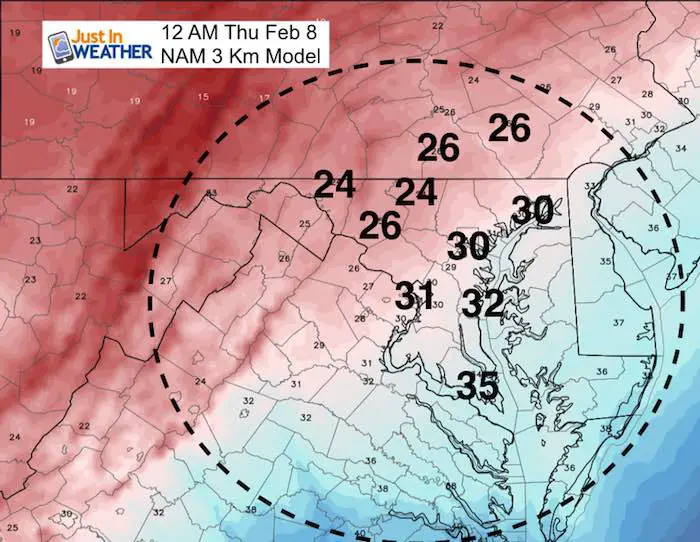 Morning Deep Free *Likely Icy Roads
The colder zones will be in the teens and the 20s will reach across Delmarva! Icing could be widespread for places that are not treated with salt.
L❄️Ve Snow ❤️
We've added KIDS SIZES and HOODIES
Order by 4 PM Thursday and these will arrive in your hands before Valentines Day.
My Fiancée Shannon is showing our L❄️VE Shirt.  Proceeds help  the start-up of our new program for Pediatric Oncology Patients. The big announcement is just two weeks away.  Click here or on the photo to see more…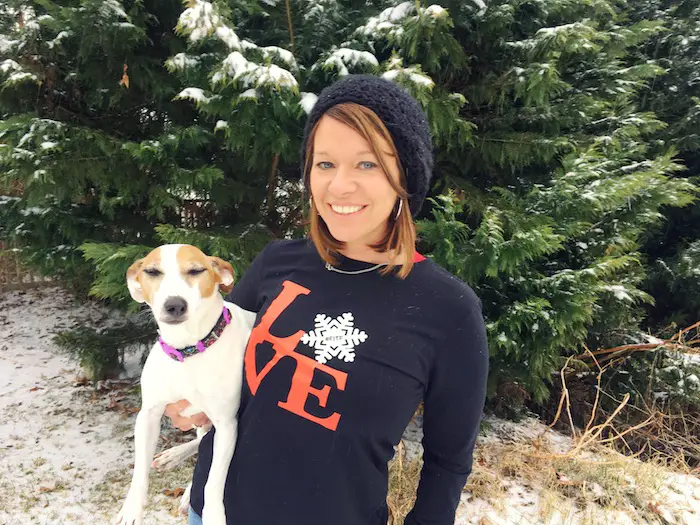 Please share your thoughts, best weather pics/video, or just keep in touch via social media
Keep In Touch All Winter
Click here to sign up for email alerts…. Just in case you don't get the post on your social media feed
Get the award winning Kid Weather App I made with my oldest son and support our love for science, weather, and technology. Our 3 year anniversary of the release and our contribution to STEM education is this November. It has been downloaded in 60 countries, and works in both temperature scales. With your support we can expand on the fun introduction to science and real weather.
Snowstix- We Need You To Measure Snow Too
We are giving 10% of each sale to programs that benefit pediatric oncology patients.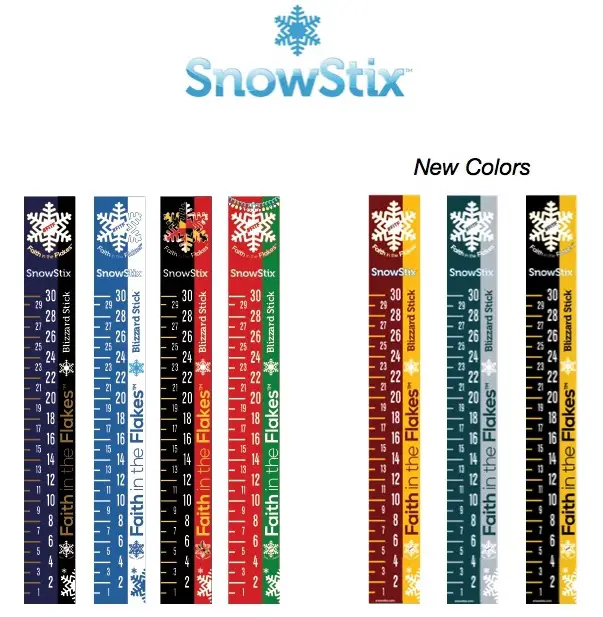 FITF Gear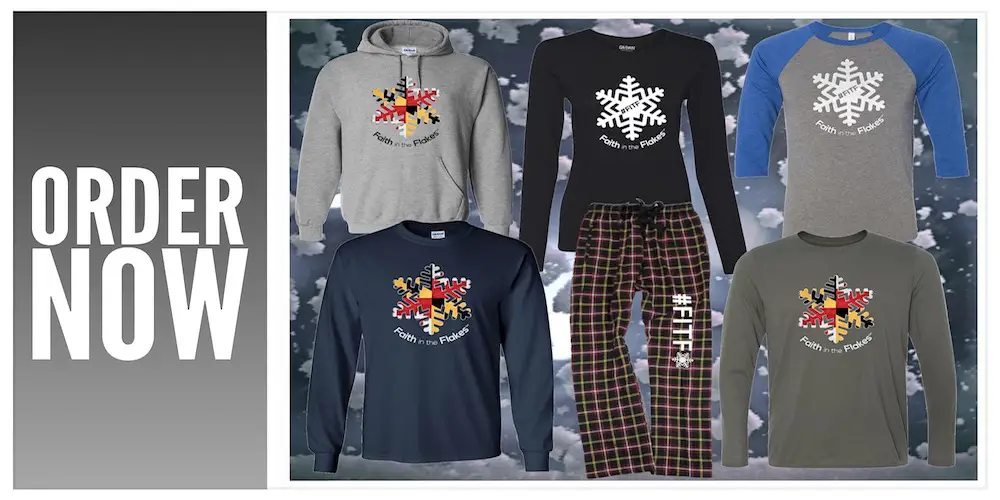 Keep In Touch All Winter
Click here to sign up for email alerts…. Just in case you don't get the post on your social media feed
Also See:
My Winter Outlook 2017-2018 for more snow
La Nina Formed: What it could mean to our winter
NOAA Winter Outlook: Not The Best But Not The Worst For Snow
Two Farmers Almanacs Winter 2018 Outlooks
Winter Weather Folkore: Suggestions from Animals and Crops
First Frost and Freeze Dates For Maryland (southern PA and northern VA)
My Preliminary Winter Outlook Notes
Low Snow Winters In Baltimore: To Repeat Or Not Repeat
NOAA Ranks Blizzard 2016 4th Worst Snowstorm On Record
Blizzard 2016 Record Top Snowstorm: Area Totals
Extreme Weather of 2015 balanced out on both ends