Saturday February 3 2018
A Winter Weather Advisory has been issued for Sunday beginning at 10 AM for parts of central and western Maryland and Pennsylvania. This is a very tricky situation and I will do my best to try and explain the set up. I think more areas than shown on this map will be affected at least a little in  northern Baltimore, Harford Co in Maryland and York and Lancaster in PA.  There will also be a battle between the wintry mix of snow, sleet, and freezing rain with daylight solar energy on the roads. The daylight hours should help roads maximize their ability to stay wet.
*Some of my school clients have already delayed their Sunday events, and reevaluating in the morning will be best.
I am really torn between this going to a cold rain quickly or the colder NAM solution I am showing below. Since there is just a small adjustment in temperatures, I think it is best to be prudent and just show the worst case and plan around that.
Here's the set up:
After a cold day with most areas staying at or below freezing, the ground is currently cold enough to support any stickage. That means it will be able to hold any snow or sleet that falls early Sunday. The timing will be key as solar energy gets absorbed by the roads during the morning and icing is less likely with anything falling after 10 AM.  That may confuse you with the
Overnight
The HAM 3 Km Model is a little aggressive, but I can not ignore the light wintry mix it is suggesting overnight. A little drizzle or sleet could be a hazard. But I need to mention the GFS and HRRR models are dry for this time frame.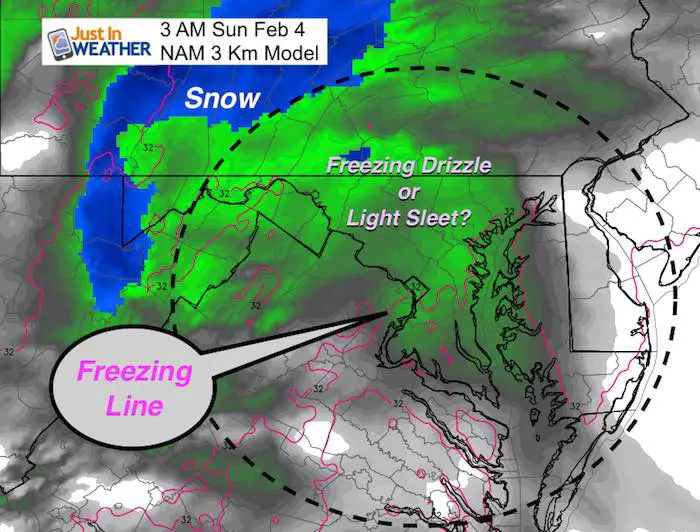 3 AM Sunday Morning
The freezing temps should dominate our region overnight. Even on Delmarva

Why A Mix and Not All Snow?
There There is warmer air moving in thanks to a shift of the winds to the east from the water. Warmer, moist air will move up and over the colder air at the surface and can make the clouds warmer than what we have on the ground.
I expect the energy from the approaching system on Sunday to help generate its own cold air and drag down colder temps to change over to snow for a few hours. There may be sleet or rain at the onset that changes to snow as it gets heavier… See that in the slider…
Winds will be light, but this afternoon time plot highlights the direction. That wind usually thaws metro areas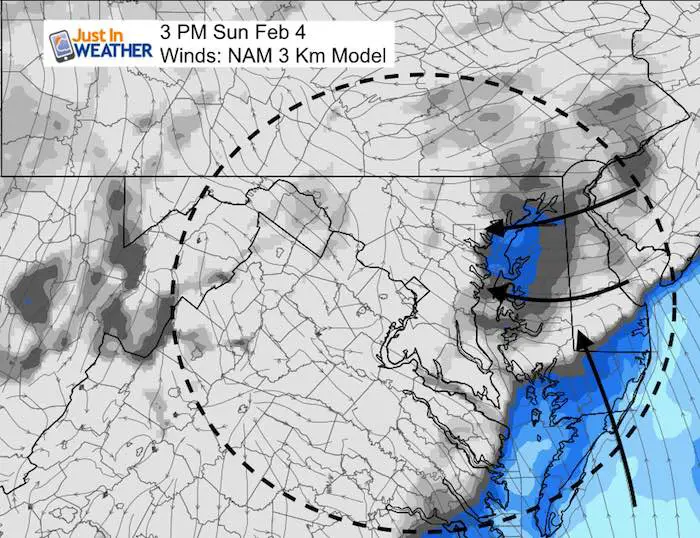 10 AM
This is the time plot that helps prove why a subtle variation of a degree or two can make a huge difference in the weather we get.
Compare the colder NAM model to the HRRR. Also, the HRRR Model shows the first drops of rain reaching Baltimore and moving northeast while the NAM has us wet for a few hours.
NAM = COLDER: Freezing Temps near Westminster, York, and Frederick
HRRR Model = Milder: No Freezing nearby at this time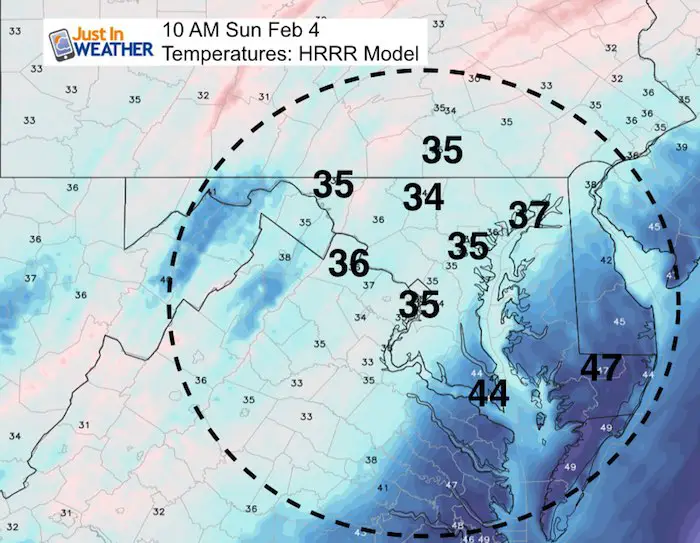 But, there is a thaw in the cities and I-95 at this time?
I see the 34ºF line along I-95, but as the precipitation increases, the temperatures should drop just a few degrees. The inland areas that are normally colder are most likely to have the problems.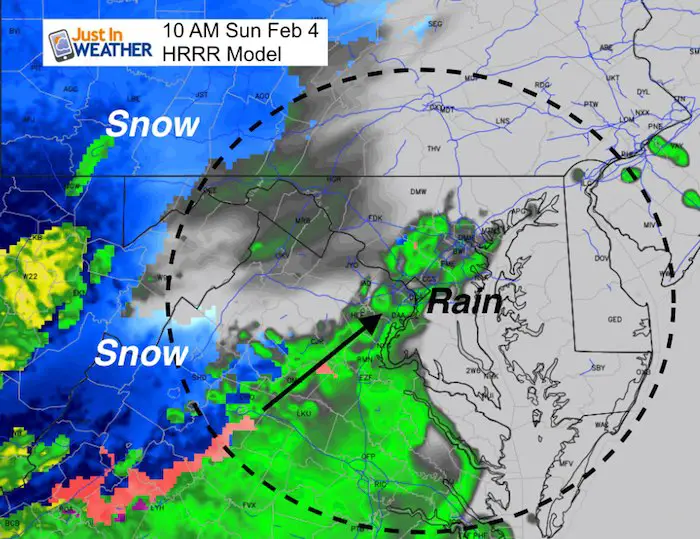 Timeline 11AM to 6 PM: More Snow, Sleet, Ice and Then Rain
—> slider 
Shows the mix fully engulfing our region and turning over to more snow (inland of I-95)  between 10 and 11 AM
[metaslider id=57559]
Evening Temperatures
The thaw line should be moving north during the afternoon and evening.
This is ALWAYS tough to forecast with precise time. Please be alert in colder areas for the potential of the thaw window to develop over a few hours before or after 6 PM.
I do NOT have a snow forecast since areas that get snow will likely just a coating. The real issue will be just a few degrees and ice Vs rain. My main point is that either way, I see the timing during the day as a benefit for traveling since solar energy should help roads get warmer sooner.
May The Flakes Be With You- Limited Edition Shirt
Please share your thoughts, best weather pics/video, or just keep in touch via social media
Keep In Touch All Winter
Click here to sign up for email alerts…. Just in case you don't get the post on your social media feed
Get the award winning Kid Weather App I made with my oldest son and support our love for science, weather, and technology. Our 3 year anniversary of the release and our contribution to STEM education is this November. It has been downloaded in 60 countries, and works in both temperature scales. With your support we can expand on the fun introduction to science and real weather.
Snowstix- We Need You To Measure Snow Too
We are giving 10% of each sale to programs that benefit pediatric oncology patients.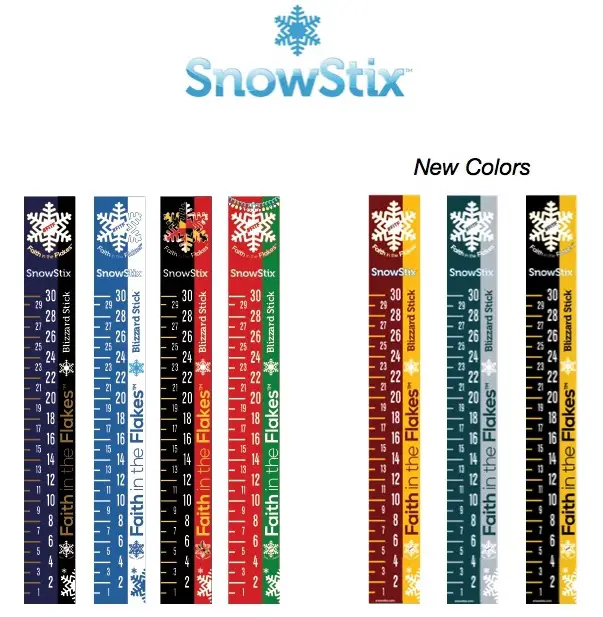 FITF Gear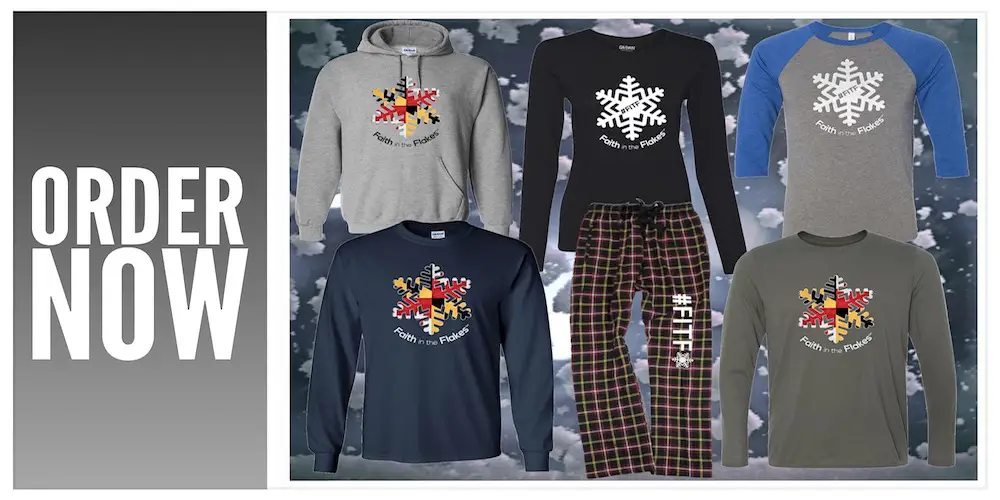 Keep In Touch All Winter
Click here to sign up for email alerts…. Just in case you don't get the post on your social media feed
Also See:
My Winter Outlook 2017-2018 for more snow
La Nina Formed: What it could mean to our winter
NOAA Winter Outlook: Not The Best But Not The Worst For Snow
Two Farmers Almanacs Winter 2018 Outlooks
Winter Weather Folkore: Suggestions from Animals and Crops
First Frost and Freeze Dates For Maryland (southern PA and northern VA)
My Preliminary Winter Outlook Notes
Low Snow Winters In Baltimore: To Repeat Or Not Repeat
NOAA Ranks Blizzard 2016 4th Worst Snowstorm On Record
Blizzard 2016 Record Top Snowstorm: Area Totals
Extreme Weather of 2015 balanced out on both ends