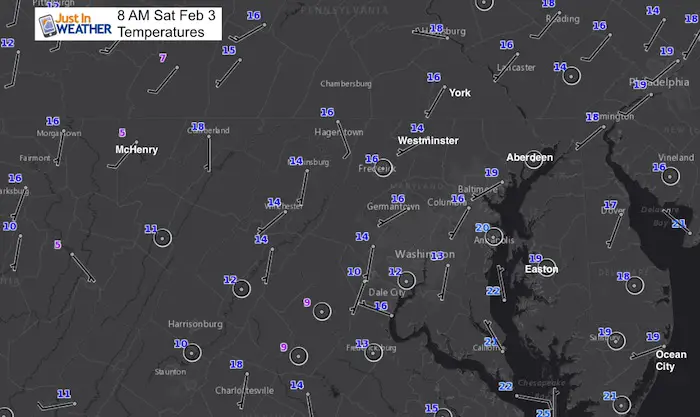 Saturday February 3 2018
Arctic air has settled in place this morning but the cruel trick for snow lovers this winter has been the storm track. We have had plenty of cold air and plenty of potential storms advertised days if not more that 1 week ahead. This event on Super Bowl Sunday is one that I held back on considering the lack luster cold front we had on Friday and because I do not like to lock into a Farmer's Almanac storm forecast. We will get a storm as shown below. I wanted to compare three different computer models that have three different solutions just a day ahead of the event. The only thing they can agree upon is that the timing is Sunday and ending tomorrow night. Here's a look at how I see it a with my thoughts below:
Stats For February 3
Normal High:  43ºF
Record High:  66ºF in 1932
Normal Low: 25ºF
*Former Record Low: +4ºF in 1961
Snow Record: 9.6″ in 1961
Seasonal Snow To Date (at BWI): 6.5″
Sunrise: 7:11 AM
Sunset 5:29 PM
*Daylight = 2:07 longer than yesterday 
*Bay Water Temperature = 33ºF at Thomas Pt. Light House
Keep In Touch All Winter
Click here to sign up for email alerts…. Just in case you don't get the post on your social media feed
Today
Sunday Morning
Most of our region will stay at or below freezing through Sunday morning. That does allow for the ground to cool enough to support any winter precipitation to stick
But….
Sunday Morning Warming Winds
The Bay water temperature this morning was 33ºF at Thomas Pt Lighthouse. That is chilly, but still above freezing, and this wind flow Sunday is a deterrent for winter weather in our region…
Sunday Storm?
Compare Three Computer Models
See my thoughts below
GFS (Warmest)-

This shows a possible start of snow or sleet, but all rain by noon even into York and Lancaster in PA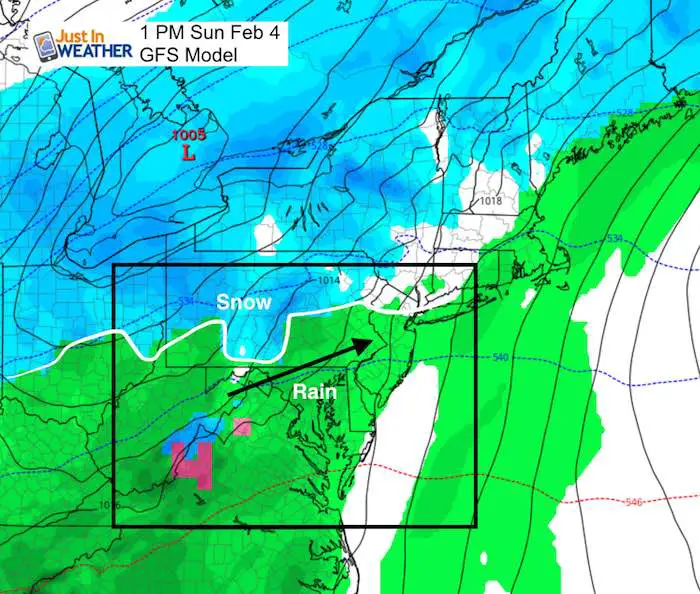 2. Canadian Model (Coldest) – This holds the snow line just north of I-95. The reason for this is based on a secondary Low Pressure forming to the south and holding the cold air in place.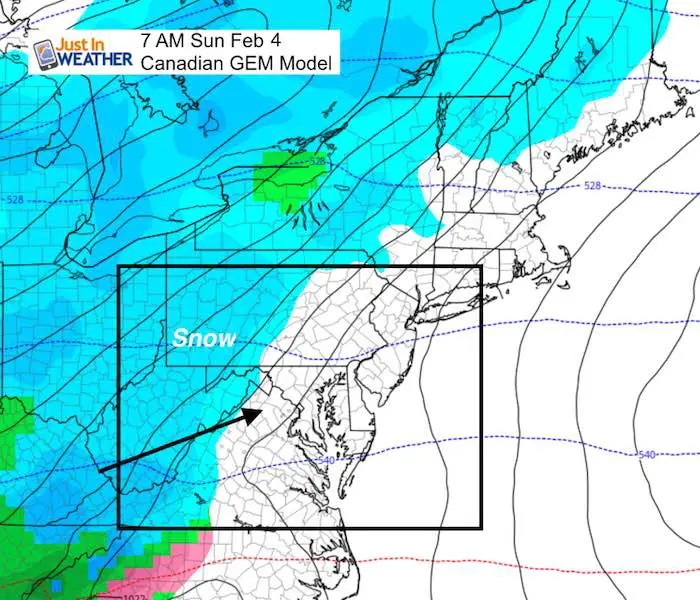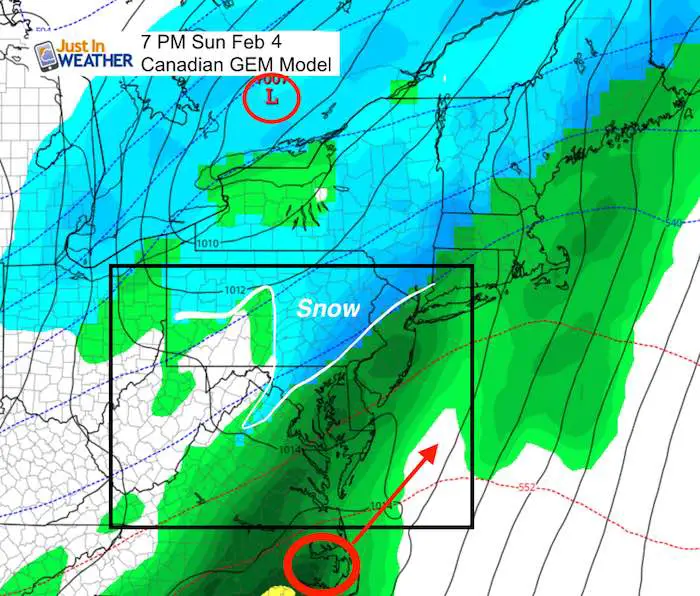 3. NAM 3Km (Compromise) – This model does show enough cold air holding for a few hours of snow and sleet, especially north and west of the cities… but the warm air wins with this one too. In fact, a band of heavy rain with possible rumble of thunder by evening… Then the system moves away before the end of the game.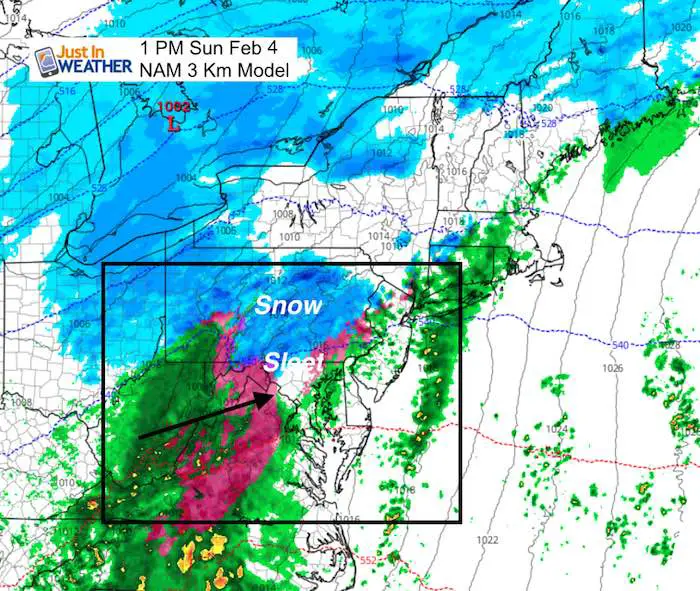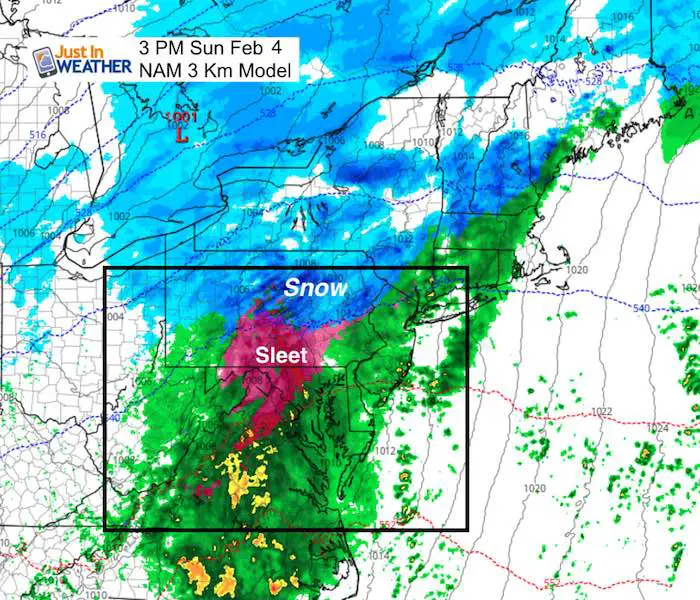 My thoughts:
While I do love the Canadian Model in arctic patterns, the arctic air is not holding. There is no blocking to the north, which limits the chance for the secondary coastal Low to take hold. That is the main difference, and if it forms we will get more snow to the north.
I can't buy the warming as quick as the GFS is showing based in the cold bay water and the arctic air in place.
I see the NAM solution as moat likely.. But given the time of day, snow or sleet in the morning might be a little slick, but the mid day and afternoon timing is likely to melt on the pavement. So, a start of snow or sleet in the morning with minor stickage near but especially north/west of I-95 and metro Washington/Baltimore. Looks like less than 1 inch in places that do get stickage. If travel is a problem there it would be in the morning before 10 AM. With the light 'stuff', and less of an issue during lunch time and afternoon.
Sorry snow lovers, this does not look like our event.  The outlook stays cold with warming just before Valentines Day. Then another push of cold air for the last week of February.
Please share your thoughts, best weather pics/video, or just keep in touch via social media
Keep In Touch All Winter
Click here to sign up for email alerts…. Just in case you don't get the post on your social media feed
Get the award winning Kid Weather App I made with my oldest son and support our love for science, weather, and technology. Our 3 year anniversary of the release and our contribution to STEM education is this November. It has been downloaded in 60 countries, and works in both temperature scales. With your support we can expand on the fun introduction to science and real weather.
May The Flakes Be With You- Limited Edition Shirt
Snowstix- We Need You To Measure Snow Too
We are giving 10% of each sale to programs that benefit pediatric oncology patients.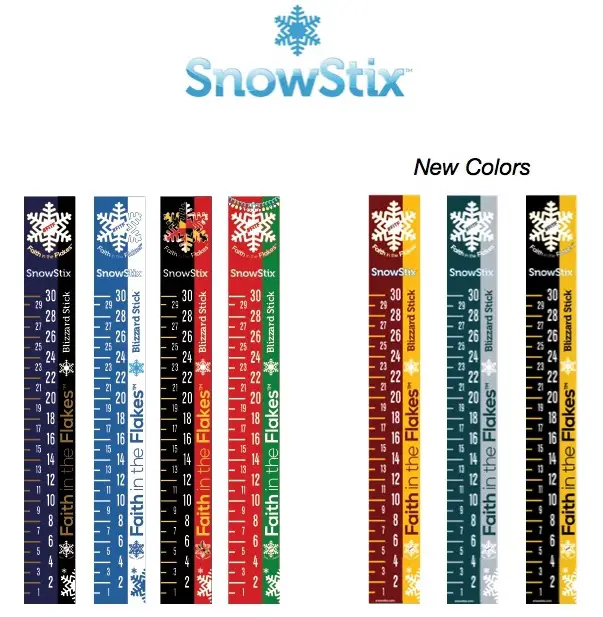 FITF Gear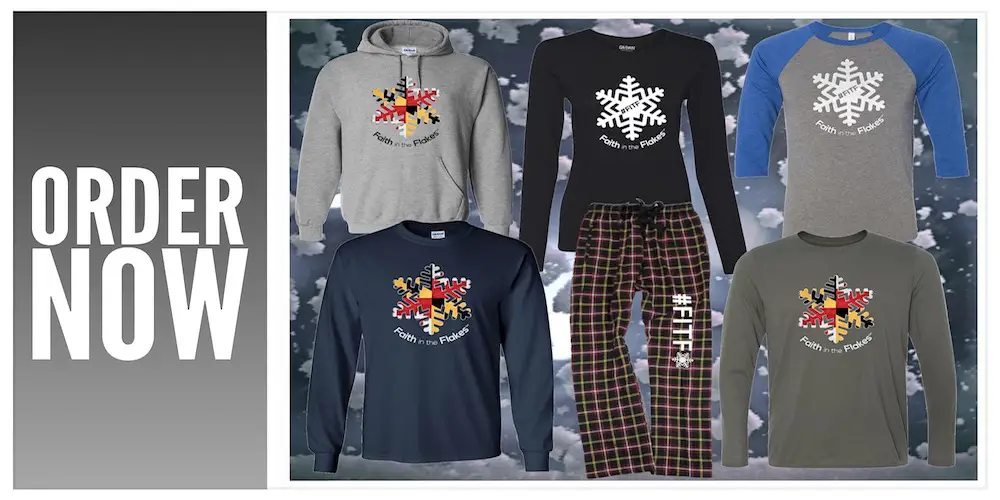 Keep In Touch All Winter
Click here to sign up for email alerts…. Just in case you don't get the post on your social media feed
Also See:
My Winter Outlook 2017-2018 for more snow
La Nina Formed: What it could mean to our winter
NOAA Winter Outlook: Not The Best But Not The Worst For Snow
Two Farmers Almanacs Winter 2018 Outlooks
Winter Weather Folkore: Suggestions from Animals and Crops
First Frost and Freeze Dates For Maryland (southern PA and northern VA)
My Preliminary Winter Outlook Notes
Low Snow Winters In Baltimore: To Repeat Or Not Repeat
NOAA Ranks Blizzard 2016 4th Worst Snowstorm On Record
Blizzard 2016 Record Top Snowstorm: Area Totals