Sunday January 28 2018- Evening Update
It is going to get colder with a few chances of snow. The purpose of this update is highlight the pattern chance and a few chances of snow this week. But also to point out model errors and restraint before jumping on every plot that shows blue (snow). If there is one thing I have consistently mentioned is that computer models have plenty of errors and more show up farther out in time.
Keep In Touch All Winter
Click here to sign up for email alerts…. Just in case you don't get the post on your social media feed
Monday Mess Or Miss?
Check out the difference in just looking at tomorrow's weather. The GFS (American Model) shows the front slowly moving to the south and dry air over Baltimore. The high resolution NAM 3 Km model shows the rain backing across I-95. This is similar to the hold on the rain today. It also shows cold air aloft that may mix in some snowflakes in the afternoon. A big difference just 24 hours away in these two model examples. Remember that for the next system on Tuesday and again Friday….
GFS- Keeps Central Maryland Dry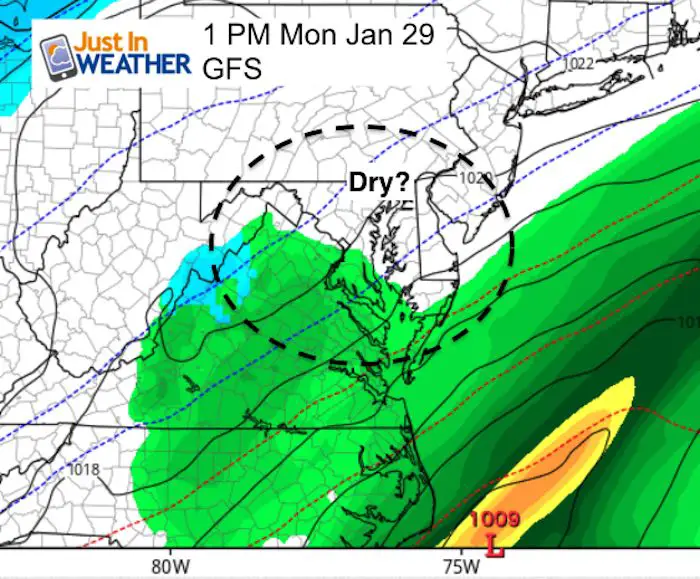 NAM 3Km Model shows rain mixing with some snowflakes
This is NOT our next real snow event. But worth mentioning. Tuesday is the next event shown below….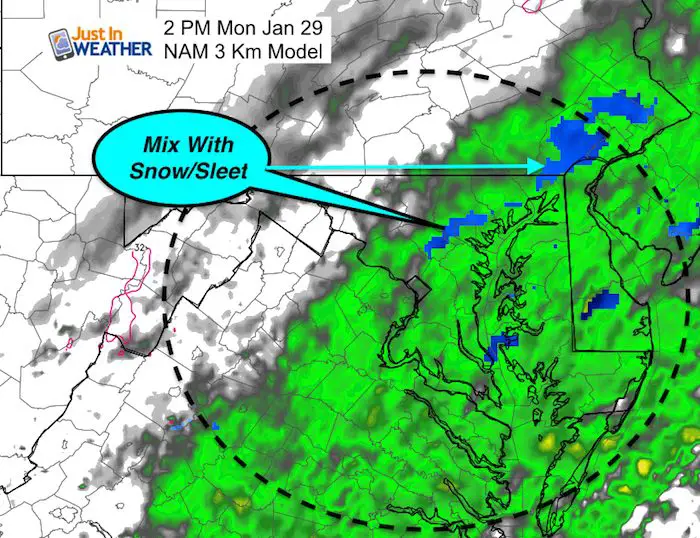 If the Nam 3 Km is right…
Cold Air Aloft
This shows the air temperature at cloud level. 850mb is roughly 5,000 Ft aloft. The temperatures here are in ºC. When -5ºC or below is seen, it can support snow flake formation…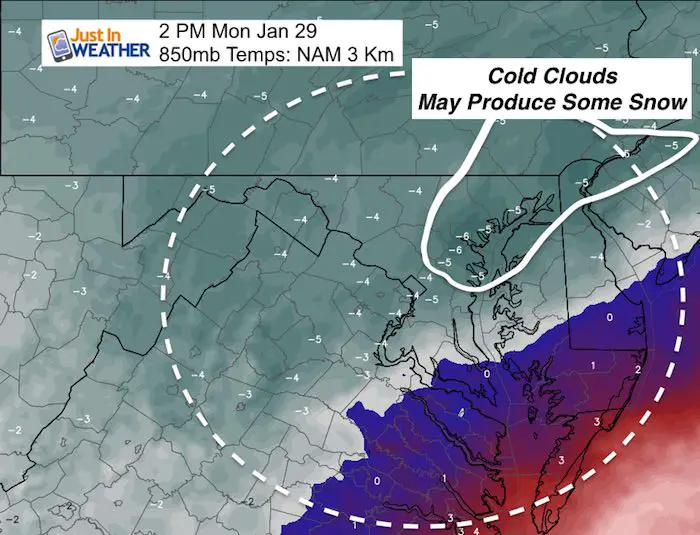 Surface Temps Too Warm
The air temperatures is expected to be in the upper 30s. Colder flakes can survive the trip down to the ground, but likely no stickage.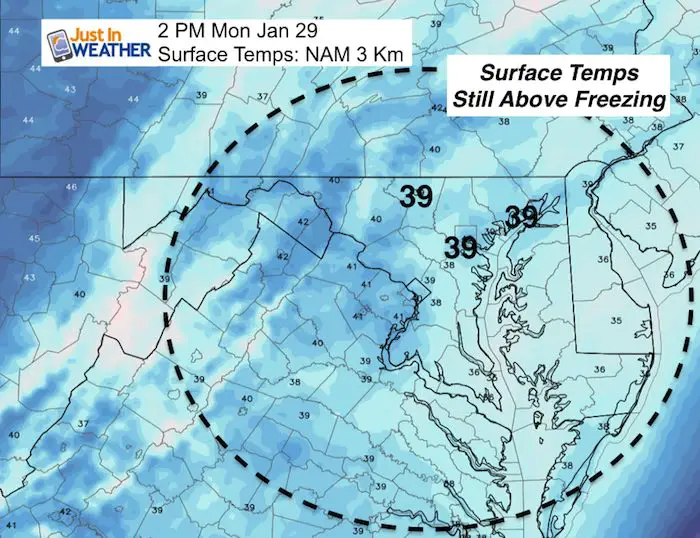 May The Flakes Be With You- Limited Edition Shirt
Tuesday Snow
This is a potent little system that will pack some puck but limited moisture along the arctic front.  The timing is critical but not the only factor.
Arrival before sunrise would give the best chance for stickage.

The ground is still warm, so even when the temps fall, moderate snowfall rates would be needed to chill the ground enough for stickage.

Temps will cool during the morning, but battle solar energy after 10 AM so roads are likely to stay wet during the day.
—> slider
I've highlighted the freezing line. Please note the timing.
The biggest snow impact on the roads will be in the typical west and north of Baltimore zones. The may include Gaithersburg, Frederick, Mt. Airy, Westminster, Hereford Zone, and York County PA
[metaslider id=57270]
Friday Snow?
This is a classic example in the need to show restraint and patience. Meteorological Computer Models are like searching for articles on the internet. You can always find something to support what you want to see. The computer modeling has been consistently showing a rain to snow transition during the day since last week. But today the GFS pulled it's classic 'lose the storm' phase. It looks like a week front and little impact. Consider how the GFS shows no rain tomorrow. We will see if it had a bad data set and comes back, or it was on to something.
Below is also the Canadian Model. I like this best in arctic patterns. It still has a defined Low Pressure riding along the front, thus keeping it around all day and pulling in colder air while feeding in moisture. This hangs on to the notion of rain in the morning changing to snow at least to Baltimore in the afternoon. Meanwhile the IMB Deep Thunder shows snow through Baltimore by 10 AM. Again, we can't precisely track the snow line for a storm, that has not formed yet…
I will not and do not want to lock on time and totals for snow. That is nearly impossible for an event that has not formed yet. But, we know there will be something on Friday.
Comparing Two Models: Both Plots at 7 AM Friday Feb 2
GFS Model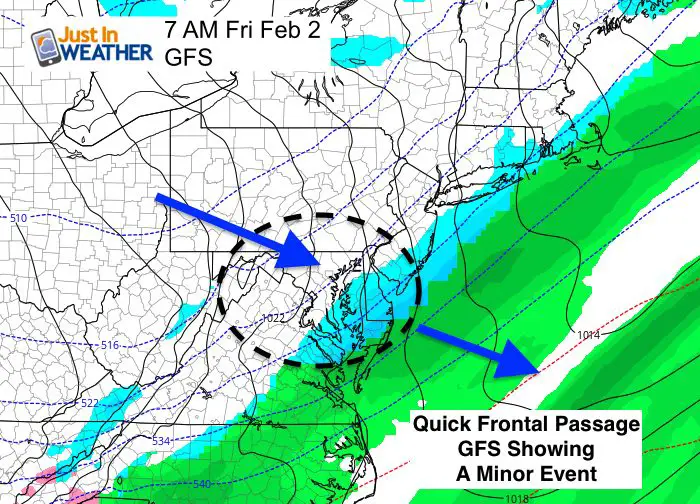 Canadian GEM Model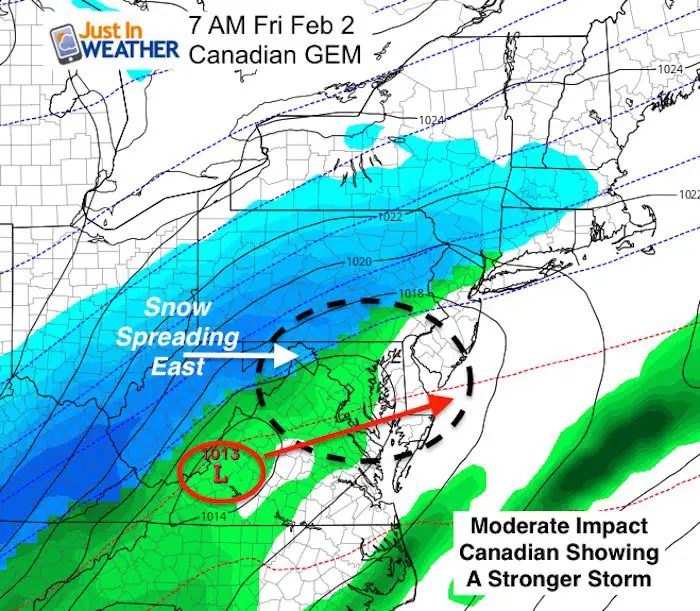 IBM Deep Thunder Is Most Aggressive
I got this from my buddy Tony Pann. He loves this model, and I see why. But it is the most aggressive showing for snow with that storm.
Note: This is a plot for 10 AM Friday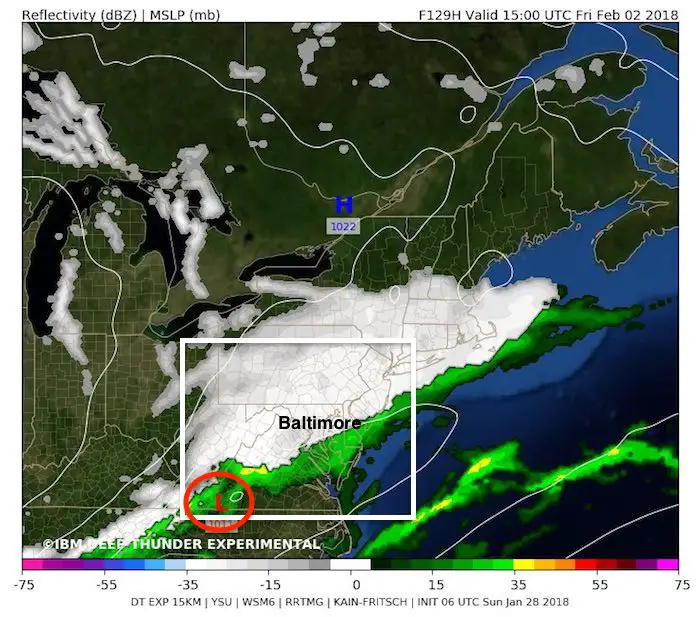 Colder Pattern For February
Check out the jet stream. The upper level pattern is more trustworthy than surface features like storms. This shows the trend for an arctic intrusion from Canada bringing a colder start to next month that may peak with the cold by February 10. See the date in the animation just above the map here.
Warmer than average = orange and red
Colder than average = blue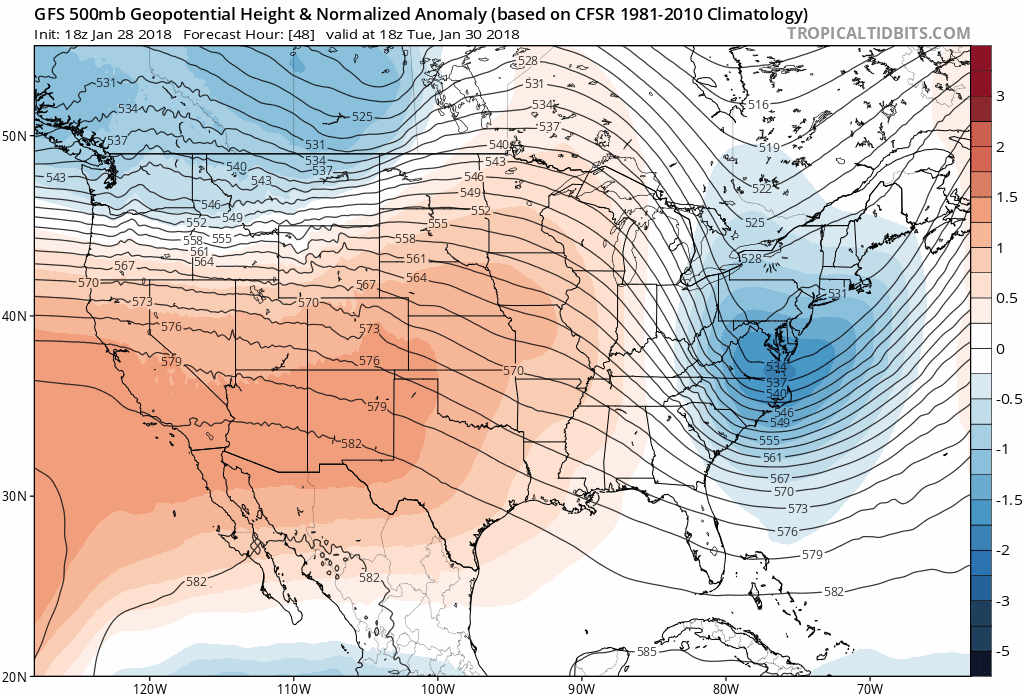 Snowstix- We Need You To Measure Snow Too
We are giving 10% of each sale to programs that benefit pediatric oncology patients.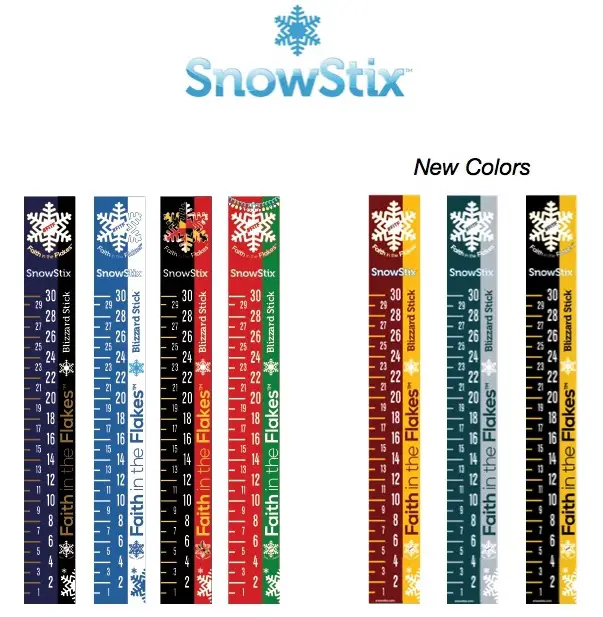 FITF Gear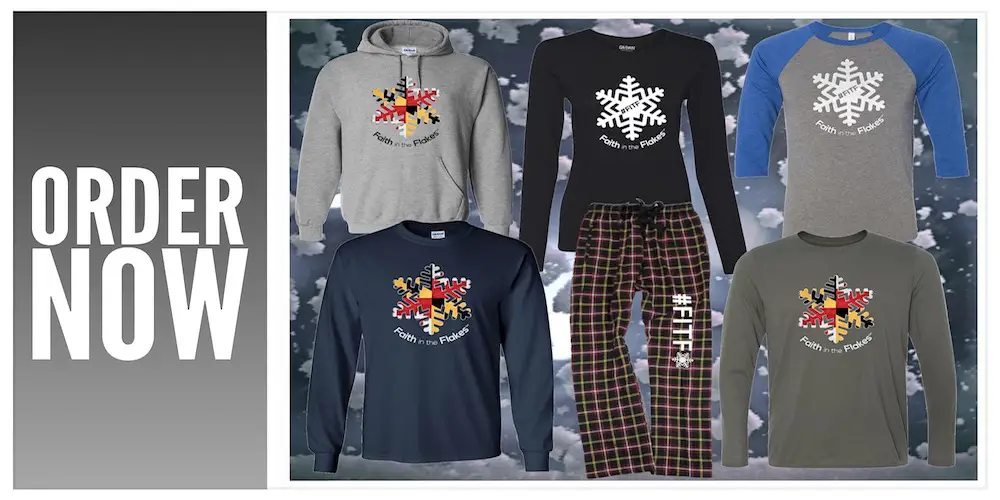 Please share your thoughts, best weather pics/video, or just keep in touch via social media
Get the award winning Kid Weather App I made with my oldest son and support our love for science, weather, and technology. Our 3 year anniversary of the release and our contribution to STEM education is this November. It has been downloaded in 60 countries, and works in both temperature scales. With your support we can expand on the fun introduction to science and real weather.
Keep In Touch All Winter
Click here to sign up for email alerts…. Just in case you don't get the post on your social media feed
Also See:
My Winter Outlook 2017-2018 for more snow
La Nina Formed: What it could mean to our winter
NOAA Winter Outlook: Not The Best But Not The Worst For Snow
Two Farmers Almanacs Winter 2018 Outlooks
Winter Weather Folkore: Suggestions from Animals and Crops
First Frost and Freeze Dates For Maryland (southern PA and northern VA)
My Preliminary Winter Outlook Notes
Low Snow Winters In Baltimore: To Repeat Or Not Repeat
NOAA Ranks Blizzard 2016 4th Worst Snowstorm On Record
Blizzard 2016 Record Top Snowstorm: Area Totals
Extreme Weather of 2015 balanced out on both ends