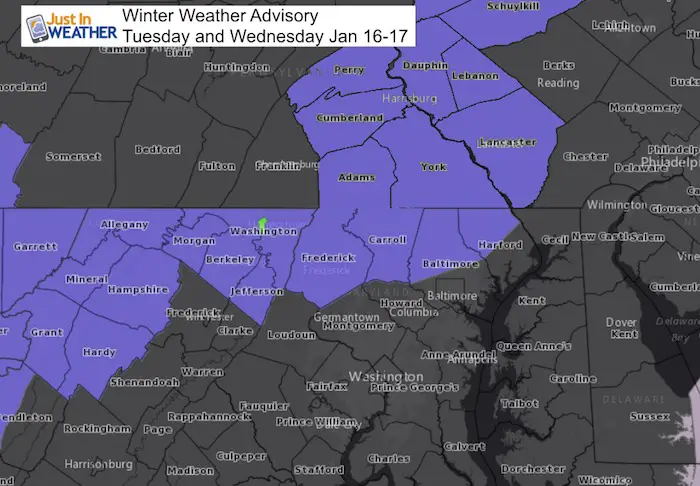 Monday Jan 15 2018
A Winter Weather Advisory has been issued for our region for snow Tuesday and Wednesday. It is going to snow Tuesday and early Wednesday this week and it is going to stick. Having confidence is that part of the forecast is more than half the battle. We are in stuck well below freezing and the ground has chilled enough to support stickage.
The next questions that come up are about the timing and totals. The timing begins at 5 AM Tuesday through 8 PM, but as I show below, the bulk of the snow wil hold off for central Maryland until Tuesday afternoon and evening. Western Maryland lasts through 8 PM.  York and southern Pennsylvania last through 1 PM Wednesday.  Central Maryland north of Baltimore is under the current advisory from 4 PM Tuesday through 7 AM Wednesday. It will make more sense with the slider and timeline below.
I feel confident in saying that most of our region gets between 1 and 3 inches. My map will be posted this evening. The species is where this gets just a little tricky. One more level of confidence puts Tuesday night and Wednesday morning as the main part of this evening. So plan accordingly. As for the rest, this is what I have now. It includes a few computer model comparisons to show where they agree and contrast. The other thing are snow totals including those from region National Weather Service Offices.
Keep In Touch All Winter
Click here to sign up for email alerts…. Just in case you don't get the post on your social media feed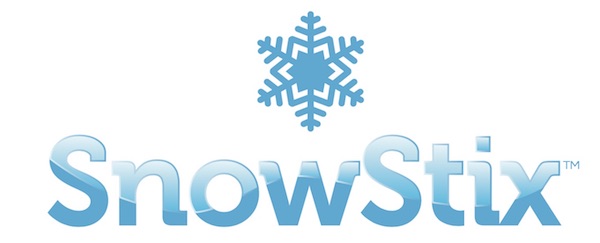 Arrival:
There will be light snow that may get stuck most of the day across the front range of the mountains between Hagerstown and Harrisburg. Frederick and York may be on the edge during the morning…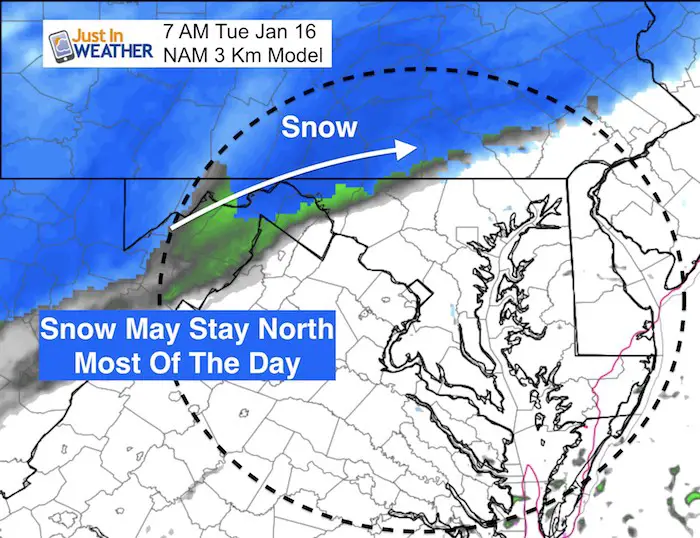 Winter Weather Advisory
This is the early issue because of the early snow. I expect more advisories will expand across metro Baltimore and York/Lancaster in PA as we get closer in time.
Moving In Tuesday Afternoon and Evening
The afternoon drive will get slick from Frederick to Westminster and York PA. It will be closing in on the Baltimore beltway, Baltimore and Hartford County during the ate day commute. Plan on snow in the evening.  Then it will spread southward during the evening and at night.
—> Slider For Tuesday Evening Tracking
[metaslider id=56894]
Wednesday Morning:
Most modes suggest this will pull away in the morning… But not all agree. See more below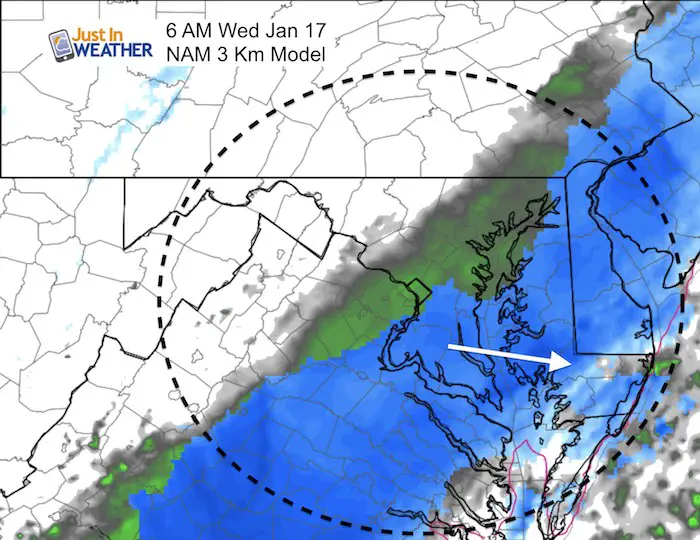 The GFS Model has been showing  Low Pressure forming off the coast and moving north into New England. The Canadian Model is very different by slowing down the snow and taking the energy with a developing Low due east. This keeps the snow around longer on Wednesday.  While I credit the Canadian with doing the best job in arctic set ups, it is the outlier here. I will work on this solution with my call in my evening report.
GFS Model Animation
Canadian Model Animation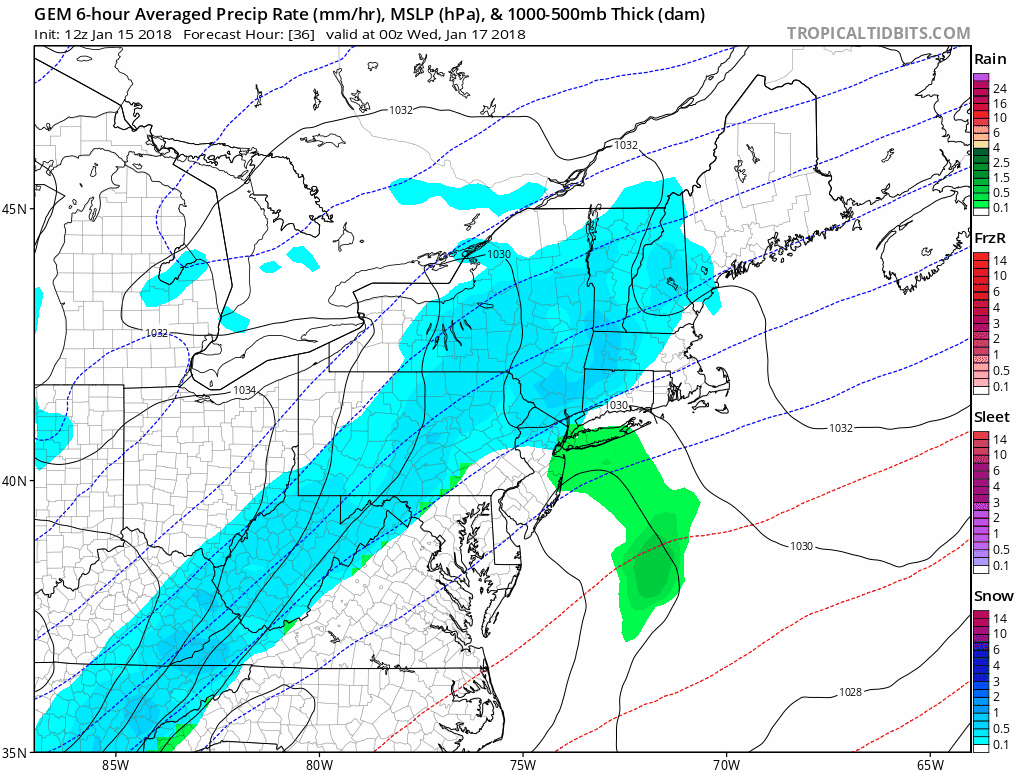 Snow Total Forecast Maps Below
Shirts
I do these for fun, but also:
A Portion of the proceeds will go to Integrated Wellness programs for Pediatric Oncology Patients
May The Flakes Be With You- Limited Edition Shirt


Snow Totals: Computer Models
General idea is 1 to 3 inches. There is a range on the modeling for metro areas:
The Canadian Model has the most, given the track is so different. This all depend on slowing the system down and NOT bringing it up the coast, rather pushing it due east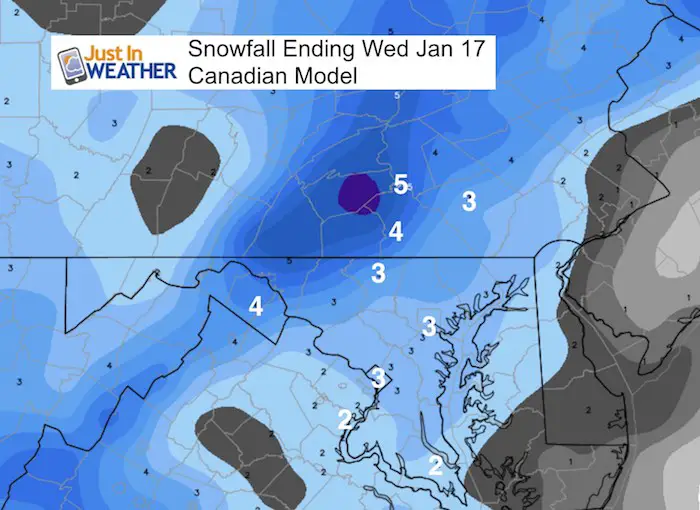 NAM is in some agreement:
There is a sharp drop from 3″ in Baltimore to 1″ in Washington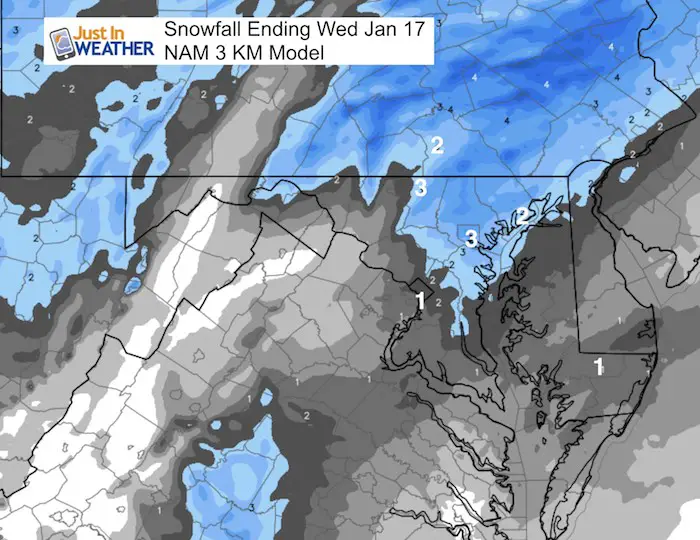 The GFS Model has the lowest of these three: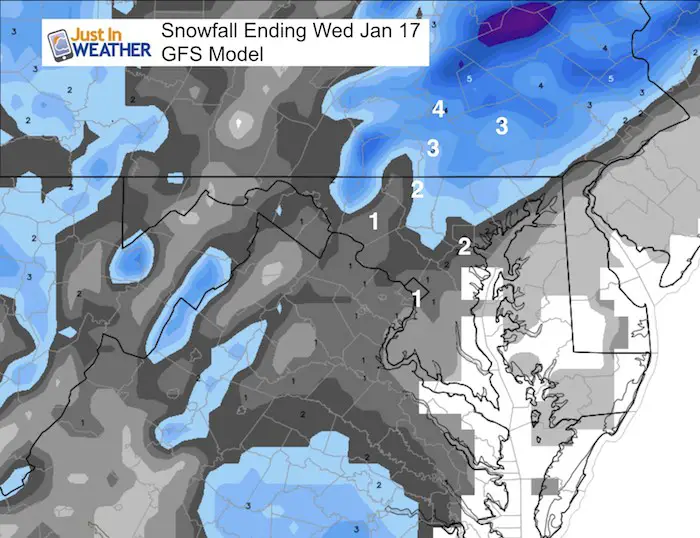 National Weather Service Office: Snow Forecast For Their Zone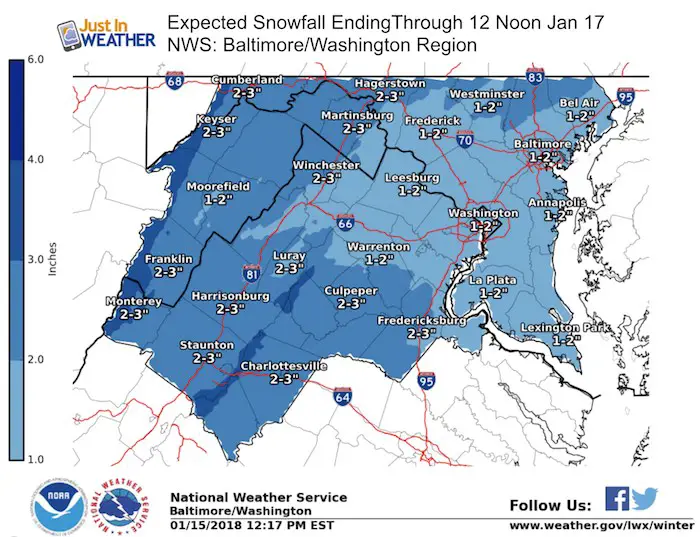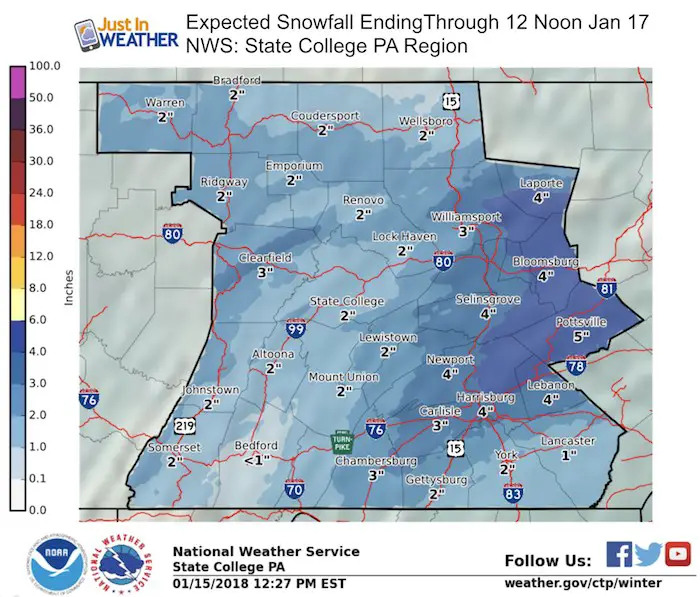 Reminder: I will post my snowcast map this evening.  Not much to vary from as I see a 1 to 3 inch range… Just where the low end might be…
FITF Gear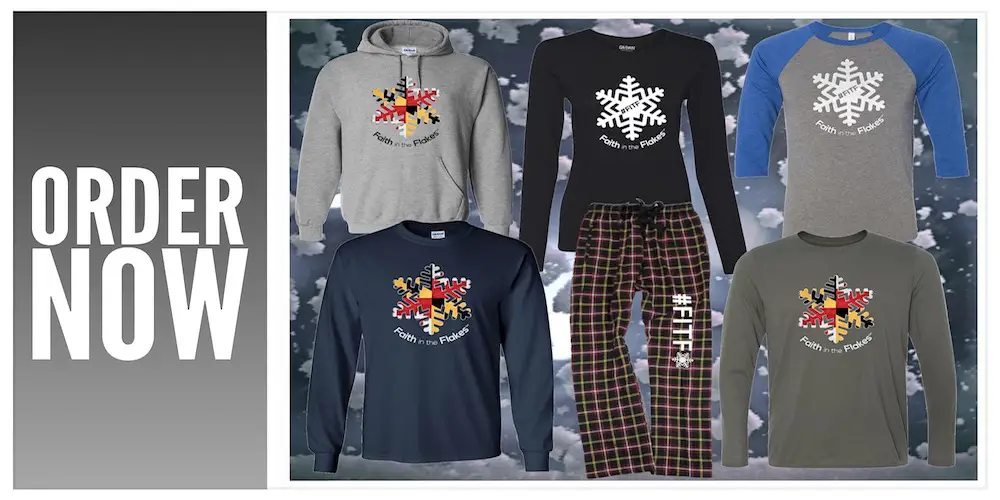 Snowstix- We Need You To Measure Snow Too
We are giving 10% of each sale to programs that benefit pediatric oncology patients.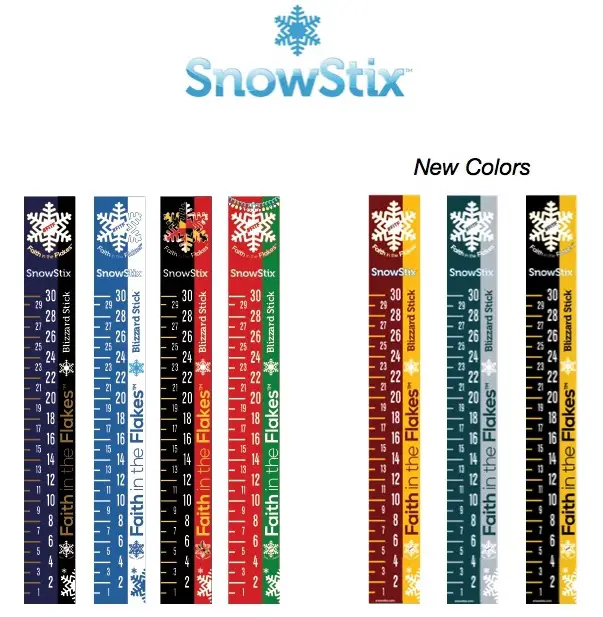 Get the award winning Kid Weather App I made with my oldest son and support our love for science, weather, and technology. Our 3 year anniversary of the release and our contribution to STEM education is this November. It has been downloaded in 60 countries, and works in both temperature scales. With your support we can expand on the fun introduction to science and real weather.
Keep In Touch All Winter
Click here to sign up for email alerts…. Just in case you don't get the post on your social media feed
Also See:
My Winter Outlook 2017-2018 for more snow
La Nina Formed: What it could mean to our winter
NOAA Winter Outlook: Not The Best But Not The Worst For Snow
Two Farmers Almanacs Winter 2018 Outlooks
Winter Weather Folkore: Suggestions from Animals and Crops
First Frost and Freeze Dates For Maryland (southern PA and northern VA)
My Preliminary Winter Outlook Notes
Low Snow Winters In Baltimore: To Repeat Or Not Repeat
NOAA Ranks Blizzard 2016 4th Worst Snowstorm On Record
Blizzard 2016 Record Top Snowstorm: Area Totals