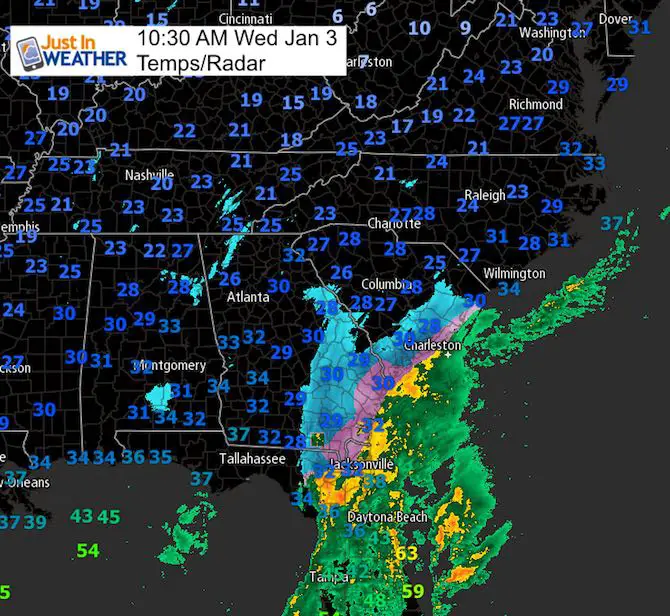 , warning, January 3
Snow is falling across northern Florida. That is not only a big news story, but the location for the interest in the developing storm. There is plenty of cold air to be had and now it appears the snow will be spreading its wealth to more people as well.  I have hinted at this possible error in the modeling and this storm to verify farther north, and now there are signs it is going to do that. While the morning numbers are being crunched by computer models forecasting tools, I wanted to show some of the other elements I look at in my forecasting. There are signs that we will be increasing snow totals inland and Thursday morning will have an impact snow event in metro areas.
Please note, I will compare and contrast all models along with my updated snow forecast in my next report.
Water Vapor Satellite
Baroclinic Leaf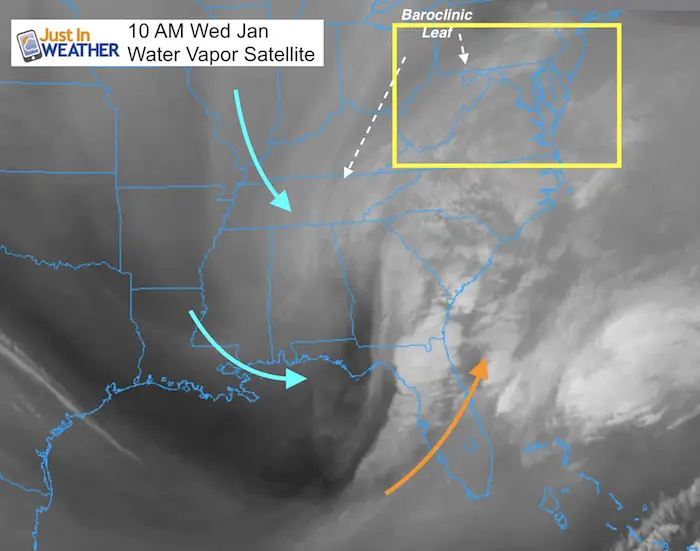 This is identified well on water vapor satellite as the edge of the comma head of a developed storm.

I use this often as the back edge of the snow where the storm will pass a day later.

Extrapolating the line we can see this inland of Baltimore to the western Maryland and near Harrisburg PA. The back edge of the snow that falls, sticks, and accumulates at least a dusting should included Washington, Frederick, and York PA to Harrisburg. 

Arctic energy- This shortwave is what is phasing with the southern branch of the jet stream. It also should help expand the snow field farther west.
24 Hour Animation Loop
Watch the developing Emma head across northern Florida and southern Georgia. This will be much better defined later this afternoon, as well as that baroclinic leaf.
Deformation Zone
The Low pressure at the surface is not aligned with Low aloft. This is often offset to the west with height. It defines a negatively tilted trough and in well defined storms can act to literally pump moisture from the Altantic above the Surface Low to the 850mb Low (5,000 Ft) and 500mb Low (18,000 Ft) inland. That is where we can find a second high snowfall region- especially if enhanced by hills and cold air/fluff factor.
The surface Low will be 100 miles Southeast of Ocean City…
The back edge of the snow here does not guarantee this will still be accumulating.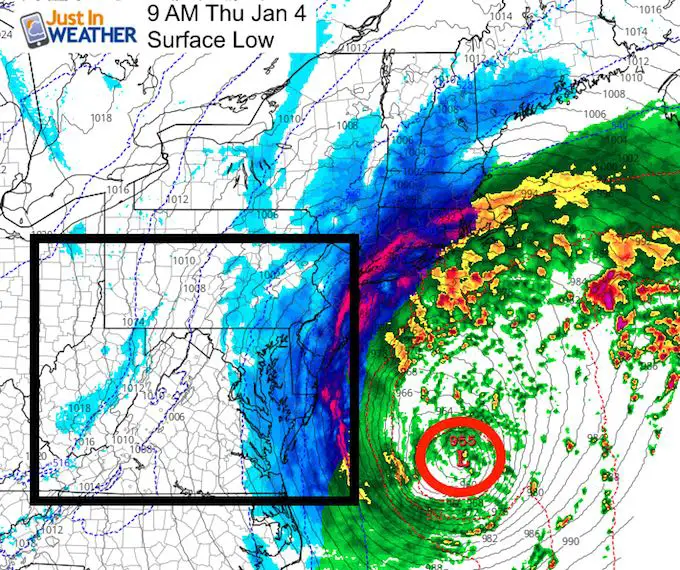 Aloft: 500 mb (18,000 Ft) View
I've annotated the region where the most energy will pump in to the northwest of the Low. That is why I see a dramatic increase in snow from Harford and Cecil Counties in Maryland and eastward to the coast.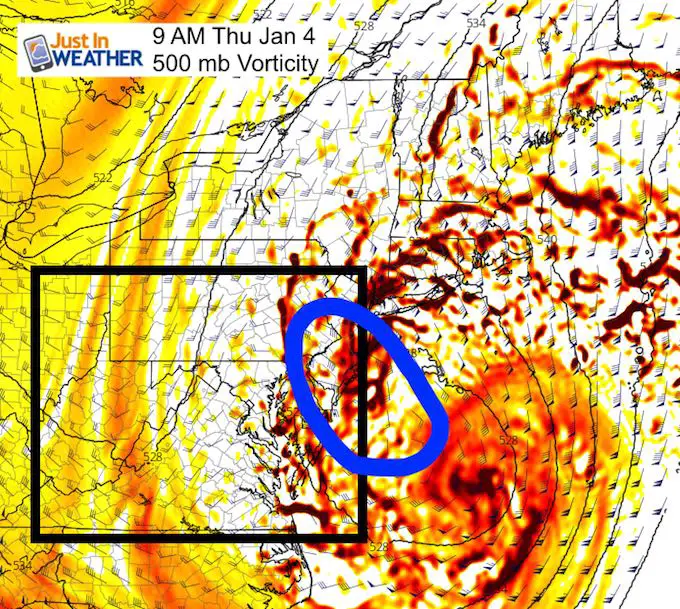 Tight Snowfall Gradient
There may be 50 miles separating 1 inch to 6″+ of snow. This line now appears to be very close to I-83 or I-95.
I am leaning on the 1 to 3 inch line being near Baltimore. Less west and more east. Harford and Cecil County will get more than Carroll and Frederick Counties. Annapolis will get more than Washington. Easton may be on the fence with 3 to 6 inches. Higher totals for Salisbury and Dover.
I will have my new map in this afternoon's report.
Some of you may have seen the NAM 3 Km model snowfall map. I am not posting this now because I think it is overdone. I need to contrast it with another model or two before showing it.  I also need to remain cautious about not jumping on the highest model number I see. That often leads to disappointment.
Virga?
This funny word often mis-read is a real thing. Virga is the doom of many winter storm forecast is where the snow falls on the edge of a storm in very dry air. Snow shows on models and radar, but doesn't reach the ground. Flakes skip the liquid phase and instead of evaporating, sublimate to water vapor.
Fluff Factor
Cold air below 25°F can significantly increase the normal 10:1 ratio of snow to liquid. Dry Flakes (dendrites) spread out and don't compact as much, so it appears to fluff up more when measured.
Timing?
Here is the arrival time suggested by HRRR Model. It actually shows snow moving in from the south around midnight, but we need to account for some virga on the onset…. By 3 AM there should be snow in Washington and Baltimore up to York and points east….
I will have a more detailed timeline simulation this afternoon.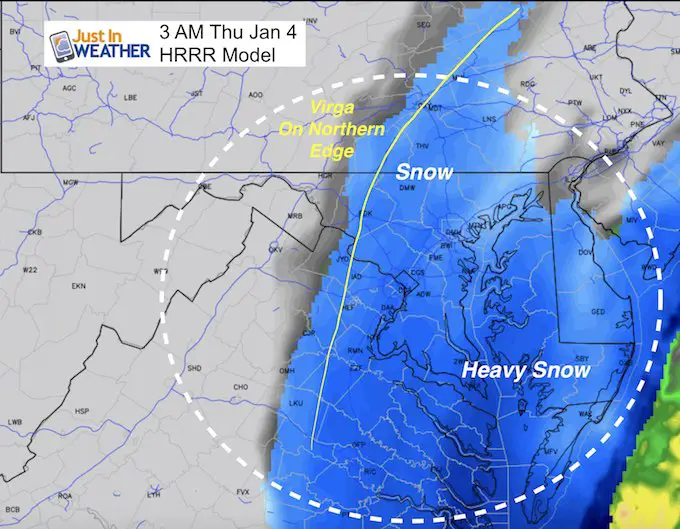 Warnings and Watches
As of post time these have not been changed, except to extend to 1 PM Thursday. I expect there will be advisories expanding north into our metro area. We need to wait for NWS to make that official.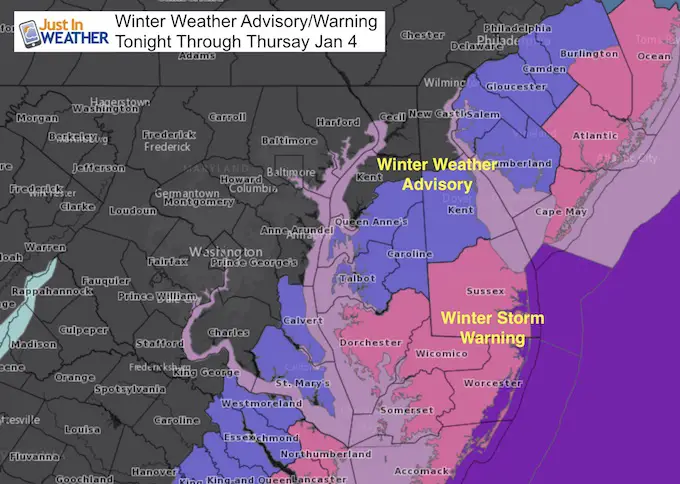 Check Back Mid Afternoon for:
My Full Updated Snowcast Map

New Model Snowfall Maps

New NWS Snowfall Maps

Any New Advisories (if issued in time)
Keep In Touch All Winter
Click here to sign up for email alerts…. Just in case you don't get the post on your social media feed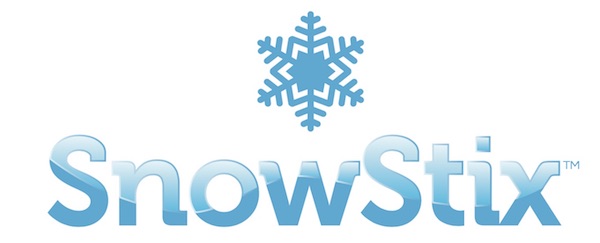 Please share your thoughts, best weather pics/video, or just keep in touch via social media
FITF Gear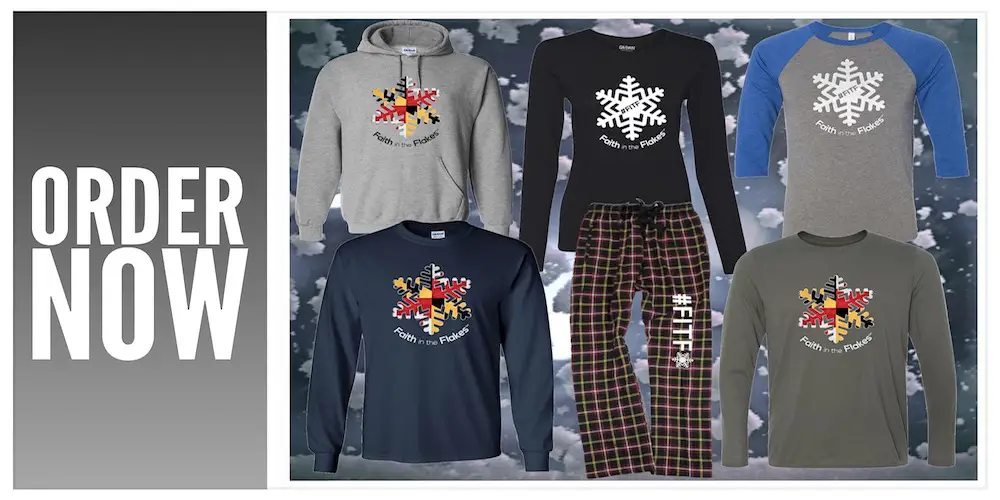 Snowstix- We Need You To Measure Snow Too
We are giving 10% of each sale to programs that benefit pediatric oncology patients.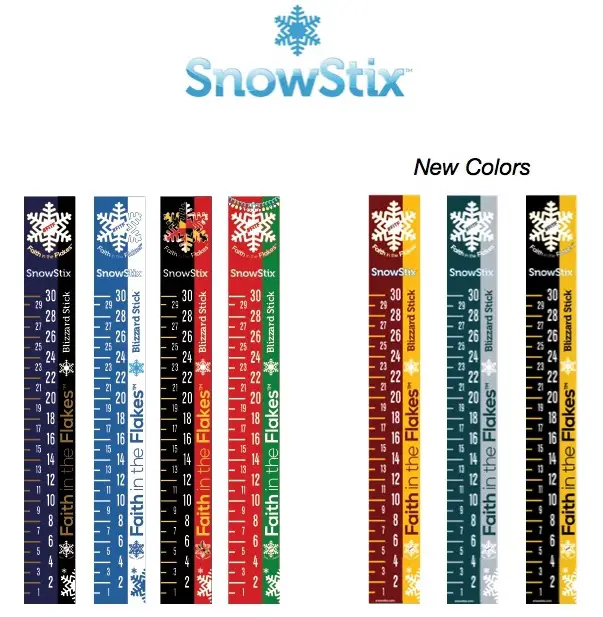 Get the award winning Kid Weather App I made with my oldest son and support our love for science, weather, and technology. Our 3 year anniversary of the release and our contribution to STEM education is this November. It has been downloaded in 60 countries, and works in both temperature scales. With your support we can expand on the fun introduction to science and real weather.
Keep In Touch All Winter
Click here to sign up for email alerts…. Just in case you don't get the post on your social media feed
Also See:
My Winter Outlook 2017-2018 for more snow
La Nina Formed: What it could mean to our winter
NOAA Winter Outlook: Not The Best But Not The Worst For Snow
Two Farmers Almanacs Winter 2018 Outlooks
Winter Weather Folkore: Suggestions from Animals and Crops
First Frost and Freeze Dates For Maryland (southern PA and northern VA)
My Preliminary Winter Outlook Notes
Low Snow Winters In Baltimore: To Repeat Or Not Repeat
NOAA Ranks Blizzard 2016 4th Worst Snowstorm On Record
Blizzard 2016 Record Top Snowstorm: Area Totals
Extreme Weather of 2015 balanced out on both ends