January 3 2018
The warnings and advisories are expanding inland as expected. The storm in the southeast will be hugging the coast a little tighter and will be spreading snow our way overnight to make for a rough Thursday morning commute. This will be a full out blizzard along the beaches. A Blizzard Warning is in place for Virginia Beach. Winter Storm Warnings in place for much of Delmarva. The addition here is the Winter Weather Advisory that confirms the snow west of the Bay through Frederick and Montgomery Counties in Maryland. Also added in are York and Lancaster in PA
This will be a morning event that will last through the afternoon on Delmarva. More on the snow amounts below.
Near Blizzard Conditions
Before we get to snow amounts, I can not ignore the winds with this monster storm. It will be so strong, that measuring snow may be a fruitless effort. Blowing and drifting snow will make for cleared roads after the snow stops, get snow covered again.
A Blizzard by definition is when there is 1 inch of snow per hour with 35 mph winds for 3 consecutive hours. It appears the closest approach of the Low will be around 9 AM, at which point the winds will grow to a problems.  The snow rates may not be that high and the winds will be 'gusting' into the range, but these maps confirm that blizzard 'like' conditions will hit central Maryland and southern PA. But it will be worse along the coast.
Winds: Steady 20 mph or higher in green shading… 30 to 50 mph winds south of the Bay Bridge and along the coast.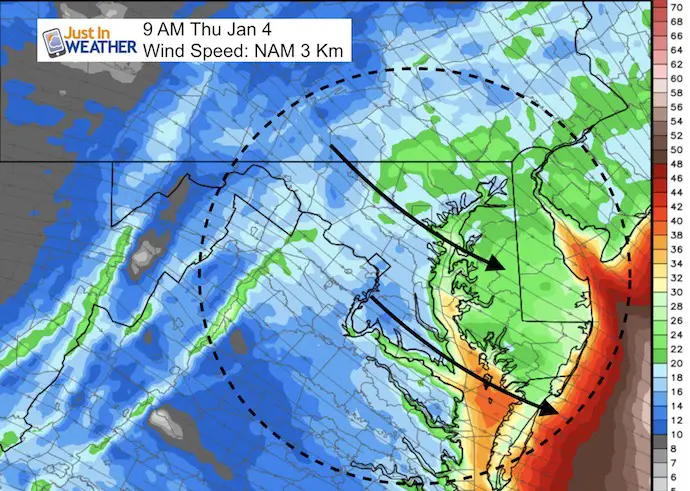 Wind Gusts 30 to 50 mph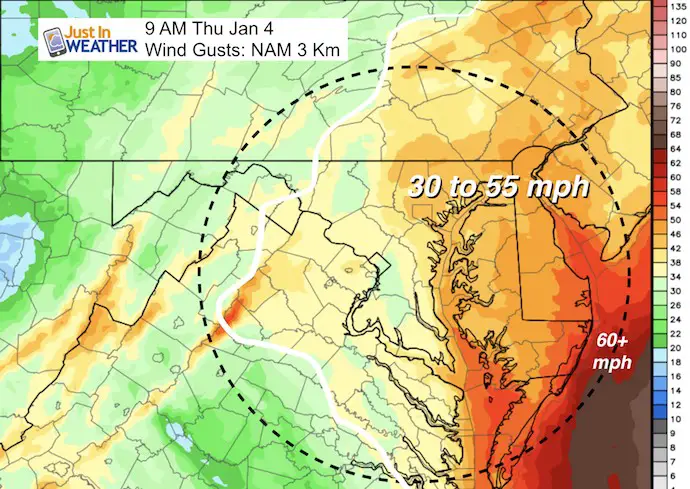 Snow Timeline
Arrival between Midnight and 3 AM
—> slider
[metaslider id=56591]
Daybreak Pivot
By daybreak the Low will be passing Virginia Beach and Ocean City. This is when the 'pivot' will occur. That is where the wrap around snow will swing down from the NW around the back side of the Low Pressure influence. This is when the back side of the snow will hold nearly steady for a few hours, but send bands from the north. That back edge is where the cut off will be and it appear to be between Frederick and Westminster…
Wrap Around Snow and showers may linger until noon… This map may not be exact, so it could cut off sooner near Washington and Baltimore. Remember that snow blowing and drifting will be an issue when the accumulation cuts off.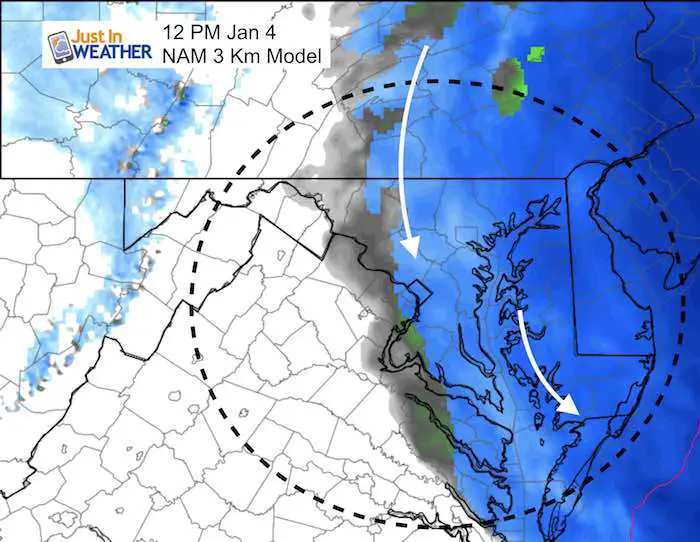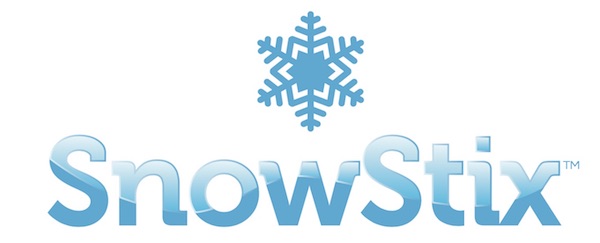 Snow Amounts
East Gets The Beast, Less West
Here is my updated snowcast.
Please note that a shift of 50 miles west could double your snow totals, while a 50 mile shift east can cut them in half or off all together.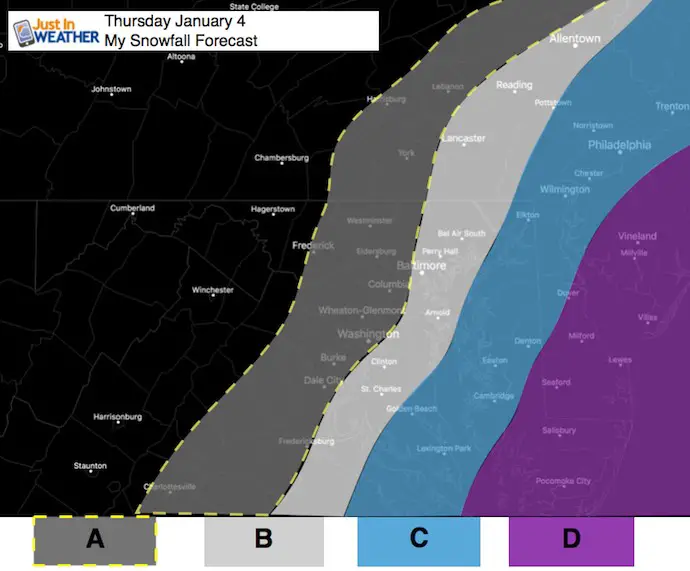 A: Dusting to 2 Inches

B: 2 to 4 Inches

C: 3 to 6 inches

D: 6 to 12 inches
Model Maps
NAM 3 Km May be Too Aggressive
Notice the sharp cut-off between Westminster, Frederick, and west of Washington.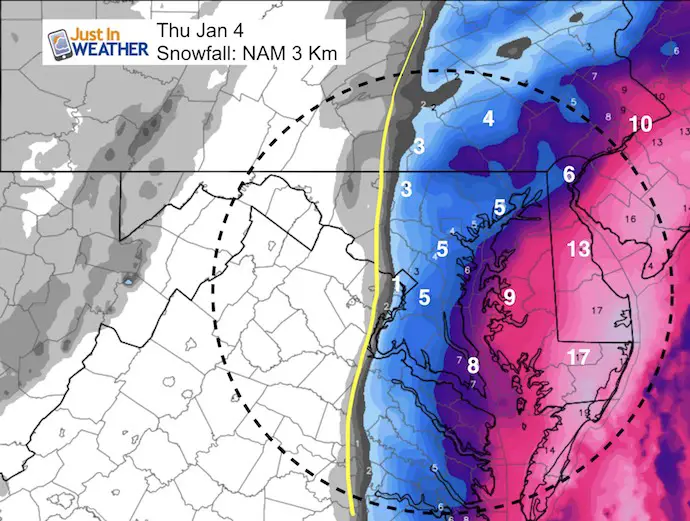 Canadian Model
This Is More Conservative.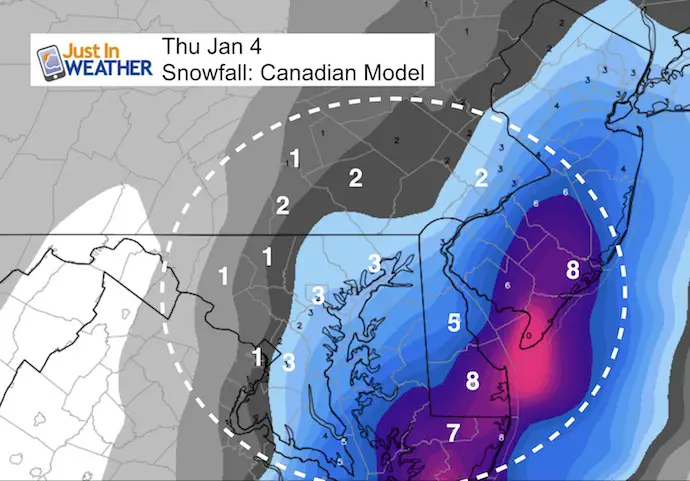 National Weather Service Maps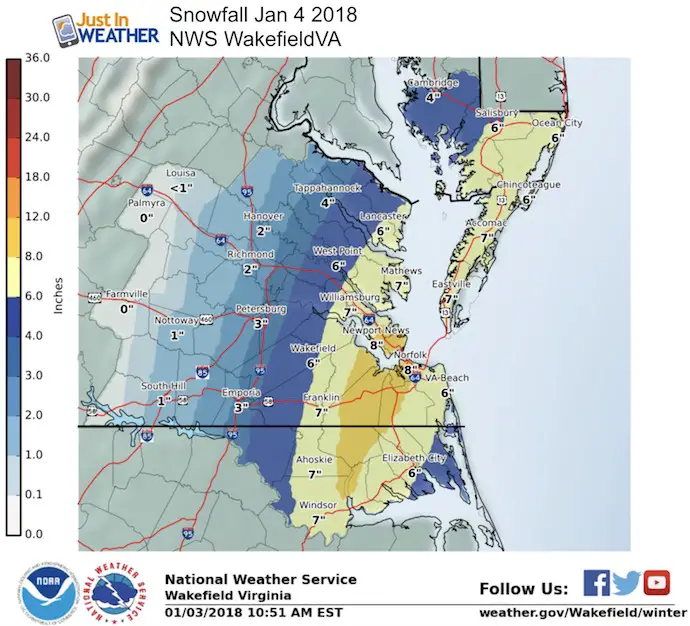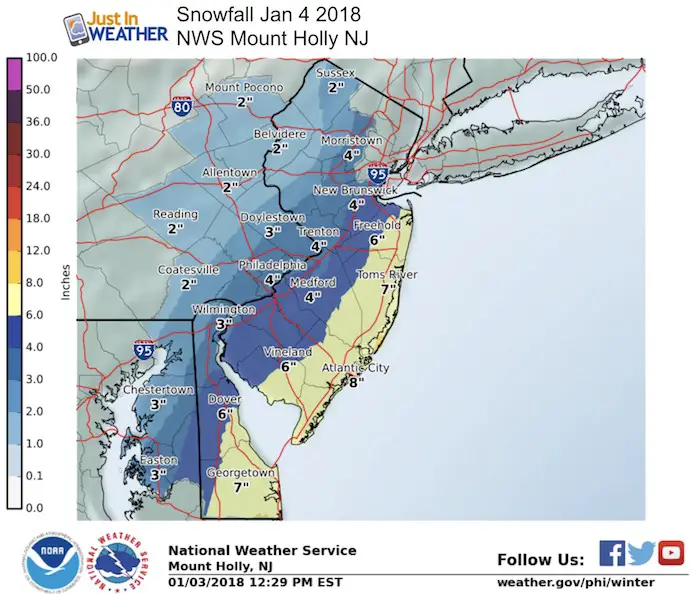 Keep In Touch All Winter
Click here to sign up for email alerts…. Just in case you don't get the post on your social media feed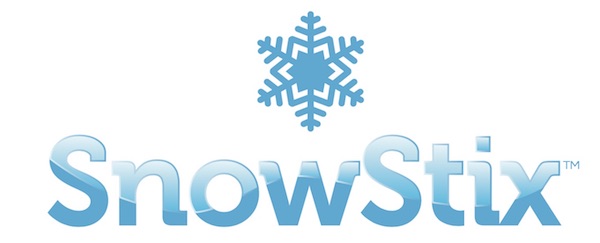 Please share your thoughts, best weather pics/video, or just keep in touch via social media
FITF Gear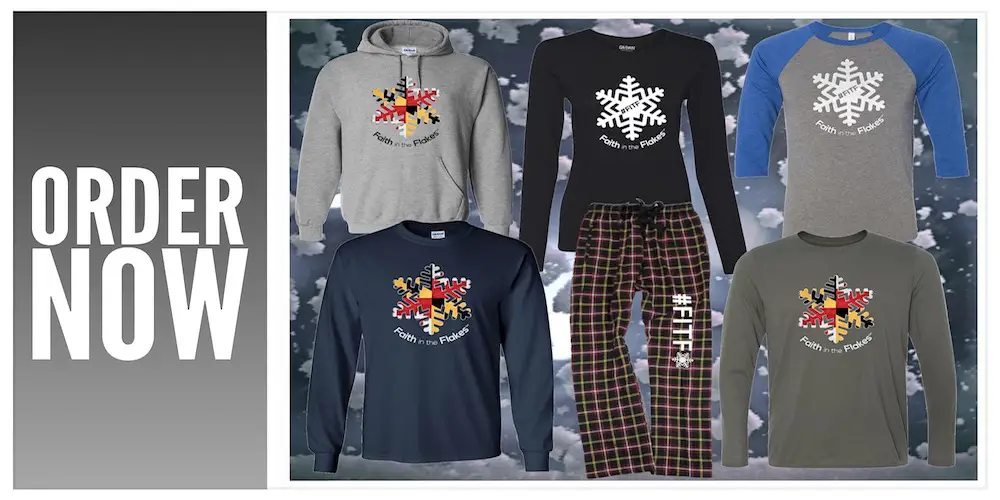 Snowstix- We Need You To Measure Snow Too
We are giving 10% of each sale to programs that benefit pediatric oncology patients.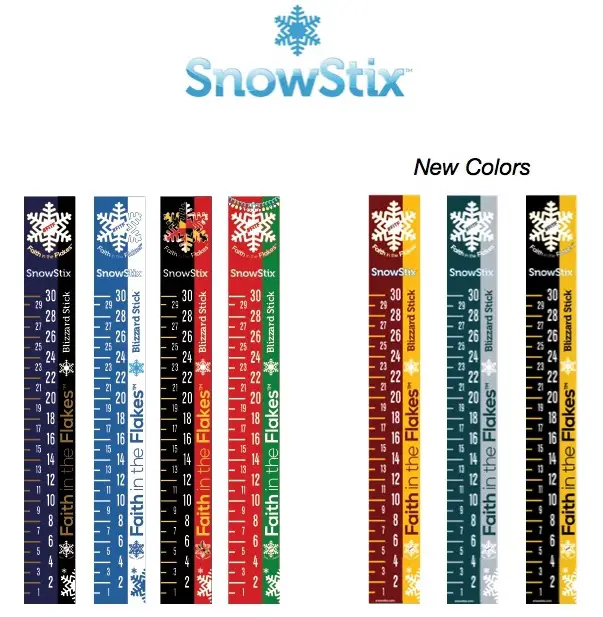 Get the award winning Kid Weather App I made with my oldest son and support our love for science, weather, and technology. Our 3 year anniversary of the release and our contribution to STEM education is this November. It has been downloaded in 60 countries, and works in both temperature scales. With your support we can expand on the fun introduction to science and real weather.
Keep In Touch All Winter
Click here to sign up for email alerts…. Just in case you don't get the post on your social media feed
Also See:
My Winter Outlook 2017-2018 for more snow
La Nina Formed: What it could mean to our winter
NOAA Winter Outlook: Not The Best But Not The Worst For Snow
Two Farmers Almanacs Winter 2018 Outlooks
Winter Weather Folkore: Suggestions from Animals and Crops
First Frost and Freeze Dates For Maryland (southern PA and northern VA)
My Preliminary Winter Outlook Notes
Low Snow Winters In Baltimore: To Repeat Or Not Repeat
NOAA Ranks Blizzard 2016 4th Worst Snowstorm On Record
Blizzard 2016 Record Top Snowstorm: Area Totals
Extreme Weather of 2015 balanced out on both ends