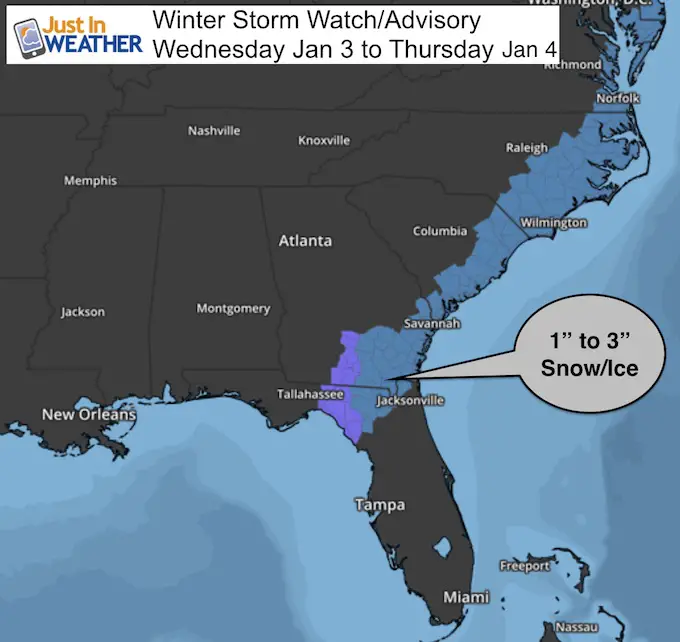 January 2 2018
A rare storm is about to develop and impact the southeastern and coastal US. The final hit of extremely cold air will be pushing south and interacting with the jet stream to develop a rapidly forming storm that will throw snow and ice as far south as Florida. Winter Storm Watches and Winter Weather Advisories shown on this first map include a range of 1 to 3 inches of snow inland but near Jacksonville Florida and into South Carolina. This storm may follow tracks of tropical systems in late summer and autumn which is just out of reach for us, but close enough to impact coastal areas of the Mid Atlantic.
Below are a comparison of three computer models wth their forecast plot for 7 AM on Thursday morning, the closest approach for our region. Then compare my first call for snowfall to the computer model projections and forecast maps from regional National Weather Service offices
The Set Up:
Here is the water vapor satellite image showing the player. Strong northern branch energy diving out of central Canada into the northern US Plains. This will interact with the jet stream that is active over south Florida now.  The snow and ice are expected to develop over Northern Florida Wednesday morning before sunrise. Then we can track the actual location of the storm that has NOT formed yet.
Jumping Ahead To Thursday Morning at 7 AM
Again, the storm has NOT formed yet. So the region where it develops is broad based, and the track will be easier when we have a surface Low to plot.
Note: There has been a trend or bias of systems to the north of forecast. If this plays out, then the Canadian Model shown below could be the winner. It is the ONLY one that is showing the snow west of the Chesapeake Bay in central Maryland. Otherwise, this looks like a coastal event with Lower Eastern Shore of Maryland and Delaware the winners.
NAM 3 Km Model
This has been a good performer with the snow events we had in December. This shows the snow sharply cutting off on the Lower Eastern Shore.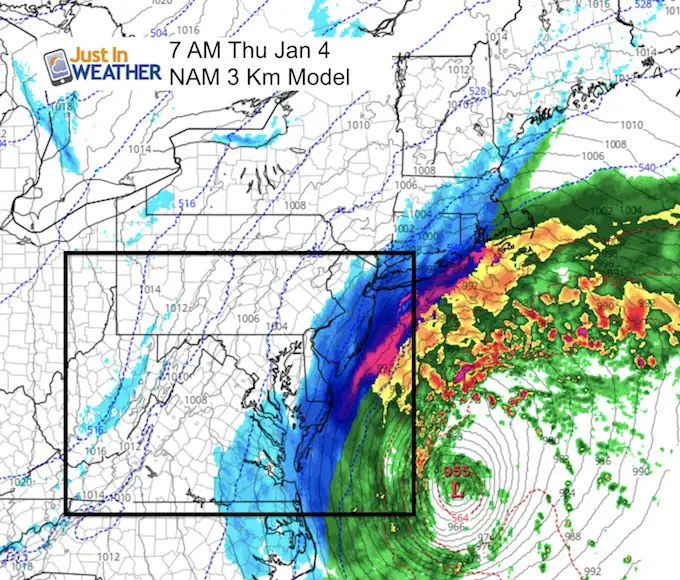 GFS Model
This falls in line with the NAM 3 Km and the shape cut off. This actually shows less snow for the coastal areas… but it has not performed well in recent snow events, so I would not put too much weight on this as of now.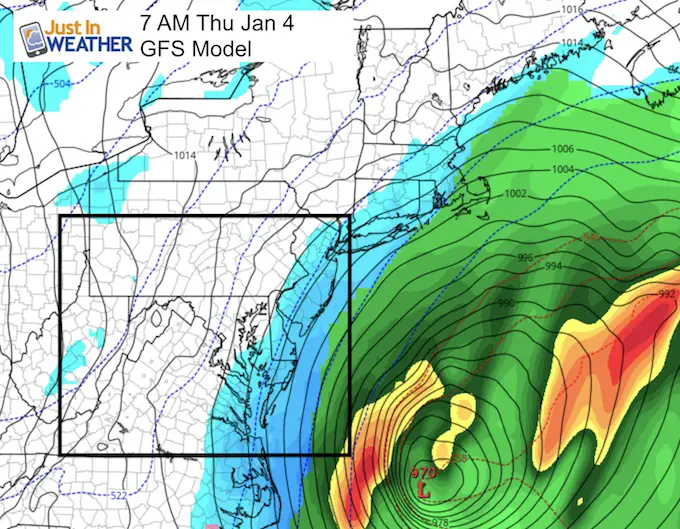 Canadian GEM
This model often performs best in arctic patterns. It was the first to show this storm, and first to push it off of the coast. Now it leads the charge to bring it west…
I need too repeat my caution here: IF the storm development verifies farther north than expected like prior systems have done, then this has a better chance of verifying even though it stands alone now.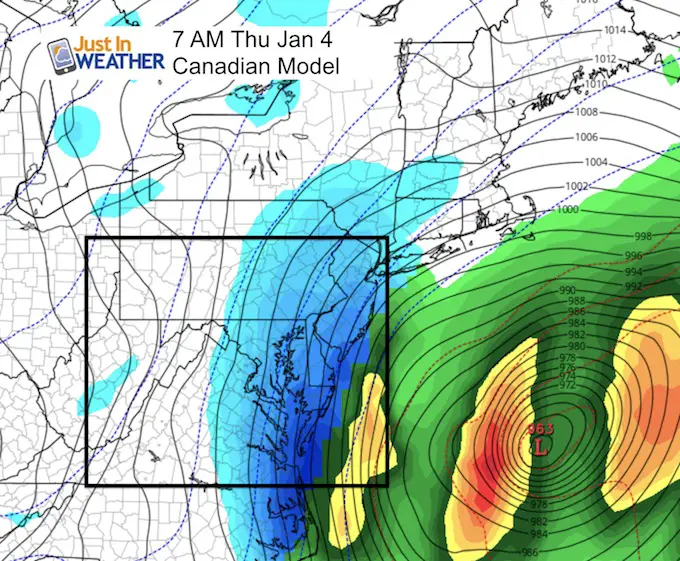 *The European Model does have light snow west of the Bay. There is a copy write on the ECMWF- so it is actually NOT OK to reproduce the images on blogs. They need to be seen directly from forecast map vendors or directly from Euro. I am not sure if TV outlets are except, but you may see broadcast mets show that model online.
Reminder of Current Local Watches
How Much Snow?
My First Call
I am showing my call first in this section. Please use this as guidance for the LOW END CONFIDENCE NUMBER. It is easy to see the highest on a snow map and lock into that. I do not want to go there yet. However, there will be a sharp drop off of snow on the west end. The dotted yellow lines show the region that is NOT in play not but could get snow IF the storm were to verify north when it forms tomorrow.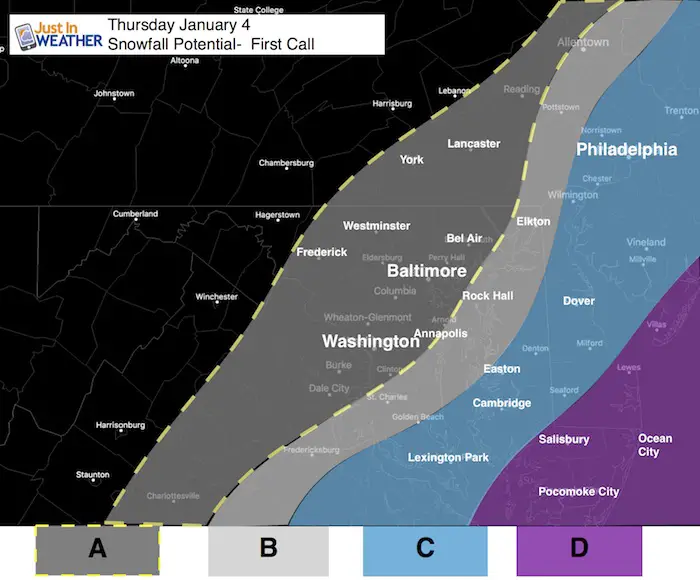 A: Back edge of flurries and light snow.
IF the storm verifies north as the Canadian Model shows, then this is the region that will have the biggest adjustment entering the storm event.
B: Dusting to 1 inch
This is the back edge of where I feel confident the snow will fall. The Bay Bridge may be near the dividing line with more snow south and east.
C: 2 Inches Or More
There will be a sharp drop off of snow to the west and big increase to the east.
D: 4 Inches Or More…
There is major upside potential for some areas to get in close to double digits.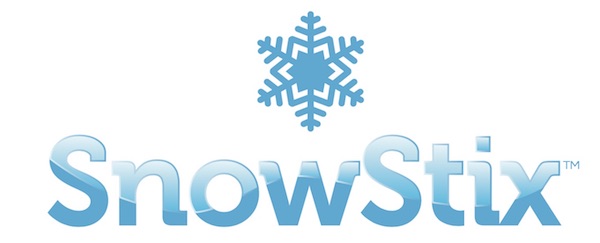 Forecast Model Snow Forecasts
NAM 3 Km
This is very aggressive for coastal areas. Notice the sharp drop off of snow to the west. This cuts the snow off south of Annapolis.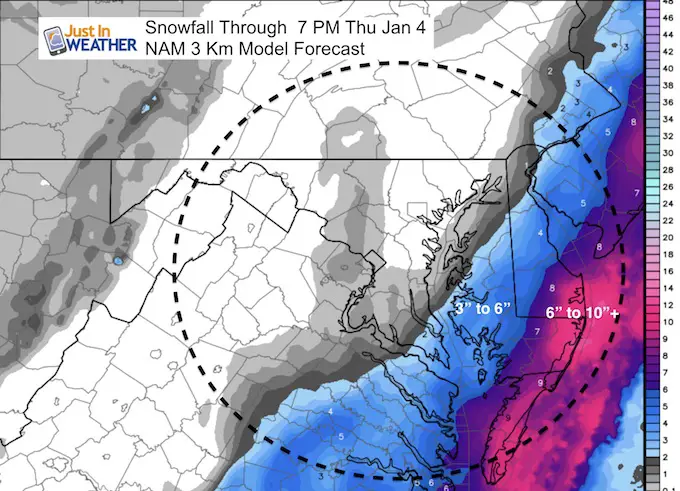 GFS:
This product has not shown snow very well this season. The coastal areas here are seen with 2 to 5 inches. Also seen here is the sharp cut off of snow to the west.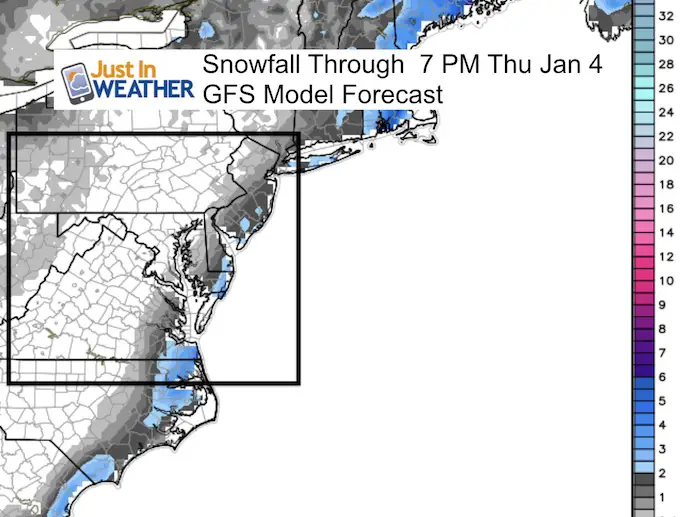 Canadian GEM
This shows a lot of southern and eastern Delmarva with over 8 inches of snow. notice the 2 inch line west to Washington and Frederick, north to York and Harrisburg. If you want snow, you are rooting for this model. It all depends on the storm verifying north when it forms tomorrow.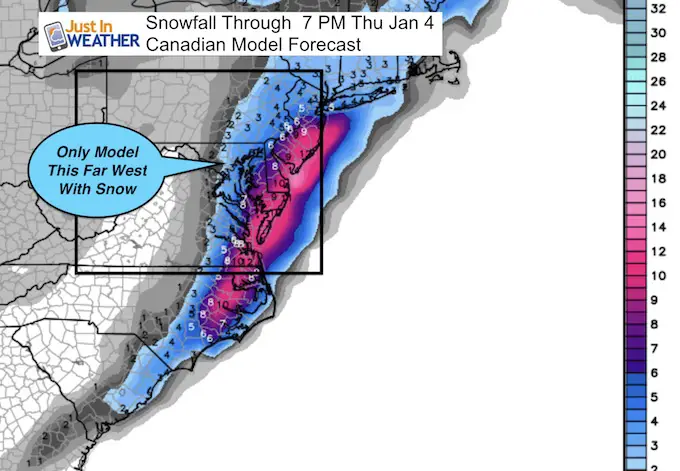 National Weather Service Forecast Maps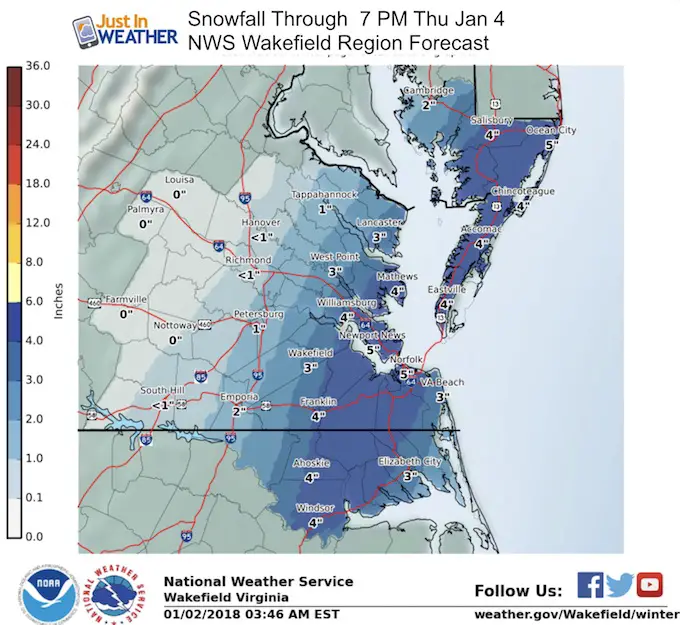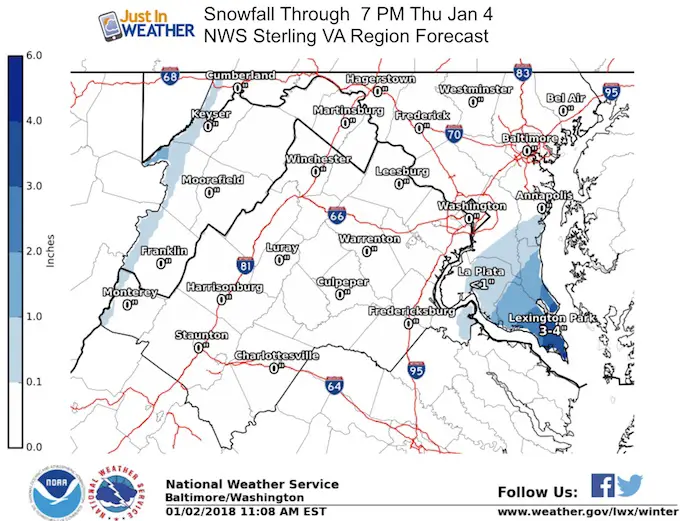 Keep In Touch All Winter
Click here to sign up for email alerts…. Just in case you don't get the post on your social media feed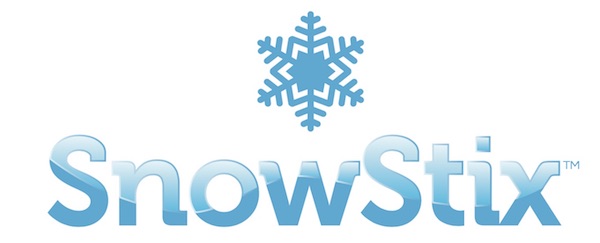 Please share your thoughts, best weather pics/video, or just keep in touch via social media
FITF Gear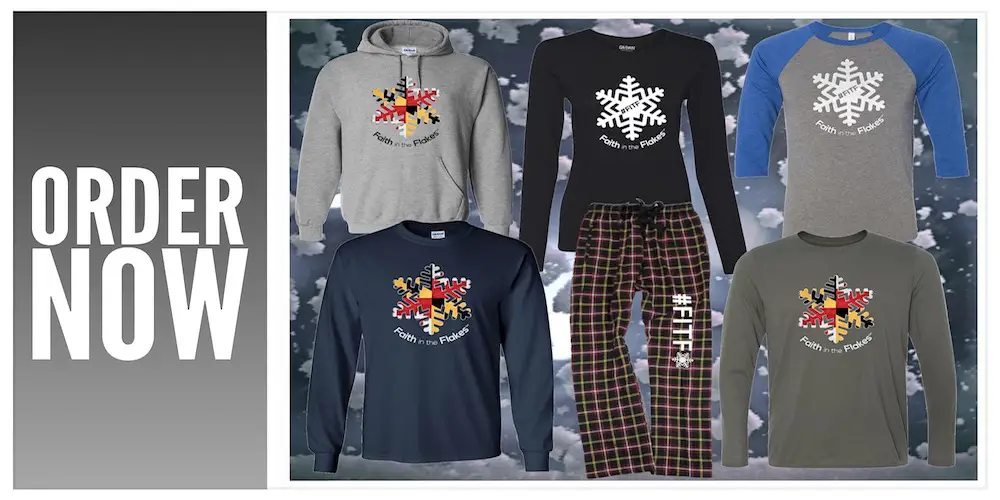 Snowstix- We Need You To Measure Snow Too
We are giving 10% of each sale to programs that benefit pediatric oncology patients.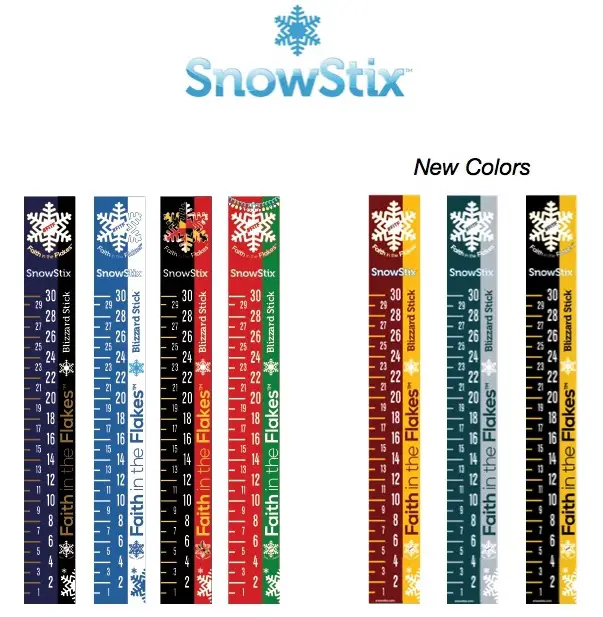 Get the award winning Kid Weather App I made with my oldest son and support our love for science, weather, and technology. Our 3 year anniversary of the release and our contribution to STEM education is this November. It has been downloaded in 60 countries, and works in both temperature scales. With your support we can expand on the fun introduction to science and real weather.
Keep In Touch All Winter
Click here to sign up for email alerts…. Just in case you don't get the post on your social media feed
Also See:
My Winter Outlook 2017-2018 for more snow
La Nina Formed: What it could mean to our winter
NOAA Winter Outlook: Not The Best But Not The Worst For Snow
Two Farmers Almanacs Winter 2018 Outlooks
Winter Weather Folkore: Suggestions from Animals and Crops
First Frost and Freeze Dates For Maryland (southern PA and northern VA)
My Preliminary Winter Outlook Notes
Low Snow Winters In Baltimore: To Repeat Or Not Repeat
NOAA Ranks Blizzard 2016 4th Worst Snowstorm On Record
Blizzard 2016 Record Top Snowstorm: Area Totals