Monday January 1 2018
This evening post is just a quick note to highlight how cold it will be in the morning as we still have about a week left in this deep freeze. That means next Monday or Tuesday is the next time many of us will get back above 32ºF. The other purpose is the large coastal storm that will form Wednesday night and Thursday. I know this is about 48 hours away, but I still have my doubts about the impact on us. no doubt you saw other weather posts and maybe TV newscasts mentioning this. It will be a beast with hurricane force winds by Thursday… But the core will be well of of the coast. There is high confidence that it will bring in the mother load of cold air to close out the week.
Also see: Snow Totals From December 30 2017.
Tuesday Morning
Low temperatures will rival what we had this morning when you most likely slept in. Baltimore's BWI hit an official +3ºF making this the second coldest New Year's Day since 1880. York, PA reaches -9ºF where the Tunda of southern PA was helped by a few inches of snow on the ground. Here is what you can expect heading back to work or sending the kids to the bus stop: Single Digits on the thermometer and ear or below zero wind chills.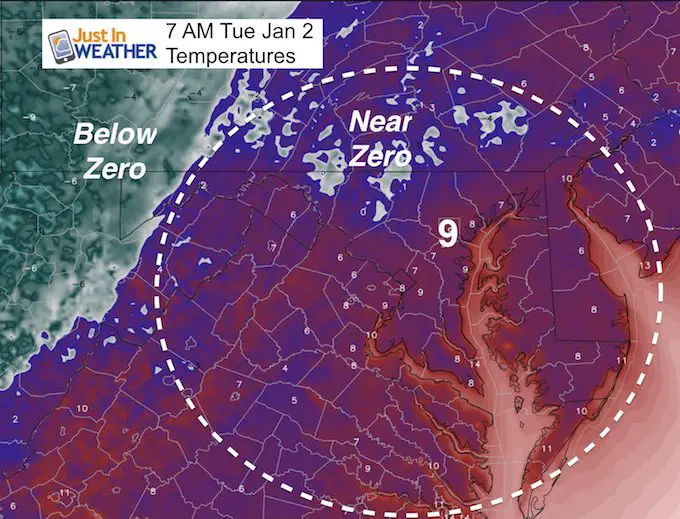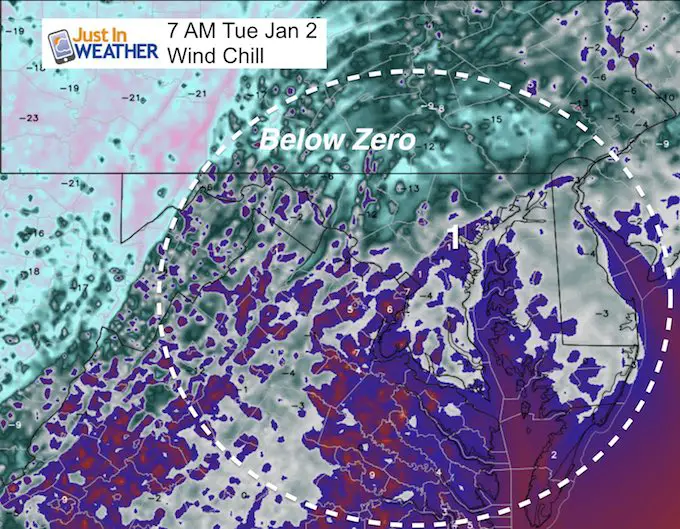 Afternoon Highs:
Slightly warmer mid 20s to near 30ºF by the bay. The water temperature is cooling fast and ice is spreading south. This will limit any warming impact that normally is expected.
Skipping Ahead To 'The Coastal Storm'
This is the latest Canadian GEM Model track. I trust this model in arctic set ups. It led the charge  pushing the storm farther east off of the coast, and other models followed. Now the trend has come back west about 100 miles. The back edge of moderate snow on this depiction is on the eastern Delmarva, with light snow reaching back west. But I am still hesitant at this point to bite on the trend and wishful thinking that more of us get in on the action…
My hesitation
We have had a poor showing of computer modeling with storms this season and in fact during the autumn as well. I wrote about this in my Winter Outlook and need to rely on my Atmospheric Memory Theory when there is little trust in the modeling.
This is exactly what I wrote in my winter outlook post back in November…
East Coast Storms
There were three notable tropical cyclones here that all trended farther east. Jose did have that stalling loop, but Gert and Maria took that turn away well east of Virginia Beach.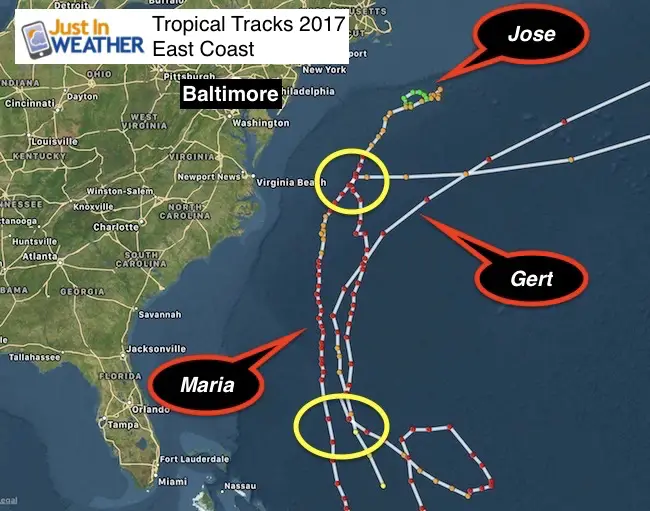 My Forecast Suggestion:
Potential Storm Tracks:
East Bias!
I would be very cautious of any computer model showing us a coastal storm a week ahead of time. The bias has trended east, which in the winter could take an east coast storm out of reach or not allow it to form at all. The same could apply to inland tracks taking an initial rain event and making it arrive sooner and be colder. I will only show models with storm potential 7 days away if there are a few models in agreement. But I will add this same caution. If you see forecasts hyping an event a week or more away, you should look away.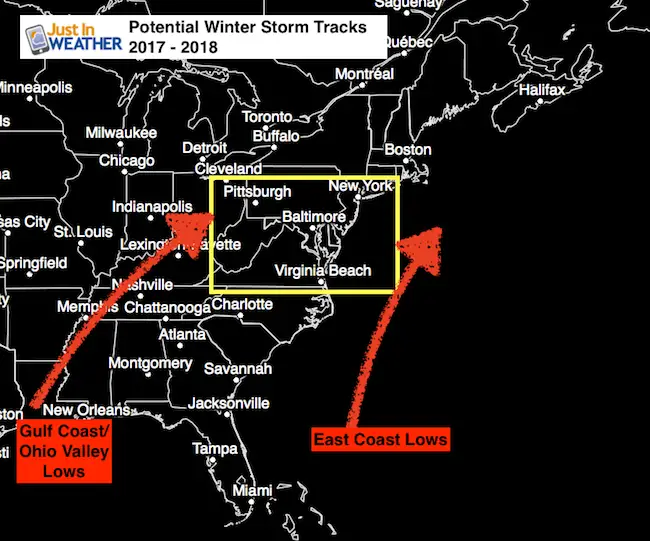 Now lets look at that forecast track again…
Canadian Model Animation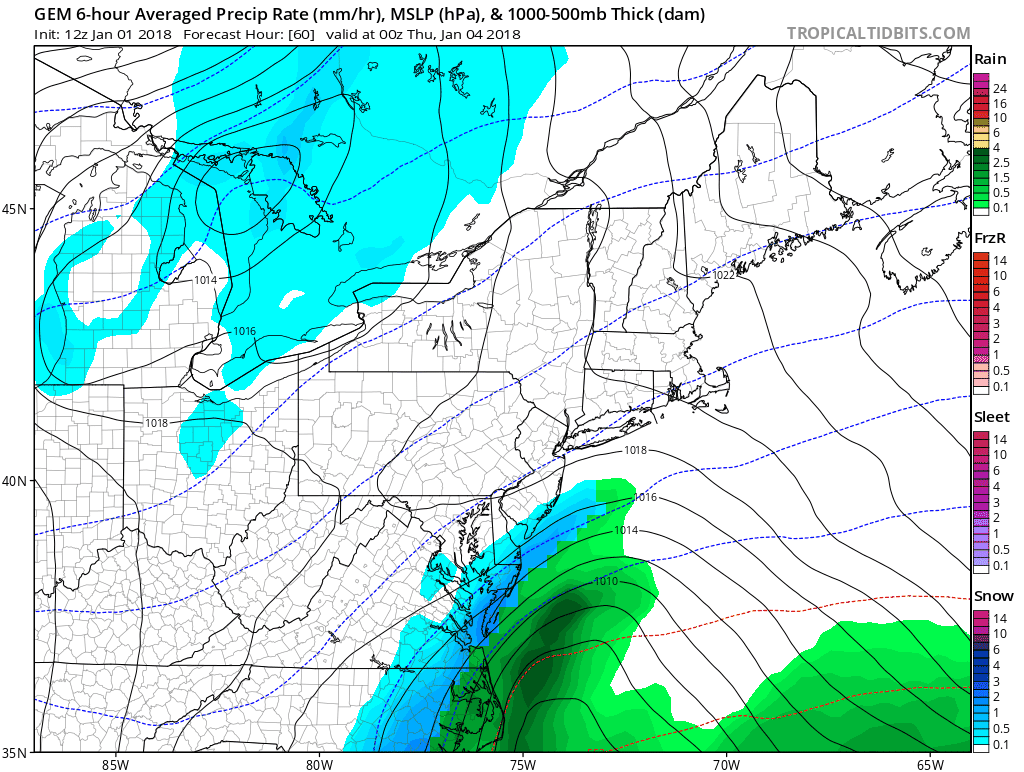 I am curious to see if the trend back west has halted or will then push east again. If I see any westward push overnight, I will then start to rethink this. As much as I love snow, and this storm will be a beast… It may be a coastal and New England event.  Here is the latest look on the GFS Model showing the adjustment just a little farther east.
GFS Model
Deep Freeze Continues
The core of the cold air will slip south of us and pull in behind this storm on Thursday. That is the driving force behind this likely blizzard.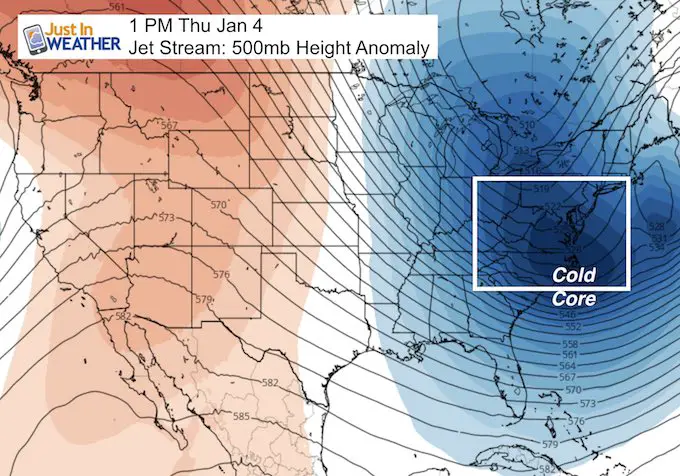 Temperature Outlook
Here is the GEFS Ensemble.. I think the low temps this weekend will rival way we just had in the single digits. 'If' we get some snow cover to spread, then we can definitely expect this to trend colder Friday into the weekend.
The thaw will arrive early next week.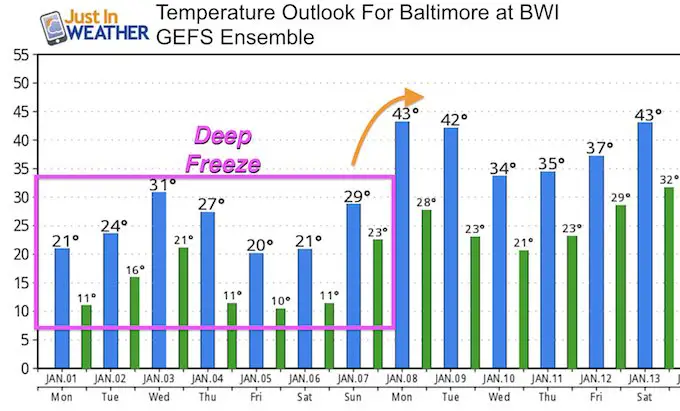 Keep In Touch All Winter
Click here to sign up for email alerts…. Just in case you don't get the post on your social media feed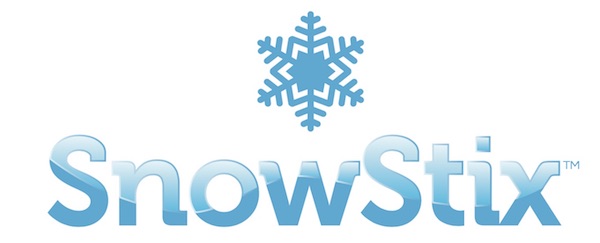 Please share your thoughts, best weather pics/video, or just keep in touch via social media
FITF Gear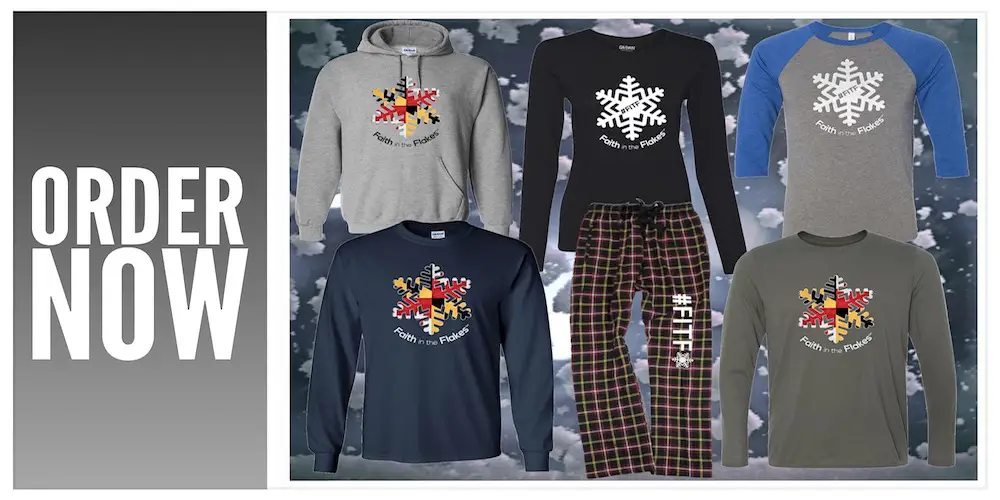 Also See:
My Winter Outlook 2017-2018 for more snow
La Nina Formed: What it could mean to our winter
NOAA Winter Outlook: Not The Best But Not The Worst For Snow
Two Farmers Almanacs Winter 2018 Outlooks
Winter Weather Folkore: Suggestions from Animals and Crops
First Frost and Freeze Dates For Maryland (southern PA and northern VA)
My Preliminary Winter Outlook Notes
Low Snow Winters In Baltimore: To Repeat Or Not Repeat
NOAA Ranks Blizzard 2016 4th Worst Snowstorm On Record
Blizzard 2016 Record Top Snowstorm: Area Totals
Extreme Weather of 2015 balanced out on both ends