December 31 2017
The snow event on Saturday December 30, 2017 came in overnight and lasted into the morning hours. It was a quick mover that verified my forecast and I have my map and the snow report map below to compare. I would like you to grade my forecast back on the social media post where you found this article.
The snow with the first flakes reported at 1:54 AM on December 30. I initially showed the models bringing it in by 3 AM and gave a safer 4 AM to 6 AM window to allow for virga. So, this was a little faster, and accumulating snow ended by 7 AM. But snow showers lingered during the morning and more arrived in the afternoon with no additional accumulation. It arrived along a strong jet stream with arctic air in place. Morning temperatures were around 20ºF, making for a dry and fluffy type of snow. The official snow report from the National Weather Service for Baltimore's BWI was for 0.5″ of snow. That verifies my forecast and overall I think my first call does call for an A. *I usually grade my self harshly.
Baltimore Snow Stats
4.8″ = For the season. 
3.0″ = Typical December
3.0″ =  Total for winter 2016-2017 *5th lowest on record
But there is some confusion. The daily climate report shows missing precipitation, so the melted snow did not register anything for the date. The daily snow was 0.5″, however the snow depth was measured at 1.0″. Hmm? Not the first time there was a conflict of data with respect to snow.
The seasonal total of 4.8″ is 1.0″ more than the day before. If they only got 0.5′, the seasonal and monthly total should be 4.3″.  I think there is an error in their data that may get corrected one way or another.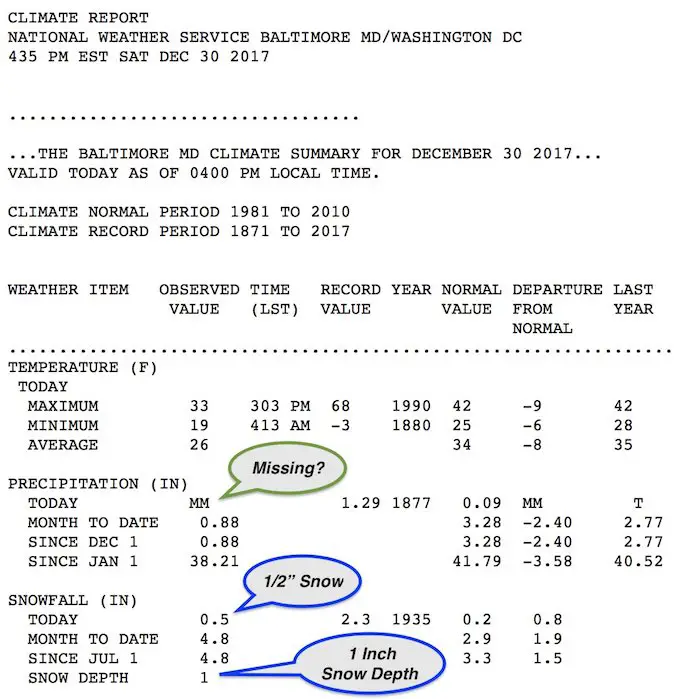 Compare: My First Call For Snowfall To the Official Snow Report Map
Legend for my Snow Map:
A: Flurries to a Dusting
This area will be on the southern edge of this event
B: Dusting To 1 Inch
This area will have light snow in the morning until noon. Temps will be cold and this will be fluffy snow. High Temps should reach 30ºF to 32ºF here. Then drop into the teens overnight. 
C: 1 to 3 inches
This is the typical northern zones that gets more snow. It wil last longer and afternoon snow showers may add a little more. The wide range will be based on hilltops and the fluffy snow with higher ratios. Temps should stay in the 20s during the day. May hit single digits Sunday morning.
D: 2 to 4 inches Plus
The mountains will have snow all day and get more. Great news for ski areas (Wisp, 7 Springs, Snowshoe, WV all on the plus side of this)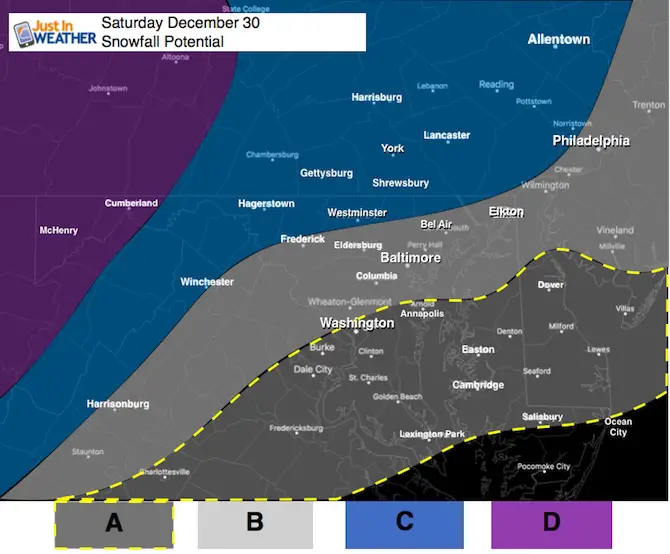 NWS Snow Report Map
Selected reports listed below the map:
Zones B and C: The 1 inch mark was just north and west of Baltimore. The general 1 to 3 inches range was north of Westminster to Adams, York, and Lancaster Counties in PA.
Zone A and B: Metro Baltimore did show the dusting to 1 inch range I projected in my 
Zone D: Western Maryland Mountains did receive much more. I should note, this map is snow 'Depth' which includes snowfall that was already on the ground prior to this event back west,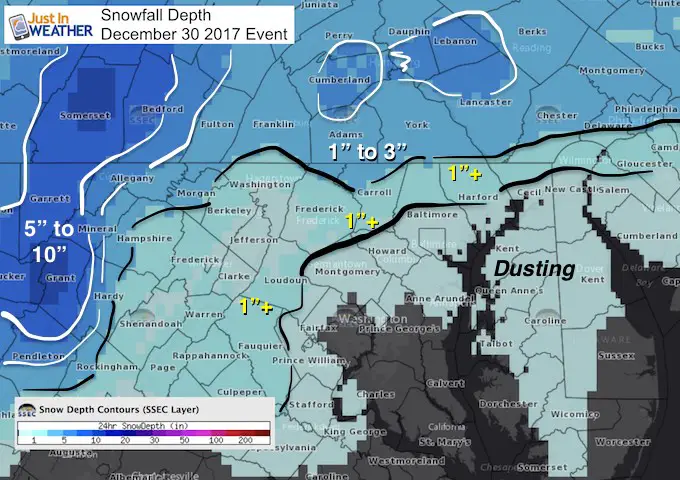 Keep In Touch All Winter
Click here to sign up for email alerts…. Just in case you don't get the post on your social media feed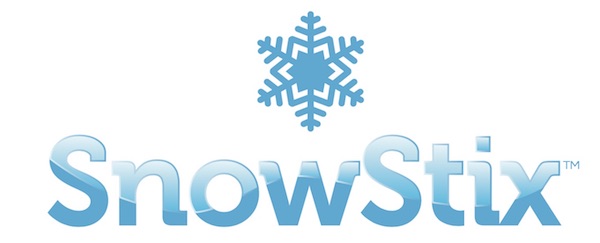 LOCATION          STORM TOTAL     TIME/DATE   COMMENTS
                     SNOWFALL           OF
                     /INCHES/   MEASUREMENT

DISTRICT OF COLUMBIA

...District of Columbia...
   1 NE American Univer   0.3   625 AM 12/30  Broadcast Media

MARYLAND

...Allegany County...
   2 ENE Frostburg        1.8  1150 AM 12/30  Trained Spotter
   SSW Cresaptown         1.1  1000 AM 12/30  Trained Spotter

...Anne Arundel County...
   1 W Mayo               0.5   650 AM 12/30  Trained Spotter
   Bwi Airport            0.5   700 AM 12/30  Airport
   1 WNW Odenton          0.4   800 AM 12/30  Trained Spotter
   4 W Annapolis          0.3   608 AM 12/30  Other Federal

...Baltimore County...
   1 W Parkton            1.0  1145 AM 12/30  Trained Spotter
   S Parkton              1.0   100 PM 12/30  Trained Spotter
   1 E Bentley Springs    1.0   800 AM 12/30  Trained Spotter
   1 NE Kingsville        0.8  1230 PM 12/30  Trained Spotter
   1 ENE White Marsh      0.3  1047 AM 12/30  Trained Spotter

...Baltimore City...
   SE Pimlico             0.2   700 AM 12/30  Trained Spotter

...Calvert County...
   3 NNE Dunkirk          0.3   900 AM 12/30  Trained Spotter
   1 S Prince Frederick   0.1   845 AM 12/30  Trained Spotter

...Carroll County...
   4 NE Millers           1.9  1130 AM 12/30  Co-Op Observer
   NE Oakland             0.6  1100 AM 12/30  Trained Spotter

...Charles County...
   La Plata               0.3   812 AM 12/30  Trained Spotter

...Frederick County...
   3 N Thurmont           2.1  1045 AM 12/30  Trained Spotter
   2 S Mount Pleasant     0.2   815 AM 12/30  Trained Spotter

...Harford County...
   1 SW Bynum             0.6  1128 AM 12/30  Trained Spotter

...Howard County...
   Columbia               0.7  1000 AM 12/30  NWS Employee
   1 NW Ellicott City     0.5   600 AM 12/30  Trained Spotter
   2 SW Woodstock         0.5   245 PM 12/30  Trained Spotter
   2 N Columbia           0.5   530 AM 12/30  Trained Spotter

...Montgomery County...
   3 SSW Damascus         0.8  1045 AM 12/30  Co-Op Observer
   Germantown             0.3   342 AM 12/30  Broadcast Media

...Washington County...
   1 SSE Long Meadow      1.0  1055 AM 12/30  Trained Spotter
   3 NNE Boonsboro        0.7  1030 AM 12/30  Trained Spotter
   Hagerstown             0.5   631 AM 12/30  Broadcast Media
Please share your thoughts, best weather pics/video, or just keep in touch via social media
FITF Gear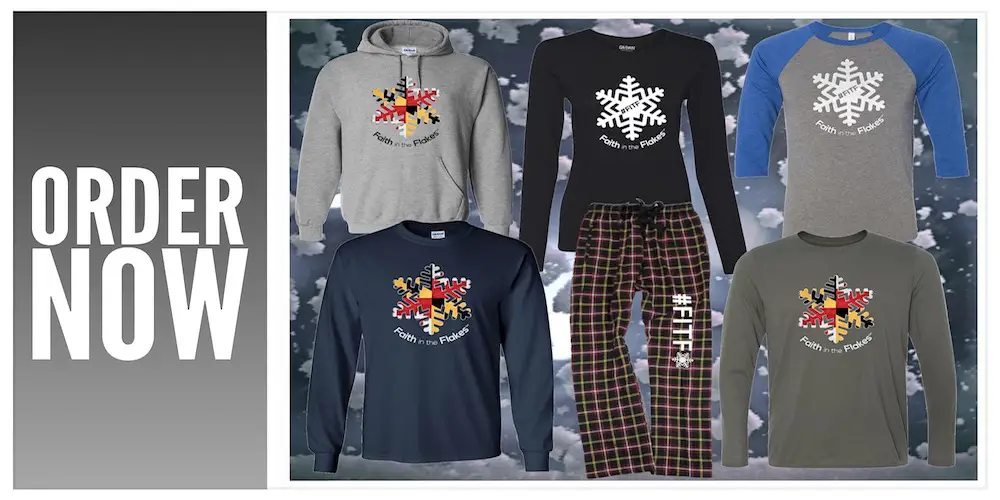 Also See:
My Winter Outlook 2017-2018 for more snow
La Nina Formed: What it could mean to our winter
NOAA Winter Outlook: Not The Best But Not The Worst For Snow
Two Farmers Almanacs Winter 2018 Outlooks
Winter Weather Folkore: Suggestions from Animals and Crops
First Frost and Freeze Dates For Maryland (southern PA and northern VA)
My Preliminary Winter Outlook Notes
Low Snow Winters In Baltimore: To Repeat Or Not Repeat
NOAA Ranks Blizzard 2016 4th Worst Snowstorm On Record
Blizzard 2016 Record Top Snowstorm: Area Totals