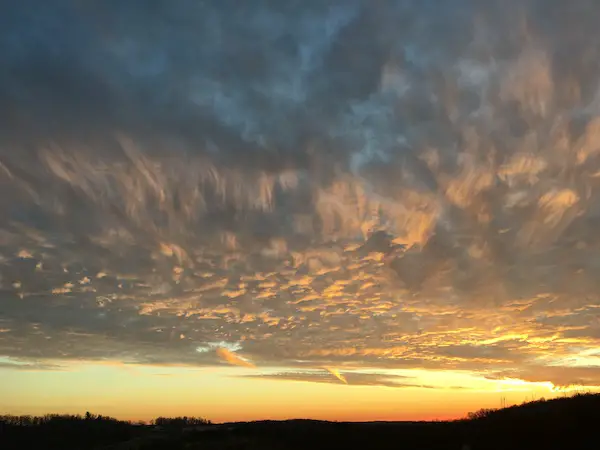 December 21 2017
Today marks the first day of winter along with the lowest sun angle of the year. In my previous report I wrote about 8 things you might not know about it. After watching the clouds this afternoon, I feel I needed to explain what was seen as there were many different things going on at once. It was amazing to say the least. Please read on below and let me know if you got some good photos as well.
Cirrocumulus clouds
This was the scene around 4 PM when I met my boys up at the bus stop. Less than 1 hour of daylight left and this speckled structure dominated the sky. When I got all of the kids to look up, they was amazed.
These are are mid to high level clouds that are supercooled. That is important since they are liquid droplets at temperatures well below freezing. In fact below zero. Water dopplers can exist down to -40ºF, but when in contact with some object or force can quickly turn into ice crystals…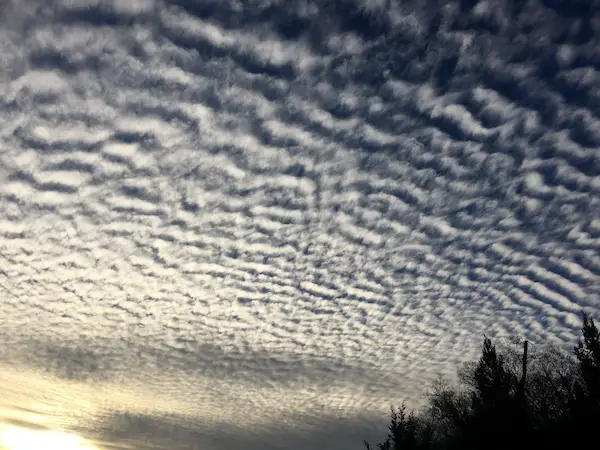 Sun Dog
This bright and colorful spot to the left of the sun is a reflection and refraction of sunlight. It was very bright and also had stripes of orange and yellow colors. This is more common late in the day when there are ice crystals in the clouds to bend and bounce the sunlight at the proper angle.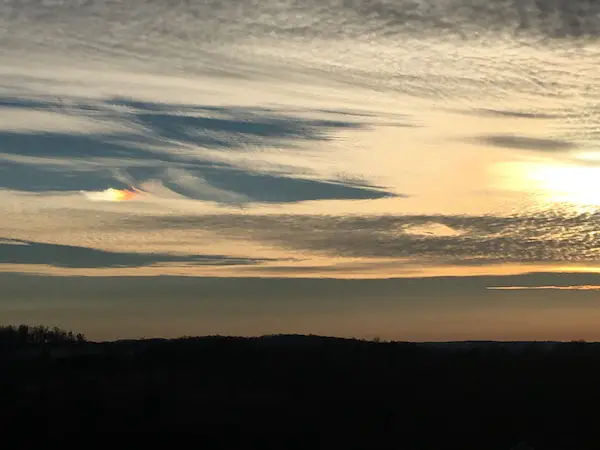 Falling Ice Crystals
It was less than 30 minutes later that I saw the ice crystals I mentioned above form. They showed up at these streaks in the sky. The low angle setting sun helped to highlight the whisky nature. They look similar to cirrus clouds which are also falling ice crystals. These were formed by some other force.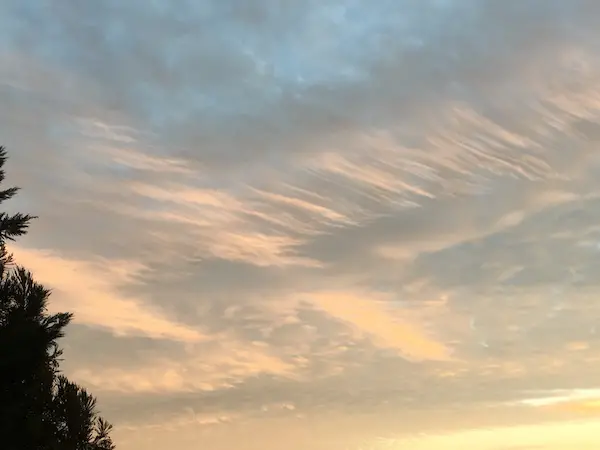 Fall Streak- Also known as a Hole Punch
These are when those supercooled droplets get forced together in some way and then form ice crystals that fall below the base leaving a vacant hole.  This could have been caused by an airplane or even birds. Really!
I wrote about this a few years ago and had plenty of photos to show off then. My archived article seems to be lost, but I will share with you when I find it.  This afternoon started with what looked like a corkscrew cloud as one of my kids called it.
Here's a closer look.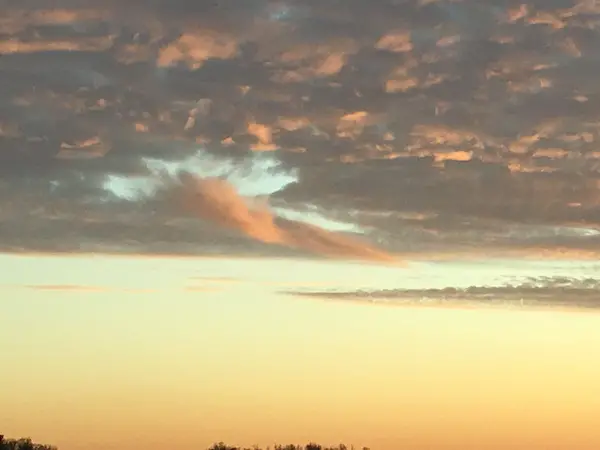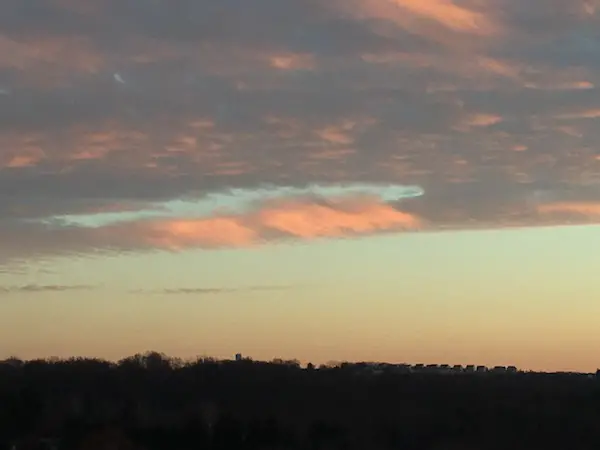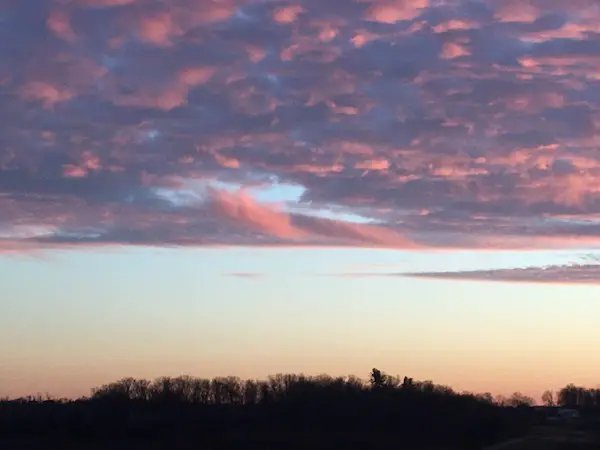 Sunset Shadow: Dark Streak
The dark line in the sky is simply a shadow. As the sun sets, the obstruction from a clouds over the horizon can block part of the sunlight. Since the angle is low and the light is filtered already, any shadow displays even more contrast.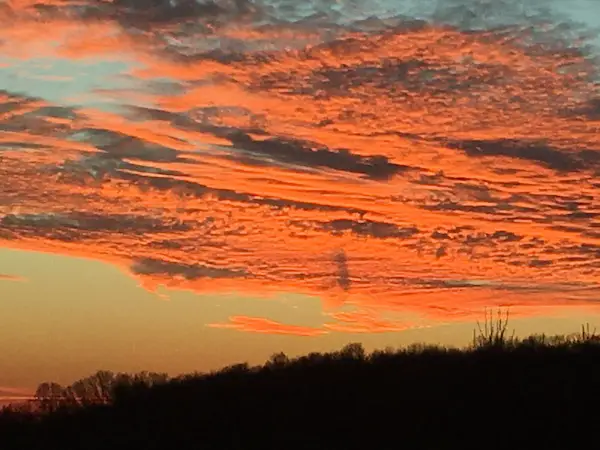 I hope that helps explains some of the things that were going one. Next up… Christmas snow is still hanging on strong.
Also See: 8 Things you should know about the Winter Solstice sunlight and weather
Keep In Touch All Winter
Click here to sign up for email alerts…. Just in case you don't get the post on your social media feed
Please share your thoughts, best weather pics/video, or just keep in touch via social media
FITF Gear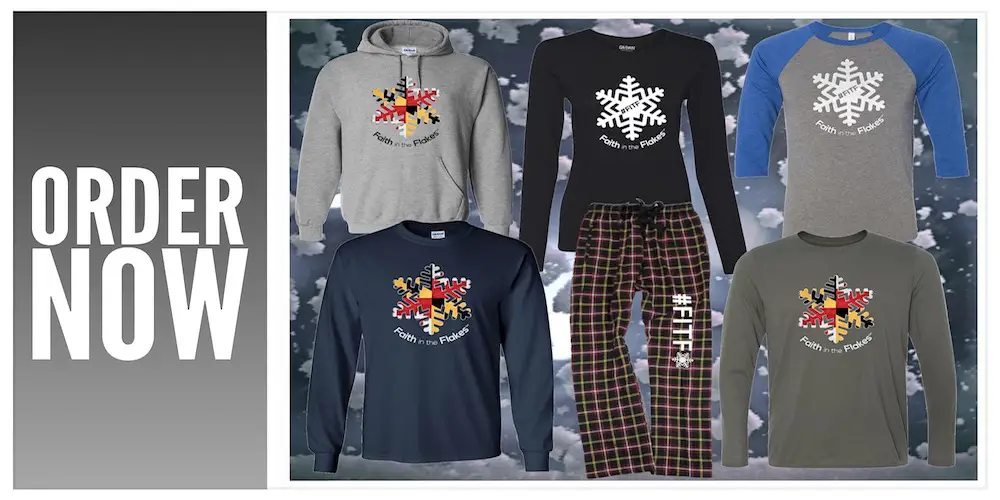 Snowstix- We Need You To Measure Snow Too
We are giving 10% of each sale to programs that benefit pediatric oncology patients.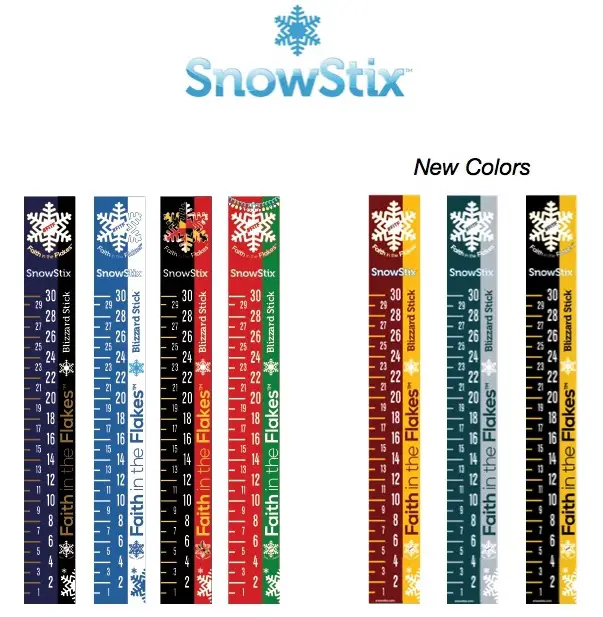 Get the award winning Kid Weather App I made with my oldest son and support our love for science, weather, and technology. Our 3 year anniversary of the release and our contribution to STEM education is this November. It has been downloaded in 60 countries, and works in both temperature scales. With your support we can expand on the fun introduction to science and real weather.
Keep In Touch All Winter
Click here to sign up for email alerts…. Just in case you don't get the post on your social media feed
Also See:
My Winter Outlook 2017-2018 for more snow
La Nina Formed: What it could mean to our winter
NOAA Winter Outlook: Not The Best But Not The Worst For Snow
Two Farmers Almanacs Winter 2018 Outlooks
Winter Weather Folkore: Suggestions from Animals and Crops
First Frost and Freeze Dates For Maryland (southern PA and northern VA)
My Preliminary Winter Outlook Notes
Low Snow Winters In Baltimore: To Repeat Or Not Repeat
NOAA Ranks Blizzard 2016 4th Worst Snowstorm On Record
Blizzard 2016 Record Top Snowstorm: Area Totals