June 18 2018
Every once in a while a phenomenon occurs in the sky that cane seen for hundreds of miles, by countless people and they just stop in awe.  This was the case this past Saturday when a dark streak appeared in the western sky at sunset. This first photo from Erin Bender Thomas seemed to fit this best with someone looking on in awe at what some suggested was a tracker beam from the mother ship just out of view.  I am sorry to disappoint, but this is not proof of extraterrestrial visitors. I am not denying they exist, just not the focus of this weather event.
Before explaining what this is, check out a few more photos. Notice that the angle of the dark streak changes in each one.
This view from Gettysburg was from Harrison Jones. The streak is longer, but pointing to the left. However, the same triangular clearing in the center of the base can be seen.  
Here is one from Elyse DeVries showing the dark streak pointing to the right, but still has that same triangular clearing in the middle of the base.
Have you figured out what it was yet?  I still have six more photos to show. Out of respect for the people that sent them, here they are in this slider. You can swipe for easy contrast and comparison.
Photo —> slider
[metaslider id=63286]
This same thing occurred last week in North Carolina. This photo may help give it way, but please scroll down for a really cool visual explanation.
So… What was it?
Answer: Shadow From A Tall Cumulus at Sunset
It is that simple. Just a shadow. But a pretty cool one from clouds likely over 30,000 Ft high. To explain this same phenomenon for the Charlotte, NC area, Meteorologist Brad Panovich (@wxbrad) received a similar photo and compared it to the visible satellite at sunset. I wanted to show this to you since I was unable to grab an image from over the weekend. But this is how it works….
A tall cumulus cloud towers higher in the sky and at any time of day will create a shadow. As the sun sets in the evening, the curvature of Earth will allow the light from the sun to still reach higher in the sky than we can see on the ground. In the right set up, the shadow can be cast to dim out higher cirrus clouds. Or, it can dull the water vapor at that height to enhance the shadow.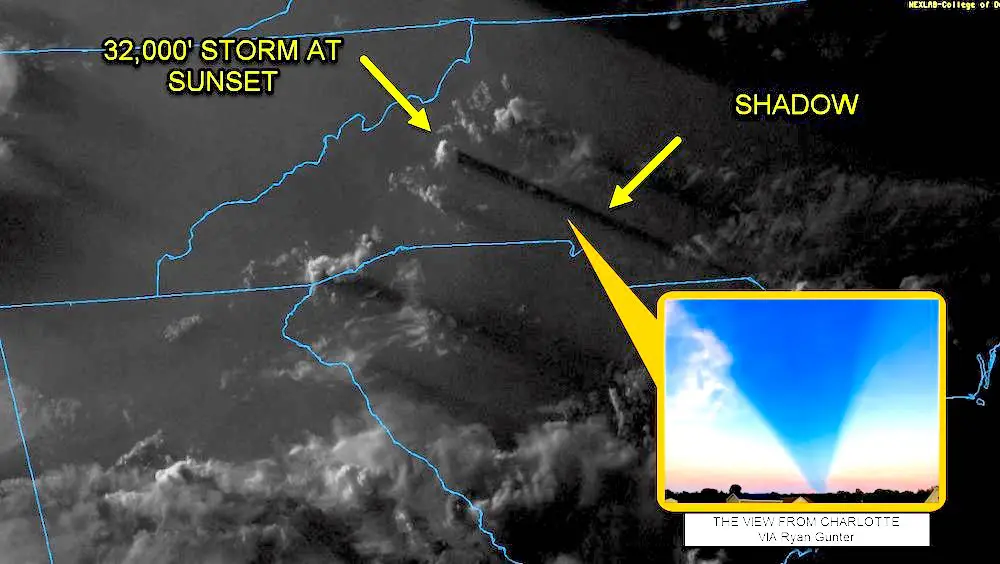 Please share your thoughts, best weather pics/video, or just keep in touch via social media
Keep In Touch Every Day
Click here to sign up for email alerts…. Just in case you don't get the post on your social media feed
Shine On
Proceeds from all sales go to Just In Power Kids. Click the image to shop and show your support.
Partner With Us. My Fiancee Shannon and I started this non profit Just In Power Kids. We are building a network of Integrated Wellness Practitioners plus funds for kids in and post cancer treatment to get free sessions.
Get the award winning Kid Weather App I made with my oldest son and support our love for science, weather, and technology. Our 3 year anniversary of the release and our contribution to STEM education is this November. It has been downloaded in 60 countries, and works in both temperature scales. With your support we can expand on the fun introduction to science and real weather.