Sunday December 10
As if we haven't had enough of our fill of snow with Saturday's event, well… we didn't. Yes that one system matched or surpassed all of last winter's snow in s single day and has us at an average December total. But it's early and we have an active pattern. I must say that this chat about snow is not for a major storm, and it is the the opposite direction as the last one. We have our eyes on northwest on Canada instead of the Gulf of Mexico to the south.
There will be a a clipper type storm passing into the Great Lakes Tuesday morning. This is the same location on the Canadian. GFS, and European Models.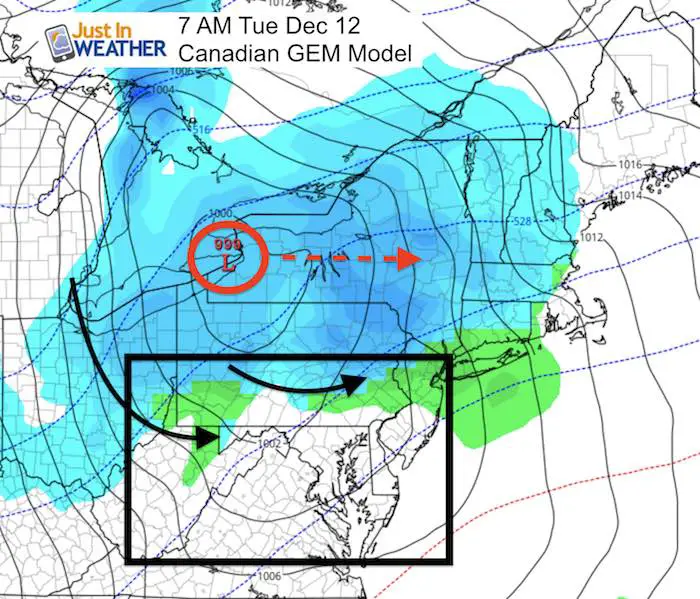 That Low Pressure to our North is key because it is a set up to limit the snow to the mountains in western Maryland and north in central Pennsylvania. That is due to westerly winds around the Low downsloping and drying out before reaching metro Baltimore and Washington. Normally I was see this as a whole lot of nothing, and just a tease for local snow lovers. But there is a catch… There might be a slight southern shift to the Low that may bring in enough energy to push some snow showers our way. Let me explain…
Let's back up to this evening…  Take a look at the Water Vapor Satellite 
The highlighted region is the strong piece of energy diving down the front range of the Canada Rockies towards North Dakota. That is the 'clipper' we are talking about here. Scroll below to see the animated 24 hour loop and it should be easier to spot now.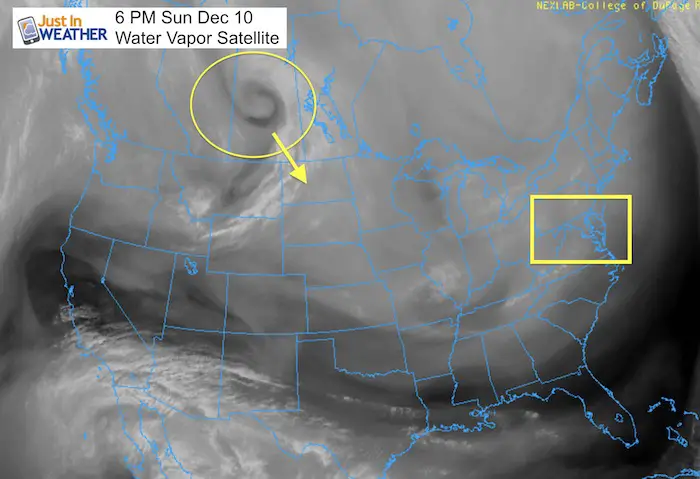 If you watch the movement and try to extrapolate you can see what appears to take that piece of energy well south into the US. But, this is NOT what the computer models suggest. They are banking on the upper level trough to tighten and pull this thing through Illinois and redevelop near Buffalo, NY.
The wrinkle in the modeling is recent snow cover. Cold air wants to take storm systems through the path of least resistance. So more snow cover than normal, and new snow cover at that… is the proverbial 'white carpet' that would suggest this system track farther south. Also considering our recent storm pushed farther south than expected, that can not be ignored.
Snow Cover In The US This Morning
Did you notice a bit of your snow melted. Some of that was from warm ground below and did lower the amount of actual snow that fell yesterday. The snow in place and cold night ahead had further chilled the ground and made it more receptive to the next approaching system.
See the December 9 Snow Report and Grade My Forecast
There is a void of snow in Iowa and Illinois, but a large path from Ohio to West Virginia and down the Appalachians to the Gulf of Mexico is surprisingly chillier than expected… That might help the system track farther south, which in turn could play a bigger role for us Tuesday.
Current Projection Of The Low
This track curves though Chicago and towards Buffalo. I am not completely sold.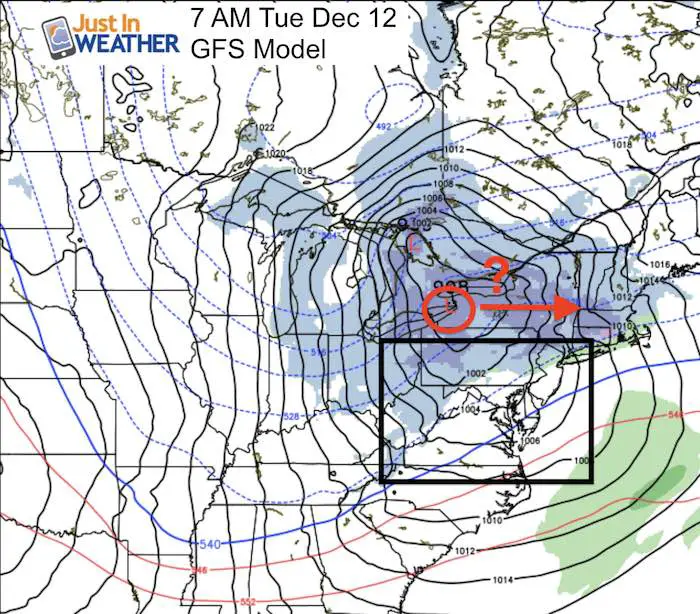 Jet Stream
This is the look at the jet stream on Tuesday morning. I have highlighted the surrounding fast flow with arrows, that may very well help feed into this thing diving farther south.It is that vorticity (most intense in red) the can carry snow showers over the mountains if it passes near or south of Baltimore.
Isn't it funny how this looks a lot like the snow cover map above, yet this represents winds at 18,000 Ft aloft.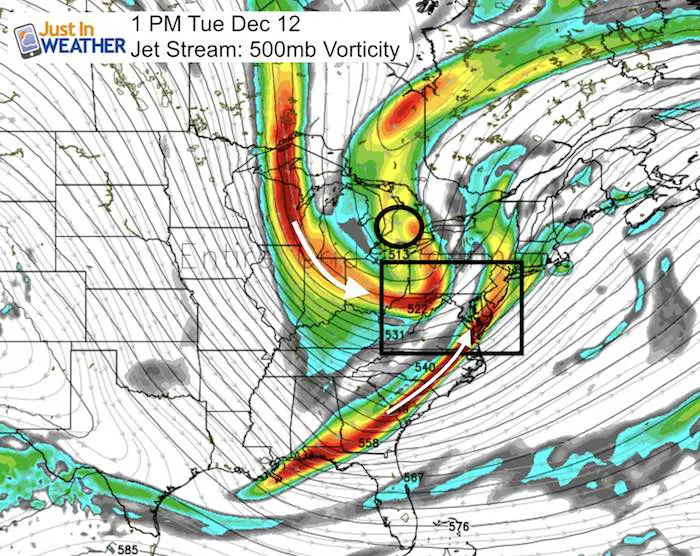 So, while the modeling is not fully supporting the every for us at this time… there are signals that we cold at least get snow showers in our area Tuesday. Here is the GFS Model through the week showing the miss Tuesday and another round of flurries or snow showers at the end of the week.  The pattern remains active for a while…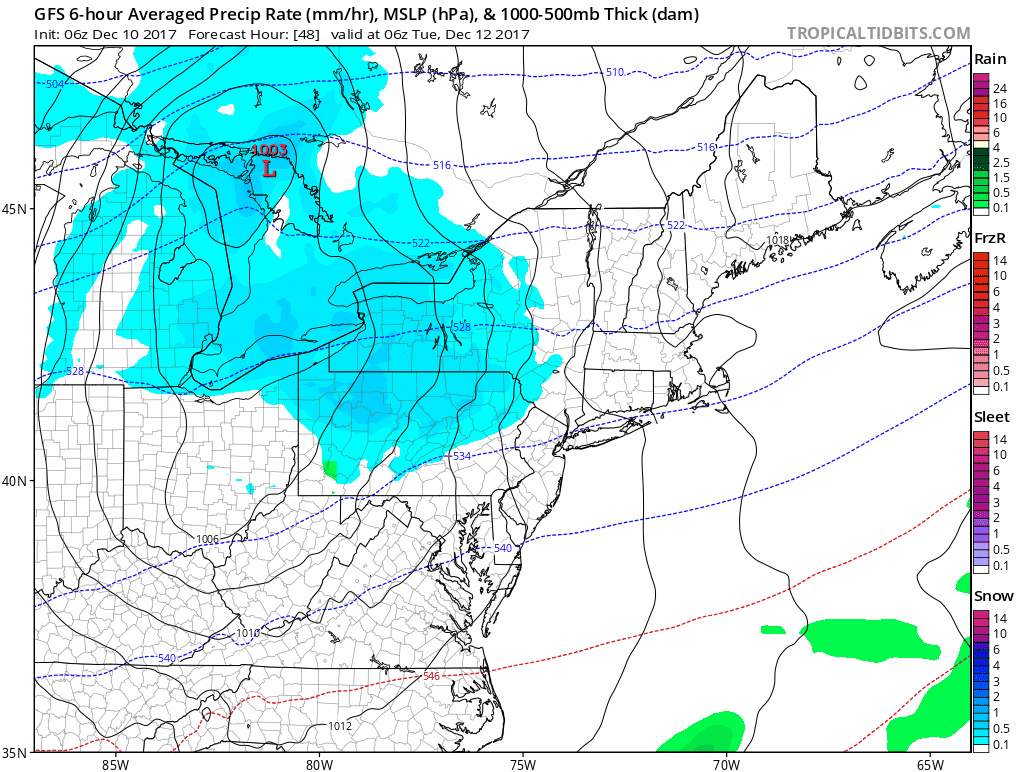 Snowstix- We Need You To Measure Snow Too
We are giving 10% of each sale to programs that benefit pediatric oncology patients.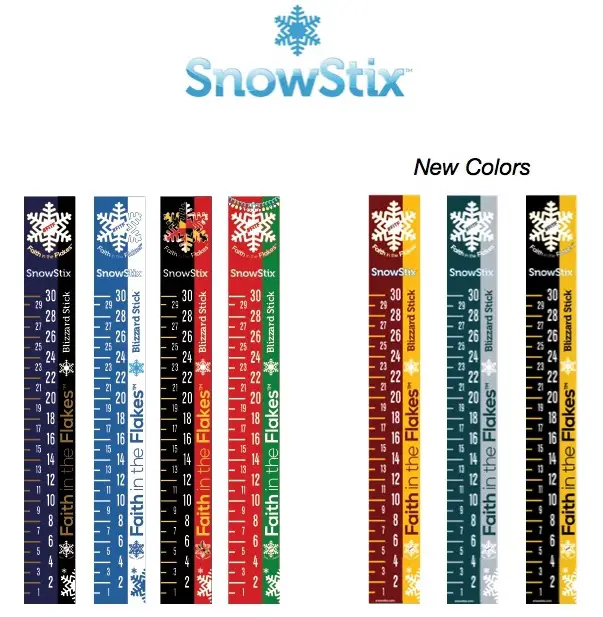 Faith in the Flakes Online Store
PJ bottoms still inside out- They have to be to help bring on the snow.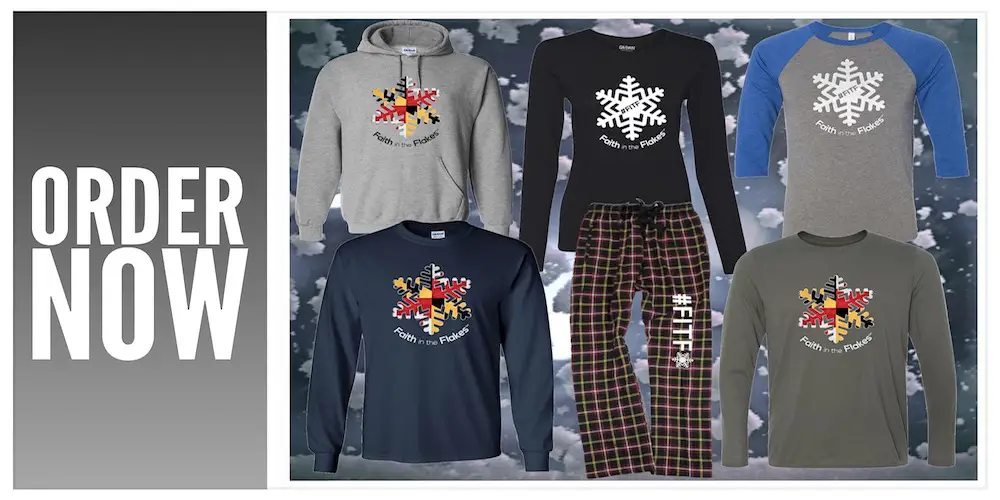 Get the award winning Kid Weather App I made with my oldest son and support our love for science, weather, and technology. Our 3 year anniversary of the release and our contribution to STEM education is this November. It has been downloaded in 60 countries, and works in both temperature scales. With your support we can expand on the fun introduction to science and real weather.
Please share your thoughts, best weather pics/video, or just keep in touch via social media
Also See:
My Winter Outlook 2017-2018 for more snow
La Nina Formed: What it could mean to our winter
NOAA Winter Outlook: Not The Best But Not The Worst For Snow
Two Farmers Almanacs Winter 2018 Outlooks
Winter Weather Folkore: Suggestions from Animals and Crops
First Frost and Freeze Dates For Maryland (southern PA and northern VA)
My Preliminary Winter Outlook Notes
Low Snow Winters In Baltimore: To Repeat Or Not Repeat
NOAA Ranks Blizzard 2016 4th Worst Snowstorm On Record
Blizzard 2016 Record Top Snowstorm: Area Totals