Saturday December 9
Blame it on the dry slot but I will take the heat. The arrival of the snow did not happen overnight as I forecasted. But the storm is still developing and it will snow most of today into this evening. The little delay of a few hours made a big difference. I will accept if you call this a bust, but I need to make this point. The expectation for increased impact was all based on the snow beginning to lay and stay before sunrise. Since it is later, that kept it warmer and the roads for most of our region will remain we most of the day as a result. Snow will still stick on the grass and it will look like winter this afternoon.
My final snow call last night was swayed by the over achieving snow in southern Maryland. We are now back to my earlier plan, which includes snow, wet roads, but the snow will last later into the evening. Baltimore Annapolis, Washington area can still get 2 'up to' 4 inches. There will be plenty of snow to feed that, but warmer temps will lead to melting and compacting. The higher end to 10″ is more likely in southern Maryland and interior Delmarva. Northwest areas most likely an inch or two, with some higher amounts. But due to colder air, more will stick.
These Advisories and Warnings are still active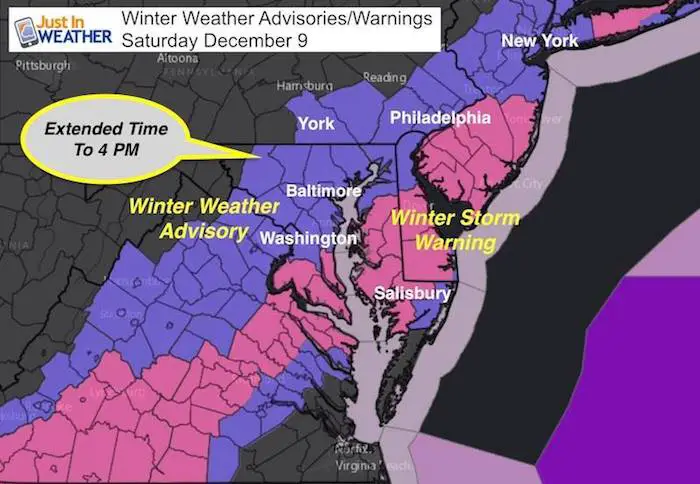 Radar Simulation
Here is a look at the radar simulation and late day temperatures to give an idea of what still lies ahead. It will snow quite a bit, but the slightly warmer air will lead to melting below and heavy wet snow compacting from above.  Please see my notes following this…
—> slider HRRR Model
[metaslider id=55464]
Snow Stays Later
The system will keep snow around into this evening. This may lead to road problems after 4 or 5 PM as it gets dark. The snow falling all day will cool the pavement and temps will get colder tonight.
Late Day Temperatures:
See the blue numbers where it should be near or below freezing. That will be north and where the heavier snow is falling.  This is why the day time could be slick in Carroll, Frederick, York, and Lancaster Counties. Also expecting more snow to pile up where there is already snow on the ground (Salisbury).
Northwest is colder
1 to 2 inches +
The National Weather Service expanded the Winter Weather Advisory for Carroll and Frederick Counties in Maryland. This is for slick roads through 4 PM. I would apply this to York and Lancaster PA as well.
Central Maryland and Metro DC/Annapolis
2 to 4 inches 'average' mainly on grass. But higher amounts in heavier bands
There may be higher amounts.
The warmer temps and the warm water 'The Bay' will keep most of central Maryland with wet roads most of the day. This is despite the snow falling, and it will fall.  The warmer temps mean heavy wet snow that compacts and melts underneath eating into totals. There will be higher amounts depending on the heavier bands this afternoon.
Additional Snow Delmarva
Some places over 10″
Beaches
1 to 3 inches
End with snow this evening
Today will bring more mix and some rain. But snow will return and add up this evening. Salisbury already got 7 inches of snow.
Stats For December 9
Normal High:  47ºF
Record High:  73ºF in 1966
Normal Low: 30ºF
Record Low: 4ºF in 1876
Snow Record: 2.2″ in 2005
Sunrise: 7:14 AM
Sunset 4:44 PM
*Bay Water Temperature = 49ºF at Thomas Pt. Light House
Keep In Touch All Winter
Click here to sign up for email alerts…. Just in case you don't get the post on your social media feed
Snowstix- New Colors in 30″ and 36″
We are giving 10% of each sale to programs that benefit pediatric oncology patients.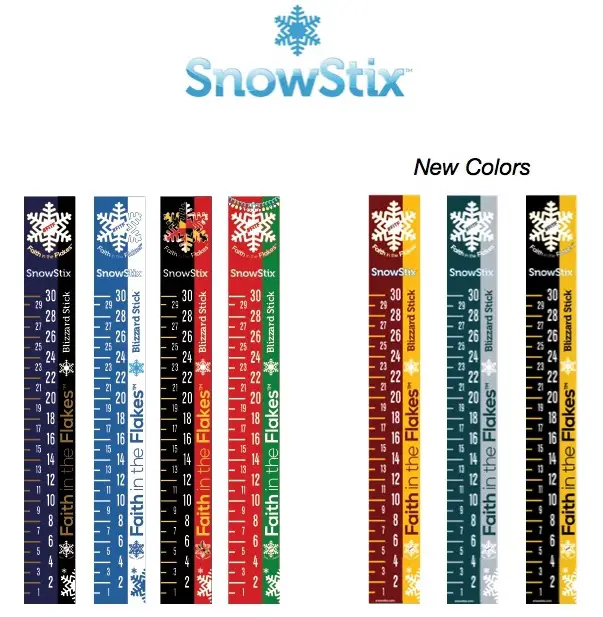 Faith in the Flakes Online Store
PJ bottoms still inside out- They have to be to help bring on the snow.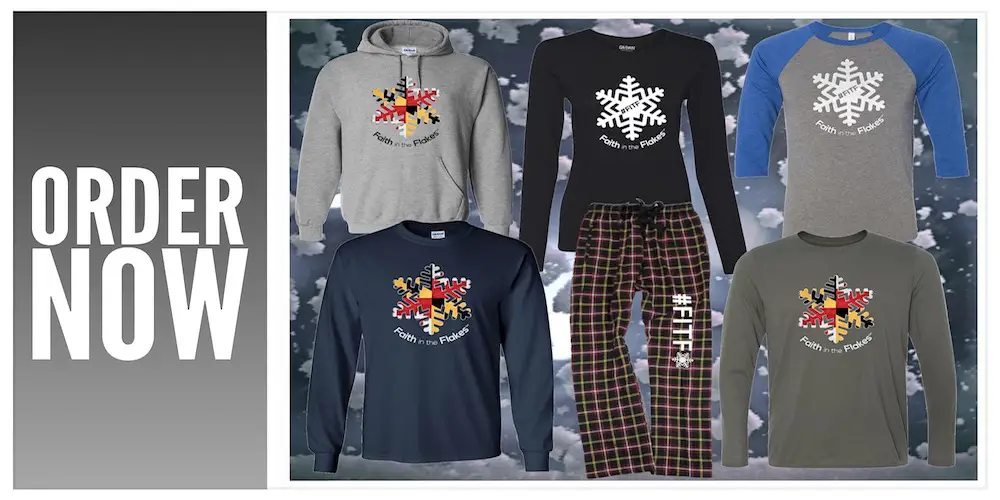 Get the award winning Kid Weather App I made with my oldest son and support our love for science, weather, and technology. Our 3 year anniversary of the release and our contribution to STEM education is this November. It has been downloaded in 60 countries, and works in both temperature scales. With your support we can expand on the fun introduction to science and real weather.
Please share your thoughts, best weather pics/video, or just keep in touch via social media
Also See:
My Winter Outlook 2017-2018 for more snow
La Nina Formed: What it could mean to our winter
NOAA Winter Outlook: Not The Best But Not The Worst For Snow
Two Farmers Almanacs Winter 2018 Outlooks
Winter Weather Folkore: Suggestions from Animals and Crops
First Frost and Freeze Dates For Maryland (southern PA and northern VA)
My Preliminary Winter Outlook Notes
Low Snow Winters In Baltimore: To Repeat Or Not Repeat
NOAA Ranks Blizzard 2016 4th Worst Snowstorm On Record
Blizzard 2016 Record Top Snowstorm: Area Totals