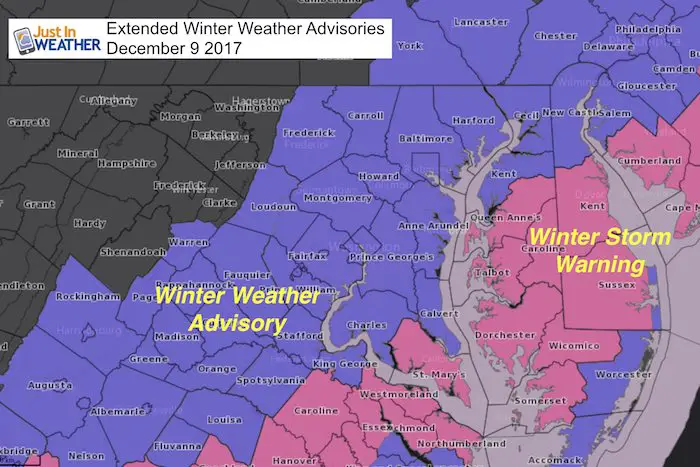 12:20 PM Saturday December 9
The storm is now doing what it was supposed to do and we are getting some adjustments to the advisories and warnings from the National Weather Service. The basic idea here is picking up on what I wrote this morning… We will get snow to last longer into the evening and have to deal with potential icing on roads then. For simplicity consider just about all of these shaded counties to deal with potential icing until 9 PM. I have the radar simulation below to show the movement and end of the snow.
St. Mary's County is in the Winter Storm Warning now with potential for 6 inches of snow.  I will post my final map and forecast snow below but many metro areas in good shape to hit the 4 inch mark.
Keep In Touch All Winter
Click here to sign up for email alerts…. Just in case you don't get the post on your social media feed
Radar Loop: 4 Hours Ending At Noon
You may need to refresh to replay 
There is ample supply of moisture flowing in now that we broke the dry slot. If you had sleet that is in indication that there is warmer air at cloud level with the moisture. When it transitions over to snow, the flakes will be larger and increase accumulation.
Doppler Radar at 12:15 PM
I did not color this in for snow to show the two bands of heavier intensity looking almost like railroad tracks. The yellow shade shows moderate snow into Mount Airy and Westminster and Shrewsbury PA.  Another along the Bay near Annapolis and crossing Kent Island to Rock Hall. This may have sleet mixed in.
Graupel has also been reported. This is when partially melted snowflakes refreeze into what like like tiny styrofoam balls. That is anther signal of warmer air aloft with the added moisture.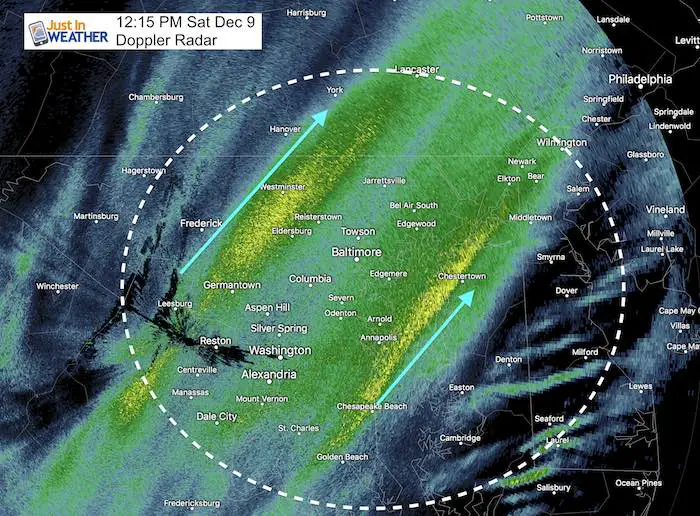 —> slider: Simulated Radar
The snow intensity will actually pick up for a few hours. This will extend through sunset allowing for more stickage and accumulation this evening. 
Notice the end time for the snow this evening. It may become slippery on the road and especially sidewalks and stairs.
[metaslider id=55503]
Crunch Hour: Temperatures
The time between 3 and 5 PM (actually 2 hours) is when marginal freezing conditions can allow for the west or slushy stuff on the ground to get crunchy. This is when ice can form and snow can have a better chance to lay and stay.

My clients canceled evening activities due to the potential icing. Be careful if you are out at this time.

Wet pavement will lily freeze tonight, so do your salting liberally. 
How Much Snow?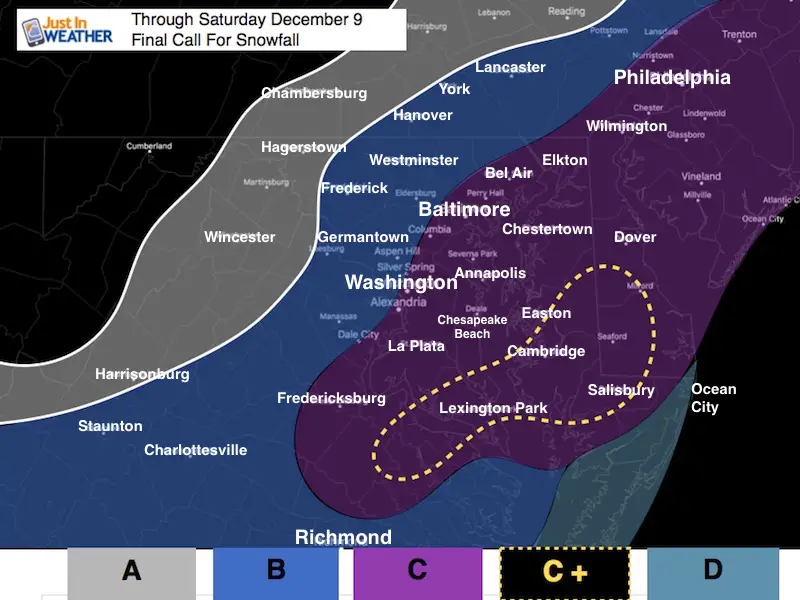 A: Flurries or light snow. Dusting Possible
B: Light Snow and slippery roads after 3 PM.  Between 1 and 3 inches.
C: This is the range I expect 4 inches as a goal. I mentioned up t0 10 inches last night and that was too broad only considering the heavy snow in the southern zone. I still see this potential on the high end in St. Mary's County and the lower Delmarva.
C+ This is the 10″ in areas like Salisbury that already got 7″. They will get more snow this evening.
D: The beaches have snow cover and will get more. A mix with sleet during the day and snow with some additional inch or two after 5 PM
Snowstix- We Need You To Measure Snow Too
We are giving 10% of each sale to programs that benefit pediatric oncology patients.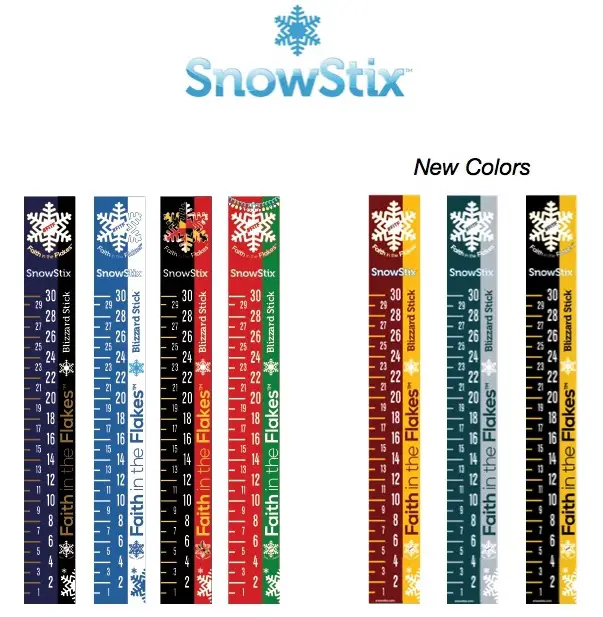 Faith in the Flakes Online Store
PJ bottoms still inside out- They have to be to help bring on the snow.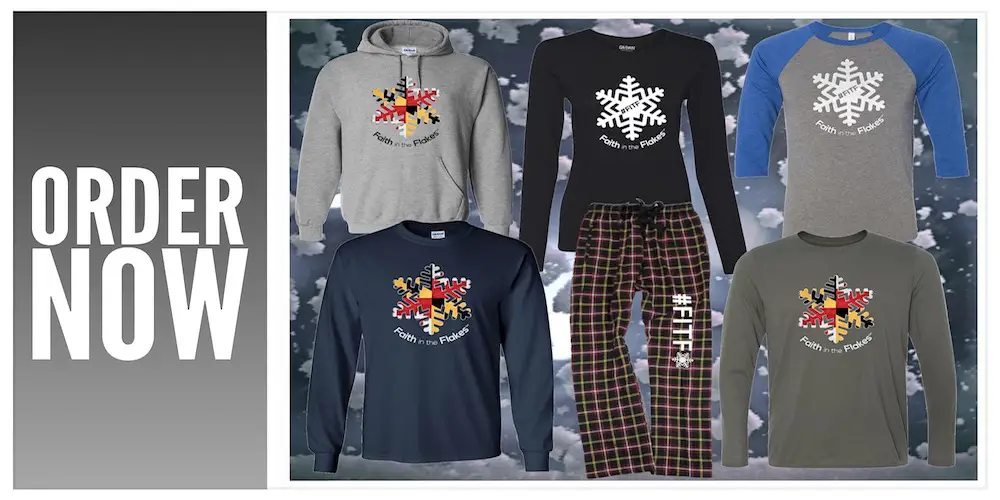 Get the award winning Kid Weather App I made with my oldest son and support our love for science, weather, and technology. Our 3 year anniversary of the release and our contribution to STEM education is this November. It has been downloaded in 60 countries, and works in both temperature scales. With your support we can expand on the fun introduction to science and real weather.
Please share your thoughts, best weather pics/video, or just keep in touch via social media
Also See:
My Winter Outlook 2017-2018 for more snow
La Nina Formed: What it could mean to our winter
NOAA Winter Outlook: Not The Best But Not The Worst For Snow
Two Farmers Almanacs Winter 2018 Outlooks
Winter Weather Folkore: Suggestions from Animals and Crops
First Frost and Freeze Dates For Maryland (southern PA and northern VA)
My Preliminary Winter Outlook Notes
Low Snow Winters In Baltimore: To Repeat Or Not Repeat
NOAA Ranks Blizzard 2016 4th Worst Snowstorm On Record
Blizzard 2016 Record Top Snowstorm: Area Totals