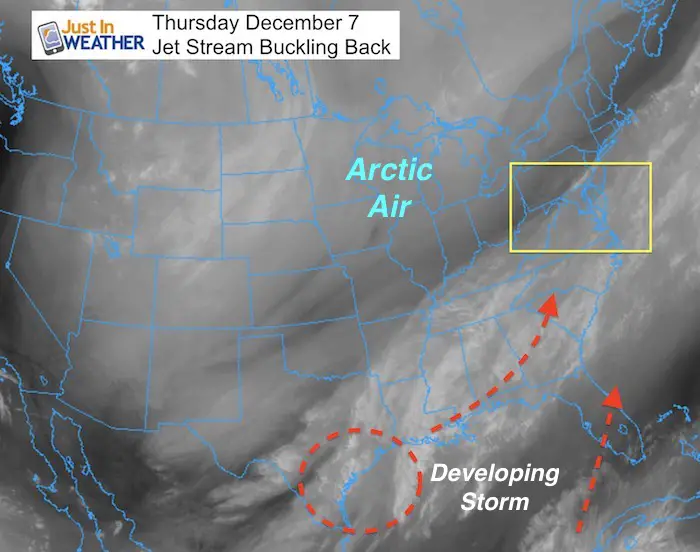 Thursday December 7
We have our first snow event on the way and it is a bit of a surprise. There is potential for some to get 1 to 3 inches of snow to lay and stay. I want to be honest and straightforward with you as I share as many snow maps as I can. The trough responsible for the arctic air trying to move in has hit a snag. The forward process has stalled off of the Florida coast and has been buckling backward today. The animation below shows this very well. Look on the lower right side… This is the main reason why the storm that appeared to be aiming too far off the coast is now setting sights on the Mid Atlantic. But I hesitate to jump all in for a few reasons I will explain here. Please note that while I love snow, the first event of the season is often a tricky but we definitely will have an active start to the weekend.
Note: I am writing this at 9 PM Thursday Dec 7. There are new models on the way in over the next two hours. I am not looking at them as I write this and want to see a full suite before I can go in. I do not like to make abrupt changes as models have tendencies to be erratic with snow events.
Also, there is an upper level disturbance that may follow with snow showers Sunday morning, and we still have another opportunity next Tuesday.
FITF gear links are below.
Keep In Mind These Opposing Forces
Will The Warm Chesapeake Bay warm the air and limit snow?
Thomas Point Light House Water = 50ºF. This will warm areas near the water and lead to more mixing or less stickage versus inland areas.
It can snow a lot and not stick if the surface air temperatures are above 32ºF
Stickage?
The ground is still warm. The first snow of the season must battle the warmth left at and below the surface.

Timing of the snow. It looks like a Saturday arrival around daybreak or in the morning. Getting snow to fall earlier will help it to lay and stay on the pavement better. We have a very low sun angle now but it helps to thaw pavement in snow.
Accumulation
Many computer models can be shown with colorful maps ,but they tend to overdo snow totals! They can account for what may fall, but not what will stick.
Water Vapor Animation
It doesn't take a trained eye to see the shift in the flow of moisture shifting back. There is a direct line from the Gulf Coast to the Mid Atlantic now. Just watching this makes me wonder if there will be any more westward shift with this storm projection. This is opposing my theory to shift farther east, and I am OK with that as long I can identify it soon enough.
I Didn't Trust It
This storm was on the models last week and then the shifted I expected off the coast was shown. The Canadian Model was one of the first to catch the pull back west. If you have been reading my stuff for a few years, then you know I love this model. But this time I didn't trust it. In fact the lack of accuracy this Fall has led to me to almost ignore it.
But here is the ironic thing… The Canadian GEM showed this inland snow yesterday (on the left). But as the other models agreed, it went out to sea today (on the right). Maybe it got lucky, but it's not mot favorite right now.
GFS Model Shows Snow
This did show the storm similar to this view last week, but went with my theory offshore. It has come back with snow reaching Baltimore and I-95.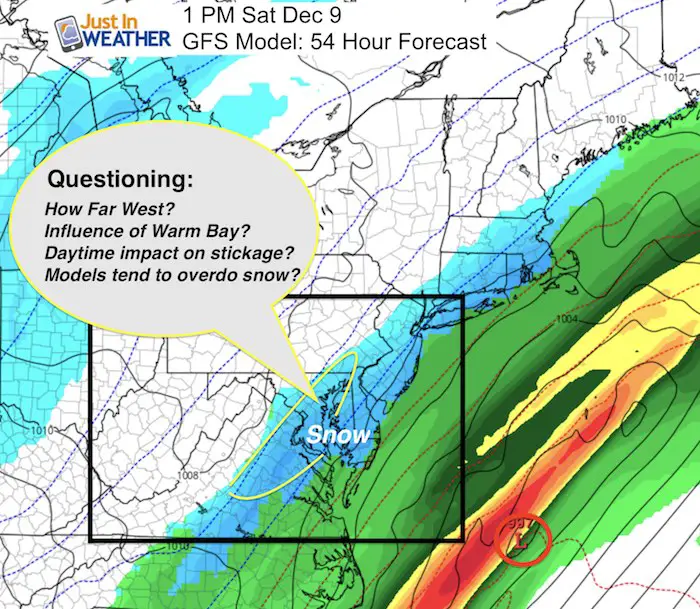 Snow Potential
My First Call. Model Maps Are Below:
I do not like to bite on big snow numbers where there are many warming factors to fight against. Thus, I want to show my tendencies but no promise yet.
If there is a further trend west, it would be a game changer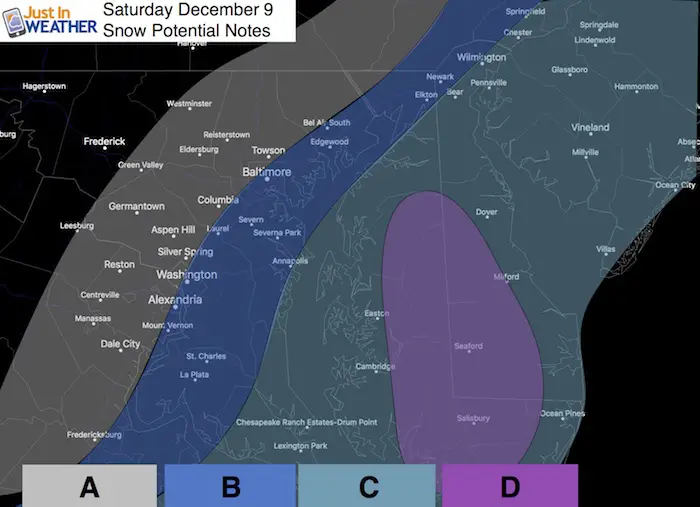 A: The back edge as of now is in metro Baltimore and Washington, but cuts off south of York. That is the extend of possible light snow. 
B: Best chance for light snow noticeably falling. But little to now stcikage.
C: Snow and a mix with sleet will fall most of Saturday… But around the water the warming effect will likely  keep most roads wet. Best chance for road issues might be around daybreak if it starts early enough. Then again after 3 PM.
D: The nest chance to get snow to lay and stay, especially in the afternoon and evening. Inland Delmarva should get 1 to 3 inches. 
*This is Much lower than the models are showing below
My Next Update: I will have a full update in the morning in my regular report. Please note I have an obligation to my clients to inform them in greater detail and first. I will follow with my snow maps later Friday morning. 
The GFS Model
This is showing some issued with the warm Bay. This filter via WeatherBell has a big void around the water as a result.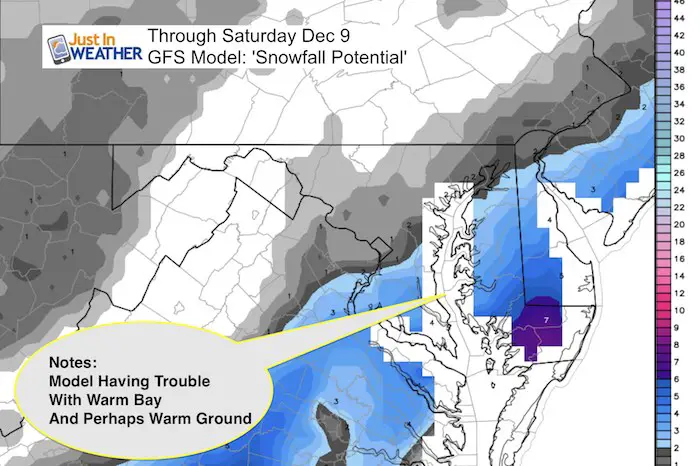 NAM 3 Km/WRF
This is known for being too cold and overdoing snow as a result. The later run of this model has the storm farther west and more snow in metro Baltimore, Washington, and Philadelphia. I don't see this verifying now.
NOAA and National Weather Service
They have accounted for the GFS model and playing on the warming impact of the water and ground.
Regional National Weather Service Offices
Baltimore/Washington
Mount Holly, NJ
Wakefield VA
Keep In Touch All Winter
Click here to sign up for email alerts…. Just in case you don't get the post on your social media feed
Get your FITF Gear Here
Snowstix- New Colors in 30″ and 36″
We are giving 10% of each sale to programs that benefit pediatric oncology patients.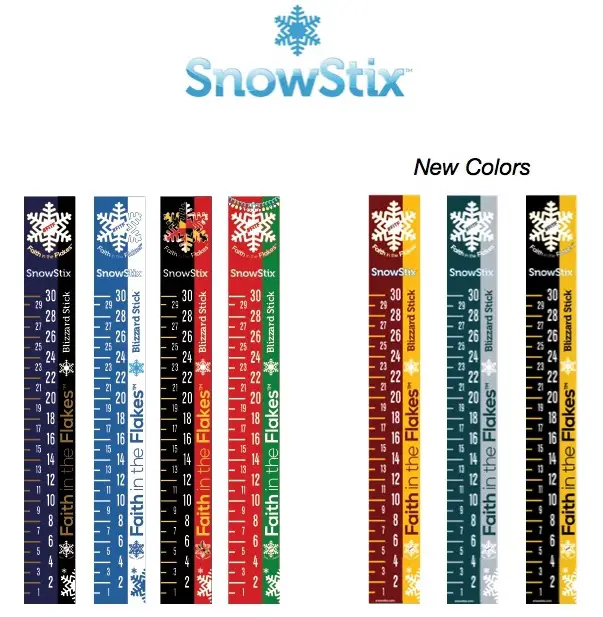 Faith in the Flakes Online Store
PJ bottoms still inside out- They have to be to help bring on the snow.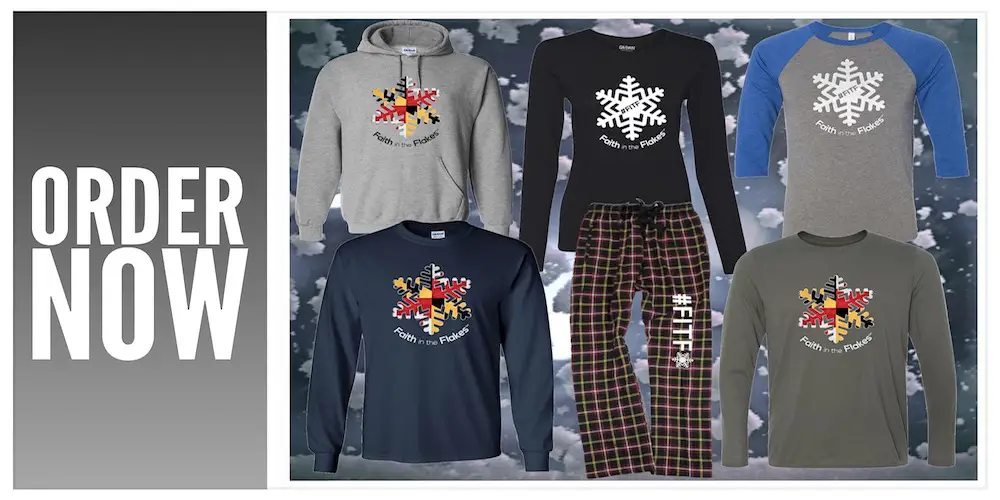 Get the award winning Kid Weather App I made with my oldest son and support our love for science, weather, and technology. Our 3 year anniversary of the release and our contribution to STEM education is this November. It has been downloaded in 60 countries, and works in both temperature scales. With your support we can expand on the fun introduction to science and real weather.
Please share your thoughts, best weather pics/video, or just keep in touch via social media
Also See:
My Winter Outlook 2017-2018 for more snow
La Nina Formed: What it could mean to our winter
NOAA Winter Outlook: Not The Best But Not The Worst For Snow
Two Farmers Almanacs Winter 2018 Outlooks
Winter Weather Folkore: Suggestions from Animals and Crops
First Frost and Freeze Dates For Maryland (southern PA and northern VA)
My Preliminary Winter Outlook Notes
Low Snow Winters In Baltimore: To Repeat Or Not Repeat
NOAA Ranks Blizzard 2016 4th Worst Snowstorm On Record
Blizzard 2016 Record Top Snowstorm: Area Totals
Extreme Weather of 2015 balanced out on both ends