Thursday December 7
The cold air is still filtering in and not fully here this morning. As it arrives, a storm will be arriving from the south and will reach parts of Maryland. This is a system that computer models showed last week and appears to verify farther east as I suggested.  What we need to consider now is that the warmer water will influence stickage and accumulation. This gives Salisbury a better chance than Cambridge and Crisfield for snow to lay and stay Saturday. There will be some slick travel and wintry scenes throughout southern Maryland on Saturday. The first inch or more possible.
Note: There were some computer models yesterday that tried to bring this snow event farther inland. It would have been easy to show those maps and generate more traffic on this page. This included the Canadian Model that I highlighted in the past. But as much as I love snow, I did not believe it and don't want to add to any hype or false impressions. It turns out that model and the others are now back east with this storm. That is important to keep in mind with futures systems and not to jump on one shift just because its what some want to see. Consistency and confidence are critical to maintain a better handle on all events this winter and that is my pledge to you.
If you are in Central Maryland or farther inland and filled like you are missing out, snow showers and flurries will reach the mountains this weekend and we do have a chance for another system early next week. I see the same error in the models which will take what looks like a miss now to verify with a greater chance we get more snow next Tuesday or Wednesday.  Here's the latest:
Stats For December 7
Normal High:  48ºF
Record High:  77ºF in 1998
Normal Low: 30ºF
Record Low: 6ºF in 2002
Snow Record: 0.8″ in 1969
Sunrise: 7:13 AM
Sunset 4:44 PM
Keep In Touch All Winter
Click here to sign up for email alerts…. Just in case you don't get the post on your social media feed
Today:
The next storm will be developing in the Gulf of Mexico and ride off the southeast coast. Cold it catching up to it could bring the first snow close to the Gulf Coast in Alabama and up towards Atlanta. But the track is close to where the black edge of rain is showing up this morning on this map.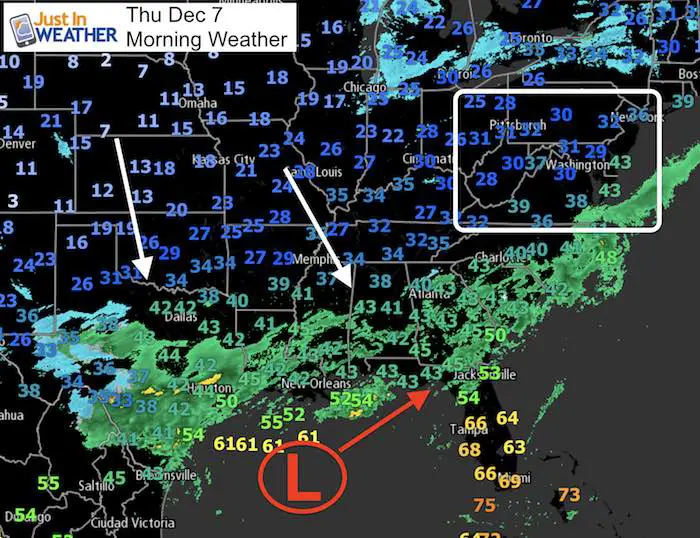 High Temperatures
The afternoon numbers will be close to where they were yesterday… More clouds farther south near the influence of the old front and path of the next storm.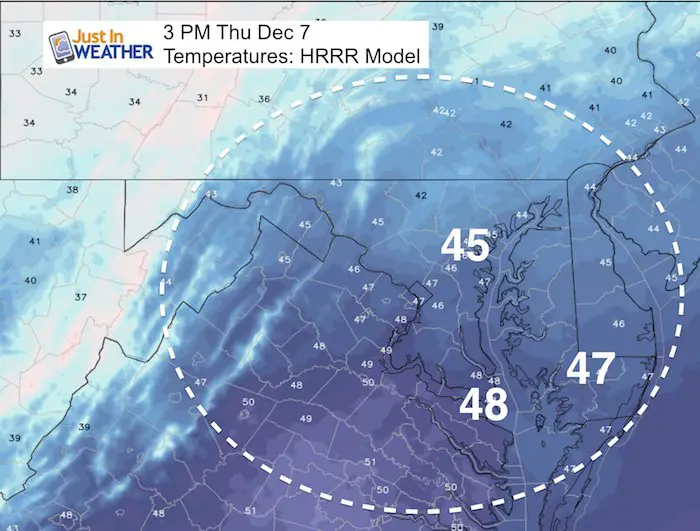 Friday:
The NAM Model is as aggressive as I would like to share bringing light snow into Southern Maryland Friday… Most likley in the form of flurries or light showers. The important factor here is that roads are likely to be wet (if this verifies), but temperatures will drop close to freezing by Saturday morning. So there could be some slick travel near Salisbury… which is where the best chance of more snow stickage will be on Saturday.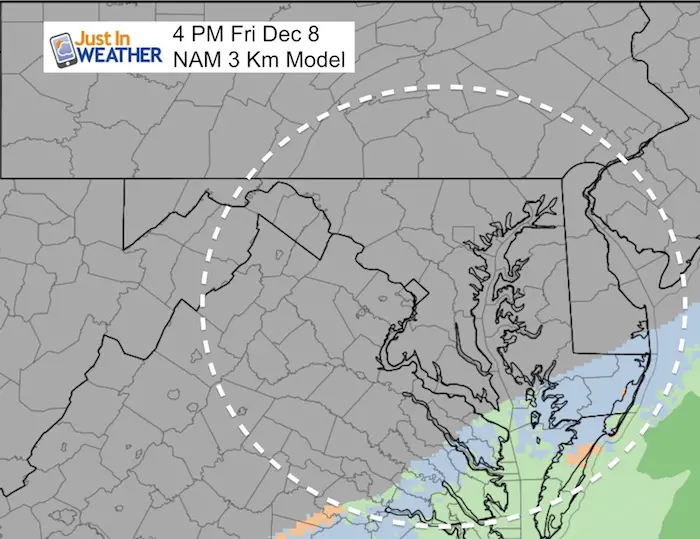 Afternoon Temperatures
Notice that it will be colder farther south where some light precipitation could be falling.
Saturday Snow:
Morning temperatures will be around freezing in parts of southern Maryland. Salisbury stands out with snow falling and insulated from the warmer Bay waters. It could be icy on some roads… but along the Chesapeake the morning temps should remain above freezing.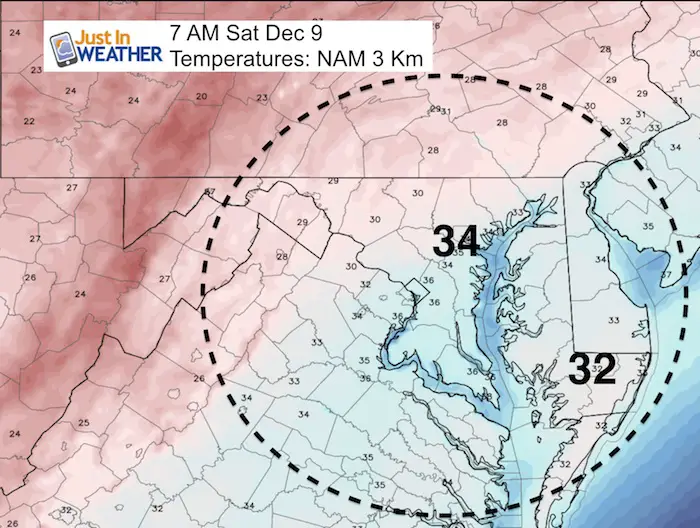 I am sticking with the GFS Model as it has been consistent in the past three days….
It shows flurries west to near the Bay Bridge… BUT- Consider the dry air north of the storm that could lead to virga (noting reaches the ground).  We need to credit the warmer Bay waters to influence the snow falling and resulting in a mix with sleet and or rain. Inland areas will be colder, so interior Delmarva near Salisbury has a better chance to more snow and stickage.
Wider View
The Surface Low passes well off of the coast. IF my Atmospheric Memory Theory holds, this could be father east and cut off the back edge of the snow line for what I describes above.
Storm Animation
Watch the Southern Snow and track off of the coast. Then see the system for next Tuesday… which oems't look like much now, but I expect the same model error will actually play to our favor. More below.

Snow Potential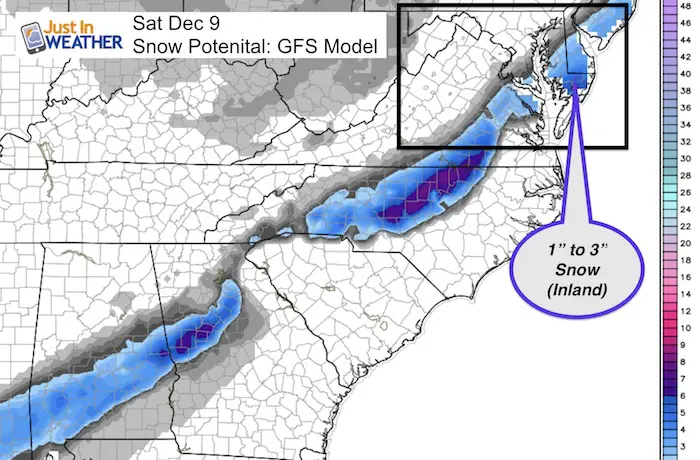 Next Tuesday
I see the same adjustment south and east that would make this next system more organized.  Watch for that to start to show in the models in a day or two. I see some light snow or mix possible for more of us then.
Temperature Trend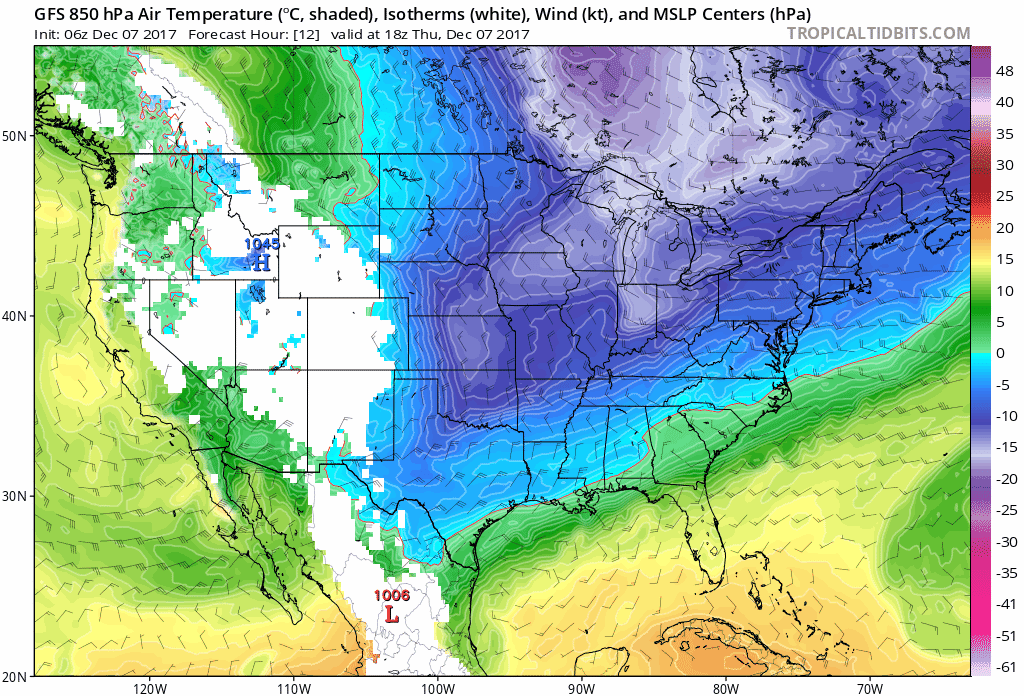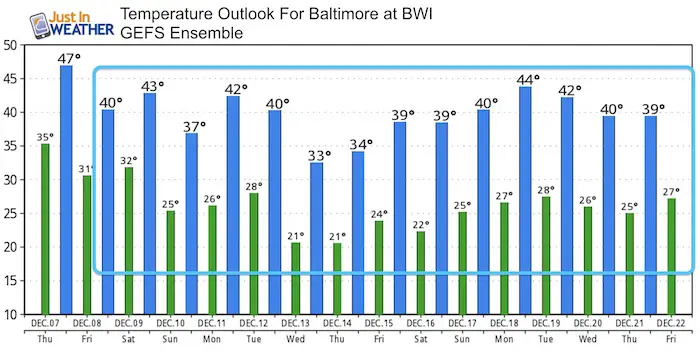 Get your FITF Gear Here
Snowstix- New Colors in 30″ and 36″
We are giving 10% of each sale to programs that benefit pediatric oncology patients.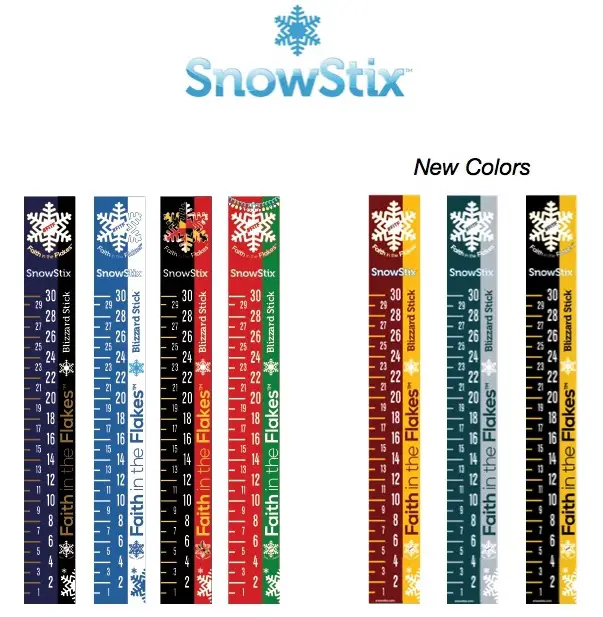 Faith in the Flakes Online Store
PJ bottoms still inside out- They have to be to help bring on the snow.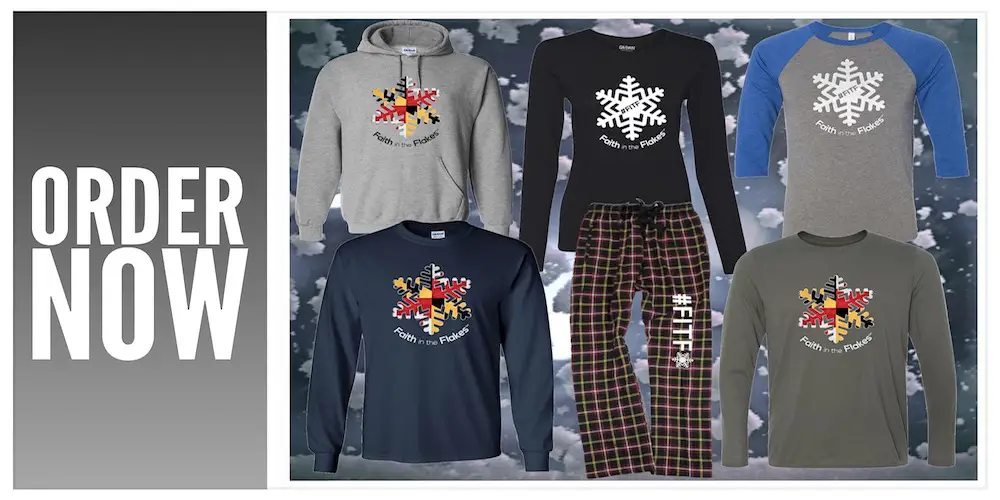 Get the award winning Kid Weather App I made with my oldest son and support our love for science, weather, and technology. Our 3 year anniversary of the release and our contribution to STEM education is this November. It has been downloaded in 60 countries, and works in both temperature scales. With your support we can expand on the fun introduction to science and real weather.
Please share your thoughts, best weather pics/video, or just keep in touch via social media
Also See:
My Winter Outlook 2017-2018 for more snow
La Nina Formed: What it could mean to our winter
NOAA Winter Outlook: Not The Best But Not The Worst For Snow
Two Farmers Almanacs Winter 2018 Outlooks
Winter Weather Folkore: Suggestions from Animals and Crops
First Frost and Freeze Dates For Maryland (southern PA and northern VA)
My Preliminary Winter Outlook Notes
Low Snow Winters In Baltimore: To Repeat Or Not Repeat
NOAA Ranks Blizzard 2016 4th Worst Snowstorm On Record
Blizzard 2016 Record Top Snowstorm: Area Totals