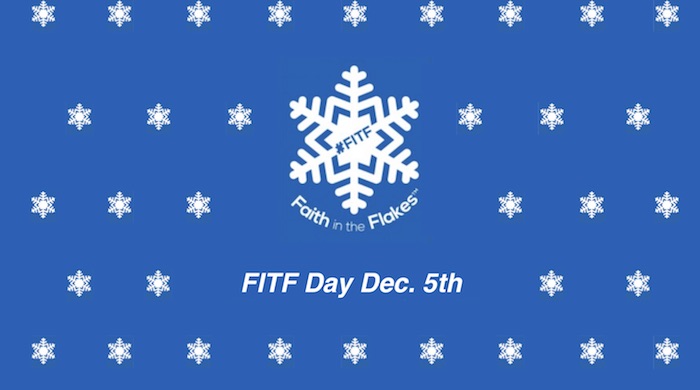 Wear Your FITF Gear on December 5th
I encourage you to wear your #FITF shirts (or PJs) on December 5th to show our unity for the love of snow and that we know we will get our first flakes very soon. Last year I announced a holiday and in the effort of helping snow lovers unite, I want to keep that alive. Actually, this holiday was already in place, I just wanted to put a name and tradition to go along with it.
December 5th is a date very familiar for people in the Mid Atlantic that have a snow obsession like mine. It was the date for our first snow of the season almost every year last decade. I need to preface that it was a 'last decade' thing. The pattern may have stopped, but it has not stopped us from dreaming.
Reversal Of Fortune In One Year
December 5th, like any other date in weather records has extremes. This date in Baltimore highlight the record high temperature in 2001, followed by the record highest snow a year later in 2002. Much like my theory of Atmospheric Memory, there are sometimes patterns on the calendar…
75ºF on 2001 = Record High Temperature in Baltimore
7.4″ snow in 2002 = Record Highest Snowfall (for the date) in Baltimore
6.8″ snow in 2003 = The Tradition Was Born
*But is was Soooo Last Decade!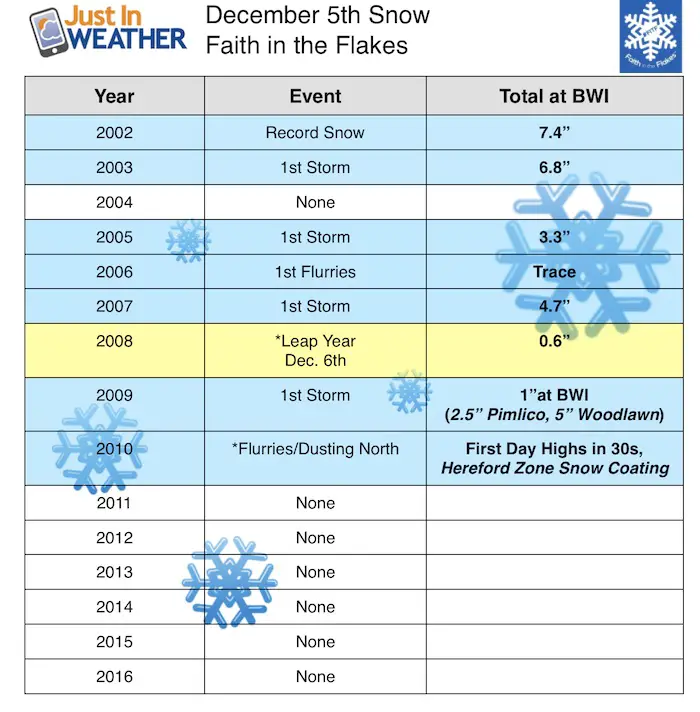 Nothing lasts forever, but we can hold on to the memories of a good snow pattern.  We can also look at this time frame as the start of our switch to winter weather.
Average Snow Each Month: Baltimore
A typical December would bring 3.1″ of snow to Baltimore measured at BWI Airport.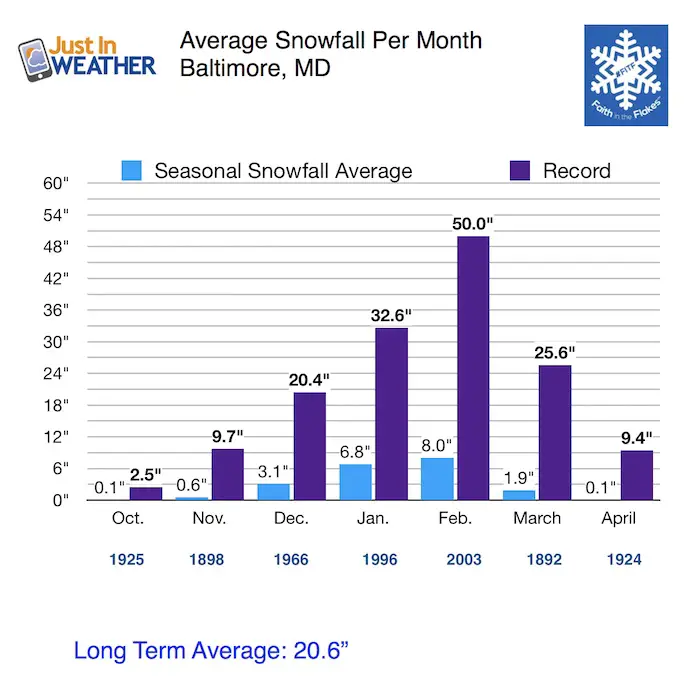 The record of 20.4″ was set in December 1966. We were close in 2009 with the first of three blizzards, but the snow measurements initially reported by BWI were downgraded after it was discovered that FAA guidelines of measuring snow were being used and not compliant with NOAA guidelines. The most snow is usually in the month of February.
While December 21st has the lowest sun angle and least about of daylight, the coldest time is the second and third week of January.
Click here to see more about Maryland Winters
Faith in the Flakes Online Store
Before you think this may be some marketing ploy, I want to be transparent. Faith in the Flakes was something that started with my oldest son when he was 3 years old. We missed a snowstorm I was expecting.  The first time he experienced both his dad and a weatherman being wrong. I wanted to convince him we had more 'right' in the bucket. After saying this phrase to each other, we got our next snow in full force.
Yes, I sell shirts, PJs, and Snowstix with #FITF on them.  A portion of all sales goes to programs for pediatric oncology patients. When I do assemblies in schools that join in to purchase their FITF spirit shirts, some of the proceeds goes back to their school and helps to bring my program for free. In the past few years this has amounted close to $15,000 raised for Maryland local school PTO and PTA. Some schools in turn sent their funds this fall to Hurricane disaster relief.
PJ bottoms still inside out! They have to be to help bring on the snow.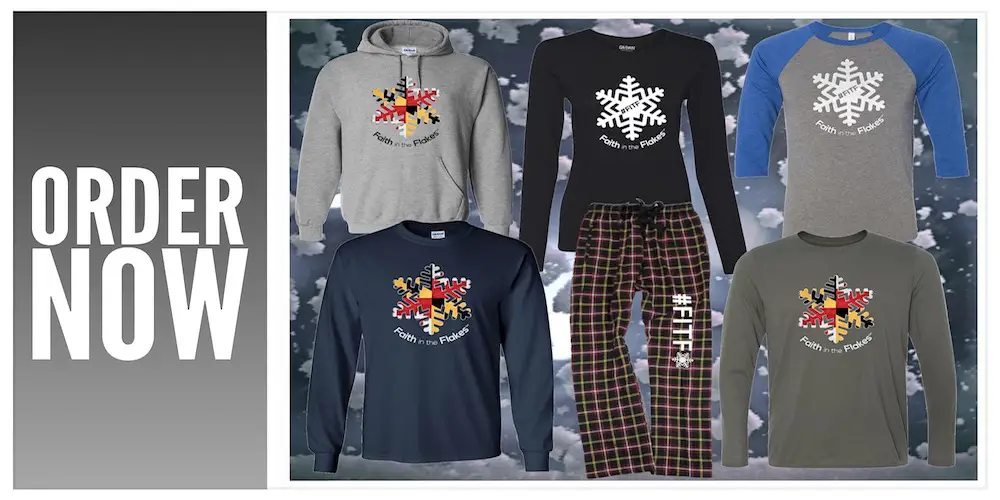 Snowstix- New Colors in 30″ and 36″
We are giving 10% of each sale to programs that benefit pediatric oncology patients.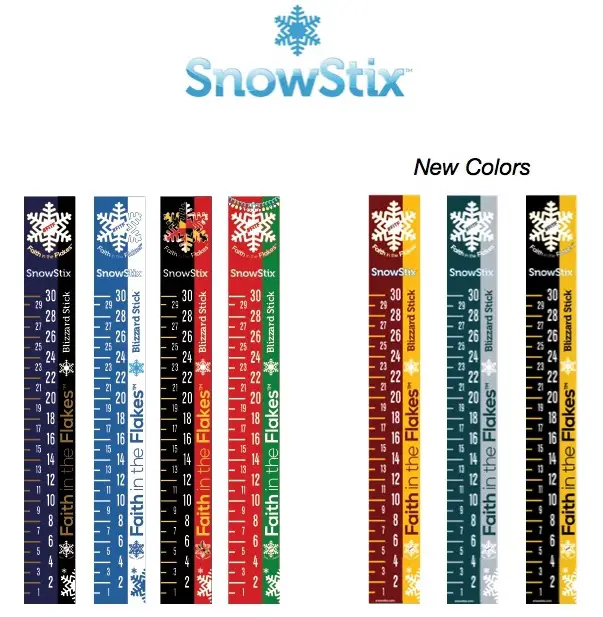 Keep In Touch All Winter
Click here to sign up for email alerts…. Just in case you don't get the post on your social media feed
Get the award winning Kid Weather App I made with my oldest son and support our love for science, weather, and technology. Our 3 year anniversary of the release and our contribution to STEM education is this November. It has been downloaded in 60 countries, and works in both temperature scales. With your support we can expand on the fun introduction to science and real weather.
Please share your thoughts, best weather pics/video, or just keep in touch via social media
Also See:
My Winter Outlook 2017-2018 for more snow
La Nina Formed: What it could mean to our winter
NOAA Winter Outlook: Not The Best But Not The Worst For Snow
Two Farmers Almanacs Winter 2018 Outlooks
Winter Weather Folkore: Suggestions from Animals and Crops
First Frost and Freeze Dates For Maryland (southern PA and northern VA)
My Preliminary Winter Outlook Notes
Low Snow Winters In Baltimore: To Repeat Or Not Repeat
NOAA Ranks Blizzard 2016 4th Worst Snowstorm On Record
Blizzard 2016 Record Top Snowstorm: Area Totals
Extreme Weather of 2015 balanced out on both ends