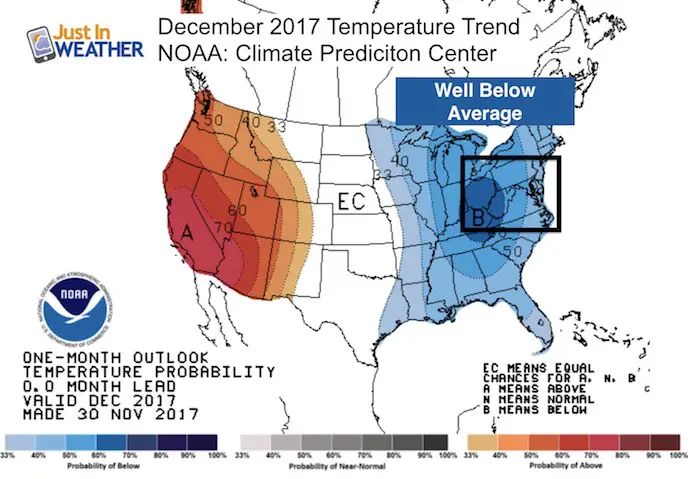 December 2 2017
What is been advertised for a while is now on our doorstep. If you love cold weather or just winter in general, your time is coming! NOAA and the Climate Prediction Center is now joining the party to highlight the cold month ahead.  The overall pattern is about to turn and tap into extremely cold air sitting overnight Siberia, Alaska, and northern Canada. You may hear the resurgence of the Polar Vortex that could make a visit across the northern US border. This is not like what we had in 2014 (yet), because that visit came at the coldest time of the year. Since there is plenty of land that is lacking snow cover to our north, some of this air mass will modify. But there will be no doubt next weekend… and much of this month. This is a reversal of the warm patterns we have had in recent years and getting snow to fall in some capacity before Christmas is looking pretty good.
Short term:
This weekend will seasonal with near average and perhaps a good view of the SuperMoon Sunday. I will have more on that in my next report.  There will be a warm up ahead of the arctic front on Tuesday and some areas will hit 60ºF. Then the bottom falls out.  While the front will swing through Wednesday, the really cold air will settle in Friday and Saturday next week. Check it out:
Stats For December 2
Normal High:  50ºF
Record High:  72ºF in 1970
Normal Low: 32ºF
Record Low: 9ºF in 1967
Snow Record: 3.0″ in 1952
Sunrise: 7:08 AM
Sunset 4:44 PM
Stats For The Month Of December
Highs Cool from 50ºF on Dec 1st to 42ºF starting Dec 28th
Record High for the month: 77ºF on a few dates… Dec 6 and Dec 7 in 1998; Dec 29 in 1984
Lows Drops from 32ºF on Dec 1st to 25ºF starting on Dec 29th
Record Coldest for the month: -3ºF on Dec 29th in 1880
Snow: Average for the month = 3.0″
Snow: Biggest 1 day total = 17″ on Dec 19 in 2009
Sunlight loss between Dec 1 and Dec 21= 12 minutes and 17 seconds
Keep In Touch All Winter
Click here to sign up for email alerts…. Just in case you don't get the post on your social media feed
Highs Today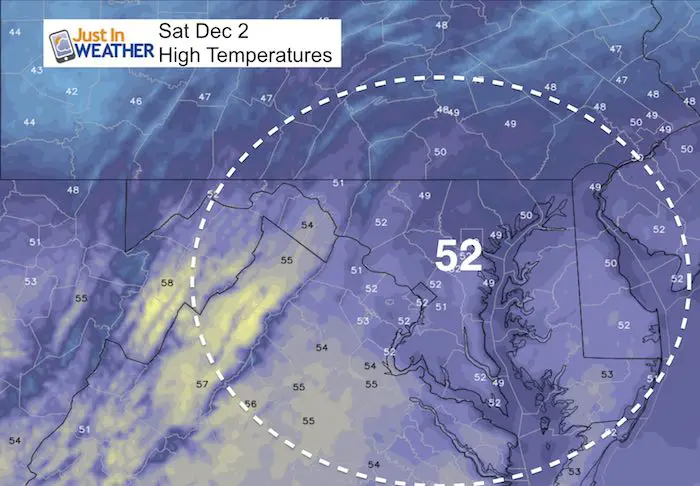 Jumping Ahead… To Tuesday
This is the warm day ahead of the cold front. Temps will be near 60ºF but look for rain to arrive later in the day.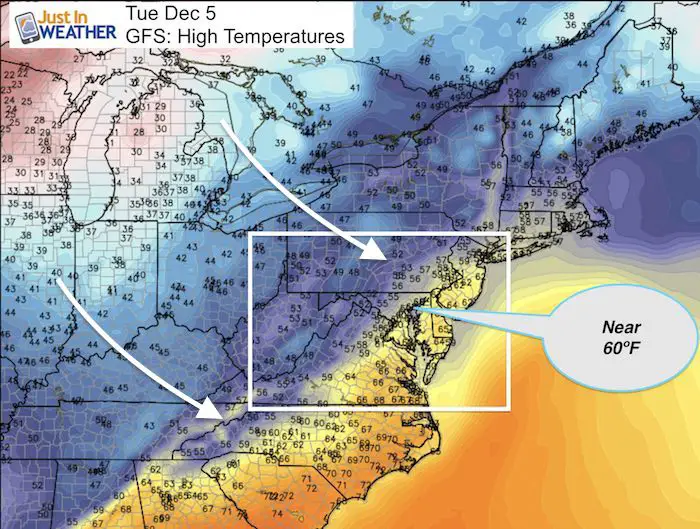 The Big News
Polar Vortex: It's Back…
The core circulation that does circulate around the Arctic is going to drop south across the US/Canadian border next weekend. This will surge cold air across the eastern US and lock in for the rest of the month. Local high temps will be in the 30s or colder. Snow chances will increase and a hard freeze could reach into the Gulf Coast.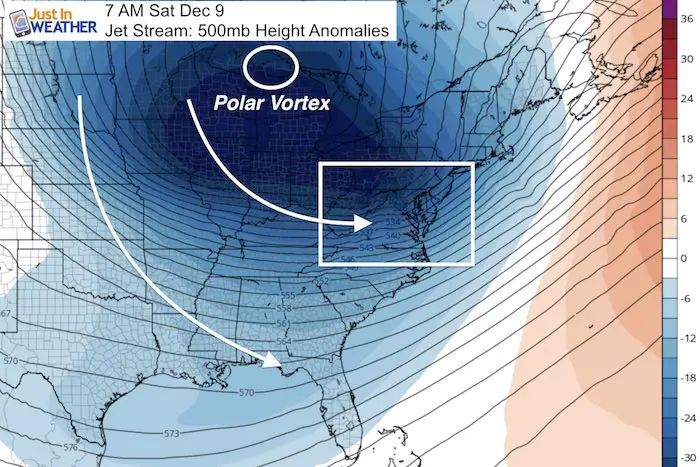 Cold Front And Cold Pattern Animation
This is the GFS Model showing the rain with the cold front… and then some flurries or light snow in blue. I do not place much credit on specifics beyond next Friday… but there will be a chance for our first flakes in the next two weeks.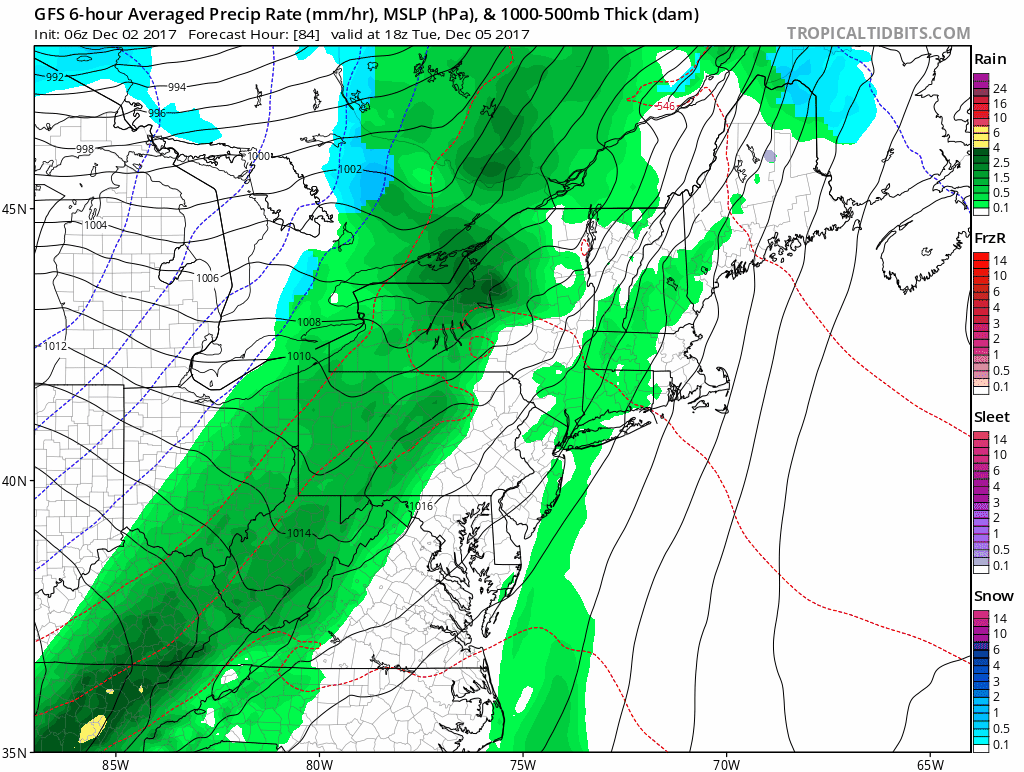 Arctic Air Next Weekend
Temperature Outlook
Compare the GFS Model outlook shown in the maps to the European Model (which has trended colder).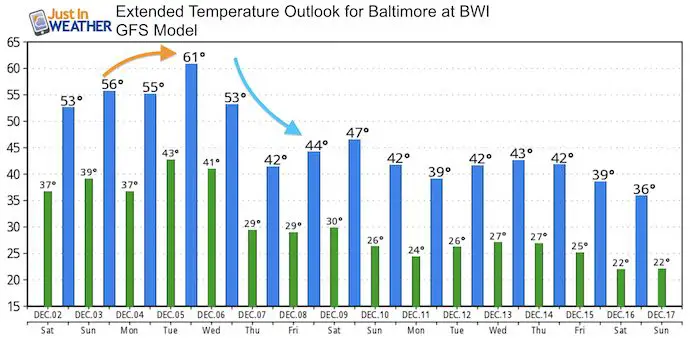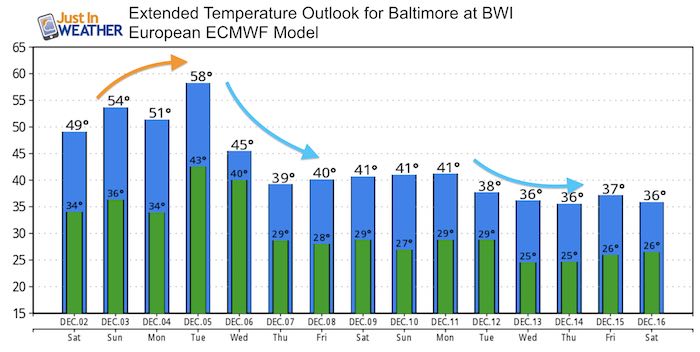 Snowstix- New Colors in 30″ and 36″
We are giving 10% of each sale to programs that benefit pediatric oncology patients.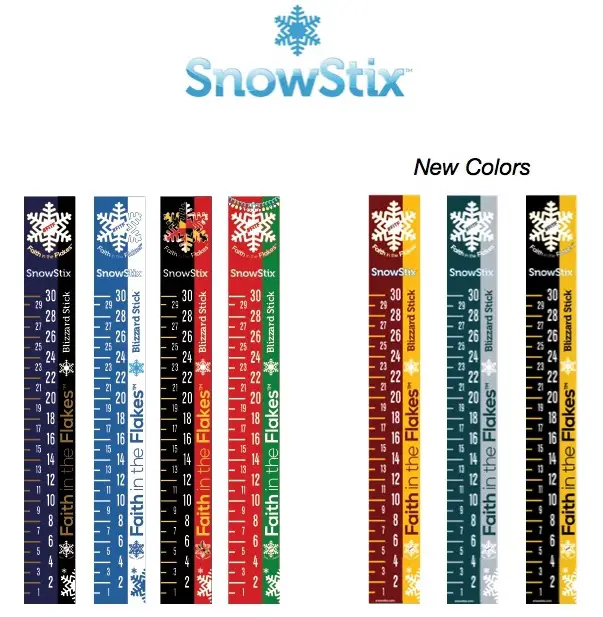 Faith in the Flakes Online Store
PJ bottoms still inside out- They have to be to help bring on the snow.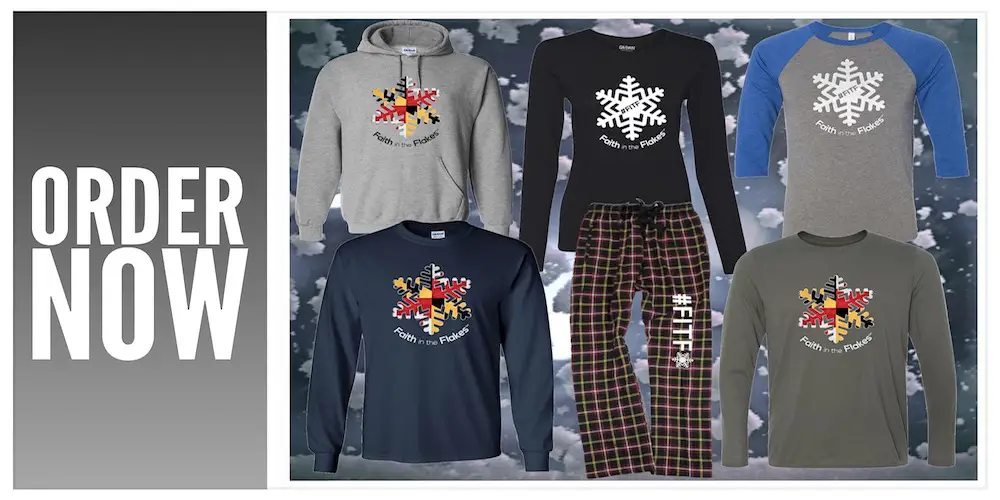 Get the award winning Kid Weather App I made with my oldest son and support our love for science, weather, and technology. Our 3 year anniversary of the release and our contribution to STEM education is this November. It has been downloaded in 60 countries, and works in both temperature scales. With your support we can expand on the fun introduction to science and real weather.
Please share your thoughts, best weather pics/video, or just keep in touch via social media
Also See:
My Winter Outlook 2017-2018 for more snow
La Nina Formed: What it could mean to our winter
NOAA Winter Outlook: Not The Best But Not The Worst For Snow
Two Farmers Almanacs Winter 2018 Outlooks
Winter Weather Folkore: Suggestions from Animals and Crops
First Frost and Freeze Dates For Maryland (southern PA and northern VA)
My Preliminary Winter Outlook Notes
Low Snow Winters In Baltimore: To Repeat Or Not Repeat
NOAA Ranks Blizzard 2016 4th Worst Snowstorm On Record
Blizzard 2016 Record Top Snowstorm: Area Totals
Extreme Weather of 2015 balanced out on both ends