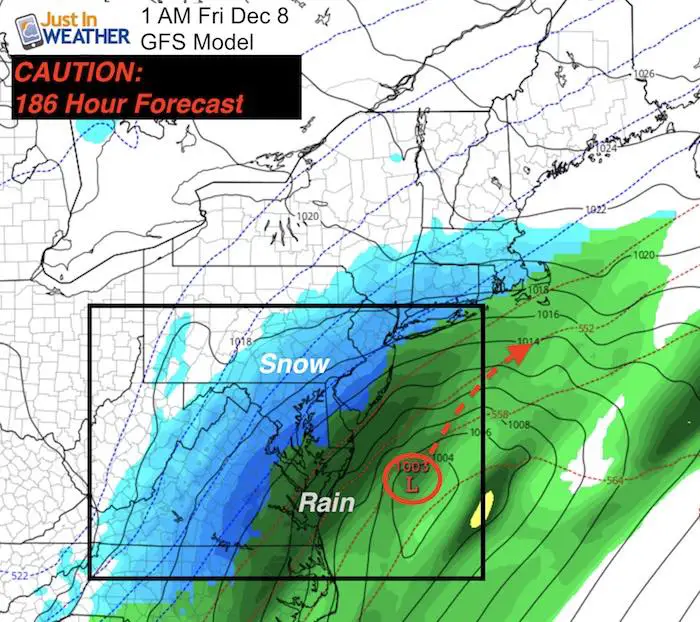 Thursday November 30 2017
The latest model plot from the GFS shows the arctic front next week passing through and then developing a coastal storm. This particular model now shows a snow event for the Mid Atlantic US on Friday December 8. This is stronger with a westward trend form the prior model run. It looks pretty and I have posted the animation loop below, but I don't buy it! I can already see the rumors flying and need to add some caution. This is a 186 hour forecast map!  Twice as far out in time as what I feel confident in. Also keep in mind, the Bay is still pretty mild and would limit potential for nearby areas to sustain cold for stockage unless something special is happening.
The internet will occasionally be filled with posts about a large storm well ahead of time, and since this is the start of the season there is a lot of anticipation and anxiety. I have had plenty of questions asking to verify outlooks from other people. So, here is my take.
For starters, compare this to the European Model plot for the same time frame (also from this morning). This model has a reputation for being much more reliable in long range projections. While it does have the cold air in place and an active jet stream along the arctic boundary well off of the east coast… there is a whole lot of nothing going on here.
Winter Will Come Early
The winter season in the meteorological community beings on December 1. We use a full three month block of time for each season, and winter is December, January, and February. This is the time of year when each successful cold air mass is progressively colder. The days are shorter and the storms bring a better chance for snow. That is just how it goes, and despite a few years of warm starts to winter, this time around it looks like more normalcy retuning. But I need to caution the excitement for long range outlooks of snow. Even this latest model plot from the GFS Model showing an east coast snow event next Friday. That is 9 days away and I can't buy it now! But, I do stand by the entire pattern turning colder. That is why I prefer to show the jet stream that far out in time. This is what I have been posting in my forecasts: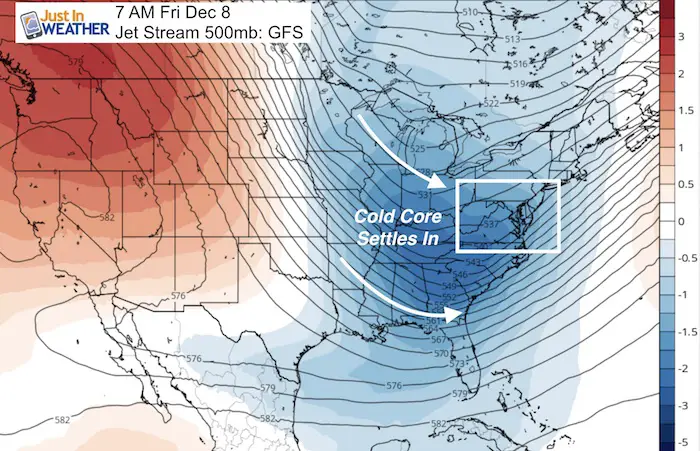 'Responsible' Love Of Snow
I have never hidden my love of snow with Faith in the Flakes. I reach over 5 million people a week online and I have paying clients that rely on my outlooks for their businesses. I must be careful in what I forecast and even suggest. As much as I want to see it, I can not put much credit to a forecast for a snow event a week away or longer. I've been in the forecasting biz for over two decades and been let down too many times. The truth is, that despite all advances in technology and revisions in complex calculations, the chaos theory rules. Farther out in time, small variables can have a larger impact. So a forecast accuracy drops dramatically after just a few days out in time.
Weather Posts Online
I welcome anyone and everyone who has an interest in weather. That's how all of us meteorologists got started. But the access to models and ability to show a plot like this can lead to rumors when most of the time the model will be wrong. I have not seen an accurate storm forecast by a computer model a week away. I do remember the big ones like  Superstorm '93 that put the old MRF model in the spotlight since it was accurate 120 hours (5 days away). But that wasn't always the case.
Compare Forecasts and Forecasters Often
Please read other posts in addition to mine. Look for the name and credentials. There are plenty of professionals on TV than elaborate more online. Some own their own companies and don't broadcast. Others could be hobbyists that do a good job or just like to be in the show. Just know who you are getting the info from and how they word things. It's easy to snow a map with snow. But is it explained and do they really know the info behind the pretty pictures?
In my Winter Outlook for 2018 I mentioned the error in computer models. The tendency is for something like this to end up farther east. It is possible the ingredients to make this form are off by just a few hours and it doesn't even materialize.
So while I would salivate if I saw this for a day or two away… Right now it is just fun for some and scary for others. I will not mention it again unless I see it still on the maps later this weekend. But if you want to dream, here's the animation.
GFS Model From 12 Z (7 AM EST) Thu Nov 30 2017
SnowStix Give-Away
To celebrate the start of winter, I am giving away FIVE SnowStix on December 1. Since social media does not always show you my posts, email is the best way to guarantee for you to see. Click here to sign up for email alerts. Sign up before 5 PM Friday December 1, 2017 and you (along with everyone already on the list) will be automatically entered to win a free SnowStix to measure snow this winter.
Faith in the Flakes Online Store
PJ bottoms still inside out- They have to be to help bring on the snow.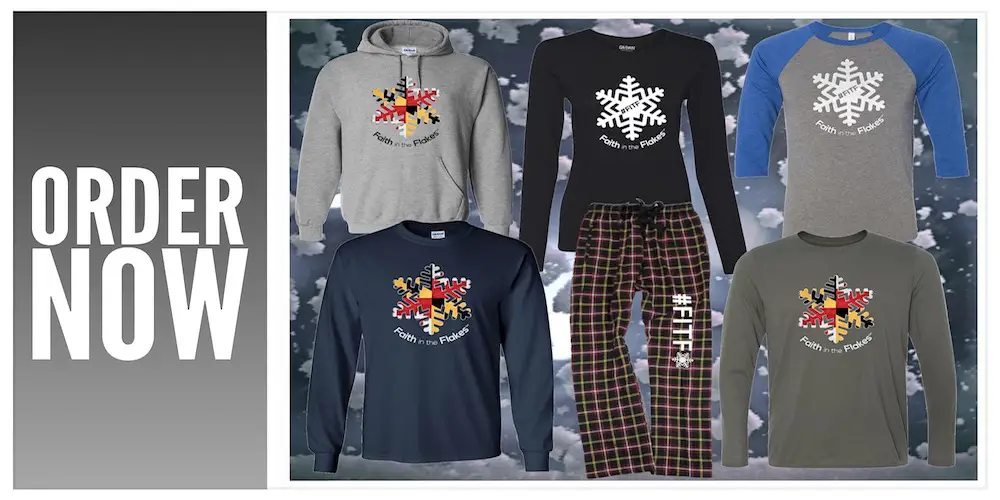 Snowstix- Ready For Delivery
We are giving 10% of each sale to programs that benefit pediatric oncology patients.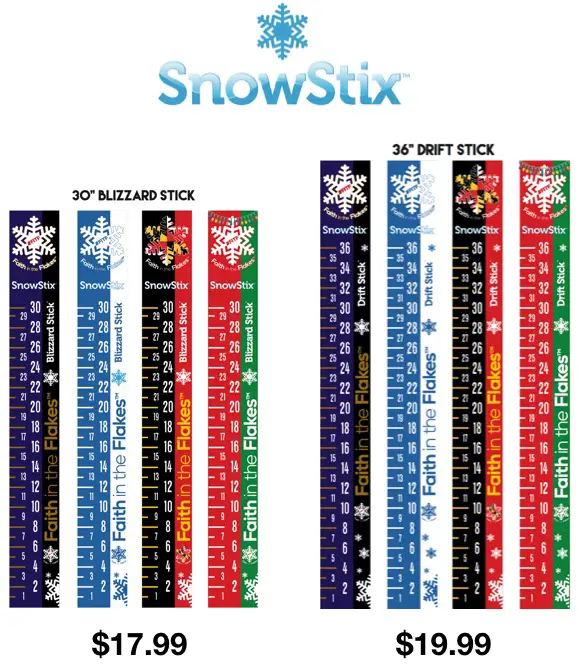 Get the award winning Kid Weather App I made with my oldest son and support our love for science, weather, and technology. Our 3 year anniversary of the release and our contribution to STEM education is this November. It has been downloaded in 60 countries, and works in both temperature scales. With your support we can expand on the fun introduction to science and real weather.
Please share your thoughts, best weather pics/video, or just keep in touch via social media
Also See:
My Winter Outlook 2017-2018 for more snow
La Nina Formed: What it could mean to our winter
NOAA Winter Outlook: Not The Best But Not The Worst For Snow
Two Farmers Almanacs Winter 2018 Outlooks
Winter Weather Folkore: Suggestions from Animals and Crops
First Frost and Freeze Dates For Maryland (southern PA and northern VA)
My Preliminary Winter Outlook Notes
Low Snow Winters In Baltimore: To Repeat Or Not Repeat
NOAA Ranks Blizzard 2016 4th Worst Snowstorm On Record
Blizzard 2016 Record Top Snowstorm: Area Totals