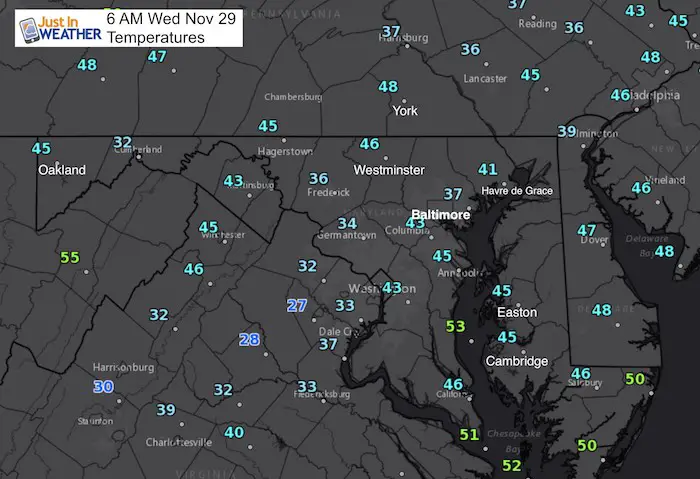 Wednesday November 29
If you snow and are anxious for winter please know I am not worried about this warm spell. In fact, I believe the combination of the cold shots we've had this month and a few days in the 60s are in signal the next change will be strong and the cold will hold. This morning is mild with temperatures about 10 degrees above normal, and the afternoon will again reach the 60s. Thursday night will bring a quiet cold front, meaning little to no rain. But it will cool down Friday and this weekend.  Next week is when the pattern change will make it's mark and possible bring in the first snow flakes of the season locally.
Stats For November 29
Normal High:  51ºF
Record High:  74ºF in 1927
Normal Low: 33ºF
Record Low: 13ºF in 1955
Sunrise: 7:05 AM
Sunset 4:45 PM
Keep In Touch All Winter: Sign up for email updates on new posts
Since you may miss some posts via social media, click here for email alerts as a way to make sure you don't miss any.  *You may have to refresh that page once for your browser to clear out the images.
High Temperatures Today: Another Warm November Day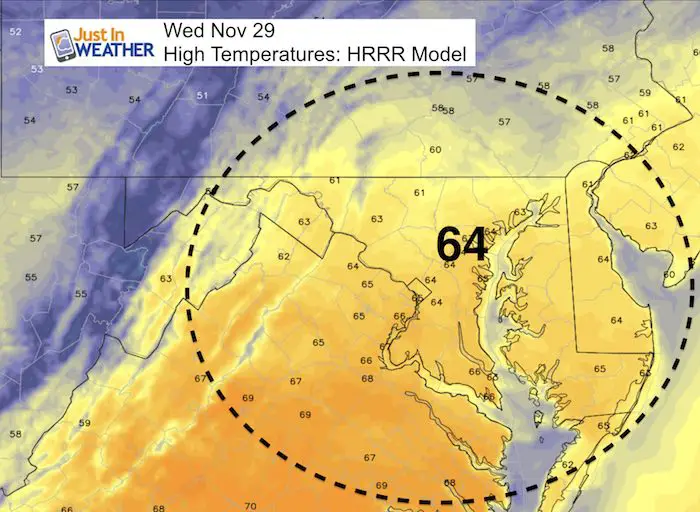 Thursday: The First Change
A cold front will bring some light showers in the evening and overnight. Many of us will not get a drop as the mountains will break this up. But clouds ahead of the front should keep us cooler before it arrives. The colder air will settle in Friday and this weekend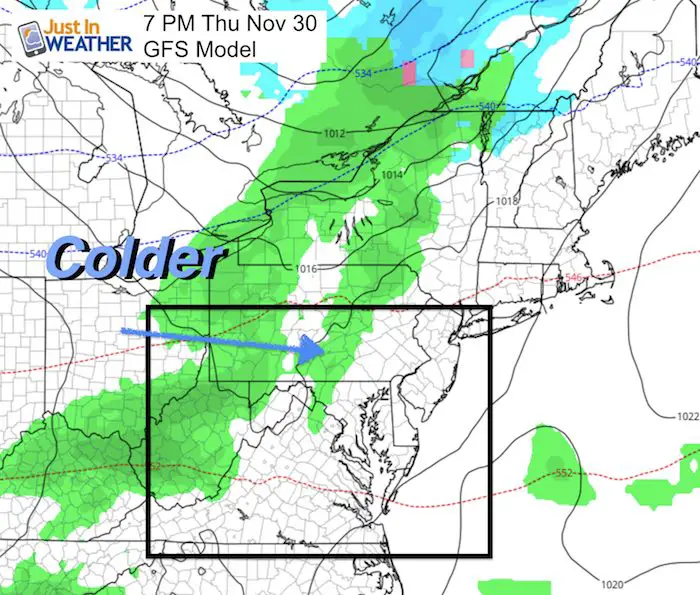 Next Week: Second Change Will Be More Abrupt
Here is the storm that is expected on December 5th, but it will be rain. I do not like to go beyond 7 days in the surface forecast maps since computer models are not very accurate this far out. I still see mostly rain, with snow in the mountains to our west. If we see the bias continue then this system will be farther east and perhaps a little earlier than shown now.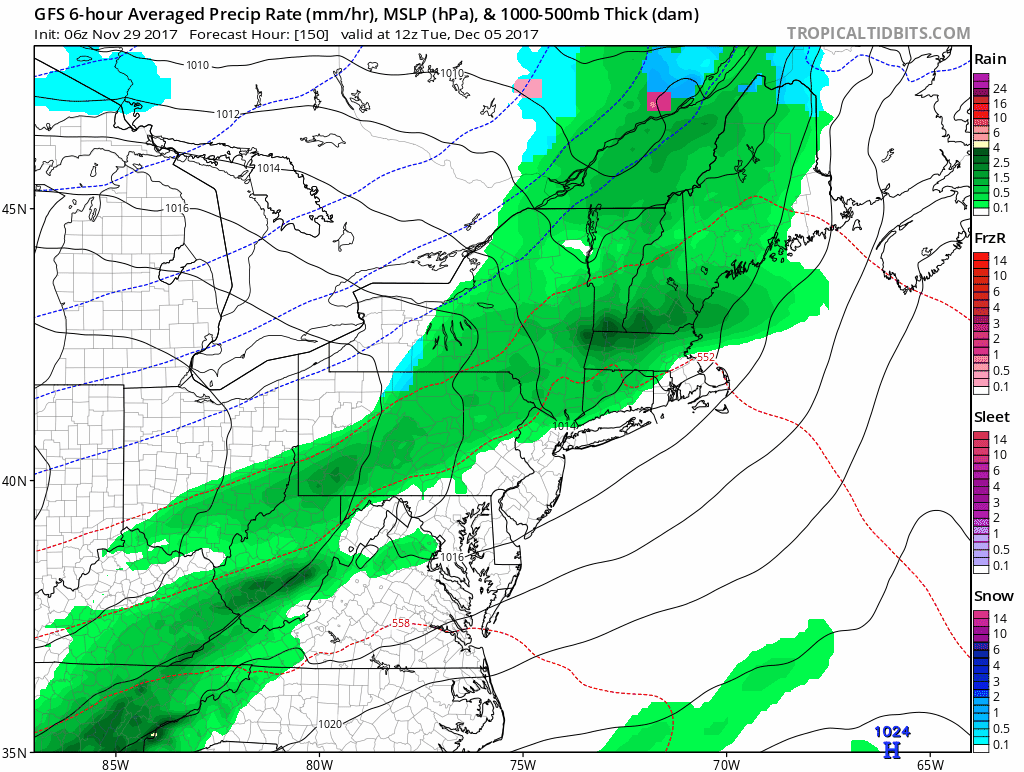 Jet Stream: The True Sign Of The Change
Following the storm will be the push of arctic air that we should see arrive December 6th. See the temperature outlook below and then the animation of this jet stream depicted by the European Model: The cold will hold.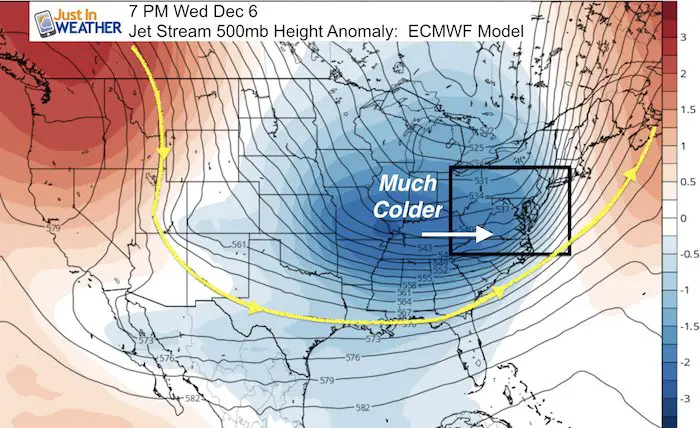 Temperature Outlook
This trend from the European Model highlights the near normal temperatures through the weekend. Our famous December 5th date will feature a rain event that will be followed by the arctic air mass. The cold will hold by next weekend.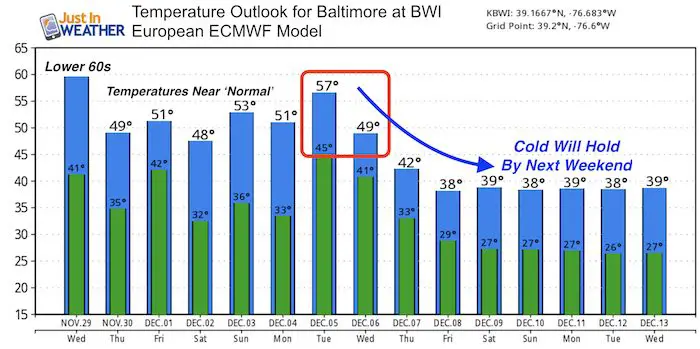 Jet Stream Animation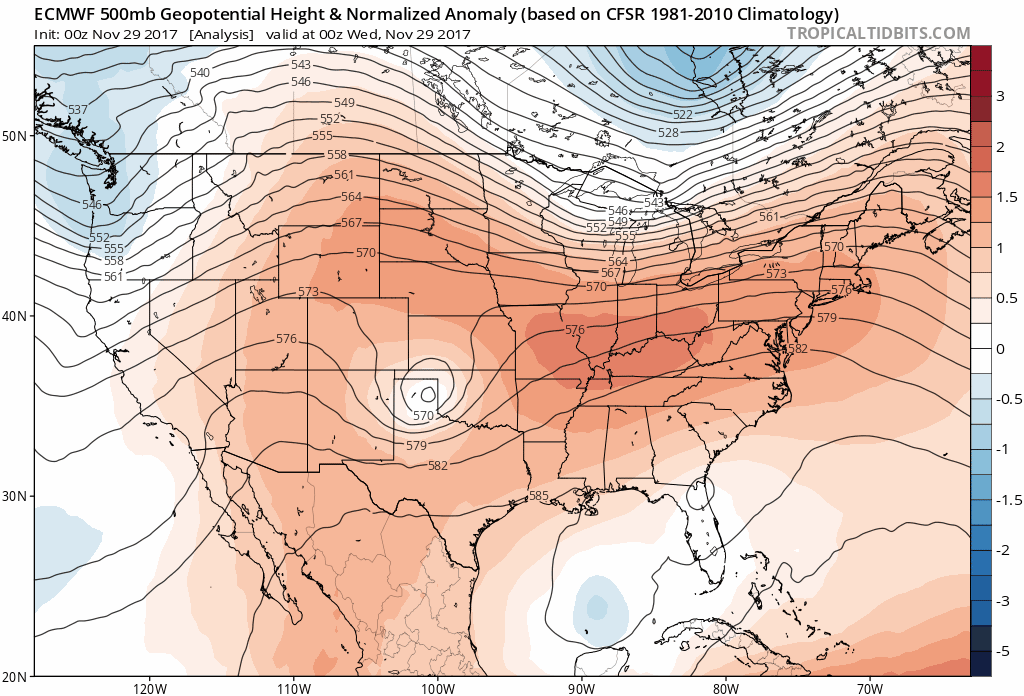 Important Note:
I have received quite a few messages from people referencing other weather outlooks showing snow storms in the long range. I DO NOT believe in showing anything of the sort beyond 7 Days. Most of the time these DO NOT play out. Computer model is a guide but it is flawed in this aspect. There is no reason to get hopes up to be let down.  Even if a storm is seen in the long range and has a chance to play out, it most likely would be different time frame and not how it is first show.  If I see consistency, I usually reserve my first look for 1 week away. That is plenty of time to plan ahead.
Faith in the Flakes Online Store
PJ bottoms still inside out- They have to be to help bring on the snow.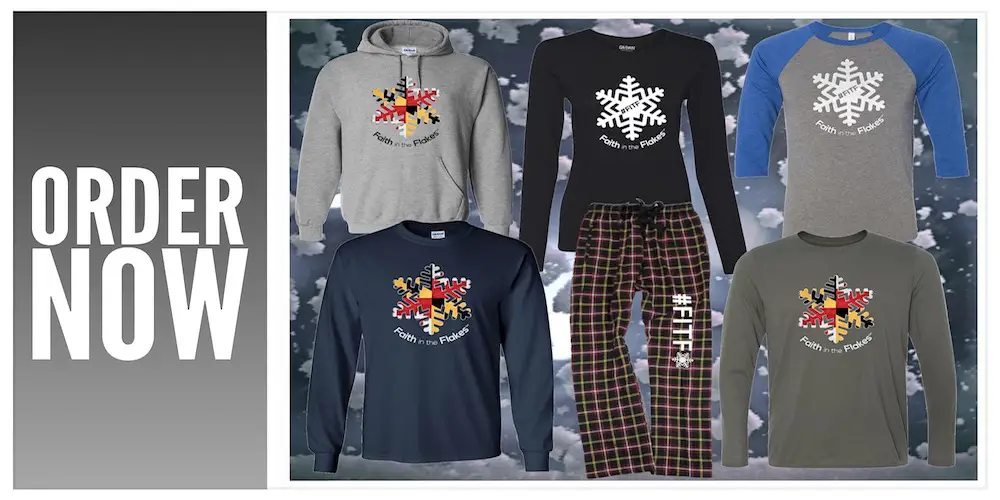 Snowstix- Ready For Delivery
We are giving 10% of each sale to programs that benefit pediatric oncology patients.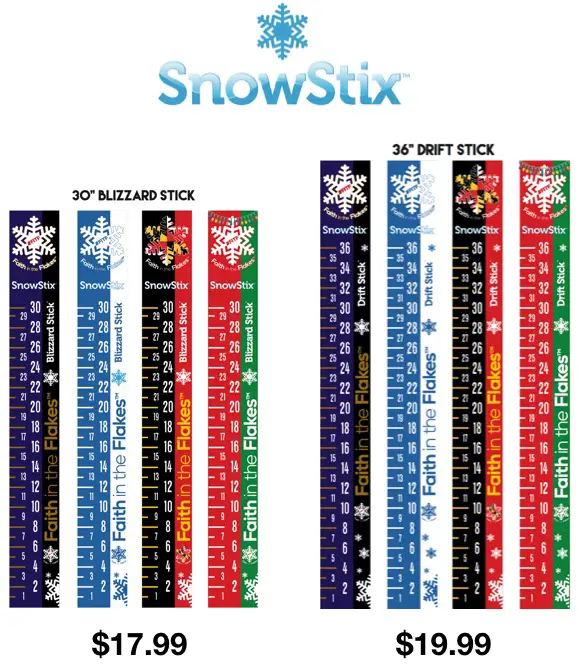 Get the award winning Kid Weather App I made with my oldest son and support our love for science, weather, and technology. Our 3 year anniversary of the release and our contribution to STEM education is this November. It has been downloaded in 60 countries, and works in both temperature scales. With your support we can expand on the fun introduction to science and real weather.
Please share your thoughts, best weather pics/video, or just keep in touch via social media
Also See:
My Winter Outlook 2017-2018 for more snow
La Nina Formed: What it could mean to our winter
NOAA Winter Outlook: Not The Best But Not The Worst For Snow
Two Farmers Almanacs Winter 2018 Outlooks
Winter Weather Folkore: Suggestions from Animals and Crops
First Frost and Freeze Dates For Maryland (southern PA and northern VA)
My Preliminary Winter Outlook Notes
Low Snow Winters In Baltimore: To Repeat Or Not Repeat
NOAA Ranks Blizzard 2016 4th Worst Snowstorm On Record
Blizzard 2016 Record Top Snowstorm: Area Totals