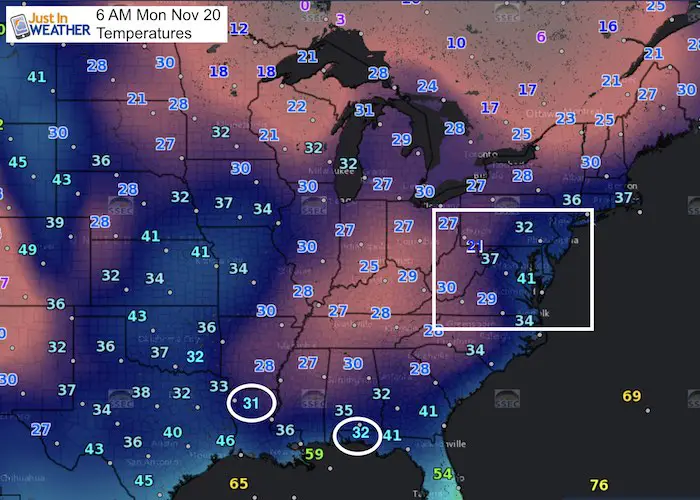 Monday November 20
At 6 AM this morning, every state in the US has a weather station reporting freezing temperature. Yes, that includes the western Florida panhandle. This does verify my outlook two weeks ago that Thanksgiving week would be cold. But while there will be a little warm up, more cold air is on the way for Turkey Day!
Please remember to sign up for my email list. Facebook may not show you every post, but I can notify you with my daily info.
Snow
I need to apologize as I didn't get to announce the flurries we had last night. Yes, some flakes crossed the mountains and reached into central Maryland and southern PA Sunday evening. The bands have retreated north into the Poconos and upstate New York. The snow bands were expected earlier in the day, and nothing stuck, but it did happen here. Now we have a relatively quiet week to look forward to. The Thanksgiving outlook is below to verify another point I made last week and with my winter outlook. This is important!
FITF gear is here:  Snowstix, Shirts, and PJs are available and ready to deliver. See the links at the bottom of this post.
Afternoon Improvement:
The wind is with us this morning, but will ease this afternoon. Temperatures will recover as the wind eases.
Showers Overnight Tuesday into Wednesday
This pattern of overnight events seems to really be reinforcing itself. Here is our next col front that will bring rain after midnight into early Wednesday. The best chance of rain will be in southern Maryland and the Delmarva. But most of Wednesday will be dry, must windy and turning cooler.
––> slider: Radar Simulation
[metaslider id=54854]
.
Thanksgiving Outlook
Weather is NOT be a factor traveling
This weather map on Wednesday evening shows the storm well offshore and how quiet the pattern looks. This is why I did NOT hop on board hyping a storm. Remember when rumors were flying about this one? Yes, the cold was promised… but I really caution you to any posts you may see about a storm a week or more away. I have not seen a computer model accurately depict a storm more than 7 days away in a long time.  Thus, not seeing one in the next two weeks means we may actually get our snow in early December 🙂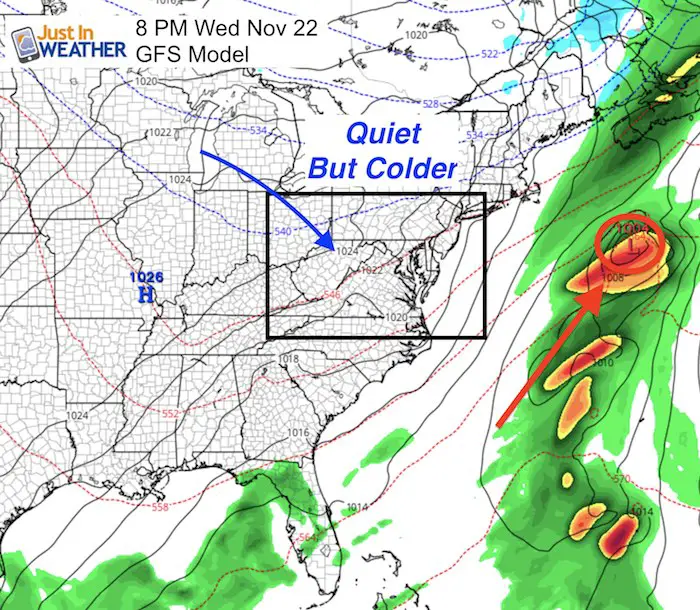 In case you missed it…. See My Winter Outlook 2017-2018 for more snow
Temperature Outlook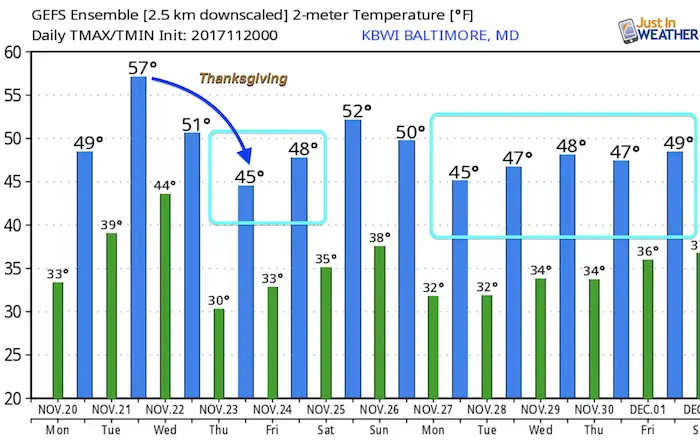 Snowstix- Ready For Delivery
We are giving 10% of each sale to programs that benefit pediatric oncology patients.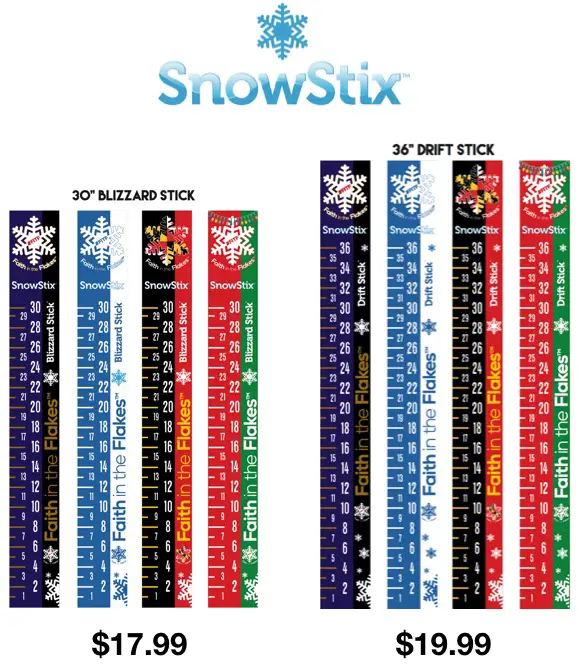 Faith in the Flakes Online Store Is Back Open By Popular Demand
PJ bottoms still inside out- They have to be to help bring on the snow.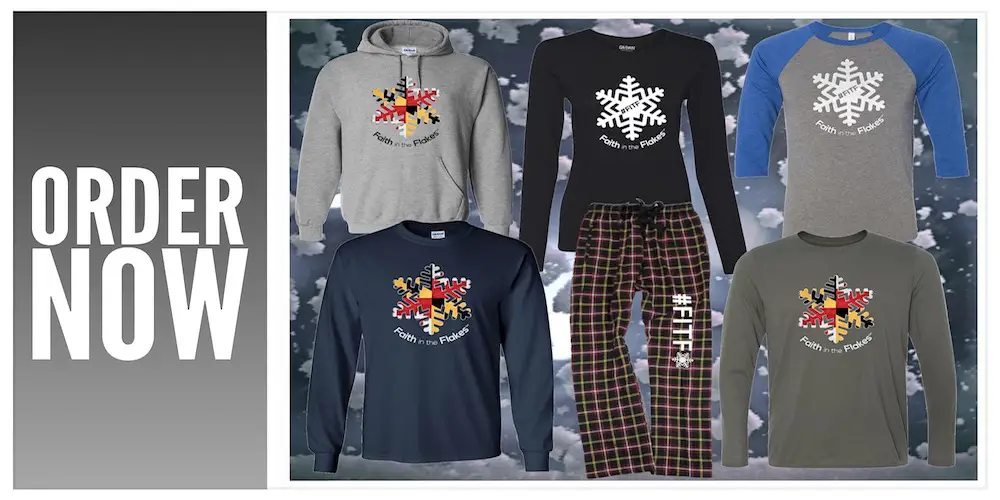 Get the award winning Kid Weather App I made with my oldest son and support our love for science, weather, and technology. Our 3 year anniversary of the release and our contribution to STEM education is this November. It has been downloaded in 60 countries, and works in both temperature scales. With your support we can expand on the fun introduction to science and real weather.
Please share your thoughts, best weather pics/video, or just keep in touch via social media
Also See:
My Winter Outlook 2017-2018 for more snow
La Nina Formed: What it could mean to our winter
NOAA Winter Outlook: Not The Best But Not The Worst For Snow
Two Farmers Almanacs Winter 2018 Outlooks
Winter Weather Folkore: Suggestions from Animals and Crops
First Frost and Freeze Dates For Maryland (southern PA and northern VA)
My Preliminary Winter Outlook Notes
Low Snow Winters In Baltimore: To Repeat Or Not Repeat
NOAA Ranks Blizzard 2016 4th Worst Snowstorm On Record
Blizzard 2016 Record Top Snowstorm: Area Totals
Extreme Weather of 2015 balanced out on both ends
Early Christmas Shopping? FITF Gear Is Here
Limited Edition 11:11 FITF Clock
Make That Wish For Snow