Winter can be broken down into two main categories of weather. How much snow will fall the temperatures impacted by mountains or water. Snow in Maryland really highlights multiple climate zones across a small area.
Elevation plays a big role as the mountains in western Maryland reach above 3,000 Ft and can catch Lake Effect (more like enhanced) Snow bands off of Lake Erie. An average winter will bring 104 inches to Deep Creek Lake, the home of Wisp , Maryland's only ski resort.
Just east, the mountains get lower and can experience a rain shadow effect where the air dries out from downslope winds. Various ridges and valleys can make for a dramatic difference in snowfall. See the map below  for the drop from and average of 36.5″ of snow in Cumberland to 26.5″ in Hagerstown. The mountains in between get a lot more.
Frederick City is at the base of the Catoctin Mountain Range and averages 20.5″ of snow a year. But the northern part of Frederick county, only 20 miles away in the mountains, can get close to 40 inches.
Baltimore and the suburbs have an equally dramatic adjustment higher and lower just based on topography inland from The Chesapeake Bay.
Snowfall around the Chesapeake Bay has a lot to do with proximity to the water. Temperatures remain warmer by the way, resulting in less snow.  A few miles inland, and the results can be as dramatic as in the mountains.
This article is just about the snowfall. Please see winter precipitation for sleet, graupel and more.
'North and West' Gets More
A truly dramatic showing of snow variation is around Baltimore. To the northwest, the elevation rises from near sea level to 1,000 feet in parts of  Carroll County, northern Baltimore County in the Hereford Zone, and extreme northern Harford County. These places average over 30 inches of snow. That is least 50% more than BWI. Some places near the Pennsylvania line can get close to 40 inches of snow (almost double that of BWI) in a typical winter.
I-95 is a separation of snow vs. rain for many storms: The warmer conditions and more rain tend to fall east of I-95, where the elevation is around sea level and warming from the Chesapeake Bay is just enough to stay above freezing in many cases.  This 'split down the middle' affect the most densely populated part of the region.
On the east side, the low level and proximity to the Chesapeake Bay keep temps just warm enough to often change snow to rain and curt down on accumulation in many events.  East coast storms bring in winds and moisture off of the warmer water. Until the northern Bay freezes, it can be a source of heat. But the rise in elevation is why the Northwest suburbs can average more snow than some of the higher mountain areas to the west.
When a storm arrives from the west, it will often dump snow or rain on the mountains, but dry up in the valleys and lower elevations farther east. That is why they can appear to break up or fall apart sometimes.
Eastern Shore and southern Maryland
With areas near sea level, warmer winds can play an easier influence within storms. That is why this area gets a lot less. But notice the lowest amount are places closest to the water. Interior Delmarva can escape this and get a little more in a typical winter.
Maryland Topography
Atlantic Continental Shelf: Generally flat, influenced by the Atlantic Ocean and Chesapeake Bay water keeping it warmer than freezing in most events.
Western Shore Uplands Region: Marked very close to I-95.
Some rolling hills, but still influenced by Chesapeake Bay warmer water.
Upland Section: Rolling hills, increase in elevation close to 1000 Ft above sea level. This includes the Hereford Zone in northern Baltimore County, but that ridge extends to northern Harford, much of Carroll, and western Howard Counties.  The higher elevation and distance away from the water can often be cool enough to allow more more snow to fall and stick.
Lowland Section: This is broad valley between Frederick and Mount Airy. Temperatures can be warmer at lower elevations and trap cold air near the surface in some winter storms while warmer air is pushed above mountains. This is a prime target for sleet and freezing rain = ice storms.
Blue Ridge Province= Catoctin Ridge. Mountains reach up to around 1,500 Ft.
Mountain Region: Great Valley Section, Folded Appalachian, and Allegheny Mountain Section.
This region has steep mountains and valleys. The elevation reaches above 3,000 Ft in far western Maryland- Garrett County. This can catch Lake Effect Snow from Lake Erie in addition to larger coastal storms.
New Split NWS Weather Zones
These split county zones in the 'north and west' areas of Baltimore are based on the elevation factor and proximity to the Chesapeake Bay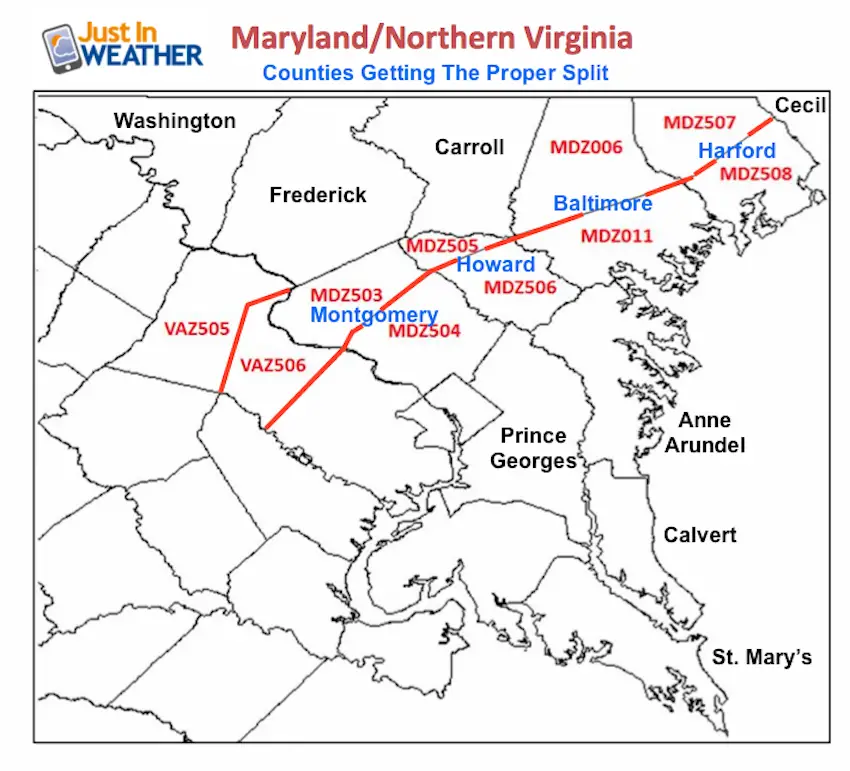 Closer Look at Zones Around Metro Baltimore
Harford County
The cut off is north of Bel Air. Fallston and Forest Hill tend to be just high enough in elevation and far enough away from the Chesapeake Bay to stay colder and keep snow around longer. 
Baltimore County
The cut off is north of the I-695 Beltway. This is just on the edge of Towson/Timonium, and Owings Mills. The elevation can rise over 400 feet to make for colder temperatures north and west. This keeps the chance of snow around longer.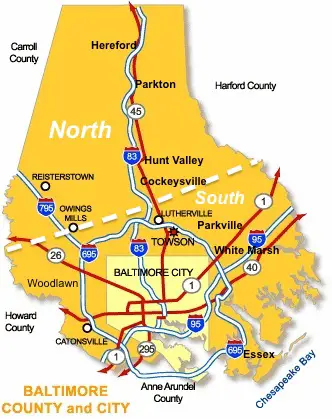 Howard County
The cut off is around West Friendship. The elevation here more gradual than Baltimore County, but it is farther away from the warming effects of the Chesapeake Bay to remain colder longer. Thus, they can get more snow.
 Montgomery County
This is a little father south, so elevation and being even farther inland plays a role. The line around Germantown is often the dividing point of more and less snow, or even frozen and melting in many events. Clarksburg and Damascus get more snow than Rockville and Silver Spring in most cases.
 
Average Snowfall Per Month
Record years listed below each month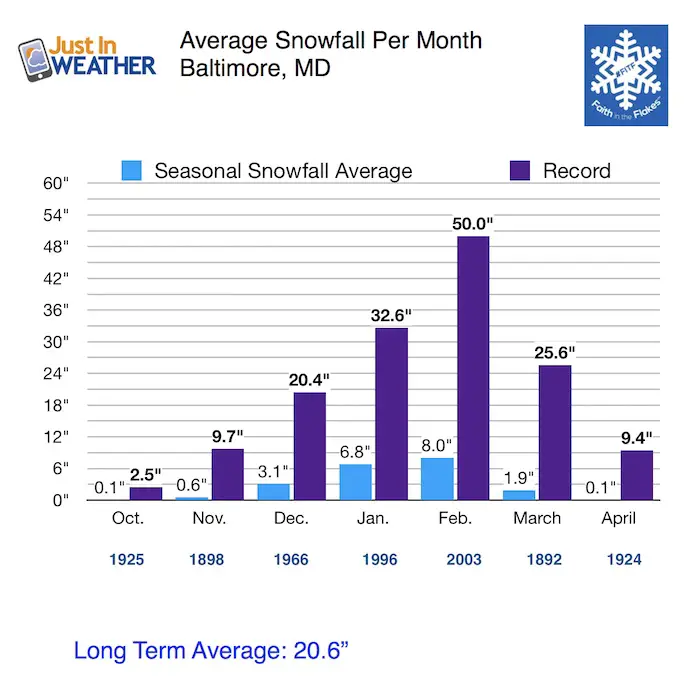 Average Per Decade
Extreme weather happened last century too. Check out the most extreme decades right next to each other
1950s = Lowest decade average 14.6″ snow/year 
1960s = Highest average 32.4″ snow/year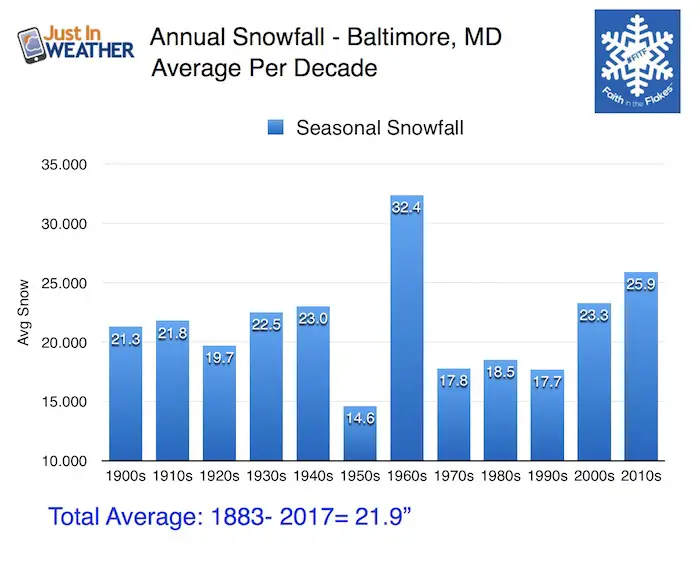 Average snow per month at BWI increases each month of winter until February.

About half of our top 25 snowstorms are in February.
Also see Low Snow Winters: History of seasons with 10 inches or less
Baltimore Snow History
Snow Almanac By Decade —> slider
[metaslider id=54802]
All Time Top Snowstorms
The all time top snowstorm on record was in January 2016 when 29.2 inches fell at BWI.
Patterns:
We have a pattern of a large snowstorm (around a foot or more) every 3 to 4 years. That pattern could have been considered broken with three blizzards in the 2009 to 2010 winter. But then again the Jan 2016 storm also broke the pattern.

First Snow On December 5th
For the first decade of the 21st century, Baltimore had its first snowfall on December 5th almost each year. This pattern has not continued, but it has remained a personal holiday for snow lovers now know as FITF Day- Faith in the Flakes.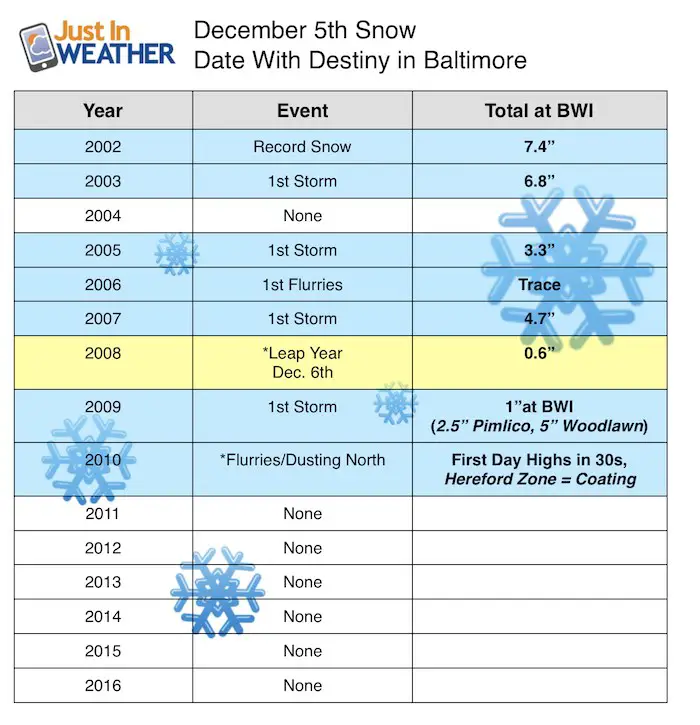 Not All Snow
Many winter storms contain a mix of sleet and freezing rain. Click to see more on Winter Precipitation

Snowstix- Ready For Delivery
We are giving 10% of each sale to programs that benefit pediatric oncology patients.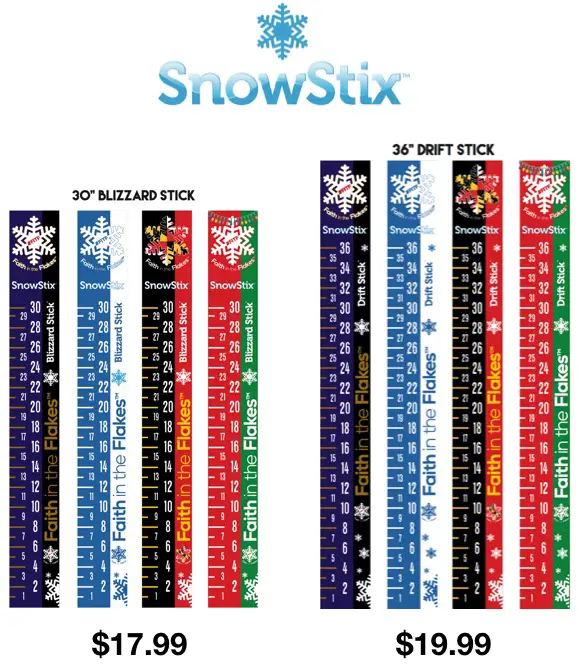 Faith in the Flakes Online Store Is Back Open By Popular Demand
PJ bottoms still inside out- They have to be to help bring on the snow.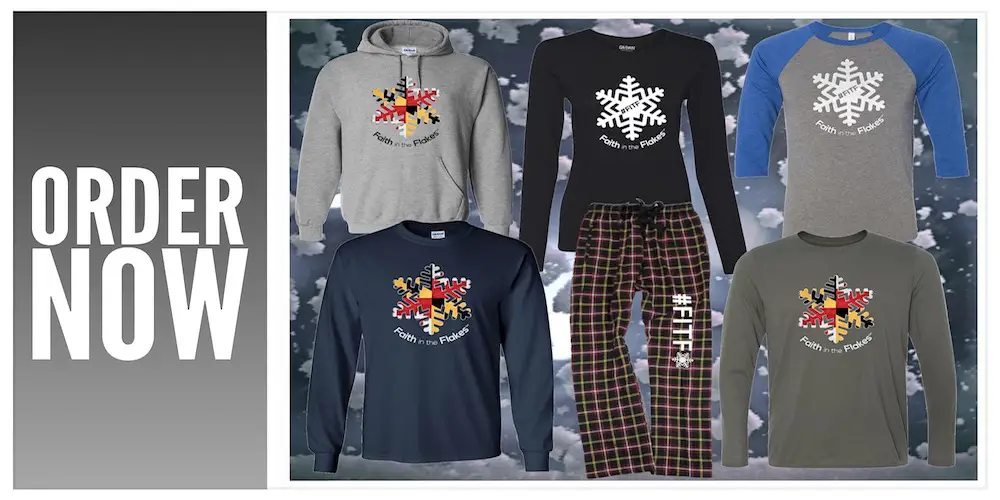 Please share your thoughts, best weather pics/video, or just keep in touch via social media
Keep In Touch All Winter: Sign up for email updates on new posts
Since you may miss some posts via social media, click here for email alerts as a way to make sure you don't miss any.  *You may have to refresh that page once for your browser to clear out the images.
Also See:
First Frost and Freeze Dates/Map
La Nina Formed: What it could mean to our winter
Low Snow Winters In Baltimore: Repeat or not to repeat
NOAA Ranks Blizzard 2016 4th Worst Snowstorm On Record
Blizzard 2016 Record Top Snowstorm: Area Totals