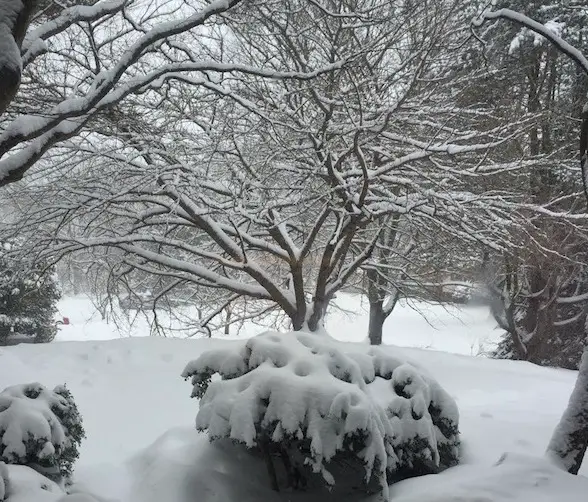 November 18 2017
The early arctic blasts have definitely a change of pace from recent autumns and should confirm the first thing I have been saying for a few months: We will have an early winter and more snow than last year. Anything near average snow will be better than the last two winters. Remember Christmas 2015 when it was almost 70ºF in that record warm December. That won't happen this time. The atmosphere is set up for a much different story this year.
Odds are you are reading this on a phone as 80% of my online traffic shows. I didn't want to write too much and fill up your screen with words, but it ended up longer than I expected. Much of what is in the article will show graphics and brief notes to explain, but I am sorry if this looks like a dissertation.
My formal forecast with numbers are at the bottom of this post. I've also added links there to compare other outlooks and information about winter.  Thank you for supporting my snow obsession and charity work. FITF gear and Snowstix are available now. Those links are at the bottom of this post. Please remember to sign up for my email list. Facebook may not show you every post, but I can notify you with my daily info.
Let's start with a look at snowfall for winters this decade:
2009-2010 = The biggest winter on record since 1883.
2013 and 2016 = Three heavy snow winters in a row.
2011 to 2013 = Two winters in a row with low snow. I define that as winters with less than 10 inches (less than half of an average year in Baltimore) 
2016 to 2017 = The 5th lowest snow season on record for Baltimore. 
Also see Maryland Winters and Baltimore Snow Records. Yearly totals back to 1900
It will snow more because it can't snow less
That has been my general outlook for anyone I've spoken to since summer. I thought about putting it on a T-shirt, but I didn't want you to think I was selling out or just selling. Yes, I love FITF gear and have plans to expand this season. You can see links for shirts and Snowstix and in the web store below.  But our focus now is on the snow and statistics are one of my starting points for a forecast.
My article on Low Snow Winters in Baltimore showed that we have had plenty of years under 10 inches. But the statistics show we have had 26 years with less than 10 inches of snow. However, only four times since 1883 has there been two years in a row with low snow occurring. Two times out of those pairs the following winter was followed by one of the top snow winters
1888-1889: 9.0″
1889-1890: 4.9″
1949-1950: 0.7″ *Lowest on record
1951-1951: 6.2″
2000-2001: 8.7″
2001-2002: 2.3″
2002-2003 = 58.1″ snow. That was 3rd highest on record in Baltimore.
2007-2008: 8.5″
2008-2009: 9.1″
2009-2010 = 77.0″ snow. The all time most snow in one season for Baltimore.
It Usually Snows More Following Low Snow Winters:
Based on statistics alone, there is strong support to get over 10 inches of snow this 2017-2018 winter. That only qualifies not repeating the 'low snow' group. But this is like a baseball stat for a pitcher winning a game following a loss. We are putting our ace on the mound now.
La Nina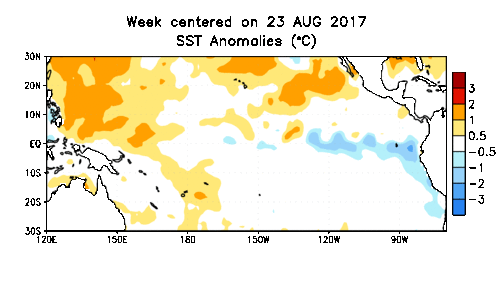 The cooler water in the Pacific Ocean along the equator is in a cool phase. That itself can vary in intensity and I showed the snow results in La Nina Winters that don't alway play into our favor. Usually we end up with below average (under 21 inches) for a season. You can read about this separately, but I needed to look at a combination of other factors to make sense of this.
Teleconnections: Tropics, Early USA Snow Cover, North Atlantic Oscillation
There are so many patterns that can play into how the jet stream, cold air, and storm frequency will set up in winter. I showed a lot last year and in my preliminary outlook last month. I want to simplify it with this chart below for similar La Nina years.
Tropical activity: I compared the number of named storms in the Atlantic the year leading up winter. Below I go a little deeper with the actual tracks to compare. This year was overly active for USA landfall.
NAO = North Atlantic Oscillation. This is a pattern of blocking High Pressure near Greenland that can set up cold air in the eastern US when the measurement is negative.
I need to add that La Nina (Pacific) and NAO (North Atlantic) are independent of each other but can work together is set up properly. Also, the NAO can remain negative (cold for us) all winter, or flip as we have seen in recent years.  There is a hint that low solar activity and an easterly QBO (another patter too complicated to describe here) can favor a positive MJO (another complex global pattern). What it means is that like the 1995-1996 winter there could be a cold start and finish with a very warm period in the middle of winter).
Snow Coverage in the continental USA: I used November 17th as a mark to compare as we cross the threshold into the later half of autumn. This map shows 16% of the country with snow cover and it above average. I should add in the extreme cold and extensive snow in most of Alaska that is also a change from last year at this time. This is all important to show the storm pattern and cold air so far. This snow pack can help refrigerate the atmosphere ahead of new air masses and storms.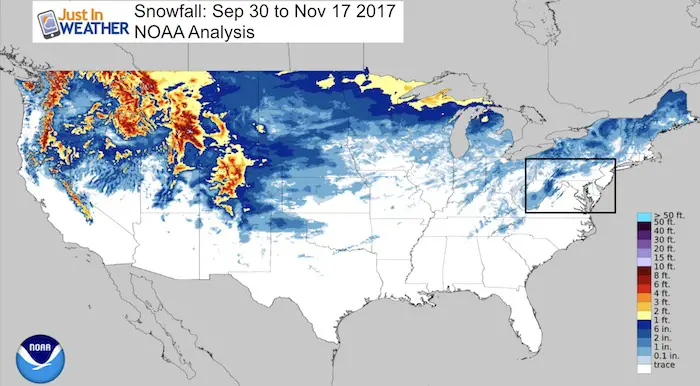 Snow season in Baltimore: Most La Nina winters have less than the 21 inch average snow for Baltimore. There was one big exception in 1995 to 1996. While I do not see an exactly repeat of any of these, they do play a role in weighting out potential for the winter.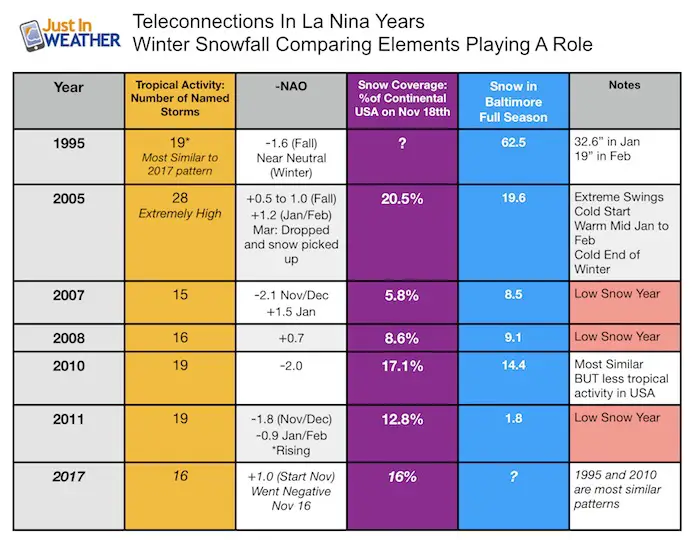 1995 – Similar tropical season as seen in the map below.  But the NAO was negative all Fall. I do not have the November snow cover to compare. Overall though, this does not match up with out pattern this year, but can be used too weight the winter storm activity with this year. I think it will be busy.
2010 – This is an analog year for tropical storm number and November snow cover. But the tropical activity with USA landfall was much lower. Only 1 landfall inTexas, 1 in Florida, and 1 off of the east coast. See the seasonal maps below.
2017 – We have had above average snow coverage to date. That is important to show an early season snow pattern and refrigerate the atmosphere for the next few air masses and storms.
Tropical Season Activity Maps
Compare the seasons mentioned above…
1995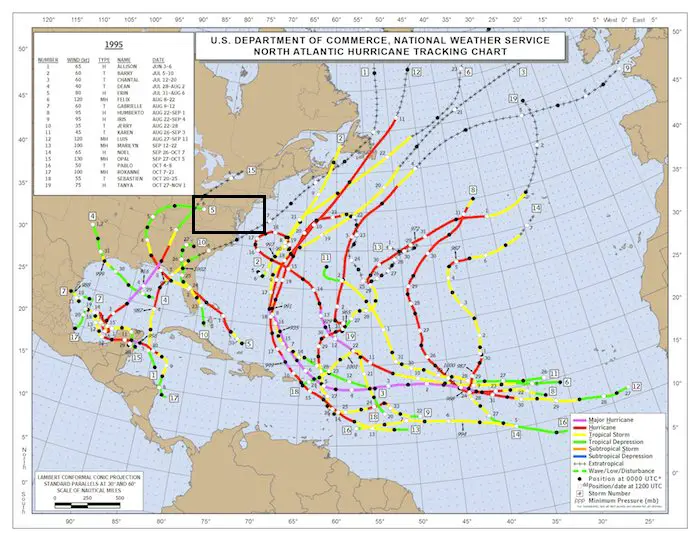 2010- Not Very Active in USA
1 storm in Texas and 1 storm in Florida pales in comparison to this past year.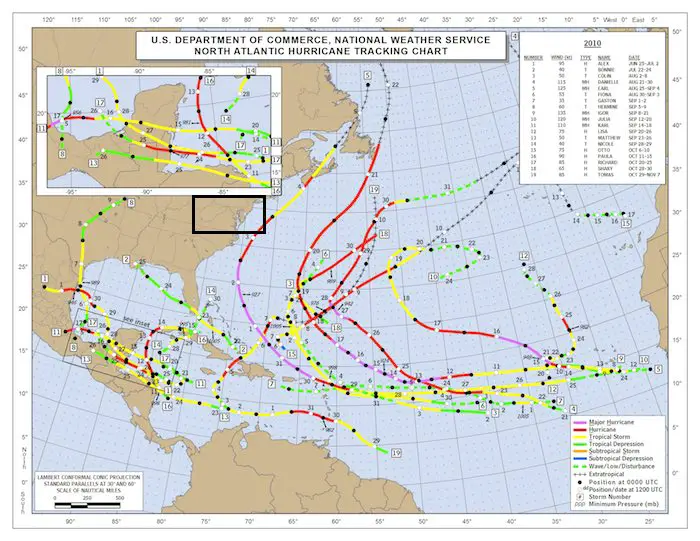 2017- Very Active in USA
4 notable storms tracked from the Gulf Coast region. That is our main focus.
3 main storms off of the east coast tracked far enough east to have little to no impact for us. Remember that.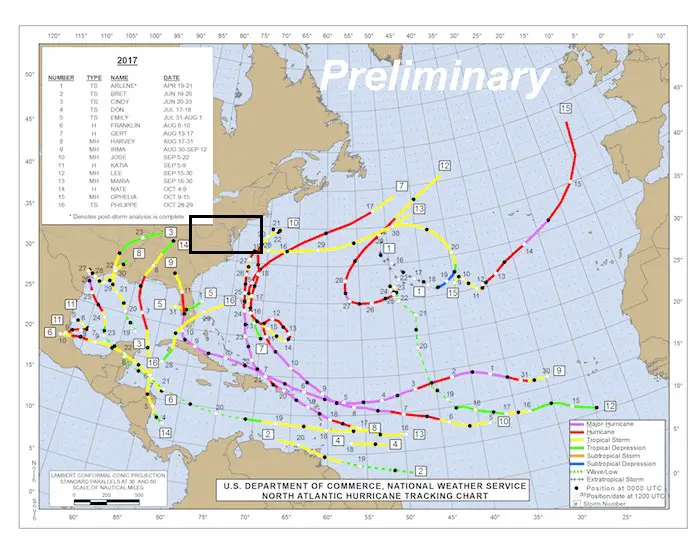 *Ophelia is the storm that reached Ireland. I believe this has played a role in adjusting the arctic jet and helping to set up the blocking pattern to generate more cold (as we have already seen) in the eastern US.
Atmospheric Memory?
While I do not see an exact repeat, I see trends and tendencies. Here is a closer look at the USA landfall tracks and how they related to our region. The Mississippi and Ohio (MS/OH) Valley Tracks shows most storms stayed west. If that was a winter storm, that would not be good for snow. It would bring in warm air on the east side for us.  Tropical Storm Cindy was a track south and Harvey gave us abnormally chilly rain prior to Labor Day.
Some Snow, More Ice
Gulf Coast Storms I see 25% of these to be on a colder, favorable snow track for us. As for the 75% that could track west, that doesn't mean all rain. Depending on the -NAO at the time, we could have arctic air in place with overrunning snow and or ice.  Yes, I see potential for plenty of freezing rain/sleet/ice events.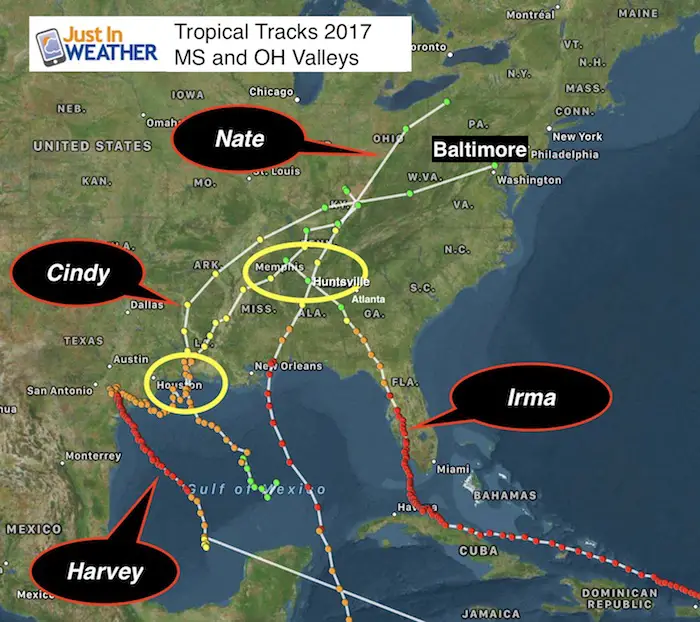 Hot Spots:
Memphis to Huntsville had a cross over of multiple storms. Memphis also was in the path of the solar eclipse totality, which is not a factor but interesting to point out. I would look for Low Pressure to form or really intensify over these areas. Should a storm track east of here, it would be more favorable for snow for us.
Houston/western Louisiana had Harvey and Cindy. Those were the farthest west and yet the colder storms for us. A winter storm forming in this location might be more favorable for frozen precipitation for us.
East Coast Storms
There were three notable tropical cyclones here that all trended farther east. Jose did have that stalling loop, but Gert and Maria took that turn away well east of Virginia Beach.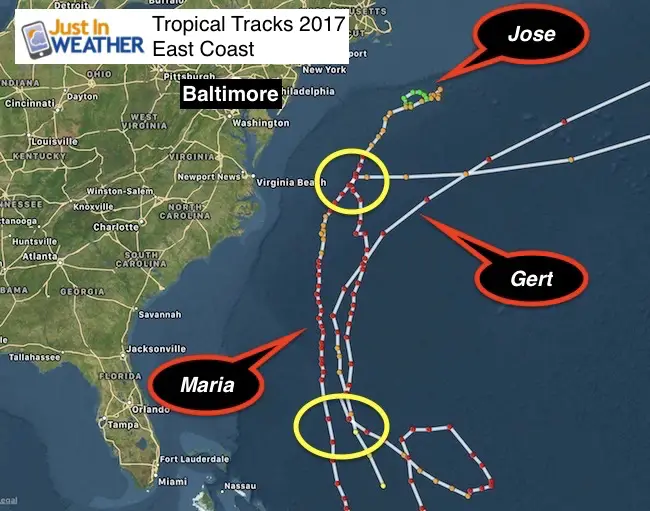 My Forecast Suggestion:
Potential Storm Tracks:
East Bias!
I would be very cautious of any computer model showing us a coastal storm a week ahead of time. The bias has trended east, which in the winter could take an east coast storm out of reach or not allow it to form at all. The same could apply to inland tracks taking an initial rain event and making it arrive sooner and be colder. I will only show models with storm potential 7 days away if there are a few models in agreement. But I will add this same caution. If you see forecasts hyping an event a week or more away, you should look away.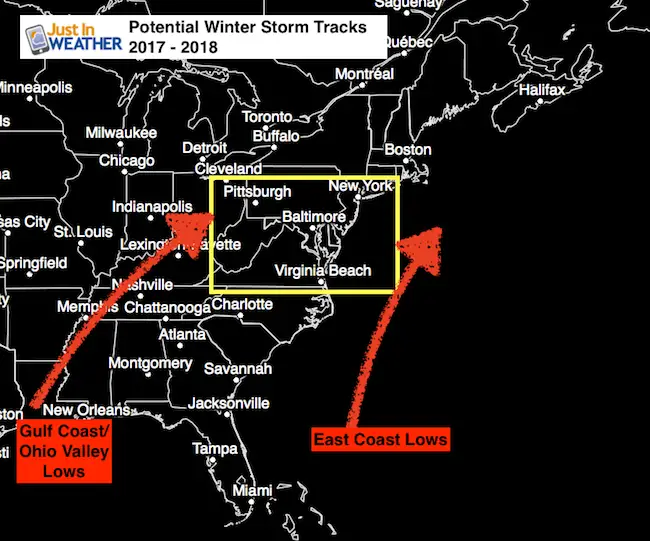 Timing Trend:
I have seen many events arrive sooner and bring the bulk of action overnight. In past years we have had storms hit on the same day or week or arrive at the same time of day. I do not want to suggest more weekend storms here, but it's worth thinking about the timing patterns.
Temperatures
I do not have a map for this, but
December: Colder than normal
January: Near normal with mild or warm periods
February and March: Colder with a second surge of winter. But I think spring will arrive earlier this year. That is different than years past that have kept us chilly into April.
Snowfall:
While La Nina's tend to bring us less snow, I think we have added support to bring us a near average winter snow total. Also, more ice events! About the rest of Maryland?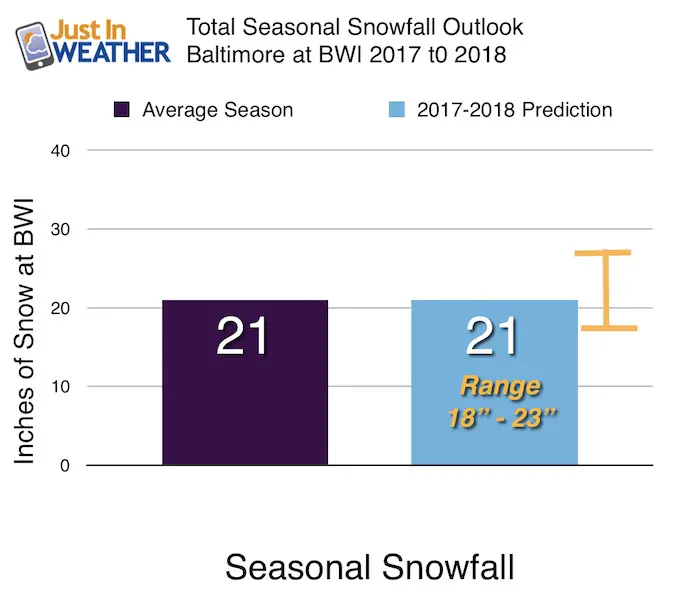 Keep In Touch All Winter: Sign up for email updates on new posts
Since you may miss some posts via social media, click here for email alerts as a way to make sure you don't miss any.  *You may have to refresh that page once for your browser to clear out the images.
Compare to the rest of Maryland.
Click here or on the map for more winter details per region
I will have a Pennsylvania look shorty.
Faith in the Flakes – I love snow and I want to share the positive side of winter. Let's hope for a good season. After all, the kids need it.
Snowstix- Ready For Delivery
We are giving 10% of each sale to programs that benefit pediatric oncology patients.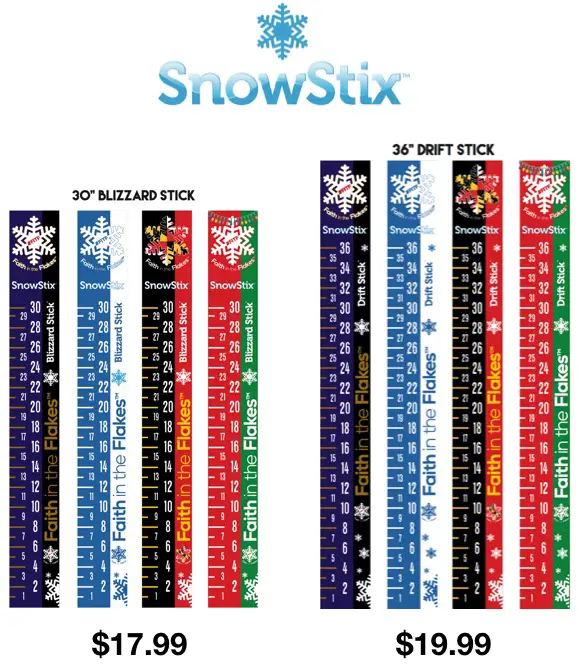 Faith in the Flakes Online Store Is Back Open By Popular Demand
PJ bottoms still inside out- They have to be to help bring on the snow.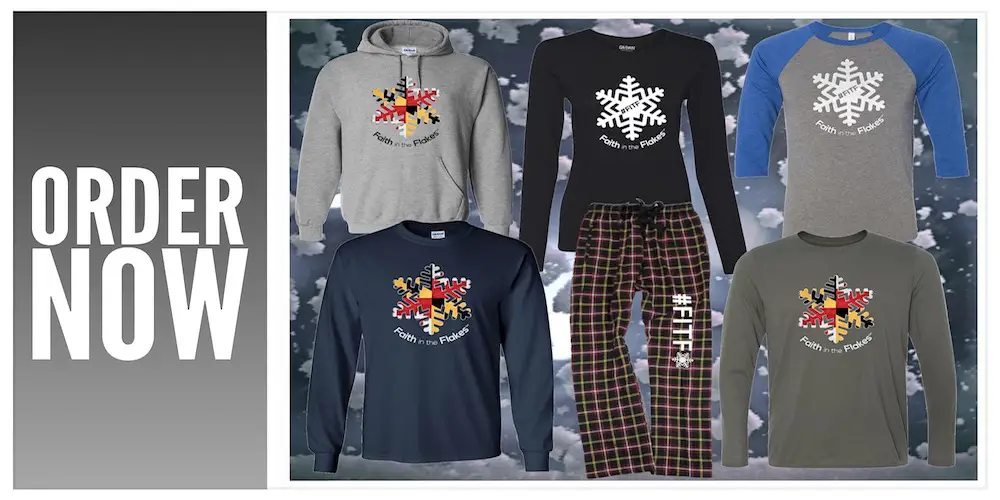 Get the award winning Kid Weather App I made with my oldest son and support our love for science, weather, and technology. Our 3 year anniversary of the release and our contribution to STEM education is this November. It has been downloaded in 60 countries, and works in both temperature scales. With your support we can expand on the fun introduction to science and real weather.
Please share your thoughts, best weather pics/video, or just keep in touch via social media
Also See:
La Nina Formed: What it could mean to our winter
NOAA Winter Outlook: Not The Best But Not The Worst For Snow
Two Farmers Almanacs Winter 2018 Outlooks
Winter Weather Folkore: Suggestions from Animals and Crops
First Frost and Freeze Dates For Maryland (southern PA and northern VA)
My Preliminary Winter Outlook Notes
Low Snow Winters In Baltimore: To Repeat Or Not Repeat
NOAA Ranks Blizzard 2016 4th Worst Snowstorm On Record
Blizzard 2016 Record Top Snowstorm: Area Totals
Extreme Weather of 2015 balanced out on both ends
Early Christmas Shopping? FITF Gear Is Here
Limited Edition 11:11 FITF Clock
Make That Wish For Snow