Saturday November 18
The rain so far today may have been mostly west and north of Baltimore, but all of us will get in on the action overnight. A Wind Advisory is in place from 3 AM to 4 PM Sunday for all of the shaded counties in the map above. Most of Maryland, Delaware, northern Virginia, and Pennsylvania.  Gusts that could reach up to 50 mph with the worst of the winds between 3 AM and 7 AM.  That is why I posted the timeline for the strongest winds in the slider below.  A very strong cold front will be swinging through before sunrise with a shift of winds that will carry a lot of force. The temperatures will continue to rise and stay in the 50s thanks to southerly winds that will increase tonight. But the cold front will mark the shift to the west, a colder air mass, and for a few hours carry winds between 30 and 50 mph.
If anyone near you has holiday decorations up, they may end up in another yard or out of sight. Many left over leaves will be stripped from the trees, and some branches or power lines could come down, but let's hope for the best. The winds will be gusty but ease to more reasonable speeds by Sunday evening.
Cold Front Arriving With The Strongest Gusts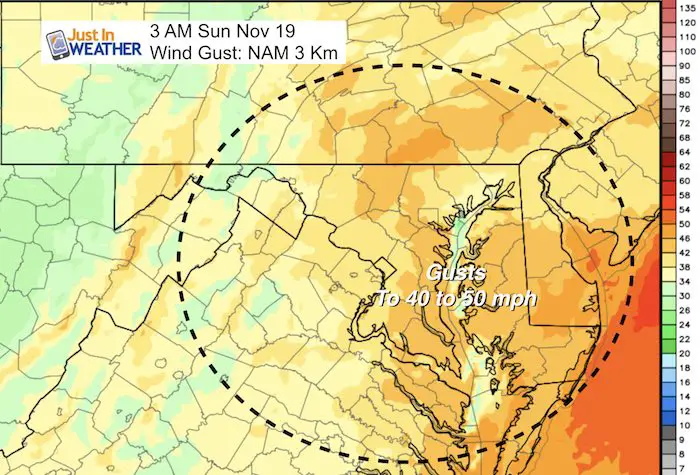 —> slider: Wind Timeline
[metaslider id=54753]
Wind Gusts:

Winds will begin to ease up by sunset and then overnight Sunday. 
My Winter Outlook Will Be Posted Sunday Morning!
Please make sure to:
On Facebook: Go to my page wall and select "Following". Then elect the option for Notifications "See Firs" and for all options.

Since you may miss some posts via social media, click here for email alerts as a way to make sure you don't miss any.  *You may have to refresh that page once for your browser to clear out the images.
Please share your thoughts, best weather pics/video, or just keep in touch via social media
Snowstix- Ready For Delivery
We are giving 10% of each sale to programs that benefit pediatric oncology patients.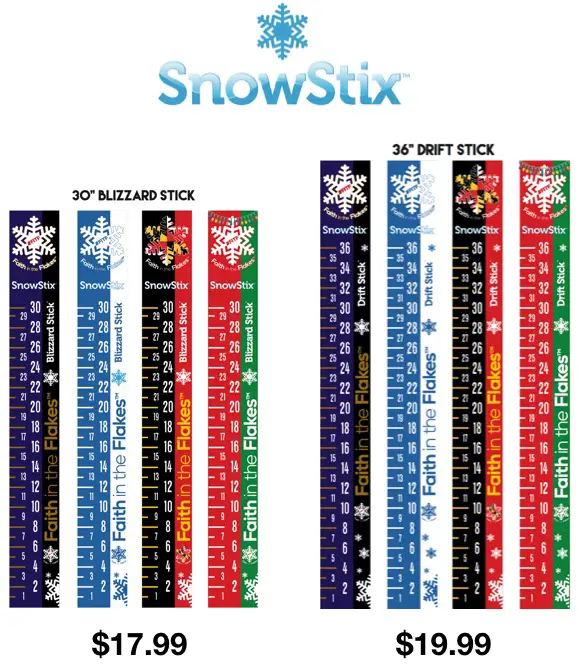 Faith in the Flakes Online Store Is Back Open By Popular Demand
PJ bottoms still inside out- They have to be to help bring on the snow.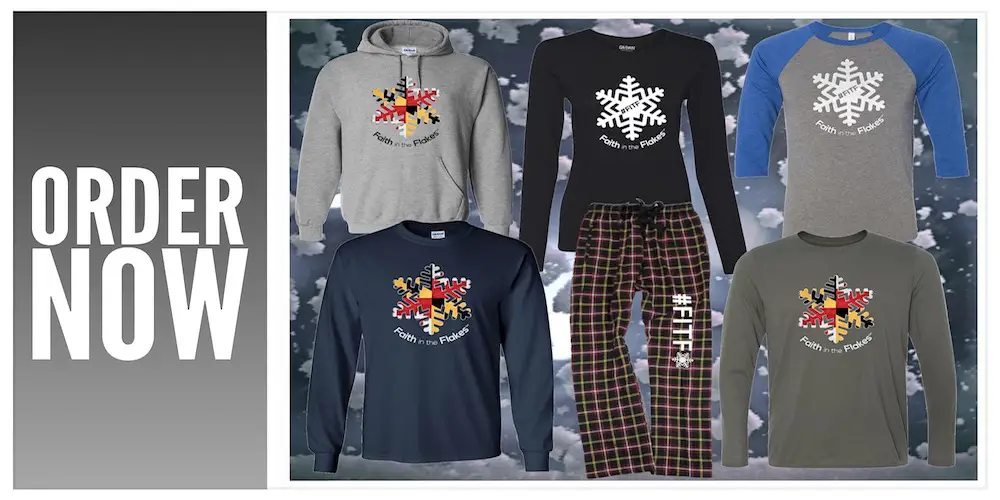 Get the award winning Kid Weather App I made with my oldest son and support our love for science, weather, and technology. Our 3 year anniversary of the release and our contribution to STEM education is this November. It has been downloaded in 60 countries, and works in both temperature scales. With your support we can expand on the fun introduction to science and real weather.
Winter Stuff
NOAA Winter Outlook: Not The Best But Not The Worst For Snow
Two Farmers Almanacs Winter 2018 Outlooks
My Preliminary Winter Outlook Notes
First Frost and Freeze Dates For Maryland (southern PA and northern VA)
NOAA Ranks Blizzard 2016 4th Worst Snowstorm On Record
Extreme Weather of 2015 balanced out on both ends
Early Christmas Shopping? FITF Gear Is Here
Limited Edition 11:11 FITF Clock
Make That Wish For Snow