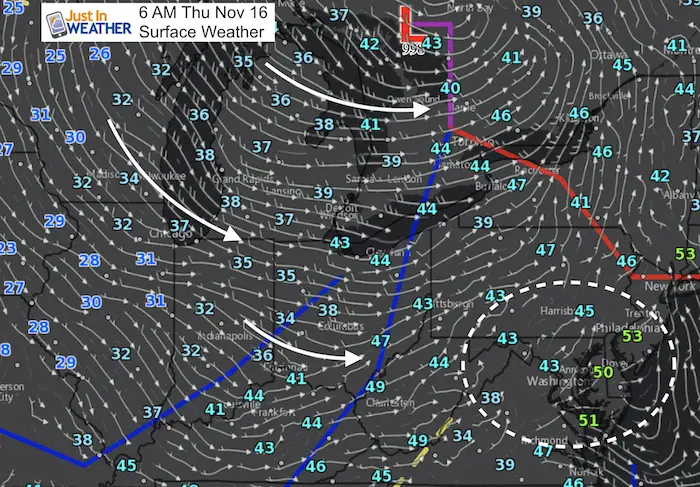 Thursday November 17
We just finished another round of overnight rain that has left the roads wet, but we will have an improvement. As is often the case, the cold air behind a storm gets hung up in the mountains and then spills in after the sun sets. Today will bring us strong winds that will help to warm us into the upper 50s, but the colder air will spill in this evening. Gusts could reach over 30 mph making for some bumpy traffic and turbulence in the air.
This weekend will bring us another round of rain… overnight. This may be the 4th time in the past two weeks and worth paying attention to for more repeats. the good news for many is that the rain will likely hold off until Saturday evening. Just afternoon showers in the hills north and west of Baltimore. The mountains however will have a wet day.  The rain that falls will be overnight Saturday and ending Sunday morning. Lake Effect Snow will develop and reach western Maryland. Some flurries could hit parts of our area by late afternoon. Then we set up for the next cold surge for Thanksgiving.  See more below.
Stats For November 16
Normal High:  56ºF
Record High:  77ºF in 2005
Normal Low: 37ºF
Record Low: 19ºF in 1996; 1933
Sunrise: 6:51 AM
Sunset 4:51 PM
Keep In Touch All Winter: Sign up for email updates on new posts
Since you may miss some posts via social media, click here for email alerts as a way to make sure you don't miss any.  *You may have to refresh that page once for your browser to clear out the images.
 Today: Warmer and Windy
Note: Warmer means just back to near normal temps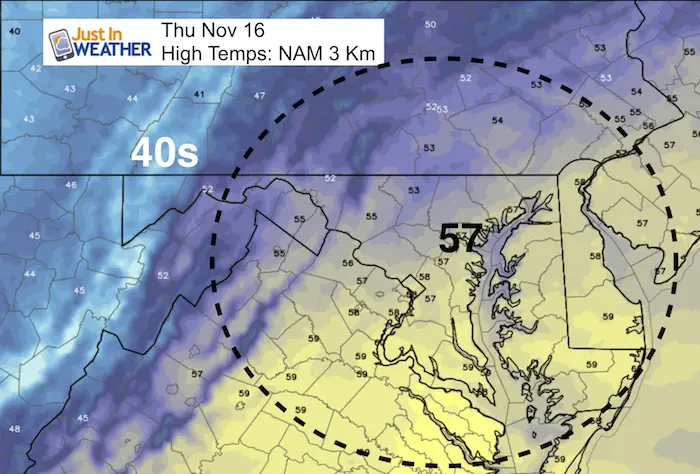 Windy!
We should average winds between 20 to 30 mph with some higher gusts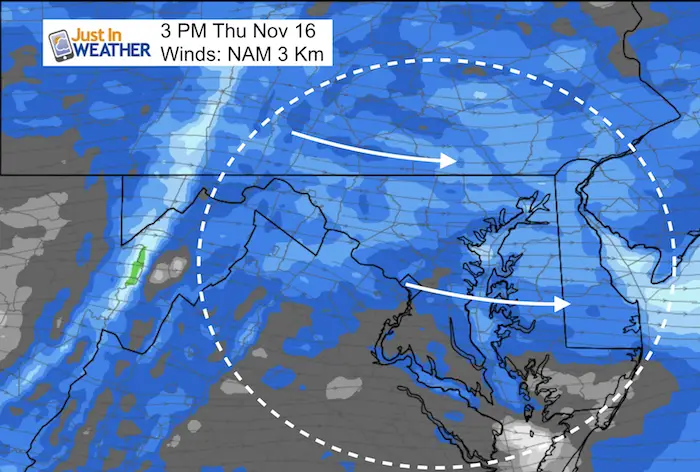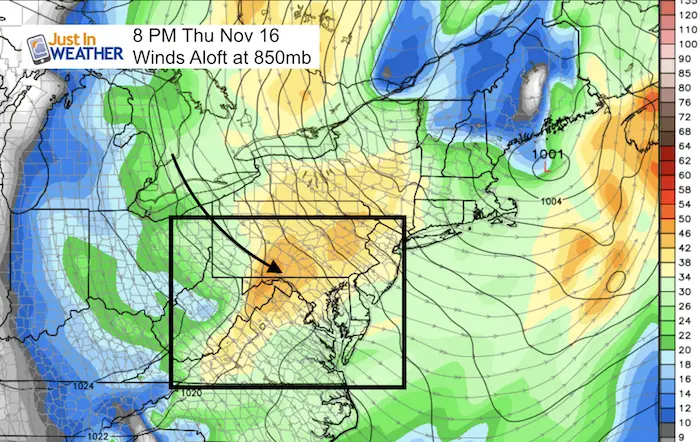 Weekend Storm
Steady rain will fall in the mountains all day Saturday. Some showers will reach the western and northern hills in the afternoon. This may include Frederick, Carroll, and York Counties. The steady rain reaches the rest of our region Saturday night and ends Sunday morning.
[metaslider id=54702]
Snow Showers?
This map shows the vorticity or spin aloft. That line I've highlighted will be the next push of colder air late in the afternoon (just like today… hours after the rain moves out). So a windy day ends with this cold surge and may have some flurries with it. If were get this, the timing will be between 3 PM and 7 PM.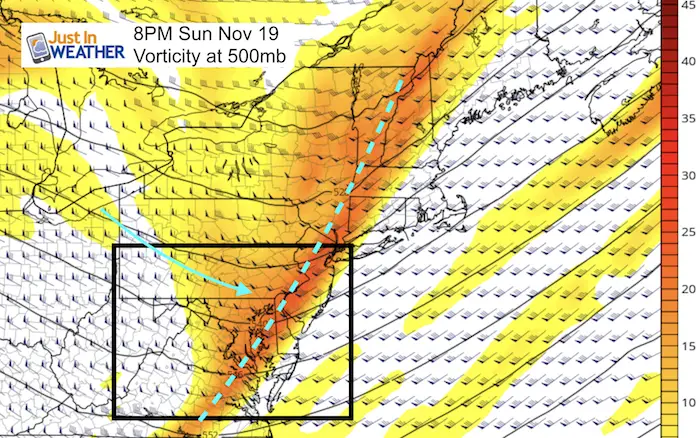 Extended Temperature Outlook
Still expecting a colder Thanksgiving. The storm that many models were showing is still not clearly defined an actually lost… this may show back up on the extended forecast in the next day or two.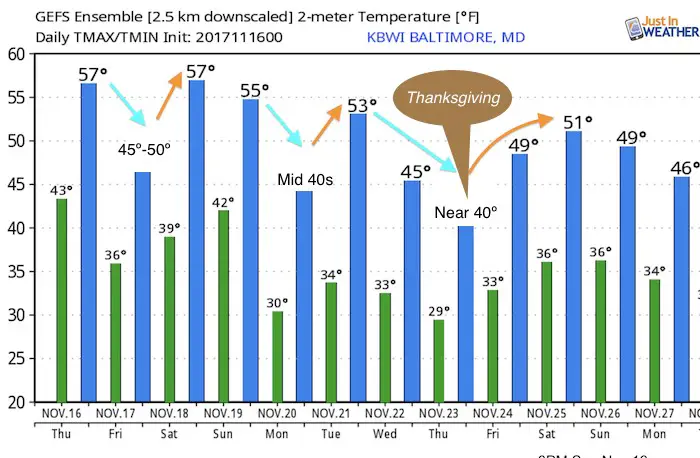 In case you missed it…
Low Snow History Supports
NOT Repeating Last Winter
Snowstix- Ready For Delivery
We are giving 10% of each sale to programs that benefit pediatric oncology patients.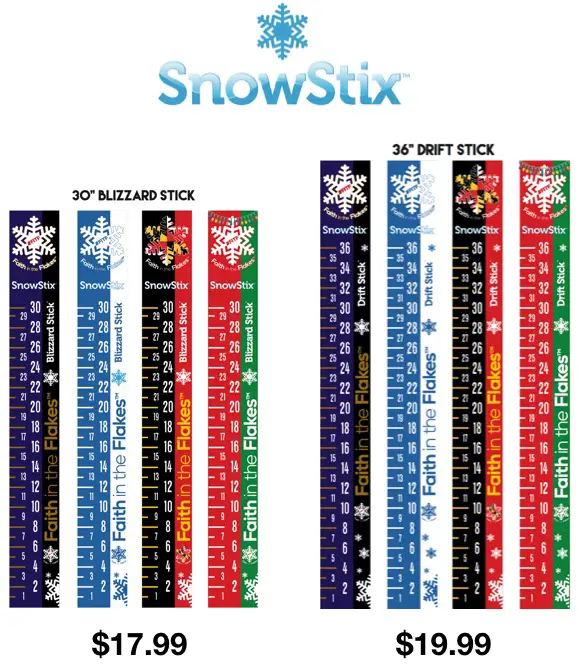 Faith in the Flakes Online Store Is Back Open By Popular Demand
PJ bottoms still inside out- They have to be to help bring on the snow.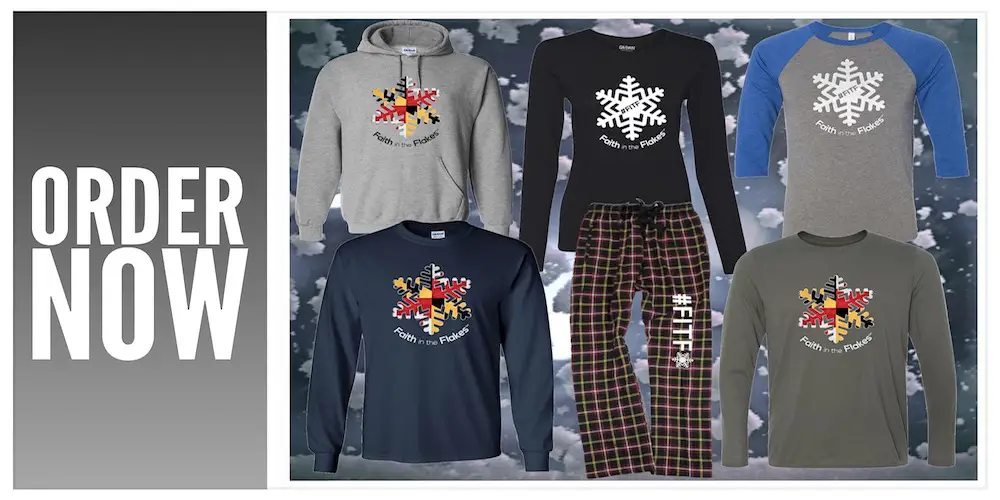 Get the award winning Kid Weather App I made with my oldest son and support our love for science, weather, and technology. Our 3 year anniversary of the release and our contribution to STEM education is this November. It has been downloaded in 60 countries, and works in both temperature scales. With your support we can expand on the fun introduction to science and real weather.
Please share your thoughts, best weather pics/video, or just keep in touch via social media
Winter Stuff
NOAA Winter Outlook: Not The Best But Not The Worst For Snow
Two Farmers Almanacs Winter 2018 Outlooks
My Preliminary Winter Outlook Notes
First Frost and Freeze Dates For Maryland (southern PA and northern VA)
NOAA Ranks Blizzard 2016 4th Worst Snowstorm On Record
Extreme Weather of 2015 balanced out on both ends
Early Christmas Shopping? FITF Gear Is Here
Limited Edition 11:11 FITF Clock
Make That Wish For Snow